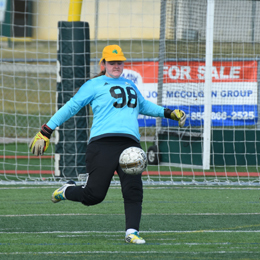 Fall Sports Preview: Girls Soccer
BISHOP EUSTACE
Crusaders
PLAYERS TO WATCH: Despite graduating leading scorer Gabby Pietrangelo, Bishop Eustace brings back several talented playmakers, including senior forward Hailey McGrath, who had six goals and 10 assists last year. That group also includes a pair of sophomores who made an impact as freshmen: all-conference first-team forward Sammie Sorensen (six goals) and forward/midfielder Sara Beidleman (five goals, five assists). Other important offensive players are senior forward and TCNJ recruit Dominique Marrone, junior midfielder Molly Monaghan and sophomore midfielder Olivia Hansen. The defense is led by seniors Sophia Marrone and Madison Shelley, juniors Brianna Montinard and Elizabeth O'Dee and sophomore Brittany Pickering. Freshman Nellie Manalo-LaManna will look to take over as the starting goalie. Other players expected to con- tribute are seniors Julia Schumacher and Katie Ruehlicke and juniors Morgan Hull, Erin Klemenz and Tallulah Manalo-LaManna.
OUTLOOK: The Crusaders' 10-9-2 season included the Olympic Conference National Division title and a trip to the South Jersey Non-Public A quarterfinals. They have the potential to win the division again and go on a long playoff run.
CAMDEN CATHOLIC
Fighting Irish
PLAYERS TO WATCH: Camden Catholic only graduated two seniors from last year's team, so there are plenty of returning players who earned valuable varsity experience. Junior goalie Kate Deutsch, an all-conference first-team selection, leads the way along with junior midfielder Maggie Bednarek and senior defender Audrey Esposito, both all-conference second-teamers. Forward Danielle Rooney had two goals and three assists in a solid rookie campaign and is another key returner. The defense also includes senior Jocelynn Dillon and junior Madison Roone, while returners in the midfield are seniors Holly Bednarek, Christina Laudisio and Lauren O'Callaghan, juniors Theresa Gardner and Hannah Hassinger and sophomores Colleen Crawford and Erin O'Callaghan. The Fighting Irish need to do a better job of putting the ball in the back of the net, and forwards expected to contribute are seniors Paige Heenan and Emilie Reustle, junior Shannon McHugh and sophomore Bella Paolini.
OUTLOOK: The Irish are coming off a rebuilding season, but with so many experienced players in the fold expect them to make big strides this fall.
CHEROKEE
Chiefs
PLAYERS TO WATCH: The graduation of leading scorer Shaye McGoey is not only a crucial blow on the field, but off it as well, as she was a four-year starter and two-year captain for Cherokee. The Chiefs also suffered key injuries in the offseason, losing junior forward and Georgetown recruit Boo Jackson and sophomore midfielder Maddie Weaver for the year. Senior midfielder Taylor Koester, an all-conference first-teamer who had seven goals and six assists, and junior midfielder Tori Hampton (five goals, seven assists) are also tentative because of injuries but hope to play this fall. Other returning playmakers are seniors Devon Fitzpatrick and Ally Weaver, who each scored five goals in 2015. The defense is led by imposing senior Izzy Therien, an all-conference second-teamer, and also includes two other returning starters: senior Abby Corrato (four goals, six assists) and junior Megan Waninger. Senior goalie Zarre Baldwin had a strong season in net after returning from a torn ACL. Other returners who should play bigger roles are junior midfielders Julia Kasinski and Angela Harris and sophomore forward Ava Therien.
OUTLOOK: The Chiefs' 13-8-2 season featured berths in the Coaches Tournament semifinals and the South Jersey Group IV quarters. They have the potential to be one of the top teams in the area, especially if Koester and Hampton are able to return.
CHERRY HILL EAST
Cougars
PLAYERS TO WATCH: Cherry Hill East brings back a solid core to build around, including senior forward Jordan Madrid, who had two goals and six assists to earn all-conference second-team recognition. Junior forward/midfielder Kayla DeGuzman erupted for eight goals in a break- out season and will be counted on as a finisher this fall. Other key players on offense are junior forward Nicole Hammerquist and sophomore midfielder Roni Schaffer. Sophomore Emma Stopek and junior Sam Bourne are both experienced goalies, while senior Alyson Skloff and sophomore Lexi Schaffer are returners in the midfield.
OUTLOOK: The Cougars showed improvement last fall on their way to a 5-12-1 record and a berth in the South Jersey Group IV playoffs. They hope to take the next step and contend for a winning record this year under new coach Lee Troutman, a South Jersey coaching legend who compiled a 213-87-19 record in 17 seasons during a previous stint with the pro- gram that ended in 1998.
CHERRY HILL WEST
Lions
PLAYERS TO WATCH: Senior goalie Natalie Eberhardt, who has committed to West Chester, is coming off a terrific junior season in which she made the all-South Jersey and all-conference second team. Her presence in goal should help Cherry Hill West stay competitive in most of its matches. The defense in front of Eberhardt includes seniors Gabby Crawford and Maggie McCurdy. Junior Gabby Angelucci and sophomore Madeline Sweeney are back in the midfield and senior Madeline Meloche is a returning forward.
OUTLOOK: Scoring was an issue for the Lions in 2015, and leading scorer Erin Sullivan has graduated. But if they can develop some offensive consistency, they should make progress as they move into the Olympic Conference National Division.
CLEARVIEW
Pioneers
PLAYERS TO WATCH: Clearview graduated leading scorer Dana Wiesmore but brings back talented offensive players like junior Julia Michael and sophomore Liz Bonomo, who each netted four goals in 2015. Senior Victoria Caira, juniors Kayla Grossman and Alyssa Hunt and sophomore Rachael Hollywood are other returners who will contribute up front or in the midfield. Also returning are seniors Jessica Cirone, Alex Poole and Madison Tumini; and juniors Joanna Bakey, Hailey Valente and Vivianna Caamano. The Pioneers will need to capably fill the keeper position if they want to improve on last year's record.
OUTLOOK: The Pioneers suffered six one-goal losses in a 6-13 season that ended in the first round of the South Jersey Group IV playoffs. If they can pull out some of those close games, their record will look a lot better in 2016.
EASTERN
Vikings
PLAYERS TO WATCH: Senior forward Amirah Ali will wrap up one of the most accomplished careers in South Jersey history this fall before moving on to Rutgers. Last year will be hard to top, as she scored a school-record 36 goals to go with 16 assists. Ali is in striking distance of Eastern's career records for points, goals and assists—and is 28 goals from 100, a remarkable feat in the Olympic Conference American Division—and it will be entertaining to watch her final season unfold. Another key offensive player is senior midfielder Alyssa Bentz, who had five goals and six assists in 2015. The Vikings will also get contributions up front and in the midfield from senior Amanda Ashmen and junior Katie Lesniewski. Senior Jen Civatte (two goals, seven assists) may move to the back along with Madison Tyree (six assists), who is a returning starter and the leader of the defense. Junior Lexi Friedant will play an important role on D as well. Senior Alexis Craig—an all-conference second-teamer—and junior Mikayla Ronczka are both experienced goalies who shared time last year. Eastern also has several promising freshmen who could join the lineup and produce right away.
OUTLOOK: The Vikings were South Jersey's No. 1 team for much of 2015, as they went 22-2-1 and won perhaps the state's best conference—the Olympic American—for the fourth straight year. They also claimed the Coaches Tournament title and advanced to the South Jersey Group IV final. With Ali leading the way, they expect to be con- tenders for conference, Coaches Tournament and sectional championships once again.
GLOUCESTER CATHOLIC
Rams
PLAYERS TO WATCH: Gloucester Catholic graduated three all-conference players, including leading scorer Kay Kupiec, so new leaders will have to emerge. Among the candidates are junior returning starters Mia Lugiano and Jordan Romano, who each scored three goals. Mary Heard, Sarah Lozuke and Katie Gaudreau are key seniors and Megan McGonigle is an experienced junior. Lindsay Bishop also returns after contributing to the varsity squad as a freshman.
OUTLOOK: The Rams went 8-8 and lost in the first round of the South Jersey Non-Public A playoffs last fall. They hope to remain competitive under new coach Kate Usher, a 2008 Gloucester Catholic graduate who replaces long-time co- coaches Kate Ormsby and Courtney Murnane.
HADDONFIELD
Bulldawgs
PLAYERS TO WATCH: Despite the graduation of several important senior leaders, Haddonfield has plenty to be excited about. Four freshmen started last year, and it will be interesting to see what they can do as sophomores. That group includes forward Madie Bee, who led the team with nine goals and scored twice in a playoff victory over Lower Cape May. The other sophomores who made an impact as rookies are midfielders Nic Green (six goals, nine assists) and Wayden Ay (five goals) and defender Sophia Schwab. The back line also features all-conference first-teamer Annie Stanton, a junior, and senior Jenna Zappetti. Juniors Julia Parker and Casey Clarke will contribute at forward and juniors Isabella Nugent and Lizzie Mulvenna are back in the midfield. Several players will compete to replace four-year starter Taylor Sehdev in goal.
OUTLOOK: The Bulldawgs finished with a 15-4-2 record after falling in the South Jersey Group II quarterfinals in 2015. With so much young talent, they look like strong contenders in the Colonial Conference Liberty Division.
KINGSWAY
Dragons
PAYERS TO WATCH: After fielding a young team in 2015, Kingsway is excited for this season with a lot of the core players returning, including four who scored at least seven goals each. Leading the way is senior midfielder Oonagh Breen, who led the team with nine goals and nine assists to earn all-conference first-team recognition. Junior forwards Maddie Batra (eight goals, five assists) and Kylie Anicic (seven goals) are both three-year starters, and Batra was an all-conference second-teamer last fall. Sophomore Samantha Emmi is another talented youngster who had eight goals and five assists as a rookie. Other returners expected to contribute offensively are seniors Emma Kushnerock, Hailey Rivell and Reilly Noel and juniors Alexa Evernham and Carissa Britton. Junior Mauri Jackson is back as the starting goalie, and the defense in front of her includes seniors Cami Federico, Kate Green, Rhianna Cliver, Bridget Dukes and Kelsey Berlin and junior Haley Silva.
OUTLOOK: The Dragons finished with an 11-8-1 record after losing to Lenape in the first round of he South Jersey Group IV playoffs. With so many talented returners, they'll look to take the next step this season and compete for the Tri-County Royal Division championship. Sadly, they will do so under a new coach, as popular and successful long-time coach John Kodluk passed away suddenly in May.
LENAPE
Indians
PAYERS TO WATCH: Lenape has a solid core of seniors as well as juniors and sophomores who saw varsity time, so it's a good mix to build around. One of the veterans is senior forward Steph Figueroa, who scored a team-high seven goals to go with three assists on her way to all-conference second- team honors. Other seniors are midfielders Kara DiMarcangelo, Carlee Faraghan-Braverman and Izzy Schwartz and defenders Gabby Fornia, Erin Donoghue and Meg Quimby. Forward Bella Hovis and midfielder Alexa Woltjen, both juniors, each had two goals and two assists and will con- tribute offensively. Goalie Shannon Mulroy was an all-conference second-teamer and leads a group of sophomores who played varsity as freshmen. That group also includes forwards Peyton Warrick, Sude Yalcin, Maggie Horn and Katie Quinn.
OUTLOOK: The Indians saw their incredible run of eight straight sectional and Coaches Tournament titles come to an end in 2015. But they still reached the quarterfinals of the South Jersey Group IV playoffs and the semifinals of the Coaches Tournament in a 14-6-3 season. With a lot of up-and-coming players back in the fold, Lenape will attempt to start a new streak.
MOORESTOWN
Quakers
PLAYERS TO WATCH: Senior midfielder Quinn Nicolai is coming off a fantastic junior season and will once again be a force for Moorestown. She erupted for 21 goals and 12 assists and was rewarded with all-South Jersey first-team accolades. Senior Nina Nelson is another talented offensive player who had five goals last year. Olivia Carson, Sarah Gally, Ali Simeone and Amanda Wichterman are other senior leaders along with Marissa Genevro, who looks to take over as the starting keeper. Emily Bretschneider returns as the starting sweeper, and fellow juniors Robin Panzarella, Alex Hubler, Ava Frantz, Natalie Voiro and Emily Brooks are also back after seeing quality time in 2015. Sophomores Rylee and Maggie Brown, Julia Dalmass, Isa Arvello and Jillian Calhoun all return after con- tributing significantly as freshmen.
OUTLOOK: The Quakers' 14-5-2 season included a rip to the Central Jersey Group III quarterfinals and the Burlington County Scholastic League Liberty Division championship, the 15th time in the last 19 years they've won or shared the title. With one of the best finishers in South Jersey in Nicolai, they should be contenders once again.
MOORESTOWN FRIENDS
Foxes
PLAYERS TO WATCH: Moorestown Friends is loaded with offensive talent, starting with junior forward Kieran Lees, who scored a team-high 20 goals to go with nine assists on her way to all-Friends League first-team honors. She is joined up front by two other juniors: Alexis Kasper (13 goals, six assists) and Alyssa Runyan (three goals, team-leading 12 assists), who made the all- league honorable mention list. Sophomore Micaela Coll is yet another playmaker who had nine goals and seven assists as a rookie. Key returners in the midfield include junior Chloe Jones—who scored the game-winning goal in the sectional final—and sophomore Courtney Tarter, who had four assists. The versatile Tarter is also a talented defender who can play left back as well as forward. The defense is led by senior Kelcie Satterthwalte and juniors Chloe Chen and Gwen Gignac. Senior Anna Goula looks to take over as the starting goalie and junior forward Alexis Watson is also expected to contribute.
OUTLOOK: These are special times for the Foxes, who claimed their second straight South Jersey Non-Pub- lic B title last fall before dropping a tough 1-0 loss to Villa Walsh in the state final. They finished with a 14- 6 record and will bring lofty expectations into this season.
PAUL VI
Eagles
PLAYERS TO WATCH: Megan Reardigan will look to cap her standout career at Paul VI with a memorable senior season. Last year the midfielder was named to the all-South Jersey and all-conference first teams for the second year in a row, as she finished with four goals and four assists. Unfortunately, Reardigan's running mate on offense, sophomore forward Alyssa Carfagno, tore her ACL and will miss the season after leading the Eagles with nine goals as a freshman and receiving all-conference second-team honors. Junior Lauren Calabria was also an all-conference second-teamer and leads the defense along with junior goalie Rylee Milligan. Other key returners include seniors Maggie Gardner and Emma Trassati, juniors Ava Albergo, Gabrielle Marra and Jillian Badgley and sophomores Melanie Benish and Olivia Boucot. Paul VI also expects contributions from several other returning players as well as some varsity newcomers.
OUTLOOK: The Eagles finished strong in 2015, as they upset St. Rose in the first round of the South Jersey Non-Public A playoffs before dropping a close 2-1 game to second-seeded Bishop Ahr in the quarterfinals. They have the potential to build on that finish and improve on their 6-13 record.
SENECA
Golden Eagles
PLAYERS TO WATCH: Seneca brings back a strong nucleus highlight- ed by all-conference first-team selections Mackenzie Hoffman and Erin Kerstetter, both seniors. Hoffman, a forward, and Kerstetter, a midfielder, each scored 11 goals last year to share the team lead. Senior Stephanie Tollefson is another terrific finisher who had nine goals, and senior Emily Meale is a playmaker in the midfield who made the all-conference second team. Senior Allison Lyons, junior Alexa Brown and sophomore Jaimi Araujo also contribute to the offense. Juniors Olivia O'Connor and Hannah Packard and senior Anna Yanessa are experienced defenders.
OUTLOOK: The Golden Eagles made a memorable run to the South Jersey Group III final before dropping a 3-2 heartbreaker to Toms River South in overtime to finish with an 11-8-2 record. They hope to contend for a sectional title again this fall.
SHAWNEE
Renegades
PLAYERS TO WATCH: Shawnee graduated five Division I players from last year's remarkable team, including leading scorer and all-state midfielder Lexie Palladino. But don't feel too sorry for the Renegades, because a lot of talent remains. That includes senior forward Christina Corbi (18 goals, five assists) and senior goalie Brianna Davis, who each made the all-conference first team and all-South Jersey second team. Seniors Julianna Bertolino, Vanessa Alessi, Dana Goldstein, Olivia Schuck and Jordan Brown are other important veterans. Other returners who will make an impact are juniors Erica Barr and Maddie Welsh and sophomore Cameron Morgan.
OUTLOOK: All the Renedages did in 2015 was knock off rival Eastern for their first sectional crown, reach the final of the Coaches Tournament and finish with a 20-3-2 record. There is obviously no replacing last year's senior class, but Shawnee should stay among the top teams in South Jersey.
WASHINGTON TOWNSHIP
Minutemaids
PLAYERS TO WATCH: Washington Township graduated one of the best scorers in South Jersey in Kylie D'Ambra, but one very important part of the offense is back: midfielder Emily Gray, who has committed to Virginia Tech. The junior is a proven scorer who is even better at distributing the ball and finished with 11 goals and a team-high 14 assists on her way to all-conference first-team recognition. Other key returners are senior forward Bridget Heist (five goals) and sophomore midfielder Natasha Munro (six goals, six assists), an all- conference second-teamer as a rookie. Senior Ilyssa Liberto is another experienced forward and the returning midfielders also include juniors Alexa Liss and Deanna Balsama and sophomore Julianna Capano. Juniors Breana Winder and Sophia Spadano and sophomore Milana D'Ambra are back on defense in front of goalies Jordynn Stalliard, a sophomore, and Sarah Haggerty, a senior.
OUTLOOK: The Minutemaids' strong 2015 campaign featured a 14-6-3 record and a berth in the South Jersey Group IV semifinals. They should again be one of the better teams in the loaded Olympic Conference American Division.
To see a complete list of our girls soccer sports schedules, click here to go to our digital edition.
Published (and copyrighted) in Suburban Family Magazine, Volume 7, Issue 5 (July, 2016).
For more info on Suburban Family Magazine, click here.
For information about advertising in Suburban Family Magazine, click here.
To find out where to pick up your copy of Suburban Family Magazine, click here.