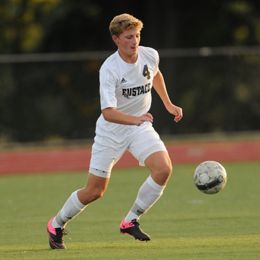 Fall Sports Preview: Boys Soccer
BISHOP EUSTACE
Crusaders
PLAYERS TO WATCH: Eustace is paced by a pair of returning all-conference midfielders in junior A.J. Pietrangelo and senior Sam Gray. Pietrangelo was named the Crusaders' MVP last year as he scored a team-high eight goals, while Gray added six goals and two assists. Junior midfielder/forward Matthew Pattison and senior midfielder Danny Gault are also important offensive players. The defense is led by seniors Jacob Ayoub and Jack Celano and junior Vincent Lamina, who earned the Most Improved Award for the team last year. Other returners include seniors Anthony Pinto, Dave Batastini and Chris Krawiec; juniors John Kueny and Paul Schields; and sophomore Joseph Makar.
OUTLOOK: After winning the Olympic Conference National Division title in 2014, the Crusaders went 5-12-1 overall in a rebuilding season in 2015. With Gray and Pietrangelo leading the way, they have a good chance of returning to their winning ways this fall.
CAMDEN CATHOLIC
Fighting Irish
PLAYERS TO WATCH: Although Camden Catholic graduated leading scorer and top overall player Jay Lee, there is a solid group of returners left to build around. That includes junior forward Christian Belz, who was second on the team with six goals in 2015. Captain Kyle Cooney, a defender, had four goals last year and leads a strong senior class. Senior forward Antonio Spinosi also netted four goals, and senior center mid-fielder Matt Viola is an important piece of the offense as well. Senior Jack Dragani is back in goal and turned heads with an excellent summer league season in Philadelphia.
OUTLOOK: The Fighting Irish have increased their win total each of the last four seasons—finishing with a 5-15 record last fall—and hope to push for a .500 record this fall.
CHEROKEE
Chiefs
PLAYERS TO WATCH: Cherokee brings back five starters, including one of the top players in the area in Jake Treiber. The senior forward had nine goals and 11 assists last year on his way to all-South Jersey first-team honors. Senior Brendan Connolly also returns up front and senior Ryan Haines is a key player in the midfield. A defense which allowed just 13 goals all season is highlighted by seniors Dylan Pepperman, Tom Gillin and Trent Stroup, and senior Phillip D'Andrea is expected to become the full-time goalie after splitting time last season. Other returners include senior midfielder Nate Roberts and junior midfielder/forward Tatum Cinelli.
OUTLOOK: Last year was another successful one for the Chiefs, as they went 17-4-2 and reached the semifinals at both the Coaches Tournament and the South Jersey Group IV playoffs. They'll look to contend in the Olympic Conference American Division this fall.
CHERRY HILL EAST
Cougars
PLAYERS TO WATCH: Cherry Hill East has a solid core of seniors back to lead the team, including mid-fielder/forward Robert Sparrow (three goals, two assists) and forward Tommaso Cavallo (two goals, two assists). The group of veterans also ncludes forward Jake Cerota and midfielders Andrew Lochbihler, Tim Welcsh and Josh Snyder. Defensively, seniors Nick Reganata, Jack Hampton and Luke Hinrichs are key players on the back line. They'll support senior Colin O'Donnell, who returns as the keeper and should be one of the best in the Olympic Conference and South Jersey. Other players expected to contribute are Jose Andino, Matt Blaker, Evan Seidel and Jack Zilberfarb.
OUTLOOK: The Cougars posted a 5-10-1 record in 2015 and were competitive in most of their games. Look for them to keep making progress this fall.
PLAYERS TO WATCH: Cherry Hill West graduated its top player, all-South Jersey first-team forward Nick Krake, who scored almost half of the team's goals last year. So new offensive stars will have to step up. One of those should be senior forward Ishmael Bokai, who had three goals and five assists last fall. Senior Kevin Hoxha is a key midfielder, while three juniors return to the starting lineup and will con- tribute up front and in the midfield: Jason Kahan, Brandon Nam and Elliott Cumba. Seniors Max Bond and Chris Juan are returning starters on defense, and senior Andrew Robertson should take over as the full-time starter in goal after splitting time last season.
OUTLOOK: The Lions had a successful season in 2015, compiling a 10-8-1 record, qualifying for the Coaches Tournament and reaching the South Jersey Group III quarterfinals before dropping a tough 1-0 loss to Ocean City in overtime. Losing Krake is huge, but they hope to be competitive as they move from the Olympic Conference American Division to the National Division.
CLEARVIEW
Pioneers
PLAYERS TO WATCH: Clearview brings back a solid nucleus, including junior midfielder Justin Bilderback, who earned all-conference first-team recognition as a sophomore. Senior forward Nick Scanzano also returns after leading the team with six goals and making the all- conference second team. The midfield includes junior Harmon Nuss and senior Gavin Hunter, who had five assists last year. Senior Matt Niewoehner and junior Andrew Jarrett are important players on defense and junior Ronin Costello figures to take over as the starting keeper. Seniors Justin Bagin, Billy Zorzanello, Kyle Muscarella and Blake Logan will also be counted on this fall.
OUTLOOK: In a rebuilding year, the Pioneers still managed a respectable 9-9-1 record. They should be much improved this season thanks to the experience their younger players earned.
EASTERN
Vikings
PLAYERS TO WATCH: Eastern graduated a ton of talent from last year's memorable season, including all-South Jersey first-team defender Tommy Katsaros, starting goalie Gabe Sable and leading scorer Zach Goldberg. Senior forward Diego Valle (three goals, three assists) is one of the key veterans returning, and he'll be joined up front by seniors Andrew Thomas and Vinnie Padula and sophomore Antonio DiColandrea. Senior Ryan Stauffer is a return- ing starter in the midfield and sophomore Terrell Collins is also a contributor. Junior Troy Edwards and sophomore Tanner Koch are important players on defense and senior Brett Cooper will look to take over as the starting keeper.
OUTLOOK: The Vikings went 18-7—tying the school record for wins in a season—and reached the South Jersey Group IV final before suffering a close loss to Washington Township. Repeating that success is a tall order considering the players lost to graduation, but expect Eastern to remain competitive.
GLOUCESTER CATHOLIC
Rams
PLAYERS TO WATCH: Junior midfielder Justin Phy, an all-conference first- team selection last year, has transferred to Triton, so that is a big loss for Gloucester Catholic's offense. The Rams do have several all-conference first-teamers returning on defense, however: senior backs Gregg Williams and Colby Hogan and senior goalie D.J. Matsinger. Senior Matt Smith is also back on defense, while senior forward Tim Reiners (six goals, two assists) is a proven scorer and senior Nick Myers is an important player in the mid- field. Sophomores Joe Grace, John Breen and Joe Tesi all saw varsity time as freshmen and will have increased roles this fall.
OUTLOOK: The Rams went 13-6 last year and lost in the South Jersey Non-Public B quarterfinals. With a solid core returning, they hope to reclaim the Tri-County Classic Division title they surrendered to Pitman last year.
HADDONFIELD
Bulldawgs
PLAYERS TO WATCH: Despite graduating an out- standing senior class, Haddonfield has a lot to be excited about, starting with junior forward Jack Dugan. One of the most talented players in South Jersey, Dugan had 16 goals and 13 assists last year and was named to the all-conference first team for the second year in a row. He'll have help on offense from fellow juniors Sam DeCencio (seven goals, eight assists) and Max Green (five, three). An excellent defense which allowed just eight goals suffered key losses to graduation, but will be anchored by versatile senior Jon Skiba, a three-year varsity player. Junior Mike Schroeter gained invaluable experience as a defensive midfielder and outside back and will also bolster the D. Juniors Will Sabia, Will Bond and Ben Schroeter will all push for starting jobs, and sophomores Luke Baxter, R.J. Mroz, Steve DiTomaso and Mikey Gallo will also compete for playing time. Seniors Adam Goodman and Angelo DiTomaso and junior Finn Miller—who missed last sea- son with a broken leg—will all try to earn the starting goalie job vacated by three-year starter Jon Baxter, who graduated.
OUTLOOK: The Bulldawgs returned to their spot among the best teams in the area last fall, as they went 18-2-1 and won the Colonial Conference Liberty Division for the first time since 2012. They have the potential for another successful season if the defense develops.
KINGSWAY
Dragons
PLAYERS TO WATCH: Kingsway has a solid core of juniors who have been playing varsity since they were fresh- men, and it will be interesting to see what they can do as upperclass- men. That group includes midfielder Austin Ogren (five goals) and forward Zack Garcia (four goals), who both made the all-conference second team last year. Other returning juniors are Stephen Mecke (two goals, two assists) and goalies Brady Hochman and Noah Turner, who shared time in net last fall. The senior leaders include Carl Vicere (three goals) and starting center back Drew Smith, along with Logan Jack- son, Sam Craig and Nick Zahniser.
OUTLOOK: The Dragons battled through an injury-plagued season in 2015 but still man- aged a 9-7-2 record and qualified for the South Jersey Group IV playoffs. They hope to stay healthy and compete for the Tri-County Royal Division title this season.
LENAPE
Indians
PLAYERS TO WATCH: Senior forwards Sean Donnelly (four goals) and Andrew Lipski (three goals) are talented offensive players and lead the returners for Lenape. Junior Collin Day returns as the starting goalie and other important veterans are seniors Jack Guerrieri and Billy Mulvihill and junior Billy Bruno. Other returners expected to contribute are senior Leo Christou and junior Jonathan Landis.
OUTLOOK: The Indians finished with a 7-9-3 record after falling to Williamstown in penalty kicks in the first round of the South Jersey Group IV playoffs. They hope to stay competitive against a tough schedule in 2016.
MOORESTOWN
Quakers
PLAYERS TO WATCH: Moorestown brings back several key veterans, including seniors Noah Michaud, Diego Arvelo, Justin Quintero and Marco Randazzo, the starting keeper. Max Haller and Jack Broker are among the juniors who gained valuable playing time last year.
OUTLOOK: The Quakers posted a 4-13-2 record last fall in a rebuilding season. The experience their younger players received should pay off in 2016.
MOORESTOWN FRIENDS
Foxes
PLAYERS TO WATCH: Moorestown Friends said goodbye to a special senior class, including leading scorer Matt Mullock, who is now playing Division I soccer at St. Joseph's University. But there is a solid nucleus remaining highlighted by senior Dylan Carilli, who had three goals and five assists and was an all-Friends League honor- able mention choice as an outside back. Seniors Andrew Denittis (four goals, four assists) and Olivier Bastien (four, three) are key pieces of the offense. Other returning contributors are seniors Ewan Larkin and Spencer Dennis and juniors Phil Evans and Jack Burrows. Other players who could have an impact are senior Brad Devlin; juniors Lawrence Miles, Menarsh Patel, Piercson Sheehan and goalie Teddy Kinzler; and sophomores Hunter Arce and Peter Frank.
OUTLOOK: The Foxes went 12-9-1, claimed their first sectional championship since 1979 and advanced to the Non-Public B state final in a memorable 2015 campaign. While they must replace a big part of their starting lineup, they have the potential for another successful season.
PAUL IV
Eagles
PLAYERS TO WATCH: After graduating a strong senior class that included leading scorers Ji Park and Jack Stewart, Paul VI will need new leaders to emerge. Seniors Bobby Fitzgerald and Eric Kinnerman are both candidates, as they played important roles last year. Senior Tyler Barnett will look to lock down the starting goalie job and other key seniors are Paul D'Allesandro and Logan Fanrak. Junior Ryan Bufo is also expected to contribute.
OUTLOOK: The Eagles' 2015 campaign included the Olympic Conference National Division title—their first since 1999—and a trip to the South Jersey Non-Public A semifinals. Despite tremendous losses to graduation, the program is headed in the right direction.
SENECA
Golden Eagles
PLAYERS TO WATCH: Junior Zach Malcolm enjoyed a breakout season in 2015, as he led Seneca with nine goals and added three assists. The forward is primed for another big year and should pace the offense. Malcolm will have help up front from a pair of sophomores who saw varsity time as freshmen, John Meale and Eric Pierre. Senior Connor Fries leads the way in the midfield along with juniors Sean Bernard and Chris Macauley and sophomores Mitch Tippin and Justin Patton. The defense includes seniors Evan Cajigas and Sean Nesko, while senior Alex Perricone and junior Thomas Jeanson will be counted on to add depth. A new starting goalie must emerge after the graduation of Gus Valeriano and Michael Bresan.
OUTLOOK: The Golden Eagles competed all season long in 2015, as their 7-11-1 record featured eight one-goal losses. If they can find a way to pull out some of those close matches this year they'll contend for a winning season.
SHAWNEE
Renegades
PLAYERS TO WATCH: Shawnee returns its leading scorer in senior forward Caleb Longshaw, who had nine goals and three assists in an excellent 2015 campaign. Senior J.T. Mogan and junior Bailey Pringle are returning starters in the midfield and junior Vaughn Paga is a key player who can transition between the defense and midfield. Juniors Pietro Gambino and Jackson Goldman are other experienced returners, and senior Ryan Hileman will be competing with classmate Mike Tolkacz to replace all-South Jersey third-team keeper Dalton Wu, who will be continuing his career at Hartwick College in the fall. Other players expected to con- tribute are senior Dan Unger and junior Brett Funk in the back and juniors Dan Goodson and Kane Feudtner up front. Sophomores Brian Lorenz and James Murray will also push for playing time.
OUTLOOK: The Renegades bounced back from a rare losing season to go 12-8 last year and reach the South Jersey Group IV quarterfinals. They have the returning talent to make it two winning seasons in a row.
ST. AUGUSTINE
Hermits
PLAYERS TO WATCH: St. Augustine said goodbye to 10 seniors but still returns a solid nucleus. Senior D.J. Briggs was an all-conference second-team defender along with senior goalie Matthew Heist, who recorded 12 shutouts in his first season as the starter. Senior midfielder Chad Catalana earned all-conference honorable mention honors, and other experienced midfielders include seniors Anthony Sulvetta, Spencer Infranco and Jared Corbett. Senior Jake Fernandez (three goals) is one of the key players up front, and junior Cullen Davis will also contribute at forward.
OUTLOOK: The Hermits' 14-6-1 season included their third straight Cape-Atlantic League American Division title and a trip to the South Jersey Non-Public A final, where they dropped a hard-fought 2-1 loss to Christian Brothers Academy. Expect them to be division contenders once again.
WASHINGTON TOWNSHIP
Minutemen
PLAYERS TO WATCH: Last year's senior class helped the program post a 76- 3-1 record over the last three seasons with two Group IV state championships, so that group will certainly be missed. But there are still important building blocks left for Washington Township, starting with senior defender John Dalesandro. He contributed six goals and six assists along with stellar play on D and made the all-conference first team. Junior forward Clayton Crosse (six goals, five assists) is one of the fastest players in South Jersey, and senior midfielder Ethan Mueller (five goals) is another returning playmaker. Juniors Will McCusker and Ed Rainey have experience on the back line, and senior Frank Borgesi will be a candidate for the starting goalie job along with junior Connor Troxel. Junior midfielder Jason Arakelian and senior defender Alex Levie also return.
OUTLOOK: The Minutemen had another magical run last fall, posting a 25-1-1 record and claiming their second straight Group IV state title. It's unfair to expect the same level of success this season, but don't overlook their potential, either.
To see a complete list of our boys soccer sports schedules, click here to go to our digital edition.
Published (and copyrighted) in Suburban Family Magazine, Volume 7, Issue 5 (July, 2016).
For more info on Suburban Family Magazine, click here.
For information about advertising in Suburban Family Magazine, click here.
To find out where to pick up your copy of Suburban Family Magazine, click here.