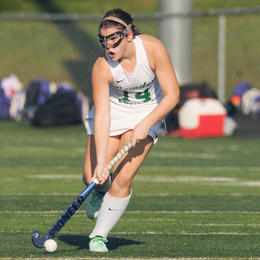 Fall Sports Preview: Field Hockey
BISHOP EUSTACE
Crusaders
PLAYERS TO WATCH: A special senior class that has experienced a lot of success at Eustace will lead the way this fall. That group includes three all-conference first-teamers who have committed to Division I college programs: forwards Erin Quinn and Lexi DiGennaro and midfielder Drew Pecora. Quinn was third in South Jersey with 40 goals and added 20 assists last year to make the all-South Jersey first team and all-state second team. She is headed to Penn. DiGennaro, a Villanova recruit, had 24 goals and 19 assists; and Pecora, who will continue her career at Lehigh, had 15 goals and 10 assists. Senior forward Amanda Manuola is another dangerous offensive player who had 23 goals and 18 assists. Other members of the outstanding senior class are starting goalie and Siena recruit Brenna Miller and defender Ashley Conklin, who hopes to return by the end of the season after suffering a torn ACL playing lacrosse. Midfielder Kerry Monaghan and defender Julia Radley are key junior returners, while two sophomores who started as freshmen are also back: sweeper MJ Schwab and back Shelby Young. Other sophomores who saw time as freshmen and will look to contribute are Veronika O'Donnell, Alyssa Manuola and Julianna Carletti.
OUTLOOK: The Crusaders went 17-4, won their third sectional title in four years and dropped a close game to Oak Knoll in the state final for the second straight season. The seniors have accomplished everything except a state championship and expect to contend for one in their final season.
CAMDEN CATHOLIC
Fighting Irish
PLAYERS TO WATCH: Camden Catholic graduated its top overall player in back Kelli Connolly, who started all four years of her career and made the all-conference first team each season. But the Fighting Irish do bring back their leading scorer, junior forward Saige-Lyn Gidzkinski, who had 10 goals and five assists to earn all-conference first-team recognition. Junior goalie Camille Pottillo was another all-conference first- teamer, and important returners in front of her are seniors Brett Michelle Hardy and Caroline Smith and junior Erin Wilson. Key players at forward and in the midfield include seniors Erin Campbell, Emily Berry and Cecilia Ann Wigginton, junior Suzanne Polashock and sophomore Katie Miller.
OUTLOOK: The Irish reached the Non-Public A sectional semifinals and finished with a 10-11 record in 2015. They have a strong senior core and a promising group of youngsters and should contend for a winning record this fall.
CHEROKEE
Chiefs
PLAYERS TO WATCH: Cherokee has a solid nucleus led by senior midfielder/back Katie Kopper, an all-conference first-team selection. Junior forwards Gab Bodine (10 goals, 12 assists) and Christina Orio (11 goals, four assists) will be relied on to provide the bulk of the offense along with senior forward Lilly Fox (nine goals). Senior Joelle Wash is a key player in the midfield who has committed to Montclair State. Other important returners are senior midfielder/back Bridget Hickey and junior midfielder/back Dakota DeMaise. For the second straight year, the Chiefs must replace an all-South Jersey first-team goalie, as Brooke Wasco has graduated.
OUTLOOK: The Chiefs' 12-9 season featured a trip to the South Jersey Group IV quarterfinals. Expect another winning campaign this fall.
CHERRY HILL EAST
Cougars
PLAYERS TO WATCH: Sophomore forward Carli Ciocco had an impressive rookie season and will be one of the key players for Cherry Hill East. other important players on offense are junior forward Isabella D'Amore, junior midfielder Shannon Reiss and sophomore midfielder Sarah Allen. The returning defenders include juniors Olivia Bonanni and Katelyn Cliver and senior Lauren Edson. The Cougars must replace goalie Zoe Peterzel, who graduated after an all-conference season.
OUTLOOK: Cherry Hill East has a lot of young players in the program and will look to improve on last year's 4-14 record.
CHERRY HILL WEST
Lions
PLAYRS TO WATCH: Cherry Hill West has several experienced players returning, including seniors Caitlin Flynn, Tori Injaian and Sara Sherry and juniors Keriann Dignan, Kylie Judge, Shannon Meloche and Julia Clancy. Senior Abby Spencer served as the backup goalie last year and will take over as the starter. Other players hoping to contribute are seniors Shannon Bobb and Ally Marchesani and sophomores Niki Horiates and Paige Tambussi. The incoming freshman class is also strong and could have an impact right away.
OUTLOOK: The Lions only finished with one win in 2015 but were competitive in many of their games, including six one-goal losses. Look for them to keep fighting hard as they move into the Olympic Conference National Division this fall.
CLEARVIEW
Pioneers
PLAYERS TO WATCH: Clearview will once again be paced by senior midfielder Chandler McFeeley, one of the top players in the area if not the state. McFeeley led the team with 29 goals and also had 13 assists on her way to all-South Jersey and all-conference first-team honors. She is primed for a big senior season before continuing her career at Drexel. Senior forward Rachel Lanzalotti is another potent scorer who had 20 goals and four assists and was named to the all-conference first team. Sophomore Claire Eisenhart (10 goals, 14 assists) and junior forward Gabby Glavin (eight goals) are other key players on offense. Junior backs Jill Verrelle and Haley Plitt both made the all-conference first team and senior Casey Diodati is another important piece of the defense. Senior Nicoletta Feldman and sophomore Julianna Smith are experienced goalies.
OUTLOOK: The Pioneers posted a 13-4-3 record in 2015, reached the sectional semifinals and finished a close second to rival Kingsway in the Tri-County Royal Division standings. They have the talent to contend in the division once again.
EASTERN
Vikings
PLAYERS TO WATCH: As usual, Eastern has some outstanding players to replace, including New Jersey Player of the Year Madison Morano, who coach Danyle Heilig considers one of the best all-around talents she's had in 17 seasons at the school. But the Vikings still have a strong returning core that will look to keep up the program's tremendous tradition. That includes senior back Alexis Pettisani, who anchored the defense last season and earned all-state, all-South Jersey and all-conference first-team accolades. A Boston University recruit, Pettisani also contributed 20 goals and 17 assists. The top attacker is senior forward Mackenzie Keegan, an all-state second-teamer who had 30 goals and 26 assists. Keegan will continue her career at Northwestern. Junior forward Jessica Maute (26 goals, 12 assists) is another dangerous scorer who made the all-South Jersey third team, and junior Isabella Sinibaldi is a scoring threat as well. Key players in the midfield are Stanford commit Kasey Quicksill and Villanova recruit Ashley Thomas, both seniors. Senior Kayla Somers, who is headed to Richmond, and junior Olivia Perrone are returning defenders in front of starting senior goalie Cassie Kincaid.
OUTLOOK: The 2015 season was yet another banner one for the Vikings, who went 27-0, claimed their 17th straight state championship and seventh Tournament of Champions title in nine years and were named the No. 1 team in the country. They will bring a 76-game winning streak and 133-game unbeaten streak into this season.
GLOUCESTER CATHOLIC
Rams
PLAYERS TO WATCH: Gloucester Catholic returns one of its top offensive players in senior forward Kaleigh Frampton, who scored seven goals last season. Seniors Erin Barth and Kiera Regan will also contribute offensively and seniors Samantha Heister, Allison Driscoll and Julia Kohout are key players in the midfield. Sophomore Emily Leonhardt is back on defense and junior Marissa Rodriguez has experience in the cage. Other players looking to make an impact are sophomore Allison Frampton and junior Chloe Fredersdorff.
OUTLOOK: A solid senior class hopes to help the Rams improve on last year's 3-11-2 record. 28 goals and 20 assists. The all-conference first-teamer and all-South Jersey second-teamer has committed to Appalachian State. Senior Caroline Bickel is another all-conference first- team selection who had 15 goals and 18 assists. The three-year starter is known for her versatility and contributes at several positions. Junior Sophie Popp also made the all-conference first team after recording 20 goals and six assists, and other playmakers include senior forward Emma Feldhake (15 goals), junior midfielder Jaimie McCormick (five goals, 12 assists), junior forward Julia Battino (five goals) and sophomore forward Maddie Bickel (eight goals). Senior Tirzah McMillan and sophomore Ella Dengler are returning starters on defense, and senior Becca Goldfield and junior Olivia Conquest are also experienced defenders. Sophomore Megan Maynes is back in the cage after playing well as a freshman in her first year in the sport.
OUTLOOK: The 2015 campaign was memorable for the Bulldawgs, who went 21-2-1, claimed the Central Jersey Group I title and reached the state final. With most of the squad returning, expectations remain high this fall.
KINGSWAY
Dragons
PLAYERS TO WATCH: Kingsway graduated an excellent senior class, including its top three goal scorers, so the team will look different this fall. One of the top returners is senior midfielder Rachel Zeck, an all-conference second-teamer. Seniors Victoria Mbakwe, Taylor Sweeney and Ashley Davis are other key players in the midfield. Seniors Sabrina Crane and Gabby Repp, juniors Riley LaRubbio and Brianna Thomas and sophomore Payton Barr will try to pick up the scoring slack. Senior Morgan Horner and sophomore Theresa Reed are returning defenders, junior Danielle Dominik could possibly start in the cage and Hannah Brown is another promising junior.
OUTLOOK: The Dragons' 13-3-3 season included the Tri-County Royal Division championship. There are clearly holes to fill, but they hope to remain competitive.
LENAPE
Indians
PLAYERS TO WATCH: Lenape returns a lot of younger players who gained valuable varsity experience, including sophomore forward Kylie Bresley, who scored a team- high four goals as a rookie. Other key players at forward and in the midfield are senior Liz Mercado and juniors Caroline McKenna, Macie Wolf and Riley Grogan and sophomore Caroline Barlow. Senior Kristen Viggiano is a key part of the defense. Coach Sarah Moretti says these core girls "have not put their sticks down since [last] season ended and will be the backbone" of this year's team.
OUTLOOK: The Indians went 2-15-1 last season but their strong finish included a playoff victory. They should be much improved this fall.
MOORESTOWN
Quakers
PLAYERS TO WATCH: Junior forward Avery Powell has proven herself as a talented scorer in her first two seasons at Moorestown and should be the focal point of the offense this fall. Last year the Drexel commit tied for the team lead with 17 goals and added eight assists to earn all-conference first-team recognition along with all-county and all-South Jersey honors. Sophomore midfielder Delaney Lawler is coming off an impressive rookie year with eight goals and eight assists and also made the all-conference first team, along with senior back Nicki Dadino, who received all-county and all-South Jersey accolades as well. Other important offensive players are senior forward Roxy Vassighi (nine goals, five assists), senior forward/midfielder Erin McIlhenny (five goals) and sophomore forwards Madison Sever (seven goals, five assists) and Colleen Craven (eight goals). Seniors Renna Thomas, Lizzy Ehrline and Rochester commit Kaitlyn Valentino and sophomore Olivia Sever are back in the midfield and the defenders include seniors Clare McGreevy and Clare Craven. Three sophomores return to the cage after seeing varsity time as rookies: Katie Stefano, Lauren Pickul and Logan Donahue.
OUTLOOK: The Quakers continued to shine in 2015, claiming the Central Jersey Group III championship for their fourth sectional title in five years. They finished with a 14-5-1 record after falling to Ocean City in the state semifinals and will look to stay among the elite in the state.
MOORESTOWN FRIENDS
Foxes
PLAYERS TO WATCH: Moorestown Friends is paced by a terrific junior class that includes all-Friends League first- team members Amanda Cooper (six goals, four assists) and Erin Fennell (four goals, seven assists). Junior Kayleigh Schweiker was an all-league honorable mention choice and yet another junior, goalie Isabella Pillows, is back after splitting time in the cage. Four-year starter Katy Repholz is one of the senior leaders and will look to finish her career with a strong final season. Other players expected to contribute are seniors Daniella Spector, Natalie Zakroff, Katie Kasperson, Rebecca McGrath and Caroline Paw and junior Elizabeth Mayer.
OUTLOOK: The Foxes finished with an 8-9 record after dropping a close game to Paul VI in the first round of the South Jersey Non-Public play- offs. With a talented returning core, they should contend for a winning record.
PAUL VI
Eagles
PLAYERS TO WATCH: Paul VI returns seven starters from a year ago, including senior forward Natalie Burns, an all-conference first-teamer the last two seasons and the focal point of the offense. Kelly Murphy is a four-year starter in the cage and other senior starters are Kathleen Murphy, Marie Green, Liz Rizzo and Alex Schwab. Sophomore Brielle Odd earned a starting spot as a freshman and is another key returner. Other players who will con- tribute are senior Jackie Knapp, junior Molly McAndrews and sophomore Hunter Foulke.
OUTLOOK: The Eagles' 8-10 season featured a playoff victory over Moorestown Friends. With Burns leading the way, they hope to make some noise in this year's postseason as well.
SENECA
Golden Eagles
PLAYERS TO WATCH: Seneca brings back most of its starting line- up, including junior midfielder Abby Regn, who had nine goals and four assists and earned all-conference first- team honors for the second straight season, as well as all-Burlington County recognition. Junior forward Sam Derkas (21 goals, five assists) is a proven scorer who has led the team in goals each of her first two seasons, and senior forwards Kate Bradshaw (nine goals, seven assists) and Julia Bechtal (four goals) are also dangerous offensive players. Junior Kaitlyn Birnbohm-Kaminski is a key player both on defense and in the mid- field. The defense includes seniors Erin Donnelly and Katelyn Dever and junior Kasey Mitchell, and senior Sarah Hann is back as the starting goalie. Other contributors are seniors Elizabeth Hagmayer, Kali Speer and Aubrey Hansen. The Golden Eagles also expect sophomore Lindy Webb to have a major impact this fall.
OUTLOOK: After a 12-8 campaign in which they reached the Central Jersey Group III quarterfinals, the Golden Eagles bring high hopes into this season.
SHAWNEE
Renegades
PLAYERS TO WATCH: Shawnee has many reasons to be excited for the 2016 season, starting with senior forward Sabrina Solomen. She tied for the team lead with 15 goals and added nine assists on her way to all-conference and all- South Jersey first-team honors. Other talented attackers are senior Colette Euksuzian (nine goals) and sophomore Erica Solomen (seven goals, four assists), Sabrina's little sister. The midfield is also strong with all-conference first-teamer Gianna Mancini (seven assists), a senior, and juniors Ashley Wetzel (nine goals) and Olivia Drea (four goals). Junior Elizabeth Ennis returns as the starting goalie, and the defense in front of her includes senior Rachel Winiarczyk and sophomore Isabella Mancini.
OUTLOOK: The Renegades compiled an 11-7-1 record and advanced to the sectional quarterfinals last year, and with a big part of the team returning another successful season looks like a sure thing.
WASHINGTON TOWNSHIP
Minutemaids
PLAYERS TO WATCH: Washington Township graduated a standout group of seniors that included four all-conference first-teamers and two all-South Jersey players, so there are some big shoes to fill. But four starters do return, including sophomore Jess Hatch, who broke into the lineup as a freshman. The senior returners include Shannon Coghlan (five goals, three assists), Alyssa Sciorillo (five goals, six assists) and goalie Natalie Ricevuto. Senior Casey Spencer was a key reserve and should move into a starting position.
OUTLOOK: The Minutemaids had quite a run in 2015, finishing with an impressive 18-3 record. All three losses happened to come to the best team in the country—Olympic American rival Eastern—including the South Jersey Group IV final. With so many important players lost to graduation, it will be difficult to live up to those standards, but this is a hard- working group that expects to compete.
To see a complete list of our field hockey sports schedules, click here to go to our digital edition.
Published (and copyrighted) in Suburban Family Magazine, Volume 7, Issue 5 (July, 2016).
For more info on Suburban Family Magazine, click here.
For information about advertising in Suburban Family Magazine, click here.
To find out where to pick up your copy of Suburban Family Magazine, click here.