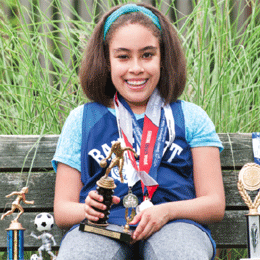 Going for Gold
With Olympic season upon us, dozens of local athletes are getting ready for competition. They range in ages, from children to adults, focusing their sights on one or multiple sports and training to become better every day.
These are our Special Olympics athletes: men, women, boys and girls all over South Jersey who are proof that good, old-fashioned competition can open doors and change lives. Some athletes have gone on to compete nationally—even internationally—in the Special Olympics, which aims to raise awareness of people with intellectual disabilities while providing them with a platform to compete and share their stories. Their sports range in everything from swimming and track to bocce and golf.
Meet some of South Jersey's Special Olympics athletes, many of whom just finished competing in the June 10-12 Special Olympics New Jersey Summer Games at TCNJ. We met the athletes at the Bancroft Haddonfield Campus to hear about their accomplishments, and to meet the coaches and coordinators helping these athletes achieve their very best in and out of competition.
Dan Maloney
Age: 38
Hometown: Medford
Maloney is a jack of all trades, having competed in volleyball, flag football, basketball, track and softball in his years as a Special Olympics athlete. Maloney represented Team New Jersey at the Special Olympics in flag football in 2014, where he won the silver medal, and has twice been nominated for Athlete of the Year for Special Olympics New Jersey. Maloney has earned more than 19 gold medals, and dozens of others. In his free time, Maloney lives independently in Medford, and works at the Medford Leas senior living community, where he's been an assistant cook for 16 years.
Patrick McGuire & Marissa Mullin
Age: 16 & 18
Homeotwn: Washington Township
Sport: Bocce
McGuire is a shopomore and Mullin is a senior, both at Washington Township High School. Together they recently captured third place at the New Jersey South Sectional Bocce tournament at the start of May. This is Mullin's second bronze medal with Special Olympics New Jersey, as she captured third place at the New Jersey Bowling Finals in 2015 and gold at the South Jersey bowling sectional in that same year. She also won the Senior Athletic Most Courageous Award for 2016 at the Washington Township High School Sports Awards. McGuire is a member of the Township Tornadoes, and competes with 20 other Washington Township students in track and field competition for the Special Olympics.
Alexis Yeatts
Age: 21
Hometown: Cherry Hill
Known to teammates as Lexi, Yeatts is a recent graduate of the Bancroft on Campus program, and a new swimmer who's already racking up the wins. Training alongside her coach and stepdad, Tony, and mom Sandy for the last year, Yeatts has earned four gold medals in swimming with Special Olympics New Jersey, along with one bronze and two fourth-place finishes. Yeatts competes in the 25M backstroke—where she won two gold medals—the 50M freestyle and the 4x25 freestyle relay, where she won her other two golds. When she's not in the pool, Yeatts enjoys cycling, walking and watching movies, specifically Jackie Chan movies, which are among her favorites.
Jaylene Jaquez-Valdez
Age: 14
Hometown: Pennsauken
At just 14, Jaquez-Valdez is a multi-sport athlete with a promising future in Special Olympics competition. She competes in soccer, basketball, bowling and track & field. She has been competing in the 50M dash and the softball throw in field competition since she was 12 years old, and has since gone on to win a gold medal in track and silver medal in bowling, as well as various trophies and medals for other competitions. Jaquez-Valdez also took on a new sport this year, competing in golf for the first time during this year's Summer Games. And in the true form of a competitor, she is always on the hunt for the next sport to try.
THE COACHES AND COORDINATOR
Scott Stilts
Coach
Hometown: Riverside
As the father of athlete Dalton, Scott Stilts got involved with coaching softball, flag football, basketball, floor hockey and golf, all sports played by his son. Stilts helped lead the first Special Olympics baseball team for New Jersey to a gold medal in 2014 as assistant coach, and also helped coach the flag football team at national competition in Nebraska. For his hard work and dedication, Stilts was awarded the Coach of the Year by Bancroft, alongside Dalton, the Athlete of the Year.
James Maloney
Coach
Hometown: Mount Laurel
Maloney—whose son Dan is also featured in this story—has been a coach with Special Olympics New Jersey as well as a coach with Mount Laurel recreational sports for over 20 years. Maloney served as the coach for Team New Jersey Basketball for 18 years, helping the team win a handful of gold medals and teaching athletes about the game and the importance of sportsmanship. Maloney's dedication earned him the Coach of the Year award in 2007 from Special Olympics New Jersey.
Stephen Paul
Special Olympics Coordinator, Bancroft
Paul has served as the coordinator of Bancroft's Special Olympics program for almost 10 years, helping athletes reach their highest potential and get into the spirit of competition. He's also coached soccer, roller skating, golf, hockey, basketball, bowling, power lifting and track with Special Olympics New Jersey, and serves as the coach for Bancroft's Summer Skills Camp. The camp is a specialty program for athletes who hope to make the Special Olympics team in the near future, and it provides them with the tools and training to achieve their goals.
ATHLETES TO WATCH
Even more competitors and coaches to watch in your area
JESSICA WOLF, 20, Haddonfield
Roller skating and bowling
CINDY MAYNARD, Coach, Somerdale
Roller skating, soccer, basketball, bowling, track
SYLVIE MORAN, Coach, Somerdale
Soccer, basketball, bowling, track
MICHAEL HOFFMAN, 24, Medford Lakes
Basketball, softball, volleyball, floor hockey, bowling
ALEC RITZEL, 25, Marlton
Volleyball, basketball, golf, track, softball, floor hockey, bowling
Published (and copyrighted) in Suburban Family Magazine, Volume 7, Issue 4 (May, 2016).
For more info on Suburban Family Magazine, click here.
For information about advertising in Suburban Family Magazine, click here.
To find out where to pick up your copy of Suburban Family Magazine, click here.