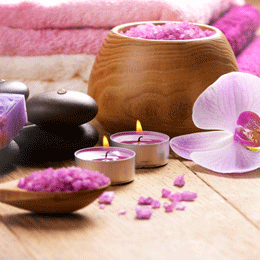 The New Health Spa
A confident and self-assured 28-year-old woman, Kate Meyers has always been satisfied with the reflection looking back at her from the mirror.
But one day, in December 2014, Meyers, a certified medical assistant for six years for Dr. Joseph Cavallaro III and Cavallaro Family Practice, thought a few improvements could be made to her lower abs and flanks, also known as "love handles."
Meyers is part of a growing health care trend of going to a board certified health care provider to improve various parts of the face and body—a modern twist on a relaxing day at the health spa for facials with cucumber slices on your eyes, or a soothing full body massage. In fact, some of these medical practices refer to themselves as medical spas or medi spas.
Meyers, of Voorhees, was already working for Cavallaro Family Practice and as a result of this latest non-invasive technology, major changes took place—in her body, mind and self-esteem, as well as her employment situation. After quickly seeing the results on her body, she became a certified CoolSculpting technician and now helps other patients build their own confidence. She has had five treatments to date.
CoolSculpting is an FDA-approved, non-surgical fat reduction technology that uses controlled cooling to eliminate stubborn fat cells that resist other efforts through diet and exercise. The treatment effectively targets the fat cells underneath the skin while leaving the skin itself unaffected. Since it is a non-invasive procedure, most patients have little to no downtime, and can return to their normal activities shortly after. An estimated 425,000 CoolSculpting procedures were performed last year worldwide.
Cavallaro says that non-invasive treatments are definitely the trend for his practice, with CoolSculpting leading the way during the past four to five years for his patients ranging in age from 23 to mid-70s. The primary areas are the flank areas—the outer and inner thighs and abdominal area. Just a few weeks ago, the technique was approved for the under the chin area most often referred to as the double chin, as well.
Dr. Robin Levin, medical director of South Jersey Skin Care & Laser Center, says "medi spas" are gaining in popularity because they are more than just an old-fashioned spa. As with her practice, they are run by board certified doctors and are about more than facials—they provide cosmetic and surgical skin care.
Levin says there is nothing wrong with getting a soothing and relaxing facial, but many patients want much more—most aim to get rid of problem areas. She offers truSculpt, as well as an FDA-approved sculpture technique called Kybella, which is another non-invasive way to get rid of fat under the chin.
"This is an injection to basically destroy and break down the fat cells under the chin, and it also has a bit of a tightening effect as well," Levin explains. "It works very well." Levin performs a variety of procedures, including noninvasive and surgical treatments. Many patients come for Botox and filler, while others come for "medi spa" micro needling, which is a more aggressive treatment than a facial, and improves the texture and pigmentation of the skin.
So what is her advice to first-time patients of any dermatology practice? "Go for a consultation—and don't get overwhelmed," says Levin. "Get an idea of what's out there. See what bothers you the most. Find what you like—and what has the right amount of down time for your needs. With so many new procedures coming out all the time, it can be an overwhelming process. So start with one thing; and you can always add from there."
Dr. Ingrid Warmuth, of the Warmuth Institute of Dermatology also does non-invasive and surgical procedures, including CoolSculpting. Warmuth, who has been practicing medicine for 16 years, agrees that sitting for five hours for some of the procedures can be a bit boring, so her offices offer DualSculpting to cut the CoolSculpting treatment time in half and have a "spa-like" atmosphere in which they order lunch, patients can watch television, or use the WiFi hot spot for cell phones or laptops. "The aim is to make it a fun and productive experience as opposed to a typical visit to a doctor's office," she says.
Other techniques that are popular in her practice include continuous micro-focus ultrasound such as Ultherapy, a non-invasive technique for the skin and neck that helps with lifting and tightening.
Dr. Lyle M.Back, of the Cosmetic Surgery Center of Cherry Hill, has been a board certified plastic surgeon for nearly 30 years. The doctor refers to himself as a "plastic surgeon" but the majority of his current procedures are non-invasive. "There is always something new and different—it keeps evolving, and becoming more natural, elegant and sophisticated."
When it comes to new patients, Back says that they come to learn about lasers, breast lifts or other procedures, and all good consultations begin with listening. "I listen to what the concern is and really evaluate what I think is going on with my patient."
He assesses the physical and emotional health of each patient to determine what their motivations are for wanting a specific procedure. "Making sure that someone is ready, and that it is the right time, is my recipe for success."
Warmuth tells nervous new patients considering any of these techniques to be thorough. "Have a consult with a skin professional and see if what you want is right for your needs and concerns," says Warmth. "I feel that the skin is the best area to specialize in because we can help diagnose health problems on the outside that may be caused by issues on the inside."
Removing Regret
Tattoo removal and the new treatments available in skin care
There are many different reasons for people wanting to remove their tattoos. "They include tattoo regret and embarrassment, wanting to enter the military or police force, removing an old boyfriend's or girlfriend's name, unhappiness with the fading of the tattoo over time," explains Dr. Sandra Elder, of Aesthetic Dermatology, "or even wanting a different tattoo placed in the same area."
Most looking to get a tattoo removal may think of the processes of the past. After all, some 13 years ago, the process of removing tattoos was often a difficult one for both the doctors and the patients involved. At that time, Elder remembers a frustrating and labor intensive process. Several different lasers were required to remove many of the tattoos because of the different laser wavelengths needed for the different colors.
As a result, it often took 12 to 15 sessions to clear the tattoos, and sometimes they were not completely gone. This was until she purchased the Cynosure Picosure laser, which she considers to be the most advanced technology in laser tattoo removal today.
With new technology, most professional tattoos, Elder explains, will require four to six laser sessions to clear with the Picosure laser. Amateur tattoos are much easier to clear, and can usually be completely removed in one or two sessions. Depending on the density of the pigment in any given tattoo, the number of treatment sessions can vary, with denser tattoos typically requiring more sessions.
Laser tattoo removal with the Picosure laser is also less painful than other techniques. Elder uses either topical numbing creams or local anesthesia to provide a completely painless tattoo removal experience. "Patients are thrilled with that," she says.
Published (and copyrighted) in Suburban Family Magazine, Volume 7, Issue 3 (April, 2016).
For more info on Suburban Family Magazine, click here.
For information about advertising in Suburban Family Magazine, click here.
To find out where to pick up your copy of Suburban Family Magazine, click here.