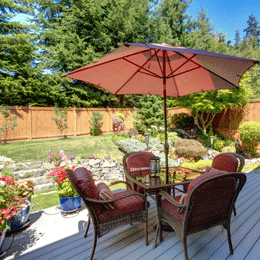 Building the Ultimate Staycation Destination
These days, homeowners have realized they don't have to travel far for a relaxing and enjoyable vacation.
With the booming trend of creating outdoor living areas, homeowners can enjoy a "staycation" and take their vacation in their own backyard.
Creating outdoor living rooms isn't a new trend, but it's growing. According to a survey by the American Society of Landscape Architects (ASLA), homeowners are interested in livable outdoor spaces with all the add-ons. That's because they know that well-designed landscapes add value to both their lives and their properties.
"The outdoor living trend has been going strong and isn't going anywhere," agrees Keith Fry, co-owner of Amazing Decks. "Homeowners have realized that they can invest money into their property and get some of the same amenities they would on vacation—but right in their own backyard."
All the amenities
Decks and patios with all the bells and whistles including outdoor kitchens, water and fire features, landscape lighting and pools are giving homeowners everything they could want in a vacation right outside their doorstep.
"People may spend more time lounging by their pools than swimming in them," says Brian Gill, owner of Gill's Landscaping. "With that being said, poolscape designs should be given a great deal of attention. Not only does a good, professional design enhance the look of the pool but it makes sitting by it that much more appealing."
Homeowners no longer want traditional cement and pool chairs. Instead, they are incorporating their lawn and outdoor greenery right into the pool space to create a natural space that provides shade and also beauty.
"There is a wide array of ideas for poolscapes, from simple easy tricks to maintain foliage to going big with a cabana and pavered walkways," continues Gill. "Water features for pools are [also] big and create soothing sounds that make relaxing by the pool feel like a vacation."
Gone too are the days of a deck or patio with a lonely grill and seating area. Today's homeowners are pushing the limits and thinking of their outdoor spaces in the same way they would an indoor space. They want luxurious seating areas, built-in grills, televisions, built-in spas and more.
"Most homeowners do want a built-in grill in their outdoor living space," says Fry. "While granite is naturally a popular countertop choice, I would advise going with an earth tone as opposed to black as black granite can get very hot from the sun."
Fry adds that even the decking material has come a very long way.
"In the past everyone had decks made of pressure-treated lumber, but today, composite is the material of choice," he says. "It is virtually maintenance-free and has a variety of options."
Today's patios are also quite spectacular. Nicholas Furfari, president of Think Pavers Hardscaping, says that homeowners want high-end materials for their patios as well. He has seen an increased interest in travertine.
"Travertine pavers have a very rich look," Furfari says. "They have a rustic, Tuscan style to them, which has long been popular in Florida and is now coming around in this area. Travertine is beautiful for patios, around pools, or even as stone veneer for outdoor kitchens and fireplaces. We're seeing people go all out with their patios, creating a beautiful outdoor living space."
As homeowners go to great lengths to create elaborate outdoor living areas, creating covered space and shade has also become increasingly important. Some are doing that with roof structures, while others are using awnings, umbrellas, or pergolas. One new option at Rettinger Fireplace Systems has been the Infinity Canopy, which owner David Rettinger describes as a slide-on wire canopy concept that can provide shade when needed and retract easily when not needed. The rigid slide-on wire system is incredibly versatile as well as customizable and is available at a fraction of the cost of older custom canopies.
Light & warmth
Nothing adds ambiance to an outdoor living area like a fire feature. But the look isn't the only benefit of adding a fire pit, fireplace or other fire feature to your yard.
"Adding a fire feature to your outdoor living area not only adds aesthetic appeal but it also extends your use of the space," says Alexis Rettinger, co-owner of Rettinger Fireplace Systems. "It allows you to use the space comfortably into the evening hours as well as later into the season. At our home we use our outdoor fire pit and fireplace year round. Even at Thanksgiving and Christmas the family often ends up outside by the fire with some blankets."
Some homeowners are also incorporating something called a "fire table" into their outdoor living area, adds Rettinger. This provides another area to sit and entertain and they come in a variety of shapes and sizes.
"Just like the name implies, a fire table serves the dual purpose of being a table to sit and have some drinks or a meal at, while also providing an enjoyable fire feature in the center," Rettinger explains. "And unlike some fire features, a fire table is safe to use on a wooden deck."
Another way to light up your space is with landscape lighting. Sam Waddell, owner of SLS Landscaping, says that outdoor lighting sets a nighttime mood. Using the latest lighting technology, Waddell can even create different effects.
"There are dimmable lights and different wattage and zoning for different areas of the yard," Waddell says. "People want high quality lights in brass and bronze. We have moved in that direction because the patina process of brass and bronze works well with the climate. They don't break down over time and are permanent, high-quality fixtures that don't deteriorate."
Waddell also does insert lighting into the ground as path lights as well as down-lighting into structures or into the trees, to create a beautiful aesthetic effect. They can also be installed in pergolas or directly into stone retaining walls to light-up your outdoor living area in the evening hours.
As people remain busier than ever, any time they can get to enjoy some R&R with friends and family is much appreciated. Having a backyard vacation spot is an easy way to fit some leisure into the busiest of schedules. The investment in a space that family can enjoy together is a wise one. As a result, homeowners are taking the money they might have put toward a trip, and creating a staycation destination that everyone can enjoy.
Published (and copyrighted) in Suburban Family Magazine, Volume 7, Issue 2 (March, 2016).
For more info on Suburban Family Magazine, click here.
For information about advertising in Suburban Family Magazine, click here.
To find out where to pick up your copy of Suburban Family Magazine, click here.