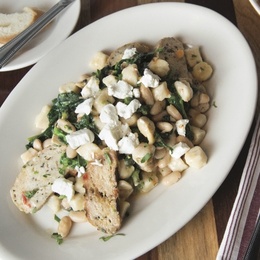 Gluten-Free Finds
Those living with celiac disease or a gluten intolerance know how difficult it can be to find a tasty meal when you're on the go. But restaurants all across South Jersey are acknowledging their gluten-free neighbors with specialty dishes designed with dietary restrictions in mind. Check out these nine gluten-free dishes for some inspiration.
Veggie Kabobs
Zoës Kitchen, Marlton & Cherry Hill
Kabobs of portobello mushroom, zucchini, grilled peppers, onions and tomatoes are char- broiled to flavorful perfection, balanced with a dish of braised white beans and completed with a side of Greek salad. This energizing meal is great any time of day, and with plenty of other gluten-free options, both vegan and omnivorous, there is something for everyone.
Pan-Roasted "Verlasso" Salmon
Blue Plate, Mullica Hill
Mention gluten-free and Blueplate will present a menu designed just for you. Raised in the eco-friendly waters of Patagonia, the Verlasso salmon is seasoned and pan roasted—succulent and falling away—then married with pre- served lemon sticky rice, and served with a fried noodle & scallion salad in tangy and spicy soy ginger chili sauce.
Breakfast Gluten-Free Flatbread
Healthy Garden Café, Moorestown & Voorhees?
Mozzarella, organic eggs, spinach, tomatoes, onion and green pepper are seasoned and sautéed before being oven-baked over top of gluten-free flat bread. It's one of many gluten- free options available at Healthy Garden Café, which means you can grab a plate for breakfast, lunch or dinner.
Lamb Vindaloo
Coriander, Voorhees
Tender leg of lamb is marinated in aged vinegar, cooked with onions, potatoes, and a perfect blend of the spiciest of spices. A Goan specialty, this mouth-watering dish will dominate your future food cravings and leave you with a bit of spice. Alongside gluten- friendly plates, Indian dishes are well known for being vegetarian-friendly as well, and Coriander is no exception.
Mango Tilapia
Carlucci's Italian Grill, Mount Laurel
For those special occasions gluten-free living has a romantic option in Carlucci's Waterfront location. The Mango Tilapia is a flavorful symphony of broiled tilapia fillet topped with a fresh mango bruschetta of strawberries, avocado, corn, finely chopped jalapeño, red onion and chopped tomato in light vinaigrette—served with a side of spring mix. Numerous gluten-free options to enjoy!
Gluten Free Roasted Pepper Gnocchi
Da Soli, Haddonfield
Da Soli's gluten-free gnocchi gives you that pasta fix you've been missing. Pillowy gnocchi are tastefully complemented by the spiciness of house-made chicken sausage and hearty beans, bitter broccoli rabe, all of which is rounded out wonderfully with goat cheese.
El Fresco Quinoa Bowl
Turning Point, Marlton
Offering substitution options of gluten-free alternatives really opens up a full menu at Turning Point. The El Fresco is a protein charged bowl of light quinoa, with sautéed vegetables, avocado, black beans and a taste of chipotle, all topped with fresh salsa and cilantro. Served with a baby greens side salad this dish is vegan as is, with available upgrades.
Hot Apple Stuffed French Toast Sandwich
The Pop Shop, Collingswood & Medford
For a few extra dollars, traditional diner dishes can be made gluten-free but still packed with flavor. The french toast is sandwiched between three layers of hot sautéed apples, pecans, raisins, cream cheese and cinnamon french toast.
The Beefsteak
Green Zebra, Glassboro
Stick with a salad bowl, skip the added bagel, and you have a gluten-free meal to remember. The beefsteak bowl comes with fresh romaine lettuce, juicy beefsteak tomatoes, tofu, mushrooms, mandarin oranges and wasabi peas, topped with organic sesame ginger dressing.
*Be sure to always mention your gluten-intolerance at any dining establishment prior to eating.