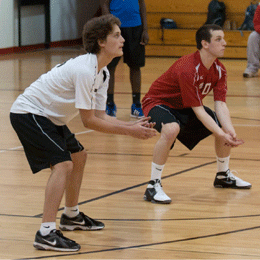 Boys Volleyball
CHERRY HILL EAST COUGARS
PLAYERS TO WATCH:Cherry Hill East graduated a talented senior class that included all-conference first-teamers Tanner Smith and Ben Golden. Leading the returners is senior outside hitter Colin DelDuke, who was second on the team with 87 kills and had 73 service points. Middle blocker Daniel Santiago is another important senior and will serve as captain along with DelDuke. Juniors Eric Kim and Mike Monczewski both got varsity experience as sophomores and will be counted on to play bigger roles this season, and senior outside hitter Cheyenne Spence is also expected to contribute.
OUTLOOK: The Cougars' 11-5 season in 2015 included a playoff victory. Despite key losses to graduation, they should still be a competitive squad this spring.
CHERRY HILL WEST LIONS
PLAYERS TO WATCH: Cherry Hill West graduated just three players from last year's rebuilding team, and the returning core provides a solid foundation for the program. That includes outside hitters Andrew Robertson, a junior, and Mark Marrazzo, a senior. Middle Ken Strother, opposite Nii-Darku Doodoo and libero Mike O'Connell, all juniors, are other important returners. Senior Frank Stipa and Vince Rebbecchi are both back at setter.
OUTLOOK: The Lions have taken their lumps in recent years, but there are solid numbers in the program and slow and steady improvement should follow.
EASTERN VIKINGS
PLAYERS TO WATCH: Eastern returns one of the top players in the area in senior middle hitter Johnny Shamir, who led the Vikings with 255 kills and 94 blocks in 2015. He is primed for a big season after earning all-South Jersey and all-conference first-team honors. Senior Robert Cinalli is another key returner and senior Robbie Homa will look to take over as the starting setter. Seniors Andrew Coard and Colin Coard, junior Anthony Iuliano and sophomore Kasso Peaks should also contribute.
OUTLOOK: The Vikings went 15-9, claimed their second straight Olympic Conference American Division title and advanced to the South Jersey semifinals in 2015. They look like a contender once again with Shamir leading the way.
KINGSWAY DRAGONS
PLAYERS TO WATCH: Kingsway said goodbye to a special senior class that included South Jersey Player of the Year Stan Storchvoy. But there is still talent on the roster, starting with senior opposite Jeremy Otten and senior outside hitter Jack Wiscount, who both made the all-South Jersey second team. Otten had 150 kills and 79 blocks and Wiscount added 124 kills and 124 digs. Junior Mitch Burnham had 25 kills as a sophomore and will step into a bigger role, and senior Tyler Mirra will contribute at libero. Sophomores Jake Martin (outside hitter), Narpinder Singh (middle hitter/ blocker), Chris Morehead (setter) and Evan Vuong (libero/defensive specialist) will also push for varsity time.
OUTLOOK: Last season was a landmark one for the Dragons, who set a school record with 25 wins and made it to the sectional semifinals for the first time in program history. They also earned a share of their first division title and claimed the inaugural Gloucester County Tournament crown. Despite losing a lot of talent, they have the pieces in place for another successful campaign.
PLAYERS TO WATCH: Moorestown has a talented nucleus led by senior outside hitter John McGinley, who led the Quakers with 176 kills and was named to the all-conference first team. Senior middle Mike DiMarino (114 kills) and senior libero Jordan Austin (69 digs) are other returning starters. Seniors Robert McGarity (76 kills) and Ricky Harris (20 kills) are also experienced players and sophomore Peter Wajda could step into a starting position.
OUTLOOK: The Quakers' 19-14 season included a trip to the South Jersey quarterfinals. Another winning campaign appears likely.
PAUL VI EAGLES
PLAYERS TO WATCH: Paul VI brings back the entire roster from last year and that continuity should be a major benefit. Senior setter Nick Simpkins directs the attack after recording 357 assists in 2015 to earn all-conference first-team recognition. He'll have plenty of offensive weapons at his disposal, including senior outside hitters Fabio Gentile (team-high 119 kills), Brian Boligitz (100 kills) and Osborn Ye (97 kills). Senior Pat Buechele returns as the starting libero and seniors Dean Menaldi, Christian Gross and Dom Vesper are back at middle.
OUTLOOK: The Eagles gained much-needed varsity experience in a 7-18 season. They'll look to parlay that into a winning record this spring.
WASHINGTON TOWNSHIP MINUTEMEN
PLAYERS TO WATCH: Washington Township could be ready to take a big step as a team thanks to returning players like seniors Mike Gallagher and Tyler Dolgos, who were both all-conference first-teamers in 2015. Gallagher, an outside hitter, led the Minutemen with 145 kills in his breakout season. Dolgos has been directing the offense for three years as the setter and compiled 290 assists last year. Senior middle Alec Munro (61 kills) is another returning starter along with junior Brian Proferes (93 digs), who is moving from libero to outside hitter. Seniors Nick Mammarelli and Roman Jastrzebski also have varsity experience.
OUTLOOK: The Minutemen's 2015 season included an 8-9 record, an appearance in the final of the inaugural Gloucester County Tournament and a playoff berth. A talented core could lead to even bigger things this spring.
Published (and copyrighted) in Suburban Family Magazine, Volume 7, Issue 1 (January, 2016).
For more info on Suburban Family Magazine, click here.
For information about advertising in Suburban Family Magazine, click here.
To find out where to pick up your copy of Suburban Family Magazine, click here.