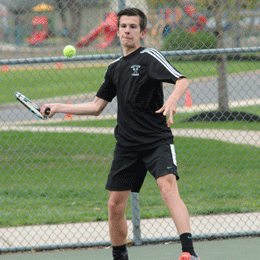 Tennis
BISHOP EUSTACE CRUSADERS
PLAYERS TO WATCH: Bishop Eustace lost its top two singles players to graduation, including Christian Akerley, who was the runnerup at the Camden County Championships. But a strong junior class featuring four returning starters leads the way. Jack Celano played third singles as a sophomore and will be a candidate to move into the No. 1 spot. Brandon Ruskey and Vince Paetow were partners at first doubles and could take over singles positions, while Sean Lippincott returns after playing second doubles. Junior Jason Danielwicz also saw time at doubles and sophomore Chase Turner could work his way into the starting lineup.
OUTLOOK: The Crusaders won six matches last year, doubling their total from the year before. Losing the first and second singles will hurt, but they hope to continue making progress.
CHEROKEE CHIEFS
PLAYERS TO WATCH: Sophomore Connor DickersonGrant Sokol (second singles) and Santiago Graterol (third singles) also return, bringing back all three singles starters from last spring. Senior Jonathan Staub and junior Andrew Cervantes played second doubles together, and sophomore William Lyons also competed at doubles for the varsity.
OUTLOOK:The Chiefs' 13-4 season included a trip to the South Jersey Group IV final. With most of the starting lineup intact, another successful season appears likely.
CHERRY HILL EAST COUGARS
PLAYERS TO WATCH: Cherry Hill East brings back five starters, including junior Rahul Goculdas, the reigning Camden County singles champion who has held down the top spot since his freshman year. Goculdas should be one of the top players in the area. Sophomore Elan Boyarsky is also back after playing second singles as a freshman and reaching the county semifinals. Senior Jesse Dubrow played first doubles last year and was part of the Camden County champion duo, while seniors Drew Melinsky and Aaron Silverberg were partners at second doubles. Senior Matt Kains and junior Avneet Chawla also hope to battle for starting spots.
OUTLOOK:The Cougars went 9-4 and made it to the South Jersey Group IV semifinals for the second straight season. With their young singles standouts leading the way, they have the potential to make another playoff run.
CHERRY HILL WEST LIONS
PLAYERS TO WATCH: Cherry Hill West was hit hard by graduation, losing all three of its singles players and the first doubles team. Seniors Joseph Poole and Dean Bongiovanni played second doubles together and lead the returners. Senior Maurice Gordon also has varsity experience.
OUTLOOK: Last year's rebuilding efforts will carry over into this season as the Lions look to develop a new varsity lineup.
CLEARVEW PIONEERS
PLAYERS TO WATCH: Optimism is in the air at Clearview, which brings back the entire roster from last year. Leading the way are junior Chase Simmons and senior Clint Matthew, who have started at first and second singles, respectively, each of the last two years. Senior Ron Moore is another veteran who held down the No. 3 singles spot in 2015. Seniors Andrew Norcross and Henry Eisenhart were first doubles partners, while senior Matt Grubb and sophomore Sean Bosch played together at second doubles.
OUTLOOK: The Pioneers went 9-7 last spring and dropped a close loss in the first round of the South Jersey Group IV playoffs. With everybody back in the fold, this is shaping up to be a successful season.
EASTERN VIKINGS
PLAYERS TO WATCH: Eastern brings back its top two singles players from last year and should benefit from their experience. Junior Ashwin Ramesh earned the No. 1 spot as a sophomore, spot as a sophomore, while senior Parth Hardikar filled the second spot and reached the semifinals of the Camden County Tournament. Another key returner is senior Pranav Chugh, who played first doubles and made it to the semifinals of the Olympic Conference Tournament with his partner. Senior Alec Feldstein is another returning starter who played second doubles, and other experienced players include senior Anthony Stella and junior Kautic Agrawal.
OUTLOOK:The Vikings advanced to the South Jersey Group IV quarterfinals and finished with a 13-6 record in 2015. They seem to hit double-digit wins every season and this one should be no different.
GLOUCESTER CATHOLIC RAMS
PLAYERS TO WATCH: Gloucester Catholic graduated three starters, including first singles Mike Liscio, but has some promising returners in the program. Junior Tim Reiners and senior Phil Brenner could battle it out for the No. 1 singles spot after playing second and third, respectively, last year. Seniors Mike McIntyre and Eric Cusick will contribute at either singles or doubles after playing second doubles together last year. Junior Joseph Polidoro is another experienced player expected to have an impact.
OUTLOOK: The Rams are slowly making strides as a program and hope to continue the process this spring.
HADDONFIELD BULLDAWGS
PLAYERS TO WATCH: Haddonfield graduated five starters, including first singles Tommy Dodson, who won the South Jersey Interscholastic Tennis Tournament. Senior Sam Oberholtzer leads the returners after playing second singles a year ago and being part of a state championship doubles team in 2014. Oberholtzer, who went 31-12 last year, will be a candidate to take over the No. 1 spot. SeniorNick Dante, who competed at first and second doubles, is the only other returning starter. Several players will be vying for starting positions,\ including seniors Sean Wilkinson, Dan Moramarco, Dylan Feldscher and Danny Ragone; juniors Jon Skiba, Noah Kamerling, Nick DeNinno, Luke Snyder and Liam McGurrin; and sophomores Will Bond and Mason Cohen.
OUTLOOK: After winning their 13th straight sectional title and adding their 11th state crown, the Bulldawgs' 2015 season ended with a loss in the first round of the Tournament of Champions and a 25- 9 record. Although they will be relying on a lot of new faces this year, the program always sets the bar high.
KINGSWAY DRAGONS
PLAYERS TO WATCH: Kingsway has a strong pair at the top of its singles lineup, as seniors Jake McBride and Dan Rival have held the first and second spots, respectively, the last two years. McBride reached the semifinals of the Tri-County Conference Showcase in 2015, and both players made it to the quarterfinals of the Gloucester County Tournament. Senior Marut Raval has been a starter at doubles the last two seasons and could emerge as a candidate for singles. Junior Lou Maroney is another returner who will battle for a starting spot.
OUTLOOK: The Dragons went 13-7 and made it to the South Jersey Group III quarterfinals last spring. Expect another winning season under new coach Drew Laverty as long as the rest of the lineup develops behind McBride and Rival.
LENAPE INDIANS
PLAYERS TO WATCH: Lenape is excited about the return of four starters, including three who shined as freshmen. It starts with sophomore Jack Lavin, who earned the first singles spot as a rookie and should be in store for another strong season. Senior Kavi Munjal and sophomore Marc Ignarri played first doubles together and could move up to singles positions, and sophomore Brett Chow also returns after playing second doubles. Another sophomore, Jeremy Shpigel, will also look to earn more playing time.
OUTLOOK: The Indians finished with a 10-8 record and reached the South Jersey Group IV semifinals last spring. The future looks bright thanks to the talented sophomore class.
MOORESTOWN QUAKERS
PLAYERS TO WATCH: Moorestown graduated first singles Ryan Dickerson, who had an outstanding high school career and is now a freshman at Duke. But the Quakers are used to playing without him, as the Burlington County champion suffered a leg injury that forced him to miss most of his senior season. Leading the returners are all three players who ended last spring in the singles lineup: juniors Marc Mounzer and David Blatcher and sophomore Akshay Bhalodia. Mounzer and Blatcher were runners-up in the county at second and third singles, respectively. Each player moved up a notch after Dickerson's injury. Sophomores Adi Bulusu and Dylan Paul are returners at doubles who played together at the South Jersey Interscholastic Tournament and made the semifinals. Junior Noah Michaud and senior Ryan Zimmer are other experienced veterans.
OUTLOOK: The Quakers went 17-9 in 2015 and returned to the top of South Jersey Group III after a one-year absence. They have the potential to contend once again.
MOORESTOWNFRIENDS FOXES
PLAYERS TO WATCH: Moorestown Friends graduated four starters, but one positive is the return of senior Harvey Robin, the No. 1 singles player the last two years. Robin earned all-Friends League honors for the second straight year and is primed for a strong ending to his career. Junior Dylan Carilli is another important returner who played third singles last year and has been a starter since his freshman season. Junior Jordan White played second doubles and made it to the final of the Burlington County Open. Junior Hunter Harris is also back, while sophomore Andrew Lin and freshman Liam Schenk are newcomers who will challenge for singles positions.
OUTLOOK: The Foxes have been a postseason force in recent years, including last year, when they went 17-5 and made it to the South Jersey Non-Public B final. Expect more of the same if the lineup fills out behind Robin and Carilli.
PAUL VI EAGLES
PLAYERS TO WATCH: Paul VI brings back four starters, including junior Tim Long, who earned the No. 1 singles spot as a sophomore. Senior Mason Harris played third singles, while seniors Donovan Moore and Matt Ogden were doubles partners. Junior Robbie Schafer is another returner who should contribute.
OUTLOOK: The Eagles gained valuable experience last year and hope to keep making progress as a team.
SENECA GOLDEN EAGLES
PLAYERS TO WATCH: Seneca returns its entire starting singles lineup from last year, including No. 1 Cody Cassise, a senior who has been in the top spot since his freshman season. Fellow seniors Ryan Groves and Pedram Haresign are back after playing second and third singles, respectively. SeniorsMike Miller (two years of varsity doubles experience) and Kevin Sulewski are returning starters at doubles. Other players who could battle for starting spots are senior Travis Wakefield, juniors David Buscemi, Tanner George and Ameet Ghambhirwala and sophomores Thomas Jeansson and Mark Pogozelski.
OUTLOOK: The Golden Eagles went 12-9—including a 7-1 record in the Olympic National on their way to the division championship—and went to the South Jersey Group III quarterfinals. It will be interesting to see what a strong senior class can do in its final season together.
SHAWNEE RENEGADES
PLAYERS TO WATCH: A terrific group of returners for Shawnee is highlighted by brothers Eric and Cole Tecce. Eric, a senior, played first singles last year and went 28-7. He was joined in the state singles tournament by Cole, a junior who earned the second singles spot. Cole was also the Olympic Conference champion and won over 30 matches. Senior Chris Machuzak is back after playing first doubles and could move into the singles lineup. Juniors Ben Mead and Nick Falcone are other key returners who were partners at second doubles. Seniors Eric Biehn and Ankit Deshmukh are other experienced players who should contribute.
OUTLOOK: The Renegades had another memorable campaign in 2015, finishing with a school-record 23 wins and seizing their fourth straight sectional title. This has the makings for another special season.
WASHINGTON TOWNSHIP MINUTEMEN
PLAYERS TO WATCH: Washington Township's starting lineup will have a new look after the graduation of all three singles players, including Chase Eldridge, who has been No. 1 the last three years. Seniors Ryan Logar and Travis Yates had success at first doubles last year, but Yates is coming off shoulder surgery and may not be able to play. Juniors Arash Vahidi and Angelo Pingol played second doubles together and could be candidates to move into singles. Senior Neil Doshi could also challenge for a starting position.
OUTLOOK: After posting a 7-12 record and falling in the first round of the playoffs, the Minutemen hope to stay competitive while developing new players. They will also have a new coach, as Cindy Cupitt has stepped down to spend more time with her family.
Published (and copyrighted) in Suburban Family Magazine, Volume 6, Issue 11 (January, 2016).
For more info on Suburban Family Magazine, click here.
For information about advertising in Suburban Family Magazine, click here.
To find out where to pick up your copy of Suburban Family Magazine, click here.