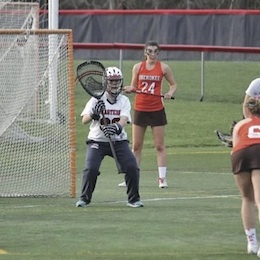 Girls Lacrosse
BISHOP EUSTACE CRUSADERS
PLAYERS TO WATCH: Most teams would feel lucky to have one dominant offensive player. Bishop Eustace is fortunate enough to have three in outstanding seniors Kristen Biche, Ally Criscuolo and Clare Monaghan, who have all scored more than 100 career goals and were all-conference first-teamers in 2015. Biche, a midfielder who has committed to The College of New Jersey, scored a team-high 58 goals to go with 16 assists last year. Criscuolo, an attacker and Catholic University recruit, was right behind her with 57 goals and 16 assists; and Monaghan, a midfielder who is headed to Franklin and Marshall, added 53 goals and a team-leading 27 assists. They will serve as team captains this spring along with senior attackers Erin Feeney and Jena Braungart. Other scoring threats include sophomore midfielder Molly Monaghan (20 goals, 10 assists), an all-conference second-teamer, and junior attacker Ashley Conklin (15, 14). Junior Erin Quinn returns to anchor the defense after earning all-conference first-team honors, and junior Brenna Miller has experience in goal. Senior Alicia Podwojniak is also back on defense and junior attacker Madison Powell is a faceoff specialist. Other returners expected to contribute are juniors Camille Marsdale and Kendall Griffis. OUTLOOK: The Crusaders went 14-5, reached the South Jersey Group I quarterfinals and won their fourth straight Olympic Conference National Division title in 2015. Another division crown and a long playoff run appear possible this season.
CAMDEN CATHOLIC FIGHTING IRISH
PLAYERS TO WATCH: Sophomore attacker Saige-Lyn Gidzinski burst onto the scene last year with more than 60 goals and it will be exciting to see what she does for an encore this year. Gidzinski has already made a verbal commitment to continue her career at Division I Winthrop University. Other returning scoring threats include senior midfielder Chloe Pottillo, junior midfielder Erin Campbell and sophomore attack Camille Pottillo. The defense is also strong with returners Meghan Giordano and Kaeleigh Becker, both seniors, and junior Caroline Smith. Senior Khaia Baranowski, a Villanova recruit, is also back as the starting goalie.
OUTLOOK: The Irish had a memorable 2015, finishing with a 15-5 record, reaching the sectional quarterfinals and sharing the Olympic Conference National Division championship with rival Bishop Eustace. They should be in contention for the division title again.
CHEROKEE CHIEFS
PLAYERS TO WATCH: Cherokee graduated Jess Havers, who scored more than 100 goals in her career, as well as all- South Jersey goalie Devon Kearns. But there is plenty of talent remaining, starting with senior midfielder Brooke Yarsinsky, an all-conference first-teamer and all-South Jersey second-teamer who had 40 goals and six assists last year. She will continue her career at Catholic University. Senior midfielder Kelsey Adam (38 goals, 15 assists) and sophomore attacker Gab Bodine (47, 10) are also coming off prolific scoring seasons. Senior attacker Tara Zeuli (19 goals) and junior midfielder Lilly Fox (13 goals) are other returning offensive weapons. Junior Devon Fitzpatrick, an all-South Jersey second-teamer who has verbally committed to Kutztown, anchors the defense. Other returning defenders are juniors Lisa DiLullo and Katie Kopper.
OUTLOOK: The Chiefs' 12-7 season ended with a tough 9-8 loss to Rancocas Valley in the South Jersey Group IV quarterfinals. They have the potential for another successful season in the always-competitive Olympic Conference American Division.
CHERRY HILL EAST COUGARS
PLAYERS TO WATCH: Cherry Hill East returns a pair of potent scorers in senior midfielder Kelsey Gorman and senior attack Rachel Becker. Gorman led the team with 43 goals and assisted on 10 others, while Becker added 37 goals and a team-high 20 assists. Attackers Renee Powers, a senior, and Haley Pawliczek, a junior, are other scoring threats along with junior midfielder Priya Kavuru. Junior Emily Millspaugh returns as the goalie after a strong first season as the starter, and the defense in front of her includes seniors Kyra Gorman and Danielle Rosenthal and junior Erica Thunberg.
OUTLOOK: After finishing with a 7-13 record last spring, the Cougars have the returning talent to make a run at their first winning season since 2013.
CHERRY HILL WEST LIONS
PLAYERS TO WATCH: Although Cherry Hill West graduated its two leading scorers, it does return some offensive firepower. Junior attackers Danielle Graham and Ashley Lechliter each netted 20 goals a year ago, while senior attacker Ciara Brickner is also a talented scorer. Senior Callie McFadden is a key player in the midfield, and returners on defense include seniors Madison Bruhn, Laura Versace and Olivia Zapfe and juniors Faith Duffy and Alexis Miller.
OUTLOOK: The Lions finished with a 3-16 record in 2015 and hope to keep taking steps toward build- ing a winning program this spring.
CLEARVIEW PIONEERS
PLAYERS TO WATCH: Clearview graduated an outstanding senior class, including star midfielder Gianna Bowe. But the Pioneers still have loads of talent, especially on the offensive end. Senior midfielder Hannah Quast, who has committed to Liberty, had 46 goals last year and enters her final season with 114 career goals. Junior attacker Kasey Diodati erupted for 39 goals, and senior attacker Talia Bouzakis added 30. She has committed to Wagner along with her twin sister, senior defender Nicolette Bouzakis. Senior Frankie Paterno is another dangerous scorer who tallied 19 goals in just half a season after transferring to Clearview from Gloucester Catholic last year. She enters the season with 99 career goals. Senior Julia Stumpf, junior Chandler McFeeley and sophomore Dani Paterno are other returning scoring threats. Sophomore Alyssa DeAngelo is a promising midfielder who has already committed to Hofstra, and the key returners on defense include seniors Kayla Catts and Carly Grossman, junior Karli Pelino and sophomore Joanna Bakey. Junior Camryn Brogan and sophomore Reilly Shaup will be in contention to take over as the starting goalie.
OUTLOOK: The Pioneers' 15-7 season in 2015 included a share of the Olympic Conference Patriot Division title, their second straight Gloucester County Cup and a trip to the South Jersey Group IV semi- finals. The upcoming season has the look of another successful one.
EASTERN VIKINGS
PLAYERS TO WATCH: Despite graduating a strong senior class, Eastern has reason to be excited for the 2016 season. Sophomore Savannah Slack (30 goals, 9 assists) is a dangerous attacker who will pace the offense along with junior midfielder Alexis Pettisani, a Boston University recruit for field hockey. Junior attackers Jenna Carnival and Carly Soler are other offensive contributors. The defense is also stacked with junior captain Brittany Geis—an all-South Jersey second-teamer who has committed to San Diego State—along with junior Ashley Thomas, who will play a major role. Behind them is junior goalie Cooper Cowdin, who emerged as the starter during her sophomore season and has committed to Central Connecticut State. Other returners include junior Kayla Somers and sophomores Jessica Kinser and Olivia Perrone.
OUTLOOK: The Vikings went 11-8 and advanced to the South Jersey Group IV quarterfinals last spring. Although this year's squad is young, the talent is in place for another winning season.
GLOUCESTER CATHOLIC RAMS
PLAYERS TO WATCH: The Rams bring back several key players from last year's rebuilding team, including sophomore attack Liddy Sheehan, who was second on the team with 18 goals as a freshman. Junior midfielder Julia Kohout is another capable scorer and other important returners in the midfield are juniors Morgan Hannan and Sarah Lozuke and sophomore Isabella Versace. Seniors MaryKate Kane and Morgan Labree and juniors Ally Driscoll, Olivia Driscoll and Samantha Bridge return on defense and junior Noelle Marshall is back as the starting goalie. Seniors Emily Negron, Ally Laskowski, Madison McKenney and Quinn Murphy will contribute at attack.
OUTLOOK: The Rams went 1-12 last year and will look to build a foundation for the future with some promising returners.
HADDONFIELD BULLDAWGS
PLAYERS TO WATCH: Haddonfield graduated just three seniors from last year's team and have a lot of talented players back in the fold. Junior attacker/midfielder Katie Pileggi was the Bulldawgs' leading scorer with 48 goals and is primed for another big season. Senior Katarina Ostbye and junior Meghan Smart are other dangerous scorers, and other offensive contributors include seniors Suzie Clark and Claudia Brong and sophomore Jaimie McCormick. Seniors Olivia VanDervort, Lacey Minor and Annie Gosse are key players on defense and experienced goalies are junior Bryn McCullough and sophomore Sabrina Barr.
OUTLOOK: After posting an 11-9 record and reaching the South Jersey Group I quarterfinals, the Bulldawgs have high hopes for 2016.
KINGSWAY DRAGONS
PLAYERS TO WATCH: Although Kingsway graduated a pair of 35-goal scorers, there is still a lot of potential, especially on offense. Junior midfielder Taylor Sweeney scored a team-leading 43 goals to go with 12 assists, and junior attacker Julia Davidson had 30 goals and five assists. Senior attacker Sophia Casella is another talented scorer who had 26 goals and eight assists and junior attacker Ashley Easterday (15 goals, 7 assists) will also contribute. Senior Kyra Traino is back on defense and sophomore Lindsay Killian returns in goal after earning the starting nod as a freshman.
OUTLOOK: The Dragons went 8-11 and advanced to the South Jersey Group III quarterfinals last spring. They should make a run at a winning record this year under new coach Amanda Bushong.
LENAPE INDIANS
PLAYERS TO WATCH: Lenape is paced by a special junior class that includes one of the most talented players in New Jersey. Attacker Gabby Fornia has scored 149 goals in her first two seasons, including a team-high 79 last year. She also added 91 assists and 98 groundballs as a sophomore on her way to all- state first-team honors. The Vanderbilt recruit should again lead the Indians' offense, but she'll have plenty of help. Junior midfielder Carlee Braverman had 62 goals to earn all- South Jersey and all-conference recognition and is committed to Duquesne, while junior Erin Donoghue, an all-conference midfielder, added 30 goals and will continue her career at George Mason. Senior attackers Kasey Donoghue (42 goals) and Sydnee Sapp (14) also return before joining the New Jersey Athletic Conference at TCNJ and Montclair State, respectively. Sophomore Lauren Figura, a Saint Joseph's commit, should be a key addition to the midfield, but the defense will have a new look after graduating all-state selection Shan- non Gallagher and starting goalie Rebecca Wilen. Juniors Izzy Schwartz and Kait Kulesza will look to fill some big shoes on defense.
OUTLOOK: The Indians went 20-2, claimed their second straight sectional championship and nearly repeated as state champs before suffer- ing an 11-9 loss in the final. With Fornia leading the way, expect another memorable campaign this spring.
MOORESTOWN QUAKERS
PLAYERS TO WATCH: Moorestown graduated several outstanding players, but as usual, there are plenty of talented players remaining. That includes junior Quinn Nicolai, who was named South Jersey Midfielder of the Year and earned All-American honors in 2015. The Penn State recruit had 51 goals and 26 assists and also garnered all- South Jersey and all-state first-team recognition. She'll have help on offense from seniors Annika Nissen (17 goals, 16 assists), who has committed to Colorado; Delaware recruit Claire D'Antonio (13, 3); Olivia Alvarez (9, 10), who is headed to James Madison; and Genie Santarpio (4, 3), who is Jacksonville-bound. Sophomore Kacey Knobloch, the daughter of coaches Deanna and KC Knobloch, is another dangerous offensive player who had 13 goals and eight assists as a rookie. She has already committed to James Madison as well. Senior defender Jessie Britton, a Bucknell recruit, is back along with senior Julia Bolte (Oregon), junior Nicki Dadino (Vanderbilt) and sophomore Ava Frantz (James Madison). Senior Jenna Martinelli (Virginia Tech) and junior Brittney Wright (Richmond) will help set the tone in the midfield. Yet another James Madison recruit, junior Jessica Goralski, is back in goal. Other experienced returners include seniors Charlotte Elwell (Cal-Davis) and Allison Rohrbach (Wagner) and juniors Emily Culbertson (Holy Cross) and Courtney Nutt (Monmouth).
OUTLOOK: The Quakers saw their 88-game winning streak come to an end in 2015 as they compiled a 20-4 record. But they still finished as the top team in South Jersey, captured the program's 23rd state title and were ranked 25th in the nation. Expect more of the same this spring.
MOORESTOWN FRIENDS FOXES
PLAYERS TO WATCH: Moorestown Friends is centered around an explosive offensive duo in junior midfielder Katy Repholz and sophomore attacker Alexis Watson, who were both all-Friends League selections last year. Repholz erupted for a team-leading 72 goals, giving her 93 in two seasons, and also had seven assists. Watson, a Rutgers recruit, wasn't far behind in her rookie campaign, as she finished with 64 goals and 10 assists. The young pair should continue to pose problems for opposing defenses this spring. Senior midfielder Erin Chen is another key returner and other offensive contributors are senior Andrea Kinzler, junior Rebecca McGrath and sophomore Kayleigh Schweiker. The Foxes must replace several important defenders and their starting goalie.
OUTLOOK: After qualifying for the Group I playoffs and finishing with a 10-6 record, another successful season appears likely with Repholz and Watson leading the charge.
PAUL VI EAGLES
PLAYERS TO WATCH: Paul VI will once again lean heavily on senior midfielder Michelle Hallman, who led the team with 49 goals last year and went over 100 for her career. She's in line for a strong final season before heading off to Old Dominion. Other key offensive players include senior attacks Allie Darley (16 goals, 8 assists) and Kiera Shusted (14, 12) and junior attack Kathleen Murphy (18, 7). Seniors Julianna Walsh (10, 5) and Alyssa Power (7, 3) are back in the mid- field, and important defenders are senior Megan Carty and sophomore Ava Delaney. Senior Gabby Brown returns as the starting goalie.
OUTLOOK: The Eagles went 5-13—a three-win improvement from the year before—and should keep improving with a solid core back in the fold.
SENECA GOLDEN EAGLES
PLAYERS TO WATCH: Despite the graduation of all-South Jersey first-teamer Megan Drum (77 goals last year) and Maddy Schulte (over 100 career goals), Seneca still has an impressive list of returners. Senior Samantha Scarpello had 33 goals two seasons ago before focusing on defense last year. She will continue her career at Rutgers. Senior Riley Bednar and junior Carley Samuel are also back on defense in front of returning goalie Christa Hines, a junior. Offensively, dangerous scorers are senior attack and Kean recruit Danni LeSaint (48 goals) and junior midfielder Erin Kerstetter (47), a Wagner commit.
OUTLOOK: The Golden Eagles' 13-6 season included a share of the Olympic Conference Patriot Division title and a trip to the South Jersey Group III semifinals. They have the potential for another big season.
SHAWNEE RENEGADES
PLAYERS TO WATCH: Shawnee said goodbye to a special senior class that included all-state second-team midfielder Caroline Farley. The good news is the return of several offensive weapons such as senior attack Liza Barr, who had 38 goals and 22 assists last year to earn all-South Jersey second-team and all-conference first-team recognition. Barr, who should reach 100 career goals early this season, will continue her career at Gettysburg. Other offensive threats are senior Samantha Tucci (28 goals, 9 assists), junior Molly Baechler (30, 15) and junior Katie McLoughlin (22 goals), a Cincinnati recruit. Senior Saber Bernat and sophomore Erica Barr could also play bigger roles in the attack. Catholic University recruit Alyssa Bishop is a key returner on defense and senior Bianca Smith, who has committed to Boston University, is in line to take over as the starting goalie.
OUTLOOK: The Renegades went 13-6 and dropped a close game to rival Lenape in the South Jersey Group IV final. They can expect to be sectional title contenders once again.
WASHINGTON TOWNSHIP MINUTEMAIDS
PLAYERS TO WATCH: Washington Township has been looking forward to this season ever since the last one ended, as most of the key players are back. That includes senior Corri Calandra, an all-South Jersey second-team and all-conference first-team selection who will again lead the defense before heading off to Longwood University. Senior midfielder Allie Gorman, a TCNJ recruit, led the squad with 46 goals last year and heads an offense that also includes sophomore attack Deanna Balsama, who had 35 goals as a rookie to earn all-conference first-team honors. Junior midfielder Ilyssa Liberto (25 goals) and junior defender Nina Orsimarsi, who have both committed to Coastal Carolina, are other important returners along with sophomore attack Casey Schultz (17 goals). Bloomsburg recruit Lana Paulo is back on defense in front of senior goalie Emily Cross. Other returning seniors include Iris Schuck, Kate Schuck, Sam Brown, Kayla DiJoseph, Carly Kreitzer, Melanie Iatorola and Sarah Uricher.
OUTLOOK: The Minutemaids' 6-12 season featured a playoff victory over Brick Memorial. Don't be surprised to see them make a major improvement and challenge for a winning record.
Published (and copyrighted) in Suburban Family Magazine, Volume 7, Issue 1 (January, 2016).
For more info on Suburban Family Magazine, click here.
For information about advertising in Suburban Family Magazine, click here.
To find out where to pick up your copy of Suburban Family Magazine, click here.