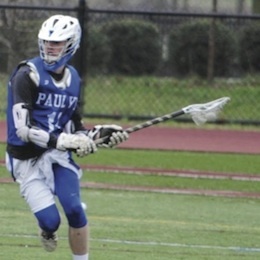 Boys Lacrosse
BISHOP EUSTACE CRUSADERS
PLAYERS TO WATCH: Despite graduating four all-conference players, Bishop Eustace returns several senior leaders as well as a solid group of sophomores who saw varsity time as freshmen. Senior defender Joe Pelosi was an all-conference second-teamer in 2015, and senior midfielder Steven Ardire is the leading returning scorer after notching 17 goals. Senior Jared Barnes joins Pelosi as a veteran returning on defense. Leading the underclassmen are midfielder BLake Hansen and attack Tim Spellman—who each scored 12 goals as rookies—and Anthony Olivo, who was the starting goalie. Other returning sophomores include midfielders Stephen Schoenborn and Brian Dugan and defender Andrew Klitchko, while junior attacker Paul Braungart will look to contribute offensively.
OUTLOOK: With a lot of young talent in the program, the Crusaders hope to improve on last year's 8-10 season, which ended with a first-round loss in the Non-Public A playoffs.
CAMDEN CATHOLIC FIGHTING IRISH
PLAYERS TO WATCH: Camden Catholic graduated three key seniors who all made the all-conference team, but a solid core remains in place. Senior Ryan Campbell (11 goals, 12 assists) and junior Dave Hare (11,6) are important pieces of the offense, while junior Jack Walsh is another talented returner who will anchor the defense. Senior Jack Mahoney is also an important player on defense who recently committed to Catawba College. Other returners looking to take on bigger roles include junior Max Hensinger and sophomore Bentley Owens, and sophomore Gage Panna is a varsity newcomer expected to have a major impact.
OUTLOOK: The 2015 campaign was a memorable one for the Irish, who went 14-6 to set a school record for victories in their first winning season since 2009. They also shared the Olympic Conference National Division title with West Deptford. The next step is to become a consistent program year in and year out.
CHEROKEE CHIEFS
PLAYERS TO WATCH: Cherokee graduated 85 percent of its scoring from last year, including all-conference first-teamers Jordan Krug and Jesse Streb, so this team obviously has some holes to fill. The good news is the return of several key defenders, including senior RJ Wolf, who made the all-conference first team, and junior Dylan Rhoads, who started as a sophomore. Senior attack Max Bundesmann had 12 goals and eight assists last year and will be an important contributor on offense, while seniors Kevin Pierson (six goals, four assists) and Tom Meindl (4,4) will also look to step up. Seniors Dylan Kelso and Nick Rispo and junior Billy Buehler are returners in the midfield and senior Alex Principato is back on defense.
OUTLOOK: The Chiefs went 13-8 and reached the South Jersey Group IV final before dropping a close game to rival Lenape. Although a lot of talent from that team has moved on, this is a consistent program that should continue to succeed.
CHERRY HILL EAST COUGARS
PLAYERS TO WATCH: Cherry Hill East returns a strong nucleus led by a pair of seniors who will continue their careers at Divi- sion I High Point University: Brian Stamm and Ian Sheekey. Stamm, a defender, led the Cougars in ground balls last spring and made the all-conference first team. Sheekey, an attack, tied for the team lead with 30 goals and had a team-high 26 assists on his way to all-conference second-team honors. Junior Evan Campbell (24 goals, 18 assists) and sophomore Eric Sherman (14, 15) are other talented attackers and senior Mike Simmons (10 goals) leads the returning midfielders. Senior Adam Davis is a returning starter on defense and experienced midfielders include senior Mitchell Finklestein, junior Adam Hauck and sophomore Cade Zaris.
OUTLOOK: The Cougars went 12-7 in 2015, doubling their win total from the year, and claiming the first playoff victory in program history on their way to the South Jersey Group IV quarterfinals. They have an excellent chance to make it two winning sea- sons in a row under new head coach Anthony Peruso, who replaces Erick Wood.
CHERRY HILL WEST LIONS
PLAYERS TO WATCH: Midfielder Danny Buckwalter has been a varsity contributor since his freshman year and enters his senior sea- son with 110 career goals. An all-conference first-teamer last spring, he will continue his career at Division III Stevenson University. Other key returners are attack Chris Bellon, a four-year varsity player, and sophomore middie Ryan Mailahn, who started as a freshman. The talented senior class also includes goalie Ryan McCandless, attackmen Ernie Spiotto and Mike Keen, midfielder Josh Lackey and defender David Rosica.
OUTLOOK: With the experienced seniors leading the way, expect the Lions to improve on last year's 3-13 record.
CLEARVIEW PIONEERS
PLAYERS TO WATCH: All-South Jersey attacker Matt Donnelly, who led Clearview with 75 goals last year, is now at Penn State, and all-South Jersey defender Adam Graham is at Rutgers. But the Pioneers still have plenty of talent to build around. Senior attack Collin Love is a proven finisher who scored 66 goals as a junior. He made the all-conference first team along with senior midfielder Jackson Specht, who had 41 goals and 45 assists and has committed to Virginia Military Institute. Senior attack Jake Bonomo (24 goals, 14 assists) is another offensive contributor, and seniors Mitch Muhlbaier and Dylan Brasch are returning midfielders. Junior Jarett Baker is back on defense and juniors Zach Heiser and Kevin Horchak are experienced goalies.
?OUTLOOK: The Pioneers went 15-4 and advanced to the South Jersey Group III semifinals in 2015. They have the potential for another solid season.
EASTERN VIKINGS
PLAYERS TO WATCH: A pair of all-conference second-teamers leads a promising group of returners for Eastern. Senior attack Mike Allen scored a team-high 36 goals, while senior midfielder Eric Ellis added 25 goals and 13 assists. Other dangerous offensive players are senior attackers Zach Jacobs (19 goals, 26 assists) and Joey Tiernan (18 goals, 15 assists) and senior midfielder Jake Brown (8 goals, 13 assists). Junior Collin McCollum is back as the starting goalie, senior Gabe Sable is an experienced defender and junior Brandon Hall is back in the midfield.
OUTLOOK:
The Vikings' 9-9 season included a 10-9 upset over top-seeded Southern in the South Jersey Group IV playoffs, as they advanced to the sectional semifinals. That playoff run should give them confidence heading into this season.
GLOUCESTER CATHOLIC RAMS
PLAYERS TO WATCH: Senior attack/midfielder Derek Alcavage enjoyed a breakout season last year, scoring a team-high 32 goals on his way to all-conference second-team honors. He will once again be a key player offensively before heading off to Gwynedd-Mercy University to continue his career. Junior midfielder Colin Corrado is another team leader for Gloucester Catholic who had 18 goals and 15 assists and was an all-conference first-teamer. Other key returners include juniors Neil McGee (19 goals, 15 assists) and Christian Holmes (7, 12). The defensive unit will be led by senior Brendan Buckland and junior Nick Myers. Sophomore midfielder Zach Raudenbush is a promising youngster who has already committed to Division I High Point, and sophomore TJ Logan is back as the starting goalie.
OUTLOOK: The Rams have a solid group of returners and have the potential to finish with a winning record after going 8-11 in 2015.
HADDONFIELD BULLDAWGS
PLAYERS TO WATCH: Most of the key players return for Haddonfield, including all-conference first-teamers Donny Siok, a junior, and Ian Reilly, a senior. Siok is a midfielder and faceoff specialist, and Reilly is a goalie who has committed to Division I NJIT. Senior attack Gavin Cutrino, an all-conference second-teamer, leads the offense along with senior Josh Van Dexter, and all-conference second-teamer Steve Falcone, a senior, is an experienced defender. Sophomore Will Batson started as a freshman at attack and will also be counted on this year, and another sophomore, Mark Troiani, is expected to move into a starting role on defense.
OUTLOOK: A nice mix of veterans and talented youngsters should lead to improvement for the Bulldawgs following a 5-12 record last spring.
KINGSWAY DRAGONS
PLAYERS TO WATCH:
Kingsway returns a solid defense led by all-conference first-teamer Jay Scerbo, a senior who will continue his career at Seton Hill University. Senior Gabe Lombardi—who is headed to Goucher College—is also back after earning all- conference second-team honors, and senior Tom Ondo returns on defense as well. Senior Sean Dunn, an Albright recruit, will lead the attack following an all-conference junior season. Joel Scerbo, Jay's brother, had an impact as a freshman and made the all-conference second team. The sophomore has already committed to Division I High Point and will anchor the midfield with returning starters Eddie Sachetti and David Floyd, both seniors. Senior Shakeim Golden is a defensive middie who has committed to Grand Canyon University.
OUTLOOK: The Dragons had several close losses in a 6-12 season, including three by one goal. If they can turn those into victories, they can vie for a winning record.
LENAPE INDIANS
PLAYERS TO WATCH: Lenape graduated leading scorers and all-South Jersey second-teamers Anthony Brunetti and Connor Wolfe, yet remains loaded with talent. Senior midfielder Conor Gaffney, a Lehigh recruit, dominates on faceoffs and made the all- conference first team along with senior defender Joe Mercado, who will continue his career at Mount Saint Mary's. Other key returners on D are senior defensive midfielder Kyle Treiber—an all-conference second-teamer— senior defenders Mike Krosnodomskie and Bryce Dunlap and senior goalie Manny D'Allesio, a Post recruit. Offensively, junior midfielder and Towson commit Tim Montgomery had 27 goals and 33 assists last year, and other scoring threats are senior midfielder and Gettysburg recruit Matt Smith (19, 13) and Scott Fayan (15, 4), who will attend Muhlenberg. Other varsity returners include seniors Liam Baker, who will continue his career at Western New England, and Zach Yaffa. The impressive sophomore class features Drew Bregman, Zach Cole, Matt Ingersoll, Matt Lajioe, Kevla Thesan and Donte Venuto. Talented freshmen Will Mercado, Bryce Reece and Matt Soutar will also push for varsity time, along with juniors Colin Baker and Colin Wright, who are moving up from JV.
OUTLOOK: The Indians' memorable 13-7 season included the South Jersey Group IV championship and their first-ever trip to the state final. They look like potential sectional title contenders again this year.
MOORESTOWN QUAKERS
PLAYERS TO WATCH: Moorestown returns a lot of offensive firepower, led by three standout juniors. Quinn Willis and Frankie Labetti each scored more than 20 goals, and Will Corbi added 18 goals and 25 assists. Other scoring threats include seniors Bryan Wright, a Tampa recruit, and Ross Lazarus. Senior Nick Polich is an outstanding defenseman who will continue his career at Stevens Tech. Senior Mike Vaneria is a returning midfielder and junior Liam Peck is back as the starting goalie.
OUTLOOK: The Quakers went 13-6 and reached the South Jersey Group III final for the third straight year in 2015, losing a heart-breaker to rival Shawnee. Expect them to be sectional title contenders this spring as well.
MOORESTOWN FRIENDS FOXES
PLAYERS TO WATCH: With the graduation of all-Friends League players Joe Beideman and Andrew Cook, Moorestown Friends lost more than 100 goals from last year. The goods news is the Foxes still have scoring threats in senior attack Dylan Eni (20 goals, 14 assists) and junior midfielder Jackson Blanchard (16, 9). Senior Andrew Cates and sophomore Blaze Nyzio will also contribute to the offense. Senior defensive midfielder Kieran McMenamin was an all-league honorable mention choice and senior Josh Murdy is back as the starting goalie.
OUTLOOK: Despite the major losses to their attack, the Foxes hope to battle for a winning record after finishing 10-7 last year.
PAUL VI EAGLES
PLAYERS TO WATCH: Paul VI has a solid group of returners led by senior midfielder Colin Savacool, who is strong on faceoffs and led the team in ground balls last year. The all-conference first-teamer will continue his career at Widener University. The offense is led by junior attackmen Collin Fogerty and Matt Motto and senior midfielder and Kean recruit Danny Boucout, who all scored 30 or more goals last year and made the all-conference second team. Junior Pat McGovern was also an all-conference second-teamer and leads the defense with junior Nick Burns, while senior Scranton recruit Nick Antonucci and sophomore Sean Savacool return in the midfield. Other experienced returners include senior Liam Murphy and juniors Anthony Moran, Adam Colclough, Rob Heaney, Ryan Risse and Jake DiGiacomo.
OUTLOOK: The Eagles were one of the most improved teams in the state as they finished 8-9 in 2015, winning five more games than the year before. The progress should continue this spring.
SENECA GOLDEN EAGLES
PLAYERS TO WATCH: Seneca graduated leading scorer and all- South Jersey attack Kevin Gray, but there is still reason to be optimistic. Offensive punch will come from senior attack Tyver Butler, an all-conference first-teamer who had 33 goals and 17 assists, as well as sophomore attack Ian Gray, who added 24 goals and 17 assists as a freshman. All-conference second-team middies Nick George, a senior, and Peter Burke, a junior, are also scoring threats. Senior goalie Tyler McCormack made the all-conference first team as a junior, and senior Taylor Rosales, an all-conference second-teamer, is also a key presence on defense. Other important returners include juniors JJ Scarpello, Ryan Hackney and Alex Stahre.
OUTLOOK:The Golden Eagles' 16-4 season included a perfect record in the Olympic Conference Patriot Division, as they captured their third straight title. They also advanced to the South Jersey Group II final for the third year in a row. This has the makings for another special season.
SHAWNEE RENEGADES
PLAYERS TO WATCH: Shawnee suffered several big losses to graduation, including all-South Jersey first-teamers David Smith and Curtis Corley. Leading the returners is another all-South Jersey selection, senior attack Mike Githens, who led the team in scoring with 46 goals to go with 11 assists. Githens should reach the 100-goal mark for his career early this season. Juniors Dan Wigley (22 goals) and Mike Shinske and seniors Mike DiGenova and Max Pukenas will also contribute offensively. Senior Ryan Miller is back as the starting goalie, and returning defenders include seniors Brendon Dowling and Will Kane, junior Garrett Woods and sophomore Brett Funk.
OUTLOOK: The Renegades are coming off another terrific year that included a 16-4 record, the South Jersey Group III title and a trip to the state final. There is no replacing Smith and Corley, but the talent is still in place for a successful season.
WASHINGTON TOWNSHIP MINUTEMEN
PLAYERS TO WATCH: Washington Township has a promising nucleus led by senior midfielder Luke Xantopolous and sophomore attack Jake Dzierzgowski. Xantopolous, the first four-year starter in coach Dan Fowler's tenure, was second on the team with 24 goals and added 13 assists, while Dzierzgowski earned a spot in the starting lineup as a freshman and had 19 goals and 15 assists to earn all-conference second-team honors. Junior attack Vince Gagliardi and junior midfielder Dave Ciocco are other returning starters, along with defenders Doug Gardner, a senior, and Jarrett Dargusch, a junior. Junior defender/middie Jared Albano and sophomore middie Carson Shultz are other experienced returners. Township will have to break in a new goalie after the graduation of four-year starter Chris Burns, but there are several candidates in the open competition for the role.
OUTLOOK: The Minutemen's 7-11 season included close losses in the Gloucester County Cup final and the first round of the South Jersey Group IV playoffs to end the year. They've proven they can hang with some of the top teams in the area and are excited to take the next step and finish with a winning record.
Published (and copyrighted) in Suburban Family Magazine, Volume 7, Issue 1 (January, 2016).
For more info on Suburban Family Magazine, click here.
For information about advertising in Suburban Family Magazine, click here.
To find out where to pick up your copy of Suburban Family Magazine, click here.