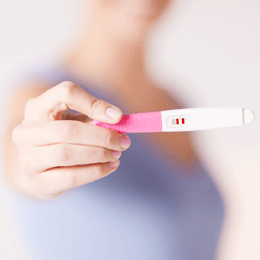 The First Steps to Starting a Family
Considerations abound for people looking to start a family, from physical and mental health to the responsibilities of raising a child, and from testing to infertility treatments.
It is very important for a woman to be healthy before she becomes pregnant because physiologically it is programming the offspring to survive in the environment outside the womb, according to Dr. George S. Taliadouros, the medical director of Delaware Valley Institute of Fertility & Genetics.
"Because the environment changes, and there are so many extraneous effects, the baby should not be lacking any of the information needed," he says. "A woman should be like a perfect machine before she becomes pregnant."
It is critical to set this foundation during preconception because so much of the information is irreversible, Taliadouros says. He recommends people looking to start a family read the recommendations set forth by the American Medical Association, Centers for Disease Control and the American College of Obstetricians and Gynecologists for a solid set of guidelines to follow.
Making an appointment with a general OB/GYN to open a discussion about anticipating trying to become pregnant soon would be a proper first step, according to Dr. Louis R. Manara, of the Center for Reproductive Medicine & Fertility. "That will elicit an opportunity to do some pretesting," he says.
Couples should be checked to determine whether they have immunity to the viral illnesses that can cause birth defects if contracted in the first trimester, including chicken pox, measles, mumps and rubella.
Irregular menses should be addressed early on, as extreme irregularities in the cycle can lead to delays in conceiving.
"One of the biggest questions people have is, 'When do you start to get concerned?'" says Dr. Thomas A. Molinaro, of Reproductive Medicine Associates of New Jersey. Patients under the age of 35 would generally try for 12 months, those between ages 35 to 40 for six months, and those over the age of 40 for three or four months.
Having a history of chemotherapy, surgery on ovaries or fallopian tubes, or early menopause might be cause for a patient to seek evaluation sooner, Molinaro says. "People are largely hesitant because they don't know what to expect, and think all of it is overwhelming," he adds.
Although there is a lot to take into account, people looking to have children can simply start with the basics. Basic bloodwork can give information regarding a woman's egg supply. An ultrasound can be performed to look at the female anatomy, a semen analysis done to look at a partner's sperm, and a hysterosalpingogram, or HSG, X-ray conducted to assess child-bearing potential.
"For most patients, these will give us everything that we need to know," Molinaro says.
Patients often find some area that can be addressed, whether it would entail surgery, medication to improve ovulation, or more aggressive treatments including intrauterine inseminations or in vitro fertilization.
A couple that is relatively young, however, with no past fertility issues or historical gynecologic problems, has a very good chance of achieving a pregnancy without needing intervention, says Dr. Stuart Shalit, of Virtua Medical Group, the lead physician at Virtua Phoenix OB/GYN and department chair of obstetrics and gynecology at Virtua Memorial.
Optimizing conditions for conceiving is rather straightforward, he says. "A well-balanced diet and a routine exercise program, three to four times a week—there's nothing anybody has to do more or less than they're normally doing to enhance their fertility."
Shalit says it's important for couples to become knowledgeable on the natural rhythms, and the science behind them, in order to set realistic expectations and decrease stress levels. "Young healthy couples have a 25 percent chance of achieving a pregnancy with each cycle," Shalit says. "People tend to believe the more frequent their intercourse is, the more likely they are to become pregnant, but that is in fact not the case."
The male reproductive system cannot produce sperm quickly enough to have an adequate count on a daily basis, and women with a regular menstrual cycle have their best chance of becoming pregnant between day 10 and 20; therefore, an appropriate intercourse rate would be every two to three days during that time.
"People tend to get frustrated when they're having intercourse every day, or perhaps more frequently than every day, and not achieving a pregnancy," Shalit says. "If they have less sex they're more likely to achieve the outcome they're seeking."
In a day-and-age where "the family unit" is very diverse—from traditional husband and wife to single fathers or mothers, and from grandparents or extended families to same sex partners—people also want to take a good look at their values, says Dr. Melissa Suarez, of Kennedy OB/GYN Associates.
"Anyone interested in starting a family should envision 'what does having a family mean to you?' and look at the big picture and what that entails," she says. "Then you can start looking at all the different ways to accomplish that." This awareness opens the door to fears and wishes being openly communicated among those who will be involved in raising the child, Suarez says.
Suarez also highlights the importance of finding a trusted provider who can offer unbiased perspective outside the immediate support system and underscore a plethora of community resources are available for people looking to start a family.
"It might be a social worker to help coordinate care, or someone to work with you on obtaining medications or transportation," Suarez says. "People should not be afraid to ask for any help for their wants and needs they have as they venture into having a family."
RESOURCES
Center for Reproductive Medicine & Fertility: Dr. Louis R. Manara
200 Route 73, Suite A, Voorhees
(856) 767-0009
LouisManara.com
Delaware Valley Institute of Fertility & Genetics
6000 Sagemore Drive, Marlton
(856) 988-0072
StartFertility.com
Kennedy OB/GYN Associates
Locations across South Jersey
(856) 218-2312
KennedyHealth.org
Reproductive Medicine Associates of New Jersey
Serving New Jersey
RMANJ.com
Virtua Phoenix OB/GYN
401 Young Ave., Moorestown
(856) 291-8865
120 Madison Ave., Mount Holly
(609) 444-5500 | Virtua.org
Published (and copyrighted) in the Art of Living Well pull-out section of Suburban Family Magazine, Volume 6, Issue 9 (November, 2015).
For more info on Suburban Family Magazine, click here.
For information about advertising in Suburban Family Magazine, click here.
To find out where to pick up your copy of Suburban Family Magazine, click here.