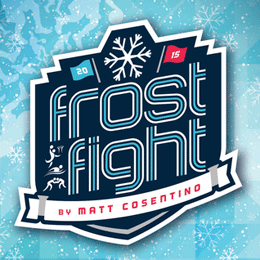 Frost Fight
For most of us, Thanksgiving week means enjoying the final days of autumn weather, making travel plans and savoring a holiday feast with family and friends. But for the high school winter athletes of South Jersey, there's an added element: It means time to get back to work.
Practice for boys and girls basketball and wrestling begins on the Monday before Thanksgiving, and swimmers jump back in the pool even sooner. No matter what the sport, these athletes understand that long hours of toiling at their craft now can lead to glory at the end of the season.
There was plenty of that for area programs last year. The boys swimming teams at Cherry Hill East, Haddonfield and Moorestown all won state championships, while the Cherry Hill East boys reached the state final in basketball for the first time in school history and the Shawnee girls advanced to the state basketball final for the second year in a row. Several local wrestlers made the podium at the individual state championships, including Clearview teammates Zach Firestone and Mike VanBrill.
This winter promises to bring more of the same success for South Jersey schools. Suburban Family kicks the season off with our annual preview for boys and girls basketball, wrestling and boys and girls swimming. The following is a look at some of the returning standouts and promising newcomers to keep an eye on in the chilly months ahead.
Boys basketball
While perennial power Haddonfield will look a lot different this year after graduating four starters, one thing remains the same: Paul Wiedeman, one of South Jersey's best basketball minds, will still be on the Bulldawgs' bench.
Wiedeman has been Haddonfield's head coach for 16 years, leading the Bulldawgs to three straight state titles from 2004-06. He also won a state crown as a player at Haddonfield, starring at point guard under his father, Dave. So it was a huge surprise in May when he handed in his resignation and took the same position at Cherokee.
But Wiedeman quickly changed his mind and realized he never wanted to leave his alma mater. He'll be back after guiding the Bulldawgs to a 23-7 record and a spot in the South Jersey Group II final. Senior forward Tommy Kadar, the star quarterback on Haddonfield's football team, is the lone returning starter after averaging nearly 10 points per game.
While Cherokee didn't land Wiedeman, the Chiefs did end up with a terrific coach to replace Matt Shultz. Eric Cassidy went 119-77 in six years at Schalick and twice led the Cougars to the sectional final. Although Cherokee graduated its best player in Paul Bellamy, Cassidy inherits four other starters from a team that finished 19-10 and reached the South Jersey Group IV final.
The team that beat the Chiefs in the sectional final, Cherry Hill East, also lost its alpha dog: Jake Silpe, who scored 1,577 points in his career and was last year's South Jersey Player of the Year. The good news is that the Cougars still have 6-foot-10 senior Timmy Perry Jr., the son of former Temple star and NBA player Tim Perry Sr. Perry is a Division I recruit and will become the focal point for a team that has won two straight sectional titles.
Washington Township has plenty to be excited about with four returning starters, including senior point guard Spencer Cook, a three-year starter who averaged a team-high 16.9 points last year. Eastern also returns one of the best players in the Olympic Conference in 6-5 small forward Maliq Sanders, who emerged as a star last year for coach Kevin Crawford and averaged 16.5 points.
Crawford's brother, Matt, saw several of his key players graduate from a 25-4 squad at Camden Catholic. But the Irish are traditionally one of the area's best programs and still have senior point guard Jamal Parker.
Elsewhere in the Olympic Conference, Shawnee will be led by senior guard/forward Dean Austin and sophomore Dylan Deveney, and Cherry Hill West returns an all-conference first-teamer in senior forward Danny Buckwalter. Senior point guard Mike Cohen, an Auburn recruit, directs a talented squad at Bishop Eustace, and Paul VI will try to build on last year's strong finish behind senior guard Lonnie Moore. Lenape only has two returning starters and limited varsity experience, but the Indians are a proven winner who should continue to shine.
In the Tri-County Conference, Gloucester Catholic graduated four starters from a 22-6 team that claimed the Classic Division championship. Senior Tyler Mondile, a terrific 3-point shooter, is the Rams' top player. Kingsway, the Royal Division champs who finished 19-7, also suffered key losses to graduation but return senior starters Matt Blaszczyk and Timar Brown.
In the Burlington County Scholastic League, Moorestown is paced by smooth-shooting senior Dan Dyer, who averaged nearly 15 points per game last year. Moorestown Friends will aim for a winning record in the Friends School League behind juniors Jordan White and Elijah O'Neal.
Girls basketball
Taiah Thornton, Julia Braungart and Sierra Taylor have all been varsity contributors for Camden Catholic since they were freshmen. The ride will finally end this year, but there's no doubt another exciting season awaits the senior trio.
Last year, Thornton averaged 13.7 points and was honored with all-South Jersey third-team and all-conference first-team recognition. Braungart and Taylor also made the all-conference team as the Fighting Irish went 24-3, won the South Jersey Invitational and reached the South Jersey Non-Public A semifinals.
Another elite team in South Jersey is Gloucester Catholic, which knocked out the Irish in the playoffs to reach the sectional final for the third year in a row. The Rams are led by senior forward Mary Gedaka, who averaged 16 points and 10 rebounds on her way to all-South Jersey first-team honors for the second straight season. Gedaka will continue her career at Villanova, following in the footsteps of her mom and coach, Lisa Gedaka.
The Rams also bring back another Division I recruit in senior point guard Maggie McIntyre, who has committed to Niagara. The two four-year starters will look to cap their careers with an elusive sectional championship.
While Gloucester Catholic was rolling to the Tri-County Conference Classic Division title last year, Kingsway was doing the same in the Royal Division. Almost everyone is back for the Dragons, including leading scorer Zoe Hahn.
Clearview also has a solid core, including sophomore forward Elaina Hansen, from a team that went 17-9, a nine-win improvement from the year before.
In the Olympic Conference, Lenape will once again be one of the teams to beat after finishing 25-4 overall and 8-0 in the American Division. Maddie Sims is primed for a super senior season after leading the Indians in scoring each of the last two years. The 6-foot-3 forward, who has committed to Siena, has more than 1,000 career points and rebounds. Cherokee could challenge Lenape thanks to a strong nucleus paced by the inside-outside combo of senior guard Shaye McGoey and junior forward Isabella Therien. The Chiefs also have a new coach who will be familiar to Cherokee fans: former boys coach Ron Powell, who retired after leading that program to the Group IV state championship in 2010.
Shawnee graduated seven seniors from last year's remarkable team, including leading scorer and all-South Jersey first-teamer Nikola Williams and two other all-conference first-teamers. Senior guard/forward Jennifer Byrne, who averaged 11.1 points and is also a key player on defense, will help the Renegades remain competitive.
Washington Township graduated just one senior and has the potential to bounce back from a rare losing season. The Minutemaids have a talented senior backcourt with Brianna Capacchione and Torie Eggers, who both averaged over 12 points per game last year.
Speaking of impressive guards, Paul VI has one of the best in junior Aliyah Stephens. The all-conference first-teamer was among South Jersey's scoring leaders at 19.2 points per game, and she's also a solid defender and rebounder for the Eagles.
Bishop Eustace has high hopes built around senior forwards Alexis Santarelli and Elizabeth Radley, while Cherry Hill East will look to follow up a solid season with all-conference senior guard Yamalis Villegas leading the charge.
In the Colonial Conference, senior guard/forward Taylor Sehdev headlines a strong returning nucleus for Haddonfield after averaging a team-high 11.9 points and making the all-conference first team for the 21-7 Bulldawgs. Moorestown, a member of the Burlington County Scholastic League, also has a veteran lineup led by senior sharp-shooter Anahita Sabet-Payman.
Moorestown Friends has a young but talented core that includes junior guard Camille Aguilar and sophomores Charlotte Stern and Alyssa Runyan. The Foxes went 15-7 overall last year and 5-5 in the Friends School League.
Wrestling
Clearview has established itself as an area power over the last several years and could be the No. 1 team in South Jersey. The Pioneers' loaded roster is headlined by Zach Firestone and Mike VanBrill, who should each be in the mix for state titles as seniors this year. Firestone went 38-1 last year and placed third in the state at 120 pounds, and VanBrill posted a 37-2 record and placed fifth in the state at 132 pounds.
They're joined by standout senior Stanley Atkinson, who transferred from Kingsway. Atkinson went 35-4 and won a district title at 132 pounds for the Dragons last year. All of that talent makes Clearview a good bet to win its third straight sectional championship.
Another strong team in the Tri-County Conference is Kingsway, which has a dynamic duo in brothers Trace and Quinn Kinner. Trace, a junior, went 36-7, won the Region 8 title and took sixth in the state at 113. All Quinn did as a freshman was win district and region crowns at 106 pounds, finish fifth in the state and post a 41-2 record.
In the Colonial Conference, Haddonfield looks to have another solid team after reaching the sectional semifinals two years in a row. The Bulldawgs are led by senior Frank Fortino, who was one of the top 195-pounders in South Jersey last year. He went 40-5, won a district championship and placed second in Region 7, moving on to Atlantic City for states.
In the Olympic Conference, Camden Catholic will attempt to bounce back from a rare losing season under new coach John Denuto. The Irish saw their streak of 21 straight sectional titles come to an end last year, but hope to start a new streak with senior 138-pounder Mark McCormick leading the way. McCormick took seventh in the state, captured his third straight Region 7 title and was named Most Outstanding Wrestler in District 27 last year and has state title aspirations.
Seneca is another talented team that has high hopes. After an outstanding freshman season, it will be exciting to see what sophomore 106-pounder Joe Manchio can do for the Golden Eagles. Last year, he went 39-3, captured a district title and became the first wrestler in school history to win a region crown.
Eastern has a new head coach in Brian Boland, who has been an assistant coach at various programs for 10 years, including the last three with the Vikings. His best wrestler is senior 138-pounder Brandon Barbella, who won district and region titles last year on his way to a 27-2 record.
Cherry Hill West is led by a pair of stellar seniors who both recorded more than 30 wins a year ago. Connor Rogovich (35-5, 145 pounds) and James Potts (33-7, 182) were each District 27 champions and Region 7 runners-up. Across town at Cherry Hill East, the Cougars boast one of the area's best heavyweights in junior Ryan Swenson, who went 36-4 last year.
Cherokee, which claimed the District 27 team crown for the second straight year, brings back eight starters, including district champions Connor Cosgrove, Mike Kringler and Ryan Manahan, as well as region finalist Collin Wickramaratna.
District champion Evan Fisler is primed for a big junior season at Washington Township, while senior Isaiah Bryant (26-12) is the leader for a talented young squad at Shawnee.
In the Burlington County Scholastic League, Moorestown graduated three-time state placewinner Tyreek Smith, but welcomes back two-time district champ Max Rohan. The Quakers will be led by new head coach Brian Cary.
Girls swimming
Sophie Fontaine's name is already all over the Haddonfield record books, and she will look to put an exclamation point on her sensational career with a memorable senior season. Fontaine, who will continue her career at Yale, took second in both the 200 free and backstroke at states and will be in contention for state championships in both events this year.
Another Haddonfield star is junior diver Sophia Peifer, who repeated as both the South Jersey and state champion last year. Her performance at states included a perfect score on one of her dives.
Haddonfield reached the Public C state final last year and should again be one of the top teams in the area.
Camryn McHugh, whose three older brothers were swimming stars in South Jersey, kept up the family tradition with a phenomenal freshman year at Gloucester Catholic. She took first place in the backstroke and second in the butterfly at the SJISA Coaches Invitational, setting school records in both events. She was also the Tri-County Conference champion in the 50 free and qualified for states in the backstroke.
Eastern has a talented roster led by a pair of outstanding juniors in Kayla Gagnon and Kendall Bromley. Gagnon qualified for states in two individual events last year, finishing ninth in the IM and 17th in the butterfly. Bromley took 19th in the 500 free and 21st in the breaststroke at states.
Clearview graduated an outstanding senior class, and now the spotlight will shine on new stars such as sophomore Kyra Schwerzler, who burst onto the scene last year with an outstanding rookie campaign. She was the Gloucester County and Tri-County Conference champion in the breaststroke and qualified for states in the event.
Despite the graduation of standout Isabel Obregon, Cherokee does return its other star from last year, junior Jamie Bowne. She competed at states in the IM and butterfly, earning an eighth-place showing in the IM and a 12th in the fly.
Moorestown, which advanced to the South Jersey Public B final, graduated star Carter Orth, but has a deep roster that includes Andrea Fong, Eliza Pluckhorn, Annie Wixted and Abby Wilson.
Returning state qualifiers Leanna DeMarco and Tess Ruona are standouts for Shawnee, while Lenape's Nicole Shek is poised for a huge senior year after placing sixth in the IM and eighth in the backstroke at states as a junior.?
Senior Madison Franke leads the returners for Cherry Hill West after qualifying for states last year in the 50 freestyle. Bishop Eustace, which went 10-2 and made the Non-Public A state final, has most of its top swimmers back, including the standout junior and sophomore classes.
Kingsway's Sydney Jaramillo, Marirose Aleardi of Moorestown Friends and Seneca's Morgan Calabria are other swimmers to watch.
Boys swimming
Moorestown has had its share of elite swimmers over the years, and senior Alex Martin is certainly near the top of that list. Last year, he repeated as the state champion in the backstroke and also qualified for states in the 50 and 100 free, two events he won at the SJISA Coaches Invitational. A highly sought-after recruit, Martin has committed to Michigan, considered one of the best college programs in the country.
With Martin leading the way last season, the Quakers claimed their second straight Public B state championship—the 20th in school history—and also went undefeated for the second consecutive year, extending their winning streak in dual meets to 35. Despite losing a large group of seniors, Moorestown should again be one of the top teams in South Jersey.
Cherry Hill East was another undefeated state champ last year, as the Cougars capped a 14-0 season with a thrilling 86-84 win over Westfield for the Public A state title, their first state crown since 2002. East will seek its eighth straight sectional championship this season behind seniors Pat Gillooly and Duncan Brookover.
Haddonfield capped its 8-3 season with the Public C state title, the program's first state crown since 2010. The Bulldawgs have the talent and depth to be contenders again, and will be sparked by state qualifiers Brendan Finnegan, Jared MacNeill, Tim Proctor and Conor Skelly.
Gloucester Catholic, which reached the Non-Public B state final, suffered a key loss when talented sophomore Connor Shenk transferred to GCIT. But the Rams still have senior Max McCall, who took seventh in the 200 free at states after placing fifth in the event at the SJISA Coaches Invitational and winning it at the Tri-County Conference Showcase.
Lenape graduated the most accomplished swimmer in school history in Steve Shek, but a lot of talent remains for a team that lost a close meet in the Central Jersey Public A final. The Indians are paced by senior Jacob Gray and junior Alex Trauger, who each qualified for states in two events.
Hopes are high for Washington Township as they bring back a number of tough competitors, including senior C.J. McAninlley. He was the Gloucester County champion in the 100 free and took 11th in the event at states.
Shawnee graduated several terrific swimmers, including Jon Burkett and James Elmendorf. Helping to fill the void will be sophomore Brenden Meagher, who is coming off an impressive rookie season.
Some other talented standouts to keep an eye on include Cherokee's Carlos Obregon, Matt McGough of Bishop Eustace, Clearview's Matt Grubb, Eastern's Jerry Joyce, Nick Zahniser of Kingsway and Cherry Hill West diver Dillon Hall.
Click on the sports below to go directly to the article.
Published (and copyrighted) in Suburban Family Magazine, Volume 6, Issue 9 (November, 2015).
For more info on Suburban Family Magazine, click here.
For information about advertising in Suburban Family Magazine, click here.
To find out where to pick up your copy of Suburban Family Magazine, click here.