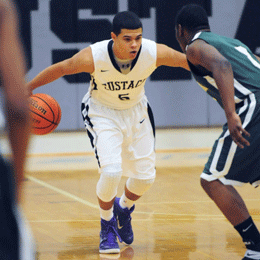 Boys Basketball
Bishop Eustace Crusaders
Players to watch:
After graduating two all-conference players, including leading scorer Brandon Cazan, the Crusaders will lean heavily on senior point guard Mike Cohen, an Auburn recruit. Cohen, a solid outside shooter who can also get to the basket, averaged 10.9 points last year to earn all-conference second-team honors. Senior guard Eric Sobocinski is a threat from 3-point range and should step into a starting role, and junior Nate Carpenter, a part-time starter last year, provides depth in the backcourt. Alex DiPietrantonio, a 6-foot-6 junior, is expected to be a force in the paint, while senior guard Jack McCaffery and junior forward Jesse Saul are other returners looking to make an impact.
Outlook:
The Crusaders were up and down last season, as they notched quality wins over Eastern and Haddonfield but finished with a 13-14 record. With Cohen leading the way, they should stay competitive against a difficult schedule that includes a national tournament in Florida and a matchup with state power St. Anthony.
Camden Catholic Fighting Irish
Players to watch:
The Irish were hit hard by graduation, as four starters moved on, including all-South Jersey first-teamer Courtney Cubbage. Senior point guard Jamal Parker, who averaged 8 points and made the all-conference second team, leads the returners. Senior Terrance Harris was a key reserve last year and should be in line for a bigger role.
Outlook:
Camden Catholic went 25-4 and reached the South Jersey Non-Public A semifinals last season. The Irish also posted a perfect 8-0 record in the Olympic National for their first division title since 2010. It will be difficult to duplicate that success, but if new leaders can emerge, this should be another winning season.
Cherokee Chiefs
Players to watch:
The Chiefs only graduated one starter from last year's team, but it was their best all-around player. Paul Bellamy led Cherokee in scoring each of the last two years and will be missed at both ends of the floor. Without Bellamy, the Chiefs should get most of their scoring from the inside-outside combo of shooting guard Kevin Brown and power forward Grant Gibson, both seniors and returning starters. Senior Tyler Tobin is another returning starter and a strong outside shooter who made the all-conference second team. Senior point guard Zach Rowe and senior forward Marcus Marshall are also key returners.
Outlook:
Cherokee went 19-10 and reached the South Jersey Group IV final last year. The Chiefs will be led this year by Eric Cassidy, who takes over as head coach for Matt Shultz. Cassidy posted a 119-77 record in six seasons at Schalick and twice led the Cougars to the sectional final.
Cherry Hill East Cougars
Players to watch:
The Cougars will certainly have a new look this season after saying goodbye to Jake Silpe, one of the best players in school history. The point guard is now at the University of Pennsylvania after ending his high school career with 1,577 points and earning South Jersey Player of the Year honors last year. The Cougars will also miss the leadership and overall play of starting guard and co-captain Josh Brown, an integral part of the team's back-to-back sectional championship teams. The good news is that East still has a Division I recruit in 6-foot-10 senior Timmy Perry Jr., the son of former Temple star and NBA player Tim Perry Sr. Perry averaged 13.8 points per game last year and was named to the Olympic Conference first team and all-South Jersey honorable mention. Senior guard Olin McClendon is another returning starter who averaged 7.5 points and is also a strong defender. Other returning contributors are seniors Pierce Elliott and Lee Rosen-Swell and junior Colin O'Donnell. Junior Evan Campbell will take over the point guard position.
Outlook:
The Cougars finished with a 26-6 record last year and earned a share of the Olympic American title. They also claimed their second straight South Jersey Group IV crown and reached the state final for the first time in school history. While there is no replacing Silpe, East still has a star in Perry, and a nice supporting cast which should lead to another successful campaign.
Cherry Hill West Lions
Players to watch:
The Lions graduated all-South Jersey third-teamer Can Oztamur, who averaged more than 19 points a game in each of the last two seasons, and Elijah Bey, a three-year starter at guard. Leading the returners is senior forward Danny Buckwalter, who scored 12.8 points a game as a junior and made the all-conference first team. Senior forward Jack Goan, senior guard Nick Krake and junior guard Bruce Neal are other important returners, and senior guard Kenny Cubbage will also look to make an impact.
Outlook:
The Lions won their second straight Olympic Patriot championship last winter and finished with an 18-10 record. They probably won't be division favorites this year, but should remain contenders.
Clearview Pioneers
Players to watch:
Clearview had a senior-dominated team last year, including all five of its starters. Junior guard/forward Gyair Sharper and senior point guard Charlie Lane are two returners who could develop as the new team leaders. Last year's JV team was loaded with freshmen, many of whom are expected to earn a spot on varsity this year.
Outlook:
After finishing 9-15 last year, the Pioneers will attempt to rebuild around a new core of talented youngsters in the program.
Eastern Vikings
Players to watch:
Eastern will be paced by one of the most talented players in the area in 6-foot-5 small forward Maliq Sanders, who emerged as a star last year. Sanders, who averaged a team-high 16.5 points and made the all-conference first team, is a tremendous penetrator who can also step out to the 3-point line. Guards Keith Davis, a senior, and Darren Gibson, a junior, join senior forward Justin Williams as other experienced returners who will look to take on bigger roles.
Outlook:
After finishing with a 17-10 record last year, the Vikings look like contenders in the Olympic American with Sanders leading the way.
Gloucester Catholic Rams
Players to watch:
The Rams graduated four starters, including all-conference first-teamer Matt Green and steady point guard Fran Kinsey. The lone returning starter is senior forward Tyler Mondile, their top 3-point shooter who averaged 11.6 points per game. Senior guard Chris Kain and junior guard Gregg Williams both saw time off the bench and will be expected to carry more of the load. Pete Gawason, a 6-foot-7 junior, was part of a 22-1 JV team and will be called on to score in the post and defend the interior.
Outlook:
Gloucester Catholic's veteran group last year was fun to watch, as it led the Rams to a 22-6 season and the Tri-County Classic title. This year's squad will be more like an old-school Gloucester Catholic team that plays aggressive man-to-man defense and keeps the score in 40s, but the Rams should still contend in the division.
Haddonfield Bulldawgs
Players to watch:
Haddonfield said goodbye to four starters, including twin brothers and all-conference first-teamers Nick and Robby DePersia, so it will be relying on new leaders. Senior forward Tommy Kadar is the only starter back after averaging nearly 10 points per game. Also the starting quarterback on Haddonfield's football team, Kadar is a strong 3-point shooter who can get to the basket as well. Senior guard/forward Rich Bond started a handful of games due to injuries last year and is another important returner. Senior guard Matt Fell and senior forward Greg Gibson also saw time off the bench and could move into the starting lineup.
Outlook:
With just one starter back from a 23-7 team that reached the South Jersey Group II final, the Bulldawgs will have a hard time duplicating that success. But they still have head coach Paul Wiedeman—who took the job at Cherokee in the offseason but quickly changed his mind and decided to stay at his alma mater—and this is a proven program that should keep on winning.
Kingsway Dragons
Players to watch:
Kingsway brings back two starters from last year's successful team: senior point guard Timar Brown and senior forward Matt Blaszczyk, who has a soft touch around the basket and averaged 10.9 points per game. Senior guard Noah Burrell was a key reserve who should move into the starting lineup.
Outlook:
The Dragons' 19-7 record included a perfect 12-0 mark in the Tri-County Royal. They will miss Marcus Robinson's leadership at both ends of the floor, but have enough returning talent to vie for their fourth straight winning season.
Lenape Indians
Players to watch:
After graduating three starters and two all-conference players, Lenape will build around returning seniors Dylan Yerkes and Jordan Johnson. Yerkes, a shooting guard, is strong from 3-point range and averaged 7.6 points last year, while Johnson, a center, chipped in 7.2 points and should be more of a force this season. Junior guard Justin Kupa and sophomore forward Andrew Sims could also be ready for bigger roles, while junior guards Tyler Rinehimer and Matt Angelia are promising newcomers.
Outlook:
Lenape went 18-8 and shared the Olympic American title last year. This year's squad has limited varsity experience, but if the underclassmen mature quickly, the Indians have the potential to make a playoff run.
Moorestown Quakers
Players to watch:
Moorestown is paced by smooth-shooting senior Dan Dyer, who is deadly from the perimeter and averaged nearly 15 points per game last year. Senior Jordan Austin is back at point guard and junior Xavier Alston is another experienced returner.
Outlook:
The Quakers' 16-11 record last year included an impressive victory over Haddonfield and a playoff win over Mainland. If they can develop another consistent scorer to go with Dyer, another winning season is likely.
Moorestown Friends Foxes
Players to watch:
Junior Jordan White leads the list of returners for Moorestown Friends after averaging 10.8 points last year, good for second on the team. Junior Elijah O'Neal will also be a key player as the Foxes look to regroup following the graduation of seven seniors.
Outlook:
The Foxes were knocking on the door of a winning record last year as they finished 13-14. They hope to take another step as a program this winter.
Paul VI Eagles
Players to watch:
The Eagles' young roster gained valuable experience last year and it should pay off this season. The leading returners are senior guard Lonnie Moore—an all-conference second-teamer who led the team in scoring at 13.7 points per game—senior forward Voshon Mack and junior point guard Justin Ryder. Juniors Andrew Zuccarelli and Keenan Wise will also play key roles this season.
Outlook:
The Eagles struggled early on last year but were much more competitive in the second half of the year, finishing with an 11-16 record. Don't be surprised if that carries over to a successful season in 2015-16.
Seneca Golden Eagles
Players to watch:
Senior guard Tommy Egan is coming off a breakout season for Seneca and will look to carry the momentum over to his final campaign. A spot-on outside shooter, the lefty averaged 12.9 points per game—about nine points more than the year before—and made the all-conference second team. Senior guard Zach Evans and junior guard/forward J.J. Scarpello are other experienced returners.
Outlook:
With Egan continuing to make progress, the Golden Eagles will look to improve on last year's 6-21 record.
Shawnee Renegades
Players to watch:
While the Renegades graduated leading scorer Alec Warren, they have a solid core returning led by senior shooting guard/small forward Dean Austin. The 6-foot-3 Austin has averaged double figures in scoring each of the last two years, including 10.8 points last season. Sophomore Dylan Deveney, a sharp-shooting forward, averaged nearly 10 points in a solid rookie season and should continue to make progress, while senior forward Anthony Mague—a star wide receiver in football—is another important returner. Sophomore guard Dean Noll is also expected to have an impact.
Outlook:
Last year was a strong bounce-back season for Shawnee, which finished with a 17-10 record and qualified for the playoffs after a rare down year in 2013-14. The talent is in place for another winning campaign.
Washington Township Minutemen
Players to watch:
Excitement is in the air at Washington Township, as almost the entire team returns after a promising season. Leading the way is senior point guard Spencer Cook, an all-conference first-teamer who averaged a team-high 16.9 points. Cook, a three-year starter, is equally adept at knocking down an open 3 or creating his own shot, and should be one of the top players in South Jersey. Three other starters also return: athletic senior guard Justin Ortiz, reliable junior forward Rich Racobaldo and senior big man A.J. Michaels. The returning seniors also include sharp-shooting guard/forward Nick McGough, lock-down defender Mekhi Greene, forward Najee Wilson and guards Mike Simmons and Micah Fowora. Rasheen Merlin, a 6-foot-8 senior who played at Triton last year, is back at Township after starting his career with the Minutemen as a freshman.
Outlook:
The Minutemen finished strong in last year's 13-15 season, upsetting Lenape in the first round of the playoffs and coming a play or two short of beating Cherokee in the quarterfinals. With the returning talent in place, they have the potential for a strong season.
Published (and copyrighted) in Suburban Family's High School Winter Sports Preview, Volume 6, Issue 9 (November, 2015).
For more info on Suburban Family Magazine, click here.
For information about advertising in Suburban Family Magazine, click here.
To find out where to pick up your copy of Suburban Family Magazine, click here.