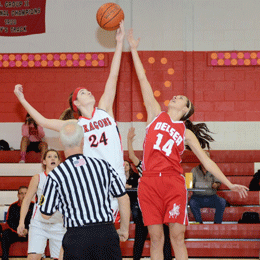 Girls Basketball
Bishop Eustace Crusaders
Players to watch:
Bishop Eustace has high hopes this season, and it starts with a terrific duo in senior forwards Alexis Santarelli and Elizabeth Radley. Santarelli averaged 12 points a game last year and earned all-conference first-team honors for the second year in a row. Radley, a Holy Family recruit, led the team in scoring at 15.8 points and was named all-conference second team. Other important returners include senior guard Paulina Boyer, junior guard Sammi Dabbundo and sophomore forward Megan McLaughlin. Junior guard Tess Quinn and sophomore guard Julia Radley are also expected to contribute.
Outlook:
The Crusaders finished with an 11-13 record last winter, a six-win improvement from the year before. Look for them to take the next step and post a winning season behind Santarelli and Radley.
Camden Catholic Fighting Irish
Players to watch:
The Irish only graduated one player from last year's outstanding team and have the potential to be one of South Jersey's best squads once again. Senior Taiah Thornton led the team in scoring at 13.7 points per game and was honored with all-South Jersey third-team and all-conference first-team recognition. Thornton and fellow seniors Julia Braungart and Sierra Taylor have all played varsity since their freshman year. Braungart averaged 11.3 points and was all-conference first team, while Taylor—a Maine recruit—was all-conference second team. Another key returner is sophomore center Brittany Garner, who averaged double figures in points as a freshman and made the all-conference first team. Sophomore forward Kate Deutsch also contributed as a rookie and adds to the team's frontcourt depth.
Outlook:
Camden Catholic finished with a 24-3 record last year, which included a perfect 8-0 mark in the Olympic National. The Irish also won the South Jersey Invitational and advanced to the Non-Public A semifinals. Expect similar results this winter.
Cherokee Chiefs
Players to watch:
Cherokee's strong nucleus is paced by the inside-outside combo of senior guard Shaye McGoey and junior forward Isabella Therien. Both were all-conference first-teamers last year, with Therien making it for the second year in a row and leading the team with 12.2 points per game. Other members of the solid senior class include Cailey Gibson, Erin Brown, Sammy Debicki and Leah Reistle.
Outlook:
The Chiefs recorded an impressive 22-5 record last year, with three of the losses coming to Lenape, including the South Jersey Group IV semifinals. They have the returning talent to remain among the area's top teams, and will be led by a new coach familiar to Cherokee fans. Former boys coach Ron Powell, who retired from coaching after leading the Chiefs to the Group IV state championship in 2010, is back on the bench, this time with the girls squad.
Cherry Hill East Cougars
Players to watch:
Cherry Hill East graduated just two players from last year's solid team. Leading the returners is senior guard Yamalis Villegas, an all-conference first-teamer who averaged a team-high 14.5 points per game. Senior center Zoe Peterzel is another key returner, while senior Emily Reisman and junior Julie Grayson are contributors in the backcourt. Kiara Bell, a 6-foot-2 sophomore, and Sarah Pintel, a 6-foot-4 freshman, add tremendous size to the frontcourt.
Outlook:
The Cougars have made huge strides recently, improving from two wins in 2013 to a 13-11 record last year. Look for the progress to continue this winter.
Cherry Hill West Lions
Players to watch:
The Lions graduated several key players, including leading scorer and all-conference second-teamer Libby Dougherty. One of their top players is returning starter Mya Lewis, a junior, while Arcilia Hernandez, Kylie Renna and Anne Mullarkey are valuable seniors.
Outlook:
The Lions finished 2-22 last season and hope to slowly start rebuilding the program.
Clearview Pioneers
Players to watch:
Although all-conference point guard Liz Kramer graduated, Clearview has a solid core that includes sophomore forward Elaina Hansen along with senior Hannah Quast and junior Jordan Harbaugh in the backcourt. Hansen led the team in scoring as a freshman at 10.1 points a game, but the real strength of the team is its tight defense, which allowed just 32.9 points per contest.
Outlook:
The Pioneers went 17-9 in 2015—improving by nine wins from the previous season—and have the pieces for another successful campaign.
Eastern Vikings
Players to watch:
Cousins Emily and Molly Fendrick, both senior guards, lead the list of returners for Eastern. The Vikings also saw several young players gain valuable experience last year, including sophomore guard/forward Leah Manchel, who enjoyed a promising rookie campaign. Junior guard Alyssa Bentz is another important returner, while the Vikings hope to get senior forward Holly Norbury back after she missed last season with a torn ACL. Senior Saffiyya Lee, a transfer from Camden Charter, will add needed scoring ability after sitting out the first 13 games, and freshmen Gabby Payne, Anna Accarro and Tori Accarro could also see action.
Outlook:
Last year was a rebuilding one for the Vikings, who will look to keep improving after a strong finish to the season.
Gloucester Catholic Rams
Players to watch:
Senior forward Mary Gedaka has been a force for Gloucester Catholic since her freshman year and will look to cap her outstanding career with another strong season. Last year she averaged 16 points and 10 rebounds on her way to all-South Jersey first-team honors for the second straight season. Gedaka will continue her career at Villanova, following in the footsteps of her mom and coach, Lisa Gedaka. The Rams also bring back another Division I recruit in senior point guard Maggie McIntyre, who has committed to Niagara. A four-year starter, McIntyre averaged 11.4 points and four assists as a junior and made the all-South Jersey third team. Her outside shooting is a terrific complement to Gedaka's work in the post. The Rams also added junior Tenisha Pressley, a transfer from Shipley (Pa.) who has already committed to Boston University. Athletic junior Dani Sanderlin (9.8 points) has improved greatly and is another returning starter along with junior Naiyi Sabb.
Outlook:
The Rams' 23-5 record last season included a perfect 12-0 mark in the Tri-County Classic. Gedaka and McIntyre have played in three straight South Jersey Non-Public A finals, and they'll look to close out their careers by winning the elusive sectional title.
Haddonfield Bulldawgs
Players to watch:
Senior guard/forward Taylor Sehdev headlines a strong returning nucleus for Haddonfield after averaging a team-high 11.9 points and making the all-conference first team. Center C.C. Mooney was an all-conference second-teamer, while fellow junior Meghan Smart is another important veteran. Sophomores Mary Kelly and Annie Stanton contributed as freshmen and should take on even bigger roles.
Outlook:
After finishing 21-7 and reaching the sectional quarterfinals last winter, the Bulldawgs look like contenders in the Colonial Liberty and have the potential to go on a longer playoff run as well.
Kingsway Dragons
Players to watch:
Although the Dragons graduated one of their top players in guard Tiana Morgan, everyone else is back, including leading scorer Zoe Hahn. The senior forward averaged 14.3 points to earn all-conference recognition. Her sister, junior guard Maddie Hahn, is another important returner who averaged 8.7 points, and senior Renee Hersperger (7.0 points) is back to run the point. Junior forward Deja Lowry also returns.
Outlook:
Kingsway's 18-8 record included an 11-1 mark in the Tri-County Royal for the division championship. Expect the Dragons to contend again in the division.
Lenape Indians
Players to watch:
Maddie Sims is primed for a super senior season after leading Lenape in scoring each of the last two years. The 6-foot-3 forward, who has committed to Siena, has more than 1,000 career points and rebounds. Last year she averaged 14.9 points on her way to all-South Jersey second-team and all-conference first-team honors. Senior guard Amanda McGrogan, junior guard Shane Holmes and senior forward Caroline Kovacs are other key veterans, while sophomore Kendall Keyes will look to build on a promising freshman campaign.
Outlook:
Lenape went 25-4 overall and a perfect 8-0 in the Olympic American to capture the division championship. The Indians also advanced to the South Jersey Group IV final for the second year in a row. With Sims and a strong defense leading the way, they should be one of the area's top teams.
Moorestown Quakers
Players to watch:
Moorestown has a solid core of veteran varsity players returning this year. Senior sharp-shooter Anahita Sabet-Payman and speedy guards Caroline Muccifori, a junior, and Robin Panzarella, a sophomore, will be key to the team's success. Sophomores Faith Bonett and Colette Smith will add a strong presence under the boards along with seniors Jessie Britton and Kelsey Muckelbauer.
Outlook:
The Quakers' 12-13 record last year included a playoff victory over Triton. They should be in the mix for a winning record again.
Moorestown Friends Foxes
Players to watch:
The Foxes have an impressive young nucleus to be excited about, starting with junior guard Camille Aguilar, a varsity contributor since her freshman year. A pair of sophomores who shined as rookies will look to play even bigger roles: Charlotte Stern is the leading returning scorer at 11.6 points per game, while Alyssa Runyan averaged 9 points.
Outlook:
Despite the graduation of all-Friends League guard Alaina Shivers, the Foxes have a lot of returning talent from last year's 15-7 team and can look forward to another winning campaign.
Paul VI Eagles
Players to watch:
Junior guard Aliyah Stephens headlines the returners for Paul VI after a remarkable sophomore season. The all-conference first-teamer was among South Jersey's scoring leaders at 19.2 points per game, but she's also a solid defender and rebounder for the Eagles. Molly Gallagher provides senior leadership, while juniors Isabel Caruso and Kathleen Murphy and sophomore Sekya Campbell are other key returners. The Eagles also welcome in a strong freshman class.
Outlook:
The Eagles went 12-14 in their first season under coach Lisa Steele, but with almost the entire roster back, including a star in Stephens, expect considerable improvement this winter.
Seneca Golden Eagles
Players to watch:
Despite the graduation of all-conference second-teamer Maddy Schulte, Seneca has a promising core to build around. Senior guards Emily Metzger and Sam Scarpello are important veterans in the backcourt, while sophomore guard Rachel Roseboro will look to follow up a strong freshman season in which she averaged 7.5 points. Junior Sam Andrews is a key player in the front court.
Outlook:
The Golden Eagles went just 7-18 last year, but five of those wins came in the final month of the season. They'll look to carry over the strong finish to this season.
Shawnee Renegades
Players to watch:
The Renegades graduated seven seniors from last year's remarkable team, including leading scorer and all-South Jersey first-teamer Nikola Williams and two other all-conference first-teamers. This year's squad will certainly have a new look, but the good news is the return of senior guard/forward Jennifer Byrne. She averaged 11.1 points and also contributed defensively to earn all-conference second-team honors, and will be the leader for Shawnee. Senior forward Jenna Hoffner is another important returner.
Outlook:
The Renegades claimed their second straight South Jersey Group IV title, advanced to the state championship game for the second year in a row and finished with a 27-4 record in a memorable 2014-15 season. They probably won't be at the same level this year, but Byrne will help keep them competitive.
Washington Township Minutemaids
Players to watch:
Township graduated just one senior and has the potential to bounce back from a rare losing season. It starts with the senior backcourt of Brianna Capacchione and Torie Eggers, who both averaged over 12 points per game last year. Capacchione, a three-year starter who has committed to Assumption College, was named to the all-conference first team, while Eggers earned all-conference second-team honors in her first year as the starting point guard. Other key seniors include guard Courtney Treude, forward Ana Siravo and center Ashley Akumuo.
Outlook:
The Minutemaids finished with an 11-15 record last year but did win a playoff game and came within three points of advancing the South Jersey Group IV semis. With almost the entire roster back, they are poised to get back to their winning ways.
Published (and copyrighted) in Suburban Family's High School Winter Sports Preview, Volume 6, Issue 9 (November, 2015).
For more info on Suburban Family Magazine, click here.
For information about advertising in Suburban Family Magazine, click here.
To find out where to pick up your copy of Suburban Family Magazine, click here.