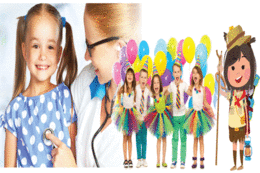 BEST of Family 2015
…From the pages of Suburban Family Magazine…
Here at Suburban Family, we are always getting asked a lot of questions about South Jersey. Whether it's friends or relatives asking for retail or dining tips or readers on the hunt for the perfect child care options, we pride ourselves on being a go-to resource for residents in need.
That's why we always look forward to our Best of Family list. This year's roundup of medical experts, educational resources, family outing options and more comes complete with editors' picks and reader submissions, giving you a look into what makes this area such a wonderful place to call home.
EDUCATION & CHILD CARE
Acting Lessons
Renee's Studio
Long-time acting coach Renee Weisband has been coaching South Jersey actors of all ages for years, with weekly classes for all levels of aspiring stars.
875 Cox Road, Moorestown, (609) 220-7537, Renees-Studio.com
All-Inclusive Camp Program
Tall Pines Day Camp
Camp should be for everyone, and that's the philosophy at Tall Pines. With allergy dining options, music lessons and athletic programs for all ages, the possibilities are endless.
1349 Sykesville Road, Williamstown, (856) 262-3900, TallPinesDayCamp.com
Camp Elective Program
Liberty Lake Day Camp
Liberty Lake's unique camp structure gives campers the control, allowing them to pick their weekly schedule and choose activities that will keep them smiling all summer long.
1195 Florence-Columbus Road, Bordentown, (609) 499-7820, LibertyLakeDayCamp.com
Readers' Choice: Child Care
Blooming Buds
700 2nd St., Swedesboro, (856) 241-7611
Dance Academy
Jazz Unlimited
This dance studio has become a benchmark in South Jersey dance, offering professionally run classes for all ages in everything from ballet and tap to acrobatics and hip hop.
201 Route 73 S., Marlton, (856) 983-6608, IBJazz.com
Readers' Choice: Dance Education
The Bowman School of Dance
74 Kings Hwy. N., Cherry Hill, (856) 667-0447, TheBowmanSchoolOfDance.com
Diagnostic Tutoring
Tutoring Club
The professional staff at the Tutoring Club uses their advanced resources to diagnose and solve each student's individual problem, providing solutions to help them with all parts of the learning process.
484 E. Evesham Road, Cherry Hill, (856) 616-8808, TutoringClub.com
Extended Summer Camp Program
Great Times Day Camp
223 Ehrke Road, Waterford Works, (609) 567-2166, GreatTimesDayCamp.com
K-12 Private School
Moorestown Friends
Having a school your child can grow in is a must for parents, and Moorestown Friends makes that easy. With programs running from early childhood to high school graduation, this is a school that feels just like home.
110 E. Main St., Moorestown, (856) 235-2900, MFriends.org
Music Lessons
Old Towne Music
Old Towne's specialized teaching gives music lovers an edge over other performers, and provides students with a skill and hobby that lasts a lifetime.
Turnersville, (856) 228-0003; West Deptford, (856) 853-1580; Swedesboro, (856) 467-5060, OldTowneMusic.com
Overnight Camp
The YMCA Camp YMCA's sleepaway camps have become institutions in South Jersey. With boy and girl camps Ockanickon and Matollionequay operating since the 1930s, chances are you've got your own overnight memories to share with your little camper.
1303 Stokes Road, Medford, (609) 654-8225, YCamp.org
Preschool
Little Ambassadors Preschool
Little Ambassadors is a year-round program for children starting at 18 months and running to age 3, with free extended hours and a faith-based education system fit for families.
535 Mullica Hill Road, Glassboro, (856) 881-3669 ext. 104, AmbassadorChristianAcademy.com
Readers' Choice: Preschool
Creation Academy
360 Garwin Road, Swedesboro, (856) 467-0988, CreationAcademy.com
Pre-K Private School
Rancocas Friends School
201 Main St., Mount Holly, (609) 267-1265, RancocasFriendsSchool.org
SAT and ACT Prep
Tiger Geeks
101 E. Main St., Moorestown, (856) 581-9168, TigerGeeksNJ.com
Summer Camp
JCC Camps at Medford and Early Childhood Camps at the Katz JCC
These camps are designed for summer fun of all ages, with swimming instruction, indoor and outdoor activities and educational programs numbering an ever-growing list of fun times for kids.
400 Tuckerton Road, Medford, (856) 751-1666, JCCCampsAtMedford.org;
1301 Springdale Road, Cherry Hill, (856) 424-4444, KatzJCC.org/ECCCamps
Tutoring and Test Prep
Huntington Learning Center
Huntington has access to a national database of research and tutoring materials, giving your student a leg up on the academic competition.
Cherry Hill, (856) 795-1933; Turnersville, (856) 227-2033, HuntingtonHelps.com
Year-long Daycare Program (Infant & Toddler Care)
Sari Isdaner Early Childhood Center at the Katz JCC
Katz JCC's Sari Isdaner Center comes with a curriculum that is fun and functional. For proof, look to their professional staff, outdoor playground for "Tiny Tots" and daily reports for parents.
1301 Springdale Road, Cherry Hill, (856) 424-4444, KatzJCC.org/ECE
FAMILY FUN & FITNESS
Athletic Personal Training
Escape Fitness
Athletes looking to gain an edge and embrace competition to its fullest should look no further than the experts at Escape, who craft specialized training programs for each client to achieve maximum results.
135 Route 70, Medford, (609) 654-8900, EscapeMedford.com
Birthday Party Spot
Bounce U
Blackwood, (856) 228-2834; Cherry Hill, (856) 429-6400, BounceU.com
Readers' Choice: Birthday Party Spot
Aunt Selma's Candy
37 E. Main St., Moorestown, (856) 642-6363, AuntSelmasCandy.com
Budget-Friendly Gym
Giant Fitness
Getting fit doesn't have to burn a hole in your wallet, thanks to Giant Fitness. For $10 a month you get access to all the cardio and weight lifting machinery you could need at your most convenient location.
Locations in Delran, Lindenwold, Mount Laurel and Woodbury Heights, GiantFitnessClubs.com
Children's Theater
Mainstage Center for the Arts
Kids can catch the performance bug early at Mainstage, where classes start in first grade and musical theater is taught all year, culminating in several annual musical productions.
27 S. Black Horse Pike, Blackwood, (855) 936-2467, Mainstage.org
Dance Apparel Attitudes
Having the right gear can make or break your routine, which is why Attitudes carries a full line of shoes, tights, leotards and fashion pieces designed for dancers.
444 Route 70, Marlton, (856) 985-7270, AttitudesNJ.com
Readers' Choice: Newborn Photography
Tiny Toes Photography
571 Black Horse Pike, Turnersville, (609) 617-3796, PhotographyByTinyToes.com
Farm Market
Springdale Farms
From the festive fall corn maze and pumpkin picking to holiday activities and some of South Jersey's freshest produce, Springdale is a farm that provides four seasons of family fun.
1638 S. Springdale Road, Cherry Hill, (856) 424-8674, SpringdaleFarms.com
Fitness Training
Evolution Fitness
1990 Route 70 E., Cherry Hill, (856) 751-1300, EvolutionFitnessNow.com
Ice Rink
Hollydell Ice Arena
No matter the weather, Hollydell is ready with a frosty ice rink for skate lessons, competitive hockey, parties, public skate sessions and more. You may even spot NHL star Johnny Gaudreau—whose father Guy is the director of hockey here—working out in the summer.
601 Hollydell Drive, Sewell, (856) 589-5599, Hollydell.com
Personal Training
Adrenaline Sports Performance
You want to get in shape, but where do you start? For us, it's with a one-on-one, customized training session at Adrenaline, catered to your goals and abilities.
1951 Old Cuthbert Road, Suite 102, Cherry Hill, (856) 336-8595, AdrenalineSportsPerformance.com
Spinning Classes
Upcycle
Upcycle goes beyond spinning classes, offering specialty lessons—like a "Gears and Beers" session and candlelight rides—that make your workout fun.
688 Haddon Ave., Collingswood, (856) 477-2724, UpcycleNJ.com
Sportswear and Shoes
New Balance Shoes & Apparel
A great workout is nothing without the right fitness gear—and the right shoes can make or break you. New Balance customizes their shopping experiences to keep you at the top of your game every day.
Cherry Hill, (856) 874-0666; Mount Laurel, (856) 840-0905, NewBalance.com
HEALTH & WELLNESS
Adult Orthodontics
Morrone & Kaye Orthodontics
It's never too late to get that perfect smile, especially with the experts at Morrone & Kaye, who cater an adult program for patients that is discreet but produces results.
Moorestown, (856) 234-4044; Mount Holly, (609) 267-1221, MorroneAndKaye.com
Assisted Living Facility
AristaCare Health Services
AristaCare's dedicated physicians and nursing staff make it easier for patients to recover from an injury and get back on their feet and back to the lives they love.
1399 Chapel Ave., Cherry Hill, (856) 663-9009, CherryHillRehabNJ.com
Readers' Choice: Assisted Living Facility
Spring Oak
39 S. White Horse Pike, Berlin, (856) 719-9599, SpringOakBerlin.com
Back Pain Specialist
Woodbury Spine
Say goodbye to back pain with the help of Woodbury Spine's diagnostic services and treatment options, ranging from therapy and pain management all the way to major surgery.
1225 N. Broad St., Woodbury, (856) 845-0707, WoodburySpine.net
Brain Injury Rehabilitation
Bancroft
Bancroft has become a leading name in brain rehabilitation and neurological services all across the area, thanks to multiple locations providing developmental resources to both children and adults.
Serving South Jersey, (856) 348-1137, Bancroft.org
Cardiologist
Advanced Cardiology of South Jersey
With services including stress testing and echocardiograms, pacemaker monitoring, ultrasounds and more, Dr. Vic Bahal and his team have all the tools needed to keep your heart healthy.
4 Burton Lane, Suite 100, Mullica Hill, (856) 241-3838, AdvancedCardiologySJ.com
Children's Hospital
Nemours Alfred I. DuPont Hospital for Children
This Wilmington-based children's hospital and their South Jersey outposts include specialty care centers in Voorhees, Woodbury and a specialty, surgical and therapy service center in Deptford, slated to open in summer 2016.
1600 Rockland Road, Wilmington, Del., (302) 651-4000, Nemours.org
CoolSculpting
Warmuth Institute of Dermatology
Fighting those stubborn sections of fat is fun with Dr. Ingrid Warmuth's CoolSculpting center, which has DualSculpting to speed up the process, as well as WiFi, television and other spa-like amenities.
Elmer, Swedesboro, Salem, (856) 358-1500, DrWarmuthSkinCareCenter.com
Cosmetic Eye Surgery
Burlington County Eye Physicians
Moorestown, (856) 235-2448; Willingboro, (609) 877-2800, BCEye.com
Eyewear
Fortuna Optical
Your glasses don't have to just be functional; they can—and should be—a part of your wardrobe. Fortuna carries top designers like Tom Ford, Ray-Ban, Prada and Chanel so that you're always ahead of the fashion frame curve.
501 Route 73 S., Marlton, (856) 797-0600, FortunaOptical.net
Family Eye Care
Village Eyecare
This Woolwich center has become a one-stop shop for families, with an on-site eye care clinic, two physicians and a sprawling selection of frames and contact options.
120 Center Square Road, Unit 107, Woolwich, (856) 832-4950, SJVillageEyecare.com
Readers'Choice: Family Eye Care
Eye Physicians
1140 White Horse Road, Voorhees, (856) 784-3366, Eye-Physicians.com
Family Hospital
Our Lady of Lourdes Medical Center
With two hospitals and dozens of acclaimed physicians working across all fields of medicine, Lourdes has become a trusted name in hospital care in South Jersey.
1600 Haddon Ave., Camden; 218A Sunset Road, Willingboro, (856) 757-3500, LourdesNet.org
Family Physician
Advocare Pediatric & Adult Medicine
Dr. S. Jay Mirmanesh and team have expanded across South Jersey, providing a full spectrum of family care and a one-stop medical spot for all ages.
Marlton, (856) 985-8100; Sicklerville, (856) 728-7900; Voorhees, (856) 753-7374; AdvocareDocMir.com
General Hospital
The Memorial Hospital of Salem County
This hospital has been a locally trusted name in Salem County for decades and works to be more accessible to patients, thanks to shorter ER wait times, modern technology and a new partnership with Cooper University Health Care.
310 Salem Woodstown Road, Salem, (856) 935-1000, MHSCHealth.com
Home Care Services
Protocare Home Healthcare
Protocare provides elderly residents with daily assistance—including things like meal prep, grooming and even companionship—in the setting where they are most comfortable: at home.
Serving South Jersey, (856) 675-1100, ProtocareHomeHealthcare.com
Home Care and Life Care Management
Personally Yours Senior & Support Services, LLC
Personally Yours provides clients with the opportunity to create and maintain a lifestyle that achieves the perfect balance of independence when a little extra help and support is needed.
Serving South Jersey, (609) 268-0639, PersonallyYoursSenior.com
Infertility Treatments
Delaware Valley Institute of Fertility & Genetics
Invisalign
Segal and Iyer Orthodontics
Drs. Ross Segal and Monisha Iyer are Elite Invisalign providers, meaning they have exclusive resources and tools designed to make your Invisalign experience effortless while producing the best results.
501 Route 73, Marlton, (856) 810-1006, SegalAndIyer.com
Non-Invasive Plastic Surgery
Aesthetic Dermatology
Dr. Sandra Elder's state-of-the-art office includes Ultherapy for loose skin, Dusa technology for skin and brand new advances in tattoo removal, so you can achieve results without being out of commission for days. ?
771 Route 70 E., Marlton, (856) 596-3396, ElderDermatology.com
Non-Invasive Body Fat Reduction
Cavallaro Family Practice
Dr. Joseph Cavallaro works with patients to find the best non-invasive weight-loss options for them, including CoolSculpting procedures to fight stubborn fat and the Take Shape For Life nutritional program.
432 Ganttown Road, Suite 202, Sewell, (856) 344-7916, CavallaroFamilyPractice.com
OB/GYN
Obstetrics & Gynecology Associates
Look no further than Dr. Joann Richichi and her team for an all-encompassing obstetrics and gynecology center, who work to be by your side through any phase of your life.
239 Hurfville-Crosskeys Road, Sewell, (856) 262-8300, MyOBGYNDoctors.com
Orthopaedic Treatment
Premier Orthopaedic Associates of New Jersey
The physicians at Premier Orthopaedic have made it a priority to specialize in all forms of orthopaedic treatment. From pain management and physical therapy to surgeries for fractures, hip injuries, neck and cervical spine issues and more, it really is a one-stop spot for treatment.
201 Tomlin Station Road, Mullica Hill, (856) 223-0007, POASNJ.com
Physical Therapist
Strive Physical Therapy
Strive uses state-of-the-art services like aquatic therapy, trigger point dry needling and kinesio taping to keep patients moving toward recovery while still enjoying a full, active lifestyle.
Serving South Jersey, StrivePhysicalTherapy.com
Senior Safety Products
All-Star Lifts
Serving South Jersey, (609) 442-7508, AllStarLifts.net
Specialty Orthodontist
TenBrook Orthodontics
Breaking the mold of traditional orthodontics, Dr. James TenBrook has gone above and beyond, crafting his own, state-of-the-art T1 and T-Clear braces, designed to work faster, stay cleaner and be more comfortable.
Locations in Galloway, Bridgeton, Marlton, Millville, Mullica Hill, Vineland, Sewell, Pilesgrove and Woolwich, TenBrookOrthodontics.com
Sports Medicine
Rothman Institute
Recovering from a sports injury is easy with Rothman, thanks to their top-notch team of physicians and surgeons, advanced technology and easy access across the entire area.
Multiple locations across South Jersey, RothmanInstitute.com
Traditional Braces
Articolo Orthodontics
Going with traditional braces over other options doesn't mean your experience has to be traditional. Dr. Lance Articolo works with the best materials and a team of trained, experienced staff to make sure your experience is effortless and produces the best results.
Locations in Blackwood, Williamstown, Gibbsboro and Swedesboro, BracesOn.com
Urgent Care Facilities
AtlantiCare Urgent Care Center
Locations across South Jersey, AtlantiCareUrgentCare.com
HOME IMPROVEMENT
Carpet Cleaning Services
COIT
After a busy summer of kids running in and out of the house, barbecues and house guests, your carpets could probably use a cleaning. COIT uses a truck-mounted cleaning system to dig into those ground-in dirt spots and leave your carpets looking like new.
Serving South Jersey, (856) 566-0700, COIT.com
Car Wash
White Horse Road Carwash
18 White Horse Road W., Voorhees, (856) 627-2722, Rt130Carwash.com
Custom Trimwork
Home Trimwork
Home Trimwork's customized, top-of-the-line trimwork treatments can completely transform a room. Don't believe us? Just look at their website: The before and after shots will leave you in awe.
Serving South Jersey, (609) 206-8621, HomeTrimwork.com
Custom Hearth
Design Services
Rettinger Fireplace Systems With winter upon us, Rettinger's fireplace systems can not only transform your space with a gorgeous conversation piece, but also provide your family with a cozy heat source to warm the house.
476 Centennial Blvd, Voorhees, (855) GET RETT, RettingerFireplace.com
Heating and Cooling
Anyzek
Anyzek employs a full range of heating and cooling experts to help keep homes cozy through the seasons. With fuel delivery and an emergency service on stand-by, you'll never be scrambling for help when you need it.
916 Market St., Gloucester, (888) 645-0111, Anyzek.com
Home Construction
Brindisi Builders
Whether it's a kitchen or bathroom remodel, or you want to grow your family with an addition, Brindisi Builders has almost 40 years of experience helping local families complete their dream homes.
59 S. Maple Ave., Marlton, (877) 284-5353, BrindisiBuilders.com
Insurance
McDyer Insurance Agencies
You can never be too safe; that concept applies to your finances as well as your insurance. Michael J. McDyer works hand-in-hand with families to find the plan that fits their budget while still being protected.
Medford, (609) 654-1426; Cherry Hill, (856) 216-0088; Cherry Hill, (856) 424-6888, Allstate.com
Kitchen and Bath Construction
Matteo Family Kitchens
The kitchen and the bathroom are two of the most used rooms in the home, so it makes sense to keep them looking their best. Matteo helps with top-of-the-line materials and construction to keep your home modern but still timeless.
20 Old Salem Road, Woodstown, (856) 769-2490, MatteoKitchens.com
Landscape Design
Gill's Landscaping
The team of designers and landscapers at Gill's has helped transform yards and lawns across South Jersey since 1988, taking a home exterior to the next level and giving jealous neighbors plenty to talk about.
240 Commissioners Road, Mullica Hill, (856) 223-9770, GillsLandscaping.com
Lawn Maintenance
SLS Landscaping
This Lumberton-based landscaper covers all sorts of lawn maintenance, from weekly residential mowing, trimming and edging to corrective pruning, branch cleaning and mulching.
641 Eayrestown Road, Lumberton, (609) 518-5263, SLSLandscape.com
Hardscape Design
Think Pavers
Browse Think Pavers' selection of hardscaping materials and designs—covering everything, including fireplaces, outdoor kitchens, patios and pool spaces—for a glimpse into your own home's potential, going far beyond standard paving design.
405 Helms Ave., Swedesboro, (856) 832-4680, ThinkPavers.com
Realtor
Anne E. Koons
Anne Koons has become a trusted name across South Jersey for her real estate prowess, with an award-winning style and 30 years of local experience that has helped hundreds of residents find their dream home.
1401 Route 70 E., Cherry Hill, (856) 795-4709, AnneKoonsRealEstate.com
Roofing
Emmons Construction
Repairing or replacing your roof is one of the biggest decisions in home management, and Emmons takes that seriously. They carry only the best materials, with expert installation and five free roof inspections in the first five years of installation.
2924 S. Black Horse Pike, Williamstown, (856) 885-6677, EmmonsConst.com
Window Replacement
New Window Factory Sales Inc.
New Window Factory creates custom-sized vinyl windows for their customers. They not only look beautiful, but they can save homeowners a ton on energy costs and keep the home more comfortable through the seasons.
613 N. Black Horse Pike, Mount Ephraim, (856) 546-1120, NewWindowFactory.com
Legal Services
Divorce and Matrimony Law Berg & Pearson, PC
Having a professional, reputable divorce lawyer on your side is a necessity. Attorneys Joy Pearson and Michael Berg have crafted their firm with that understanding, specializing in divorce, child support and more.
10 Lincoln Drive, Marlton; 59 N. Broad St., Woodbury, (856) 251-0080, BergPearson.com
Family Mediation Services
Borger Matez, PA
The attorneys at Borger Matez pride themselves on mediation and collaborative divorce. They listen to the goals of clients with compassion and work diligently for the best possible outcome for all involved.
1415 Route 70 E., Cherry Hill, (856) 424-3444, NJFamilyLaw.net
PET CARE
Dog Boarding
Camp Bow Wow
When you're out of town, the last thing you want to worry about is the safety and security of your pet. Camp Bow Wow's national reputation for pet boarding and pet care makes them a safe and trusted boarding site for your furry friend.
Cherry Hill, (856) 651-9663, Cherry Hill, (856) 375-2712, CampBowWow.com/CherryHill
Dog Training
South Jersey K9 Solutions
Owner and trainer Harry Ramos is one of the area's premier trainers, working with South Jersey police forces and even a few local celebrities to train dogs that can protect your home while also being a fun, lovable member of the family.
Hammonton, (856) 745-3180, SJK9Solutions.com, Harry.Ramos@SJK9Solutions.com
Grooming
Millie's Jiggles and Wiggles Pet Grooming
200 Haddonfield Berlin Road, Voorhees,(856) 428-3340, JigglesWiggles.com
In-Home Dog Training
Champion Dog Training & Services
Jenna and Patrick Quinn bring their certified dog training expertise directly to your home, so your furry friend can learn the dos and don'ts in a space where they are most comfortable.
Serving South Jersey, (856) 535-6855, TrainThatMutt.com
Pet Services
All Dogs Poop
Picking up where pet owners don't, All Dogs Poop offers pet services from waste removal, pet sitting and beyond. An added scoop: A percentage of their revenue is donated to local animal rescues.
Serving South Jersey, (856) 665-6769, AllDogsPoop.com
Pet Supply
Concord Pet Foods & Supplies
Cherry Hill, (856) 429-1690, Mount Laurel, (856) 780-5552, ConcordPetFoods.com
Published (and copyrighted) in Suburban Family Magazine, Volume 6, Issue 10 (December, 2015).
For more info on Suburban Family Magazine, click here.
For information about advertising in Suburban Family Magazine, click here.
To find out where to pick up your copy of Suburban Family Magazine, click here.