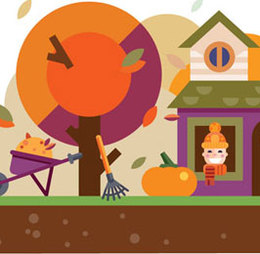 Bracing Against the Seasons
What could 2015's wild weather mean for your home?
Last year's weather was a bit wild, to say the least. In between a bitterly cold, snow-laden winter and a hot and humid summer, our area was hit with a summer super storm that was harder on some South Jersey residents than Hurricane Sandy, and faced yet another hurricane this fall.
While those days are behind us, another winter isn't too far away, and storm damage is still out there. In fact, there are several parts of your home that could need fixing that can cause big problems come winter. Luckily, now is the time to get those repairs sorted and ready for a cozy, safe season.
Outdoor
With fall finally here many homeowners are out prepping their yards and flowerbeds for a winter's sleep. That can include anything from weeding and mulching to—of course—raking away debris and dead leaves. And while most homeowners know that it's necessary to keep debris clear from the home to avoid flooding, many are unaware of what the growth can do to a fence.
"A lot of people do their fall mulching or the leaves will push up against the bottom," says Chris Pisani of American Discount Fence. "That can lead to rot and decay in an otherwise sturdy wood fence and discoloration of a vinyl fence."
Your fence is an important piece of the home, but one that is easy to overlook if you don't add it to your fall checklist. For a long-lasting product that can withstand the seasons, Pisani suggests keeping it clear of debris—like you would the siding of your home—and hosing it down with soap, as that will extend the life. He also suggests taking a few minutes before the season's end to do a quick inspection.
"You want to take a walk around the yard, as you're looking at your gutters, shingles and siding. Make sure the posts are nice and sturdy, and take a walk on the fenceline and shake it to make sure it's still strong."
Cleaning out your gutters is another important step in fall clean-up that can make or break your winter. It can also help protect the life of one of your biggest home investments—your roof.
"You want to make sure your gutters are clean of leaves and debris," says Global Home Improvement marketing manager Adam Parnes. "Once the water freezes in the winter the leaves and debris can back up and cause problems. The gutter and your roof kind of go hand in hand, and so can that freezing water in your gutter."
Gutter cleanup can be a great time to evaluate your roof, making sure the actual shingles are in place and free of curling. "The change in weather—between the hot, cold, wet, dry—can cause shingles to crack, and because there's oil in shingles, they will dry up over time. So if your shingles are curling that's a sign that they're aging and might need improving," Parnes says.
With the wild weather we've experienced over the last two years, having a professional review your roof might be a good idea. "The eye test on the shingle is oftentimes a good test. You never want to replace a roof once it's leaking; you want to replace it before it leaks. If the roof looks wavy that could be your plywood is buckling," says Parnes. "We can also go up into your attic and see if the plywood is wet or if there's mold in the plywood. That means water is getting into your home. There are a lot of things visually that an inspection can diagnose."
Indoor
Home improvement inside the home starts with the most important tool in your home come wintertime: the heat.
"At least every other year, have your [heat] system checked out by a professional. It's good insurance and a good practice to get into," says Tom Eckardt, owner of T.J. Eckardt Associates. "Other than a professional checking, a homeowner can change their filter and make sure the batteries are up in their thermostats. Make sure you change that 3-4 times a year."
Now is also a good time to invest in a gas powered generator, so you're not braving crowds during the next big power outage. "Homeowners should take into consideration that there might still be some power outages from the past storms. During a bad storm, people used to light the heater and get some heat out of it. Now if you lose your electric you have no heat. In order to better provide [warmth] I would recommend a house generator, even if it's partial and just does a few things."
If your home experienced flooding during the recent hurricane, get an inspection to make sure your heating and air systems are still in top shape. "If your basement flooded, you will need a professional to come in and check out that equipment. No matter how much water you've had," says Eckardt. "There are a lot of electrical components, and as soon as the water gets to them you have a problem. Even if you think the water didn't get too high, the blower can sling water up into your system."
Acting now
Luckily, this is the perfect time to get your home improvement needs in order: With less wait time and no snow or winter weather, you can have your home winter-proofed in no time.
"Before you close off your hose for the winter give your fence a spray and wash it with soap and water," says Pisani. "Make sure your vinyl fence is clean, and ready for the winter. Make sure the pickets aren't falling off, because if the wind kicks in they will come flying off."
"Right now you're not still under the gun," continues Eckardt. "So it's the perfect time to really take winter fixes into consideration."
Ultimately, the key is vigilance now, so you aren't paying a hefty price later.
"You don't want to have the mentality of waiting one more winter. The waiting can end up costing you a lot more. Any time there's extreme weather, that can cause damage," says Parnes. "All it takes it one event, and if you aren't prepared that could mean a long winter."
Published (and copyrighted) in Suburban Family Magazine, Volume 6, Issue 8 (October, 2015).
For more info on Suburban Family Magazine, click here.
For information about advertising in Suburban Family Magazine, click here.
To find out where to pick up your copy of Suburban Family Magazine, click here.