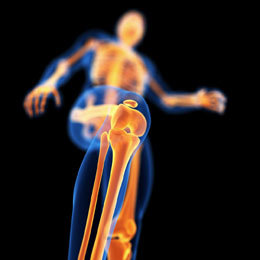 Understanding Your Knees
Keeping your knees pain-free and on the path to recovery.
Your knees are the key to your mobility. The slightest injury can completely disrupt your life—both professionally and personally. But pushing through the pain and sitting on the sidelines is no longer necessary, due to advancements in treatment and training.
"While there is no way to guarantee that you will never experience a knee injury, there are several ways you can help yourself to avoid them," says Dr. Fabio R. Orozco, a board-certified orthopedic surgeon and medical director of musculoskeletal services at the Rothman Institute at AtlantiCare Regional Medical Center. "It is always important to not overdo ourselves when exercising, doing house work, etc. If you are working out, you should always warm up beforehand.
"With that being said, it is also imperative to cool down following exercise, which can help your muscles relax and avoid injury. Most importantly, listen to your body. If you think you may be doing too much, slowing down can help you avoid knee injuries. If you are experiencing knee pain or think you may have an injury, it is important to have it checked out by your doctor to avoid long-term problems."
One of the keys to preventing knee injuries is to identify potential problems before they occur. Personal trainers often recommend a functional movement screening prior to beginning any form of exercise regimen.
"A functional movement screening can identify mobility issues of the ankle or hip that can lead to asymmetry and functional limitations," says Brian Kane, a certified athletic trainer and owner of Evolution Fitness. "Problems in one area of the body often lead to compensation in other areas, in particular the knees, which leads to additional wear and tear and the possibility of injury. The kneecap requires a fine balance of tension, laxity and compression in order to keep it stable. Without this balance, the stability of the knee is at risk."
A functional movement screening looks at the balance of mobility and stability in an individual's movement patterns to identify any dysfunctions or limitations, and assists exercise professionals in putting together an appropriate exercise strategy that can correct the problem and reduce the chance of injury.
"By maintaining good hip and ankle mobility this will aid with knee stability, in addition to a good balance of strength between the hamstrings and the quadriceps that anchor the kneecap, and you are less likely to sustain a knee injury," says Kane.
In addition to putting together an appropriate exercise routine, it's important to focus on good nutrition and maintaining a healthy weight in order to protect your knees from injury.
"Low impact aerobic exercises and maintaining a healthy weight will help keep the muscles strengthened around the knee and reduce stress on the joints," says Dr. Eddie S. Wu, a fellowship-trained orthopaedic surgeon who specializes in total hip and knee replacements at Premier Orthopaedic Associates. "Participating in a regular exercise regimen can help maintain strong quads and hamstrings, along with promoting healthy joints."
Taking a holistic, whole body assessment can also benefit your knees.
"Pain in your knees may actually be caused by an injury to another part of the body, such as your ankle or hip," says Christian Lee, a certified personal trainer and owner of Escape Fitness. "It's important to identify the cause of injury and not just put a BandAid on the pain. Focus on the body as a whole. Good posture, proper breathing and activating the core muscles can help stabilize the joints and maintain balance. Once you identify which part of the body is causing the problem, you can determine which movement patterns will be most beneficial for each individual."
If an injury does occur, there are numerous advancements in treatment to help remedy the problem.
"Knee injuries can be frustrating," says Orozco. "Fortunately, in the medical world we are always making advancements in diagnosis, treatment and recovery from knee injuries. MRIs and other imaging techniques are more advanced than ever and are able to pick up on things they weren't able to in the past. If you do need surgery, there have been many advancements in surgical techniques, like minimally invasive and muscle-sparing approaches, which help the patient return to their normal activities faster."
There are several options available today that can help delay the need for surgery and prolong the life of your knees, including: • Corticosteroid injections—commonly known as cortisone shots, which help to alleviate pain from inflammation of the knee joint. • Viscosupplementation injections, sometimes called gel injections, to help cushion the joint with a gel substance similar to your body's own synovial fluid. These injections are given either singularly or in a series and can help patients gain mobility and function. • Activity modification • Physical therapy • Oral NSAIDS and other anti-inflammatories
"If surgery is necessary, newer technology, implants and surgical techniques have led to shorter hospital stays and faster recoveries in the last several years. Most patients can return to their pre-injury activities following rehabilitation after knee surgery," says Orozco.
"Advancements in arthroscopic surgery, minimally invasive surgical techniques, partial knee replacements, postoperative pain protocols and blood conservation strategies are allowing patients to recover faster than ever," adds Wu.
A proper rehabilitation program following any type of surgery is also important to maintaining the health and function of your knees.
"Rehabilitation is different for every patient and surgery, but it's important for gaining function and stability back to your knee," says Orozco. "Hard work in your recovery does pay off in terms of function, however, pushing yourself too hard too fast can cause further issues. Additionally, certain types of surgeries have long-term restrictions that your doctor can explain further."
When it comes to rehabilitation, a team approach can help patients get back on their feet sooner and ensure a smoother recovery.
"Finding a good team of health care professionals who can work together and communicate in regard to treatment and rehabilitation plans is especially beneficial to a patient. Surgeons, physical therapists and personal trainers can work together to discuss the history of the injury and what treatment has been provided, which takes away the guessing game, saves time when it comes to treatment techniques and helps get the patient back to function sooner," says Lee. "The key to success is to keep moving. By remaining active and having the ability to move freely, you can maintain healthy knees and avoid injury."
Resources
Escape Fitness
135 Route 70
Medford
(609) 654-8900
EscapeMedford.com
Evolution Fitness
1990 Route 70
Cherry Hill
(856) 751-1300
EvolutionFitnessNow.com
Premier Orthopaedic Associates
Locations in Vineland, Woolwich and Harrison Township
POASNJ.com
Rothman Institute at AtlantiCare
2500 English Creek Ave.
Egg Harbor Township
(800) 321-9999
RothmanInstitute.com
Published (and copyrighted) in the Art of Living Well pull-out section of Suburban Family Magazine, Volume 6, Issue 8 (October, 2015).
For more info on Suburban Family Magazine, click here.
For information about advertising in Suburban Family Magazine, click here.
To find out where to pick up your copy of Suburban Family Magazine, click here.