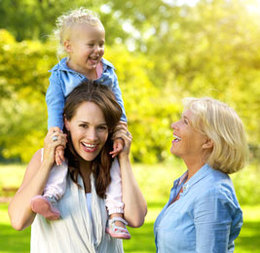 Moms in the Middle
Finding resources to help the sandwich generation
South Jersey mom Dana Watson is the textbook definition of a mom in the middle. About two years ago, Watson found herself needing to care for her aging mother and stepfather and find a place where they could be well cared for.
"Ultimately, it was about an 18-month process for everything to unfold," says Watson. She had to determine their needs, research how to meet those needs and place them where they would be well cared for. She relied heavily on the guidance from a social worker at the New Jersey Institute for Successful Aging at Rowan University, taking advantage of any help that was offered.
At home, Watson and her husband were caring for her middle school daughter, her adult son in college and her husband's adult son who was just starting in the working world. She was also beginning a new business.
Watson, like so many other middle-aged adults, is a member of the "sandwich generation," adults who are taking care of their children and their aging parents at the same time. A 2013 Pew Research Center study found that 47 percent of adults in their 40s and 50s fall into the sandwich generation demographic. They have a parent age 65 or older and are also either raising a young child or financially supporting a grown child. Not all of them are responsible for the care of their parents, but nearly 4 in 10 (38 percent) of them are in one way or another. The challenges for these moms (and dads) in the middle, referred to as caregivers, are many. Fortunately the resources available to the sandwich generation are increasing.
"Senior day care centers are one resource that caregivers have to help with a parent who may not be ready for a community like ours," says Barbara Wrzeszcz, marketing director at Collingswood Manor, a facility that offers services from residential and assisted living through hospice care.
When it's time for caregivers to place a parent in a facility, homes like Collingswood Manor work closely with the caregivers from filling out the initial application to helping them decide the best way to furnish their parent's new room. They'll also point caregivers to resources to help them manage tasks like downsizing their parent's home or selling it.
An overwhelming process for many caregivers is tackling the paperwork facilities require or organizing the five years of financial documents Medicaid requires before it gives aid. Wrzeszcz says there are now companies that will take care of the paperwork for you, for a fee. She says that while it's not necessary to hire someone to take care of the paperwork, those with busy schedules may want to take advantage of the opportunity to pay someone and say, "Here are the documents Mom gave me. Do something with them."
With the full schedules that caregivers can have, facilities are increasingly making accommodations for visitation hours.
"We provide flexibility as best as possible without risking patient care," says Ben Kurland, regional director for AristaCare at Cherry Hill. "Back in the day, visiting hours were 8 a.m. to 8 p.m. Now, as long as you're not disturbing others, you can come at any time. We recognize the demands that caregivers have and want to be flexible."
In addition to providing flexibility, AristaCare offers a support group for the caregivers to let them know they aren't alone. The facility also points caregivers to outside organizations for help like the Alzheimer's Association. Like Watson, Kurland says the best resource to point someone in the right direction is often a social worker, and AristaCare has them to help.
What about caregivers who are just starting out and haven't connected with a social worker or the administration at a care facility? Where can they start? A smart place to start is the county website. An online search for "senior services" and the name of the county where the aging parent is a resident should lead the caregiver to a website full of services for senior citizens and the aging.
From the county page, caregivers can find local support groups where they can meet with others in similar situations and get emotional and practical support. The county page should also have resources to help with aging parents who are still living independently like day care centers and nutrition programs. It will also have resources to help find financial assistance for medical needs or utility bills, help in navigating Medicare, and even elder law referrals.
While there are many resources for caring for aging parents, the resources for simultaneously caring for children at home aren't as plentiful, but they are out there. Parents can start by asking a school social worker for guidance.
"When we do get a family who requests help, we refer them to the Center for Family Services," says Kristen Flowers, social worker with the Barrington School District. "It works on a sliding payment scale based on need." She also recommends NJ Children's System of Care. Both organizations can help with the emotional needs of children whose families are being pulled in all directions.
Other, more practical needs for children can be met by family and friends, if caregivers just ask.
"You can't make yourself the complete system," says Watson. "Finding the right people and the right help are key. You'll have more control if you ask for help instead of trying to do it all yourself." She suggests going to other parents in the community to ask for help with your children for things like rides to and from school and community activities, even if you can't immediately return the favor.
The resources are out there, and caregivers will find the most help when they both do research and boldly ask those in the position to help for as much help as they need.
Resources
AristaCare at Cherry Hill
1399 Chapel Ave.
Cherry Hill
(856) 663-9009
CherryHillRehabNJ.com
Barrington School District
311 Reading Ave.
Barrington
(856) 547-8467
BarringtonSchools.net
Center for Family Services
584 Benson St.
Camden
(856) 964-1990
CenterFFS.org
Collingswood Manor
460 Haddon Ave.
Collingswood
(856) 854-4331
Collingswood-Manor.UMH-NJ.org
NJ Children's System of Care
300 Horizon Drive, Suite 306
Robbinsville
(877) 652-7624
PerformCareNJ.org
New Jersey Institute for Successful Aging
42 E. Laurel Road, Suite 1800
Stratford
(856) 566-6843
Rowan.edu/SOM/NJISA
Published (and copyrighted) in Suburban Family Magazine, Volume 6, Issue 7 (September, 2015).
For more info on Suburban Family Magazine, click here.
For information about advertising in Suburban Family Magazine, click here.
To find out where to pick up your copy of Suburban Family Magazine, click here.