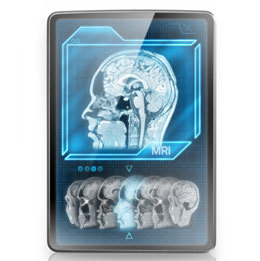 Enhanced Perspective
How diagnostic imaging is a game changer for medical care
When physical examinations and bloodwork didn't present enough data to help ill patients, doctors needed a new way to get more information. What resulted was diagnostic imaging, an opportunity to "see" inside the body.
Diagnostic imaging systems—which include X-rays, ultrasounds, CTs (computed tomography), CAT (computerized axial tomography) scans, MRIs (magnetic resonance imaging) and PET (positron emission tomography) scans—use different energy sources to gain access to the body in ways that haven't happened before; X-ray and CAT scans use small doses of radiation, ultrasound uses sound waves and MRI uses a magnetic field and radio-frequency waves, for example. Along with other lab results, the patient's clinical history and a physical exam, the phenomenal information gleaned from diagnostic imaging has allowed the physician to create much more complete treatments and plans of care for the patient.
The power of digital imaging
"Imaging has revolutionized medicine," says Dr. William F. Muhr Jr., president and CEO of South Jersey Radiology. "In a survey of internal medicine physicians, CT and MRIs were ranked as one of the most significant advances in medicine ever. For example, prior to CT, patients suspected of having appendicitis would have surgery. Since the diagnosis can be difficult, about one in five patients who went had a normal appendix—they had abdominal pain for another reason. Today, with CT making the diagnosis of appendicitis, the rate of normal appendectomy has dropped to essentially zero," he explains.
"Likewise, prior to MRIs, many patients had surgery to evaluate for soft tissue injury [like] meniscal tears that can now be diagnosed noninvasively," he continues. "Imaging can provide more accurate information regarding the extent and severity of an injury—this is why professional athletes have MR imaging for just about any injury they sustain. Imaging is also used to screen for disease at its earliest and most treatable stages—breast cancer with mammography and now 3D mammography, lung cancer with CT screening, and osteoporosis with DEXA (dual-energy X-ray absorptiometry) scans."
The uses for medical imaging are varied, says Dr. Trey Kamplain, radiologist and medical imaging director for The Memorial Hospital of Salem County. In addition to appendicitis, "the CT scan is capable of making the diagnosis of diverticulitis as well as other causes of abdominal pain, such as kidney stones." An ultrasound can find gallstones and abdominal aortic aneurysms.
"For pregnancy, it checks to see if the fetus is viable, and later if the fetal anatomy is OK. MRIs … can identify causes of neck/back pain (disc herniation, spinal stenosis, musculoskeletal issues, rotator cuff tears, ACLs)," he says.
There are many benefits of digital imaging, agrees Dr. Vincent Jarrett, board certified radiologist and medical director of Stat Imaging at RiverWinds. "Imaging benefits may be as basic as diagnosing a fracture or torn ligament," he says. "We see a large amount of student athletes after suffering an injury during training, practice or a game. MRI is the imaging modality of choice for evaluation of ligamentous and tendinous injury involving the joints such as the shoulder, knee, ankle, etc.," Jarrett says, noting that using diagnostic imaging can help find and diagnose at their earliest stages and reduces the need for more invasive procedures and treatment which cuts both recovery time and health costs.
"CT angiography (CTA) is one of the newer applications of CAT scan … [allowing] the examination of the arteries within the brain, neck, lungs, abdomen and extremities," says Jarrett. MR angiography (MRA) can be used similarly, and both may prevent the need for a traditional angiogram, with its increased risks and radiation exposure. In fact, DI can be used to diagnose numerous, non-cancerous diseases of the heart, lungs, brain, bowel, abdominal organs and bones, vascular disease and aneurysms, and blood clots within the venous structures of the legs. "Some of these diseases, if not detected early, may have significant complications and are sometimes fatal."
Preventing injuries and more
Diagnostic imaging can assess an injury's severity, helping to prevent an injury from getting worse and catching disease at an earlier, more treatable stage, says Muhr. "CT screening can diagnose lung cancer at Stage I, before symptoms develop and it is treatable. MRI is being used to risk stratify men with potential prostate cancer to find the aggressive tumors that need to be treated while not over-treating smaller, less aggressive tumors that are not likely to harm the patient."
Jarrett points to injuries that seem minor but that may progress if undiagnosed, such as a jogger who experiences lower leg or foot pain. The stress injury may progress to a stress fracture. "Athletes who participate in repetitive training may experience joint or soft-tissue pain related to tendinitis that may progress resulting in a tendon tear. With the appropriate diagnostic imaging, these injuries may be correctly diagnosed and treated by the patient's physician, decreasing the patient's recuperation time and sometimes avoiding surgery," he says.
X-rays can diagnose tibial stress fractures (shin splints) early, before they progress to complete fractures, says Kamplain. "Today's X-rays are available in two types: CR (conventional radiography) and DR (digital radiography). Both convert X-rays into an electric signal which generates an image. CR uses a cassette while DR uses a detector array," he says.
Jarrett also talks of early cancer detection and diagnosis. "Digital imaging plays a significant role in the detection of metastatic disease and the staging of cancer. Ultrasound and CAT scan are frequently used for guidance in the biopsy of suspicious masses. Diagnostic imaging is also used to assess the effects of a patient's cancer treatment," he says. And when a patient's symptoms are nonspecific (headaches, chronic cough, abdominal pain, or generalized musculoskeletal pain), the physician uses diagnostic imaging to form a list of possible causes. Patients with headaches may get a CAT scan or MRI to evaluate for an aneurysm, stroke or other brain abnormality, for example.
"For menopausal women, DEXA scans help diagnose bone loss before the patient develops osteoporosis, which has an increased risk for hip and back fractures," says Kamplain. "[And] if you see patients with unexplained weight loss, you can order a CT scan of the chest, abdomen, and pelvis to look for occult malignancy. If a patient has fever of unknown origin, you can use a PET scan to identify causes."
"Although not widely used yet, a CT colonoscopy (or virtual colonoscopy) can take the place of the traditional colonoscopy, for when you can't use scopes or when the patient is on blood thinners," explains Kamplain. "Similarly, lung cancer used to be diagnosed too late, but now CAT scans look for small pulmonary nodules. Newer CT scanners use a lower dose of radiation to make the diagnosis and now it's newly reimbursed for certain patient populations (talk to your doctor)."
Diagnostic imaging offers so much great information necessary for increasing positive medical outcomes; and the experts agree—this is only the beginning.
Resources
South Jersey Radiology Associates
Serving South Jersey
(888) 909-7572
SJRA.com
Stat Imaging at RiverWinds
204 Grove Ave.
Thorofare
(856) 251-9100
StatImagingRivewinds.com
The Memorial Hospital of Salem County
310 Woodstown Road
Salem
(856) 935-1000
MHSCHealth.com
Published (and copyrighted) in the Art of Living Well pull-out section of Suburban Family Magazine, Volume 6, Issue 6 (August, 2015).
For more info on Suburban Family Magazine, click here.
For information about advertising in Suburban Family Magazine, click here.
To find out where to pick up your copy of Suburban Family Magazine, click here.