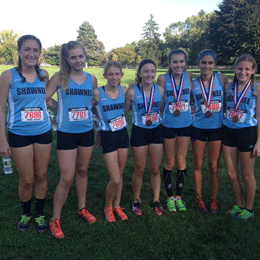 Girls Cross Country
Bishop Eustace Crusaders
Runners to watch: Caitlin Reyes emerged as Bishop Eustace's No. 1 runner last year and earned all-conference first-team honors. She also took ninth at the South Jersey Non-Public meet and appears primed for a successful senior season. Sophomore Abigail Gilson is another key returner who started her high school career on the right track with an all-conference second-team selection and 16th-place finish at the Non-Public meet. Other contributors are junior Christine Adams (14th in Non-Public) and seniors Lauren Steeves, Christen Piccioni and Kristen Skrajewski.
OUTLOOK: The Crusaders, who placed third at the South Jersey Non-Public meet, have talented runners at the front of the pack and should make their presence felt at the championship meets.
Camden Catholic Fighting Irish
Runners to watch: Camden Catholic graduated No. 1 runner and South Jersey Non-Public champion Kelly McHugh, but three others who placed in the top 10 at that meet are back: sophomore Angela Ebbert (sixth), junior Kelsey Crouse (eighth) and sophomore Melissa Rodriguez (10th). Sophomore Shannon McHugh was just behind them with an 11th-place finish. Ebbert and Crouse were also all-conference first-teamers, while Rodriguez and McHugh made the second team. Other returners are senior Ashley Surgner and junior Julia Williams-Portland.
OUTLOOK: After top-five finishes at the Non-Public (second) and county meets (fifth), the Irish look like contenders again this year.
Cherokee Chiefs
RUNNERS to watch: Cherokee brings back its top two finishers from sectionals, seniors Jess McAdams—who eclipsed the 20-minute mark to place 17th—and Hailey Bookwalter, who took 35th. Both veterans were also all-conference first-teamers and have high expectations for their final scholastic seasons. Junior Bree Gleason was the Chiefs' No. 2 finisher at sectionals two years ago and returns after missing last season with an injury. Senior Kassie Kromish also battled injuries last year, and senior Izzi Moraschi and junior Julianne Gallagher are key returners as well. Varsity newcomers who will look to contribute are seniors Liza Siermine and Catherine Powell; juniors Jordan Konrad and Micaela Sims; sophomore Shannon Young; and freshman Gabbriella Moraschi.
OUTLOOK: With McAdams and Bookwalter leading the way, the Chiefs hope to remain in the top five at the county and conference meets.
Cherry Hill East Cougars
RUNNERS to watch: The Cougars have a big hole to fill after the graduation of No. 1 runner and Camden County champion Monica Lee, but fortunately junior Greer Field appears suited to take over the top spot. She consistently ran in the 19-minute range as a sophomore, taking sixth in the county, 11th in the conference and 16th at sectionals. She was also an all-conference first-teamer. Cherry Hill East also brings back two talented runners behind her: juniors Taegan Field and Carrie Baeckstrom, who were both all-conference second-teamers and placed in the top 20 at the county meet. Senior Jill Raines and juniors Rachel Allen and Alexa Happ are also contributors.
OUTLOOK: In addition to claiming the county team title, the Cougars placed third in the conference and seventh at sectionals. They should be contenders at those meets again.
Cherry Hill West Lions
RUNNERS to watch: Senior Gabrielle Rash has been the Lions' No. 1 runner for several seasons and will look for a strong finish to her career. She was consistently timed in the 22-minute range last year and placed 23rd at the Camden County Championships. Junior Safeyyah Aly and sophomores Keller Bean and Danielle Rash also showed promise last season. Sophomores Emily Santana and Sally Johnston will also look to contribute.
OUTLOOK: The Lions have a senior leader in Rash and some talented young runners and should make progress as a team this fall.
Clearview Pioneers
RUNNERS to watch: Clearview had one of the best seasons in program history last year and brings back all of its top runners, including the terrific trio of Julia Rothstein, Kaitlin Donahue and Emily Schaeffer. Rothstein, a sophomore, had a sensational rookie season, placing in the top 10 in Gloucester County, the Tri-County Conference and sectionals, where she ran 18:58.52 to claim second. Donahue, a junior, was also in the top 10 at those meets, including a second-place finish in the county and sixth-place finish at sectionals. Schaeffer, a senior, was third in the conference and 12th at sectionals and serves as team captain along with another important senior, Julia Stumpf. Seniors Kate Woolam and Megan Jones, junior Catherine Tistan and sophomore Rachel Doring all placed in the top 20 at the county meet and give the Pioneers outstanding depth.
OUTLOOK: Last fall marked Clearview's first-ever county championship and its second conference crown. The Pioneers also took second in South Jersey Group IV and advanced to states for the first time. With everyone back, they will again be one of the area's teams to watch.
Eastern Vikings
RUNNERS to watch: Eastern graduated its top two runners and several other key pieces of last year's team, but does return all-conference second-teamer Danielle Hess. A senior, Hess took 15th in Camden County. Senior Gabrielle LaRocca also had a strong junior season and junior Nicole Meskin, a varsity contributor since her freshman year, rounds out the top three. Juniors Emmalyn Tavani and Archana Mupparapu will also look to make an impact.
OUTLOOK: The Vikings took third in the county for the second straight year and also finished in the top 10 at the Olympic Conference meet. They hope to stay there if some younger runners can emerge behind the top three.
Gloucester Catholic Rams
RUNNERS to watch: Junior Liz Heath emerged as one of the Rams' top runners last year and should again be at the front of the pack. She'll have company from sophomore Emma Billings, an all-conference honorable mention selection as a freshman. Other key returners are junior Haley Finley and sophomore Nikki Reed. Freshmen Mia Simila and Lauren Young are also hoping to contribute on varsity.
OUTLOOK: The Rams aren't expected to be contenders for any team championships, but they have a solid young core of runners that should grow together.
Haddonfield Bulldawgs
RUNNERS to watch: After back-to-back dominating seasons to start her high school career, Briana Gess is now an upperclassman and primed for a huge junior season. Last year she repeated as the South Jersey Group II and Colonial Conference champion and took second at states, her first loss to a New Jersey runner during her high school career. Gess, one of Haddonfield's three captains, will surely be in line to reclaim the Meet of Champions title she won as a freshman. Haddonfield also returns several other standouts who would be the No. 1 runner on most teams, such as juniors Meg Schroeter (11th at sectionals, 20th at states) and Alexa Gostovich (third at sectionals, fourth in the conference). Senior captain Natalie McCrudden and junior Anna Haley, who were both injured for the end of the 2014 season, also return as part of the top five. Senior captain Bridget Poisel, junior Lauren Lynch and sophomore Lilly Minor all placed in the top 10 in the conference, while Minor and Poisel also shined at sectionals. Juniors Bridget Kane and Nora O'Neill are other key veterans.
OUTLOOK: Haddonfield returns most of the runners from last year's sectional championship team, its fifth straight. That streak will likely continue, and the Bulldawgs should also be threats to win a state title.
Kingsway Dragons
RUNNERS to watch: Kingsway is paced by a tremendous junior class that features one of South Jersey's best runners. Rachel Vick claimed individual titles in Gloucester County and the Tri-County Conference last year, while also placing ninth at sectionals, 12th at states and 33rd at the Meet of Champions. She's a good bet to add several more championships this year. Fellow juniors Destiny Stanford and McKenzie Nugent were also in the top five in the county, and Stanford was the Dragons' highest finisher at sectionals in eighth place. The junior class also includes returners Jordan Dreyer, Rebecca Toner and Marissa Heino.
OUTLOOK: Vick and the rest of the juniors will make Kingsway a threat to claim team titles in the county and conference meets, and possibly sectionals as well.
Lenape Indians
RUNNERS to watch: Lenape had a senior-laden team in 2014, including top runner Camille Franklin, but Meghan Vizzard was an impactful freshman and will look to move into the No. 1 spot. Patricia Thomas is another sophomore who contributed on varsity and gives the Indians a bright future. Gabby Sharp is a senior leader and junior Dana Duffield is another key returner. Senior Gayani Perara and junior Karrie Faraghan also hope to contribute.
OUTLOOK: The Indians won't be favorites at the championship meets but will look to leave their mark.
Moorestown Quakers
RUNNERS to watch: No. 1 runner Genevieve Cickavage graduated after a standout season, but Moorestown has plenty to be excited about, starting with junior Tara Thornton. Thornton had top-10 finishes at the sectional and county meets and competed at states last year, and it will be interesting to see what she can accomplish this fall. Seniors Madeline Farmer (19th) and Gina Palovick (23rd) had strong showings at sectionals, and Claire D'Antonio is another key senior who placed 15th in the county. Seniors Heather Warren and Catherine Li are also contributors.
OUTLOOK: Moorestown took third at sectionals and the county meet and placed 10th at states. Despite the loss of Cickavage, the Quakers have the talent to remain contenders.
Moorestown Friends Foxes
RUNNERS to watch: Senior Julia Levine, who took 28th place at the South Jersey Non-Public meet, returns as the No. 1 runner for Moorestown Friends. She leads a senior class that also includes four-year varsity runner Margaux Vellucci. Sophomore Samantha Ghazul will look to build on a promising freshman campaign, and other possible returners are juniors Maura DiVentura, Meredith Airstone and Leah Gimeno.
OUTLOOK: The Foxes weren't contenders at the championship meets, but they finished with a 4-7 record in dual meets for their most wins since 2011. They should continue to improve with most of their top runners returning.
Paul VI Eagles
RUNNERS to watch: Paul VI brings back almost everyone from a successful team, including No. 1 runner Michaela Urbach. The senior fared well at all of the major meets, including a second-place showing at the South Jersey Non-Public meet and a 33rd at states. She was joined on the all-conference first team by juniors Haley Karcher and Ann Foley, as all three were repeat selections. Karcher and Foley were in the top five in South Jersey as well, and senior Molly Gallagher wasn't far behind in seventh. Other key returners are sophomore Erin Siciliano, senior Lucy McGrew and junior Morgan Cieslik.
OUTLOOK: The Eagles were South Jersey Non-Public champions and also finished in the top 10 at states (10th), the Olympic Conference (seventh) and Camden County (second). Expect that success to continue this fall.
Seneca Golden Eagles
RUNNERS to watch: Seneca is loaded with talent, and it all starts with senior Joey Webb, who consistently posted times in the 19-minute range last year on her way to third-place finishes in the Olympic Conference and Burlington County. She also took ninth at sectionals and 29th at states. Sophomore Sydny Warner was the Golden Eagles' top finisher at sectionals in sixth place and went on to place 31st at states. Senior Lindsay Hoffman and sophomore Carley Tool were both in the top 15 at the sectional, county and conference meets, and junior Kayla Martin was ninth in the conference to join Webb on the first team. Martin is also coming off a successful spring track season in which she placed third at the Meet of Champions in the 800. Junior Jessica Sprague will look to take on a bigger role this year.
OUTLOOK: The South Jersey Group III champions also took fourth in the state and second in both the county and conference meets. This fall is shaping up as another impressive season.
Shawnee Renegades
RUNNERS to watch: Shawnee (pictured) graduated an outstanding lead runner in Nina Bendixen, who was the sectional, conference and county champion; and Meet of Champions qualifier Morgan Arena was another big loss to graduation. But none of their rivals will be feeling too sorry for the Renegades, who bring back a ton of talent. Junior Kara Bonner took 10th at sectionals to go with top-five finishes in the county and conference and could slide into the No. 1 spot. She'll be pushed by sophomore Georgia Larzelere, who was in the top 15 at those three meets; and junior Cara Keevey, who placed 23rd in South Jersey. Sophomore Claire Rankin should build on a strong freshman season, while Hannah Brown and Emily Dougherty are key seniors. Senior Sabrina Romanko, junior Blaire Brinster and sophomores Laura Mavracic and Erica Schmidheiser are other potential contributors.
OUTLOOK: Shawnee defended its championships at the sectional, county and conference meets and placed seventh at states. Bendixen is clearly a huge loss, but the program should keep humming along.
Washington Township Minutemaids
RUNNERS to watch: Washington Township is excited about three returning sophomores who had promising rookie seasons. Julia Reilly was the Minutemaids' highest finisher at sectionals in 27th place and also took 14th in Gloucester County and 23rd in the Olympic Conference, earning second-team honors. Christina Fath was an all-conference first-teamer and took 15th in the county, while Katherine Taylor was 29th at sectionals. Junior Marisa Ragone and sophomore Seana Cleary are other returners who consistently finished in the top seven for Township. Other runners who will contribute are seniors Megan Heston and Emilee Schipske and junior Olivia Smithson.
OUTLOOK: The Minutemaids bring back most of the runners from a team that took fifth in the county and conference and eighth at sectionals. They will certainly be a team to watch at the major meets.
Click here for team schedules.
Published (and copyrighted) in Suburban Family's High School Fall Sports Preview, July, 2015.
For more info on Suburban Family Magazine, click here.
For information about advertising in Suburban Family Magazine, click here.
To find out where to pick up your copy of Suburban Family Magazine, click here.