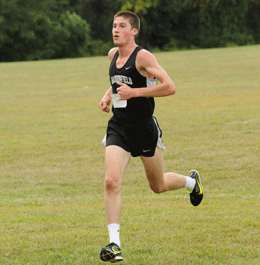 Boys Cross Country
Bishop Eustace Crusaders
Runners to watch: The Crusaders graduated a special runner in Shawn Hutchison, who took first at sectionals, second at states and third at the Meet of Champions as a senior. Although he can't be replaced, there are talented athletes looking to take over as the team's No. 1, including his brother. Sophomore Nick Hutchison placed sixth in the National Division at the Olympic Conference Championships to earn first-team honors. He also took seventh at sectionals and 42nd at states with a time of 17:45. Senior captain Paul Jacob and junior Nolan McDonald were all-conference second-teamers, and junior Mike Dziuba placed 52nd at states. All three have made great progress and are expected to be in the top five for Eustace. Other returners include junior Graham Laughlin and sophomores JM Figueroa and Luke LaRosa. Freshman Brian Hutchison, the youngest Hutchison brother, should also contribute right away.
OUTLOOK: The Crusaders will surely miss Shawn Hutchison, but they could actually improve on their sixth-place finishes at states and the conference meet thanks to a deep lineup. New head coach Andy Arnold, a former Eustace distance runner who wrapped up his career at Ohio State last year, is excited about the future of the program.
Camden Catholic Fighting Irish
Runners to watch: Junior Greg Del Colombo has been a solid varsity performer since his freshman year and appears ready to take over as Camden Catholic's No. 1 runner. He was an all-conference first-teamer in 2014 and placed 14th at sectionals and 30th at the Camden County Championships. Senior Vincent Li was an all-conference second-teamer and is also in line for a strong season. Sophomore Shane Costello will try to build on a promising freshman campaign, and other returners to keep an eye on are senior Andy Xu and sophomore Jack Li.
OUTLOOK: The Irish probably won't be threats to win the major meets, but they can be expected to post respectable finishes.
Cherokee Chiefs
Runners to watch: The Chiefs bring back six of their top seven runners, including a superb duo at the front of the pack. Junior Nick Falk shined at all of the major meets, as he was the Burlington County champion, took eighth at sectionals and 15th at states. His classmate, Jack Shea, was eighth in the county, 14th at sectionals and 22nd at states. Both runners also had solid showings at the Meet of Champions. Sophomore Justin Kelly should only get better after an impressive freshman campaign. Seniors Steven Gravlin and Mike Zurzolo and junior Brendan Falzone are other important returners. Senior Ty Kurzawa, junior Cam Wilburn and sophomores Brandon Marks, Joe Falk, Mike Iannotta and Matt Smith could also have an impact.
OUTLOOK: Cherokee was the Burlington County team champ and took second at the Olympic Conference meet. The Chiefs went on to place third at sectionals and eighth at states. They could do even better this year as one of the elite teams in South Jersey, as they should repeat as county champs and be in contention for conference, sectional and state titles.
Cherry Hill East Cougars
Runners to watch: Aaron Groff will look to cap his amazing career at East with a standout senior season this fall. Last year he took second at the conference, sectional and state meets—where he broke the 16-minute mark—as well as seventh at the Meet of Champions. He will be one of the favorites in all of those races this season. Junior Josh Dillon also finished strong last season, with top-10 finishes in the conference and sectionals and a 26th-place showing at states. Senior Isaiah Jean-Baptiste was in the top 20 at the conference and sectional meets, while junior Marc Meltzer and senior Cole Parsons are also key returners. Other experienced varsity runners include senior Ryan Federline and juniors Michael Onu and Noah Preihs.
OUTLOOK: Last season was a memorable one for the Cougars, who not only repeated as sectional champions but also claimed the first state title in program history and took third at the Meet of Champions. With Groff leading a deep group, they'll be in contention again at sectionals and states.
Cherry Hill West Lions
Runners to watch: Cherry Hill West brings back its top four runners, all seniors, led by all-conference first-teamer Scott Sherry. He had top-10 finishes at the sectional and county meets as well as a top-20 finish in the conference. Liam Coverdale and Jonathan Hoch were in the top 30 at the county meet and made the all-conference second team, and Owen Barrett rounds out the solid top four. Junior Joel DeLeon and sophomore Andrew DiVito will also look to make an impact this year.
OUTLOOK: The Lions hope to improve on their top-10 showings at the sectional and county meets behind their senior leaders.
Clearview Pioneers
Runners to watch: Senior Nathan Shivers is primed for a strong finish to his high school career and will be one of the favorites at the Gloucester County and Tri-County Conference meets after placing in the top five at both in 2014. He also ran 16:19.15 at sectionals for a 15th-place finish. Junior Robert Wagner is coming off a breakout sophomore season—which included an 11th-place finish in the county and all-conference third-team honors—and is another important runner for the Pioneers. Seniors Elijah Sterling, Ronald Moore and Aiden Mokris and sophomore Colin Gardina are other key returners.
OUTLOOK: Clearview made its presence known at the big meets last fall, taking second in Gloucester County, sixth in the Tri-County Conference and sixth at sectionals. The Pioneers should again be threats at all three with Shivers leading the way.
Eastern Vikings
Runners to watch: Eastern is paced by one of the elite runners in South Jersey, senior Nicholas Pschunder. Among his many accomplishments in 2014 were top-10 finishes at sectionals and states and a 31st at the Meet of Champions, as he consistently ran in the low 16s. Pschunder was also in the top five in Camden County and the Olympic Conference and should be fun to watch in his final campaign. Behind him is senior Vipul Bhat, a tremendous No. 2 runner who would lead the pack on most teams. Bhat was fifth in the county, 13th in the conference and 21st at sectionals a year ago. Joshua Chazin is another top returner and is part of a strong senior class that also includes Biagio Caruso, Tyler Stauss, Joseph Marshall, Anthony Innamorato, Joshua Kumar, Nick Andrews, Mike Snuffin and Richard Kelbaugh. Sophomore AJ Shaw is a key newcomer who joins the team after a strong track season.
OUTLOOK: The Vikings were county champions last year, took second at the South Jersey Shootout, and also placed in the top five at the county and sectional meets, as well as 16th at states. They will remain contenders behind an outstanding senior class.
Gloucester Catholic Rams
Runners to watch: The Rams return most of their roster from last year, including their top two runners in senior Sean Simila and junior Sean Ward, who were both all-conference selections. Senior Bailey Wethman and junior Frankie Tassi are other returning veterans. The sophomore class showed promise last fall and includes Hunter Masters and Jack Ruggieri. Freshman Travis Finley is also expected to help out right away.
OUTLOOK: The Rams probably aren't ready to capture any team titles, but they hope their young group of runners can keep improving.
Haddonfield Bulldawgs
Runners to watch: Although Haddonfield graduated three of its top four runners, the good news is that senior Greg Pelose returns. One of the leading runners in the area, he placed third in both the Colonial Conference and sectional meets—clocking a 16:07.90 at the latter meet—and added a 10th-place showing at states. Pelose will be a serious threat to claim his first South Jersey championship. Senior Austin Stoner (pictured) has also enjoyed a stellar career, while senior Colin Gallagher emerged last season with an 11th-place effort at sectionals and 33rd at states. Junior Brandon Quanci is another key returner who took 12th at sectionals. Senior Gavin Schmeck was the JV conference champion a year ago and should be in store for a solid season as well. Incoming freshman Derek Gess turned in some impressive performances in middle school and is expected to have an immediate impact. He is the younger brother of Briana Gess, a star runner on the Haddonfield girls team.
OUTLOOK: Last season was another memorable one at Haddonfield, as coach Nick Baker earned his 300th career victory and the Bulldawgs claimed their second straight Group II state championship and 11th consecutive sectional title. There's no reason to think they won't be among South Jersey's best teams again.
Kingsway Dragons
Runners to watch: Kingsway said goodbye to a sensational senior class that included two-time sectional champion Noah Culbreath, but don't feel too sorry for the Dragons. Sophomore Joe Grandizio had an impressive freshman campaign and should be ready to take over as Kingsway's No. 1 runner. He had top-10 finishes in Gloucester County and the Tri-County Conference, took 20th at sectionals and clocked a time of 16:31 to place 16th at states. Senior Brendan Stevens finished in the top 15 at the county meet and took 14th in the conference. Kingsway also had the top six finishers in the JV county meet and seven of the top nine in the JV conference meet, with junior Mike Messina winning both races.
OUTLOOK: Kingsway captured titles in the county, conference and South Jersey Open last year, to go with second-place finishes at sectionals and states. The Dragons might not be at that level again, but another strong season is likely.
Lenape Indians
Runners to watch: Lenape graduated No. 1 runner Matt Zubrzycki but brings back many of its top runners, including sophomore Kevin Lauer. He finished his rookie season in impressive fashion, posting a time of 16:56 to place 28th at sectionals. Seniors Danny Fraley (20th in the Olympic Conference) and Craig Lauer (10th in Burlington County) are other important returners who will be at the front of the pack. Other runners who will have an impact are seniors Adam Vicente and Mike Figura and juniors Ryan Kasper, Josh Goldstein and Jeff Hochberg.
OUTLOOK: The Indians placed in the top five at the county and conference meets and ninth at sectionals, and have the depth to stay among the top teams at the big meets.
Moorestown Quakers
Runners to watch: The Quakers welcome back most of their top runners, led by senior Harrison Morris and junior Kevin Fox. Morris, slowed by illness last year, still had top-10 finishes at the county and conference meets. Fox came on strong, finishing eighth in the sectional meet and 22nd at states following strong performances in the county and conference meets. Seniors Christian Cramer—who took 20th at sectionals—and Ty Schneider round out the returners with varsity experience. Juniors Bavish Gummadi and Franklin Mai and sophomores Jesse Wun and Jack West could also contribute to the varsity squad this year.
OUTLOOK: Moorestown took second in the county and fourth at sectionals in 2014 and should remain near the top in both races.
Moorestown Friends Foxes
Runners to watch: The Foxes have a solid returning cast that includes junior Ian Bucci, their top finisher at both the conference and state meets as a sophomore. Seniors Zach Day and Alex Ounjian will also be near the front of the pack on a consistent basis and provide leadership for the younger runners. Junior Elijah O'Neal is back with the team after sitting out his sophomore year and will provide needed depth. Sophomores Will Kimberly and Roman Daniel will look to contribute as well.
OUTLOOK: The Foxes have a strong foundation and will look to improve on their team finishes in the Burlington County, Friends School League and state meets.
Paul VI Eagles
Runners to watch: Although Paul VI graduated two of its most consistent runners from last season, this year's team has a pair of solid juniors to follow in all-conference second-teamer Stephen Conte and Chris Giacobbe. Conte took sixth at sectionals and Giaccobe was 17th. Sam Giumarello, another all-conference second-teamer who placed 13th at sectionals, leads a talented group of sophomores that includes Tom Francesconi, Chris Rodriguez and Antonio Tarantino. Other returners are senior Gabe Schwankert and juniors Noah Rotter-Gurley, Connor Ploski and Jack Brogan.
OUTLOOK: The Eagles have a good, young core and should be in contention at the Robert Keissling Championships after placing second a year ago. They will also look to improve on their 10th-place finish in the Olympic Conference meet and 12th-place effort at states.
Seneca Golden Eagles
Runners to watch: Seneca graduated its No. 1 runner and will look for senior Kevin Curtin to step into the role this year. He ran consistently in the 18-minute range at the championship meets in 2014. Fellow seniors Art Suchodola, Michael Mikulski and Ryan Groves are also important returners. Juniors Shawn Kiraly, John Dougherty and Andrew McMaster hope to take on bigger roles.
OUTLOOK: Seneca has strong senior leadership and could make noise at the county and conference meets if some of the younger runners develop quickly.
Shawnee Renegades
Runners to watch: Senior Jason Richwall, an all-conference first-teamer, ran consistently in the 17-minute range last year and returns as Shawnee's No. 1 runner. He turned in solid performances at the county (17th), conference (21st) and sectional (31st) meets and should be in store for an excellent senior season. Seniors John Kearns (32nd at sectionals) and Joey Lipinsky (13th in the county) are other key returners who give the Renegades a solid group at the front of the pack. Sophomore Alex Stone placed 30th at the conference meet, and other important returners are seniors Dillon Robidoux, Josh Walton and Matt Schmidheiser and junior Cameron Wagner.
OUTLOOK: The Renegades placed fourth at both the county and conference meets in 2014. They should be in the mix at those meets again and are a good bet to improve on their 10th-place showing at sectionals.
Washington Township Minutemen
Runners to watch: Washington Township returns several talented runners who could all lead the pack on any given day. The most likely candidate for the No. 1 spot is senior Alex Tursi, who posted times in the 17- and 18-minute range last year and placed 20th in Gloucester County and 35th in the Olympic Conference. Juniors Alex Zingani, Max Ralston and Dean Mignogna are other experienced returners who are capable of competing in the championship meets. Senior Drew Kulis had the Minutemen's top times in the mile and two-mile during spring track, and sophomore Sean Smithson was Township's top freshman last year and should be able to run with the team's top three. Juniors Jarrod Krause, Dan Cooper and Madison Buck will also look to contribute.
OUTLOOK: The Minutemen, who took fourth in the county and eighth in the conference in 2014, have a solid core of runners and can improve on those finishes if the rest of the lineup develops.
Click here for team schedules.
Published (and copyrighted) in Suburban Family's High School Fall Sports Preview, July, 2015.
For more info on Suburban Family Magazine, click here.
For information about advertising in Suburban Family Magazine, click here.
To find out where to pick up your copy of Suburban Family Magazine, click here.