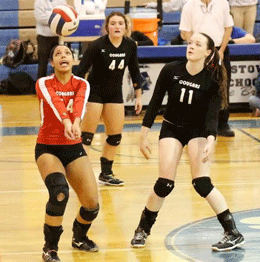 Girls Volleyball
Camden Catholic Fighting Irish
Players to watch: Camden Catholic has a terrific senior class led by middle blocker Jasmine Williams and libero Jacey Ludlam, who were both all-conference first-team selections in 2014. That group also includes setter Star Lusk, outside hitter Ashley Russell and middle blocker Madison Smith, an all-conference second-teamer. The Irish also bring back a pair of sophomores who shined as freshmen. Outside hitter Madeline Dutterer made the all-conference second team and setter Veronica Cava was among the team leaders in assists and service points.
OUTLOOK: Camden Catholic's 16-9 season last fall included its first-ever playoff win. The Irish have come a long way in just a few years and should continue to be a program on the rise this year.
Cherokee Chiefs
Players to watch: Cherokee graduated just one senior and has several standout players back in the fold, including all-conference first-teamers Alayna McNally and Nicole Ethridge, two seniors who are offensive forces at the net. Other key seniors are Micaela Gernhardt, an all-conference second-teamer; veteran setter Olivia Eick, the team leader in assists; Sammy Debicki, who had more than 100 kills; and Bridget Wallace, who was second on the team in assists. Other returners who should contribute are seniors Liz Chambers, Erin Brown, Jessica Hart, Tiffany Mallinder and Alex Rumbos; juniors Amanda Harvey and Carly Pederson; and sophomores Kayleigh Kitchen and Erica Marchlowitz.
OUTLOOK: The Chiefs saw their streak of four straight Olympic Conference American Division titles come to an end in 2014, but they still went 16-11 and won a playoff match. With just about the whole team returning, they can aim even higher for this fall.
Cherry Hill East Cougars
Players to watch: The Cougars said goodbye to the heart of last year's team, as four senior starters graduated, including all-South Jersey first-teamers Aliyah Godwin and Natalia Majkut. But several experienced players are back and will look to move into leadership positions. Senior libero Alex Warner (pictured) and senior middle hitter Jessica Wrinn, who played club ball together in the spring, lead that group. They are joined by juniors Kim Longa and Kelly Babitz, who had the most kills last season of any returner. Junior Megan O'Rourke will replace Godwin at setter and is expected to help the offense transition smoothly.
OUTLOOK: The Cougars went 20-5 last fall—tying the school record for wins in a season—and reached the Group IV state semifinals. They also won the Olympic Conference American Division championship for the first time since 2009. It will be impossible to replace the departed seniors, but this proven program has enough returning talent to remain a winner.
Cherry Hill West Lions
Players to watch: Five seniors from last year have moved on, including all-conference second-team libero Diana Cordisco. But West is excited about the return of sophomore outside hitter Sofia Russo, who made an impact on varsity as a freshman. Russo, who also plays in the spring for the Cherry Hill Volleyball Club, should be one of the Lions' top players in her second year. Junior Sarah Ungerleider, an excellent server, and senior Vivian Thu are other key returners, and Victoria Miklus will also look to contribute in her senior season.
OUTLOOK: The Lions posted an 8-17 record in Kelly Smith's first season as head coach. The next step is to reach double-digit victories and vie for a winning record.
Clearview Pioneers
Players to watch: Clearview brings back one of the best setters in South Jersey in senior Trang Nguyen-Christensen. She was an all-conference first-teamer last fall after recording 359 assists and 149 service points. One of the players she'll be setting up often is senior outside hitter Jassmine Vick, who led the Pioneers in kills. Junior outside hitter Nina Tu Cai is another important offensive player, while other key returners are junior opposite Abby Farrow and senior defensive specialist Miranda Turner. Other returners looking to contribute are seniors Anaiyah Bryant and Talia Tedesco; juniors Elly Drees, Jaime Krolick, Emily Miske, Abby Ware and Kylie Watermasysk; and sophomores Brianna Benfield, Sam Gehringer, Aislinn Grant and Lauren Robitaille.
OUTLOOK: The Pioneers went 13-9 in 2014, their fourth straight season of double-digit wins. They have a strong nucleus and will look to extend that streak under new coach Deana Moore.
Eastern Vikings
Players to watch: Eastern has a solid group of seniors highlighted by middle hitter Jill Wilson, who led the team in kills and blocks on her way to all-conference first-team recognition. Senior outside hitters Liz Onofrio and Jaylin Nesbitt and senior middle hitter Brandi Devlin are also offensive weapons, while senior Rachel Yuh is back as the starting libero and senior Julia Klauterman is another threat as an outside hitter/defensive specialist. Senior Jenna Berezansky will play opposite and defensive specialist as well.
OUTLOOK: Eastern, which finished 8-14 last year, will look to record its first winning season since 2012 behind its talented senior class.
Gloucester Catholic Rams
Players to watch: The Rams graduated a dozen seniors from last year's squad, including four all-conference players, so they will need some new team leaders to emerge. One player expected to step up is junior outside hitter Cassie Hickman, who had 54 kills last fall. Senior defensive specialists/setters Abby Wallace (team-high 216 digs) and Maddy Addario (97 digs) are other key returners, and junior outside hitter Alexis Gawason will look to take on an expanded role. Promising varsity newcomers include senior Alexis Cianci, juniors Brooke Cloak and Victoria Caldas, and sophomores Lauren Rossi and Taylor Caldas.
OUTLOOK: The Rams went 11-16 last year and lost in the first round of the Non-Public state playoffs. They hope to remain competitive this fall with a new-look roster.
Kingsway Dragons
Players to watch: Last year's senior class featured four all-conference players, but the cupboard isn't completely bare. Junior outside hitter Jessica Lail had 100 kills and 104 digs last year, and classmate Rachael Kelley is back as the starting setter after recording a whopping 440 assists. Lail and Kelley are also teammates in club volleyball and should be team leaders for Kingsway. Junior setter/outside hitter Reagan Healey also has varsity experience and will likely move into a bigger role. Junior opposite Gina O'Donnell and sophomore defensive specialist Camryn Norman are expected to contribute as well.
OUTLOOK: The Dragons' 11-14 season included seven close losses that went to three games. They will remain competitive under new head coach Tina Yoroshko if their newcomers develop quickly behind the returning starters.
Lenape Indians
Players to watch: Lenape is paced by a pair of returning senior starters in middle blocker Sydnee Sapp and libero Lauren Benson. Sapp, a three-year varsity player, had 37 kills and 31 blocks in 2014, and Benson led the team in digs. Sophomore outside hitter Sara Blackburn and sophomore defensive specialist Sara Burgos showed promise as freshmen and senior Christina DeSalvo is a returning defensive specialist.
OUTLOOK: Although the Indians graduated two all-conference players, they hope to continue showing improvement as a team.
Moorestown Quakers
Players to watch: Moorestown was senior-heavy in 2014, including three all-conference first-teamers. Leading the returners is senior opposite Jessie Britton, who had 53 kills, 36 blocks and 67 digs on her way to all-conference second-team recognition. The Quakers also have three juniors who saw extensive playing time as sophomores: middle blockers Shelby Williams and Jasmine Pearcy and libero Brittney Wright. Junior outside hitter Dani Scola and junior setter Emily Fordham are other returners who will look to contribute.
OUTLOOK: Moorestown had a terrific season in 2014, as it went 24-6 and shared the Olympic Conference Patriot Division title with Williamstown. The Quakers lost some key players from that team but should remain a contender in the division.
Paul VI Eagles
Players to watch: The Eagles bring back several key players from an outstanding team, including senior middle hitter Rachel Robb, who was an all-conference first-teamer. Robb had 94 kills and 25 blocks and is primed for a big senior season. Junior libero Sophia Marziello is a three-year starter who had 233 digs on her way to all-conference second-team honors. Senior outside hitter Meghan Gallagher had 149 digs and 48 kills—including four in the state final—and is another important returner. The Eagles will also look for offensive production up front from senior Karyn Chew, junior Caroline Mahurter and sophomore Grace Underwood.
OUTLOOK: The Eagles' memorable 2014 campaign included a school-record 25 wins and their first trip to the Non-Public state final, where they lost to perennial power Immaculate Heart. Despite the graduation of several important players, Paul VI has established itself as a program to watch year in and year out.
Seneca Golden Eagles
Players to watch: Seneca brings back almost the entire roster from last year, including a pair of all-conference first-teamers in senior setter Jordan Wahrenberger and senior outside hitter Abbey Griswold. Wahrenberger, the program's all-time leader in assists, had 212 last year to go with 56 aces, while Griswold led the team with 69 kills. Senior Caitlin Lange is another pivotal returner who had 37 kills and 37 blocks last year and is second on the school's all-time list in both categories. Lange was joined on the all-conference second team by sophomore Casee Bryan (47 kills). Other key returners are senior Riley Bednar and junior Olivia Gordon, and junior Tabitha Conard will return as the team's libero.
OUTLOOK: The Golden Eagles finished with a 13-12 record for the second straight year last fall. Don't be surprised to see them improve by a few wins and even capture the program's first-ever playoff victory this season.
Shawnee Renegades
Players to watch: Although two all-conference players and six other seniors from last year have moved on, Shawnee has a solid nucleus returning. Senior outside hitter Jenna Hoffner is a three-year varsity player who was second on the team with 49 kills last fall. Jessie Maier (24 kills, 26 digs) and Reagan Feudtner (12 kills, eight blocks) are junior middle blockers who should take on expanded roles. Senior Alanna Goldman and junior Sydney Harris are other returners who will contribute.
OUTLOOK: The Renegades have had two straight losing seasons, including 8-11 in 2014, but this is a program you can always count on being competitive.
Washington Township Minutemaids
Players to watch: Junior captain Kyra Bevenour earned the starting setter position last year as a sophomore and responded with an impressive season. She led the Minutemaids with 334 assists on the way to all-conference first-team honors, and will be a key player for the Washington Township offense this fall. Captain Kristina Semple (team-high 185 digs) and fellow senior Megan Finucane (48 digs) are the defensive leaders, and senior captain Megan Welding will also be playing defense once again. Senior Ashley Akumuo will be in the middle position along with sophomore Allyson Fooks, and junior Allison Gracie will also see action.
OUTLOOK: The Minutemaids qualified for the state playoffs for the second straight year and finished with a respectable 9-10 record in 2014. They'll look to build on that success this season.
Click here for team schedules.
Published (and copyrighted) in Suburban Family's High School Fall Sports Preview, July, 2015.
For more info on Suburban Family Magazine, click here.
For information about advertising in Suburban Family Magazine, click here.
To find out where to pick up your copy of Suburban Family Magazine, click here.