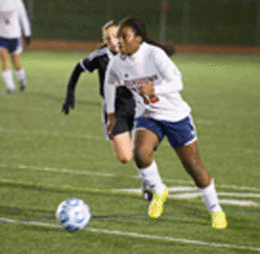 Girls Soccer
Bishop Eustace Crusaders
Players to watch: Bishop Eustace has a strong core returning led by senior midfielder Gabby Pietrangelo, an all-conference second-teamer who had four goals and three assists last year; and senior forward Gianna Morrone, who has scored eight goals in each of the last two seasons. The defense is also solid with senior Isabella Dewes back in net and senior Julia Ferrelli returning as one of the important defenders in front of her. Other key returners are senior midfielders Alicia Podwojniak and Clare Monaghan; junior forwards Hailey McGrath and Dominique Marrone; sophomore midfielder Molly Monaghan; and sophomore defender Sophia Marrone. Other players looking to make an impact are seniors Emily Keane, Nicole Hull, Francesca Neuman and Allison Quinn; juniors Katie Ruehlicke and Madison Shelley; and sophomores Elizabeth O'Dee, Brianna Montinard and Tallulah Manalo-LaManna.
OUTLOOK: The Crusaders won seven of their last nine games in 2014—including two playoff matches—and finished with a 12-8 record after reaching the sectional semifinals. They will look to carry that strong finish over to this fall.
Camden Catholic Fighting Irish
Players to watch: The Fighting Irish only graduated three players from last year's team, but one of them was all-conference midfielder Juliet Esposito, who scored half of their goals for the season. This year's squad is also lacking in many seniors, aside from defender Taiah Thornton, an all-conference first-team selection in 2014. She's part of a solid defense that also includes sophomore goalie Kate Deutsch, an all-conference second-teamer as a rookie. Sophomore midfielder Maggie Bednarek is also coming off an impressive freshman campaign in which she scored four goals, and junior midfielder/forward Holly Bednarek is another important piece of the offense. Other returners who should contribute are juniors Audrey Esposito, Christina Laudisio and Lauren O'Callaghan; and sophomores Madison Rooney, Hannah Hassinger, Theresa Gardner and Ceara Burden.
OUTLOOK: The Irish lost their first nine games last fall but went 4-4 down the stretch to finish with a 4-14-1 record. They'll look to keep improving under new coach Jim McBride, who coached the girls team at Neumann-Goretti in Philadelphia from 2004-10 and won the most games in program history.
Cherokee Chiefs
Players to watch: A big chunk of the roster is back for Cherokee, as well as two players who missed last season with injuries, so this is shaping up as a promising campaign. It starts with a pair of all-conference first-teamers and all-South Jersey players in senior Shaye McGoey and junior Isabella Therien. McGoey, a midfielder, led the Chiefs with 12 goals in 2014, while Therien is one of the best defenders in the area and also had three assists. Junior midfielder Taylor Koester earned all-conference second-team recognition, and the talent at forward includes sophomore Boo Jackson (four goals, five assists), senior Robyn Young (three goals) and junior Devon Fitzpatrick (four goals). Seniors Kaela Schrier (three goals, five assists) and Leah Reistle (four goals) are important defenders who also contribute to the offense, and their presence will be especially crucial thanks to a bit of bad luck in goal. Junior Zarre Baldwin is an experienced keeper who missed the second half of 2014 after tearing her ACL in a game against Lenape. She is not medically cleared to play until August and will look to work her way back into game shape. Sophomore Rebecca Wolf also saw time in net last year but will miss the season after tearing her ACL in the spring. On the positive side, senior center midfielder Emma McLaughlin will be a big addition after sitting out 2014 with an ACL injury, and junior Ally Weaver—who played varsity as a freshman—returns after missing her sophomore season with an illness. Other returners include seniors Cailey Gibson and Sarah Wixted; junior Abby Corrato; and sophomores Megan Wanninger, Tori Hampton and Julia Kasinski.
OUTLOOK: The Chiefs were 11-4 at one point in 2014—including a win over Lenape—before dropping their last five games, including a first-round playoff matchup. With a lot of talent returning, expect them to get back on track and accomplish big things this fall.
Cherry Hill East Cougars
Players to watch: Senior Bianca Christophe returns as one of the top all-around players for East and is capable of playing all over the field. Last year she earned all-conference second-team recognition as a defender. Senior midfielder Alexa Beatty, senior forward Lilly Steele-Dadzie and junior midfielder Sara Messinger each scored a pair of goals last year and will be key offensive players. Other important veterans are senior midfielders Kyra Gorman, Kelsey Gorman and Casey Miller and defenders Vanessa Earley and Brianna Sparrow. The Cougars also bring back juniors Priya Kavuru, Jordan Madrid and Erica Thunberg and sophomore Nicole Hammerquist.
OUTLOOK: The Cougars struggled offensively in 2014 on their way to a 2-13-1 record. Their defense should again keep them competitive in most games, but they'll have to score more to pull out some wins.
Cherry Hill West Lions
Players to watch: Cherry Hill West graduated its top player from last year in all-conference second-teamer Sarah McGlinn. Leading the returners are seniors Rebecca Horner, who scored a pair of goals last year, and Erin Sullivan, who anchors the defense. Junior Natalie Eberhardt is another important returner who had a solid season in goal. Other players expected to contribute are seniors Callie McFadden and Allison Gentile.
OUTLOOK: Scoring was a problem for the Lions as they posted a 2-13-3 record in 2014. With a solid group of returners, they expect to make progress this fall.
Clearview Pioneers
Players to watch: The Pioneers bring back a host of key players from 2014, including senior midfielder Victoria Flynn, who led the team with seven goals, and senior back Brenna Clowney, who anchors the defense. Seniors Dana Wiesmore and Emily Moran each had four goals and junior Victoria Caira (three goals, two assists) also contributes offensively. Clearview also has a pair of sophomores coming off impressive rookie seasons in Julia Michael (three goals, six assists) and Kayla Grossman (two goals, five assists). Senior Tracey Milden, who was the Pioneers' keeper in 2014 but could move to the field this year, is also back. Other returners are seniors Kiera Clowney, Samantha Bilderback, Kayla Catts and Colleen Molczan; juniors Jessica Cirone, Samantha Fredricksdorf and Alex Poole; and sophomores Hailey Valente, Alyssa Hunt and Vivianna Caamano.
OUTLOOK: Despite falling in penalty kicks in the first round of the playoffs, the Pioneers finished with an 8-7-4 record, their first winning season since 2011. Expect them to make it two in a row and put together a longer playoff run.
Eastern Vikings
Players to watch: Junior forward Amirah Ali has already put together two outstanding seasons at Eastern and her career is only halfway over. A two-time all-South Jersey player, the Rutgers recruit had 12 goals and 13 assists in 2014 after scoring 24 goals as a freshman. She will carry the offense after the graduation of Sydney Jackson, last year's leading scorer. Senior center midfielder Jaylyn Thompson is another team leader who made the all-South Jersey first team last fall as a defender. Thompson, who will continue her career at Virginia Tech, had five goals and 10 assists as a junior. Seniors Sydney Davis (three goals, two assists), who has committed to Towson, and Katie Beluch are also back in the midfield, and sophomore Madison Tyree will contribute at forward. The defense is led by Rachel Wood, the team's best marking back, along with fellow seniors Holly Norbury and Shanna Bryson and junior Jen Civatte. Junior Alexis Craig and sophomore Mikayla Ronczka will compete to replace all-South Jersey keeper Imani Taylor, who graduated.
OUTLOOK: Eastern went 17-3-3, claimed the Olympic Conference American Division title for the third straight year, and reached the Coaches Tournament final, also for the third straight year. They should be one of South Jersey's top teams again this fall.
Gloucester Catholic Rams
Players to watch: Senior midfielder Kay Kupiec had 15 goals and 11 assists last year on her way to all-South Jersey first-team and all-conference honors. The Kutztown recruit will lead the way for the Rams this fall along with senior defenders Taylor Hughes and Lisette Virella. Other important returners are senior goalie Maria Hildebrand, senior forward Brianna Daniels and sophomore back Mia Lugiano, who started as a freshman and will be a key part of the defense. Senior Riley Huston and junior Katie Gaudreau are also expected to contribute.
OUTLOOK: Twelve seems to be the magic number for the Rams, as they went 12-5 last year to finish with a dozen wins for the fourth consecutive year. You can probably pencil them in for double-digit wins again this fall, and they'll look to add their first playoff victory since 2012.
Haddonfield Bulldawgs
Players to watch: Junior midfielder Kaitlyn Bonnet led Haddonfield in goals in 2014 as she scored nine for the second straight year to go with three assists. She'll lead the offense along with sophomore forwards Julia Parker (five goals, six assists) and Casey Clarke (three goals, two assists), who each had impressive rookie seasons. Senior Taylor Sehdev, a varsity player since her freshman year, returns in goal, and senior back Olivia Van Dervort is another experienced player from last year's staunch defense. Other returning seniors are forward Mary Sabia and midfielders Kate Walters, Lauren Levitt, Katie Agnew and Claudia Brong. Also back are junior defenders Sophia Parker and Jenna Zappetti; and the sophomore class includes midfielder Isabella Nugent, defender Annie Stanton and goalie Mary Kelly.
OUTLOOK: The defense kept the Bulldawgs competitive in every game last year and they finished with a 10-8-1 record after losing in the first round of the playoffs. They should continue to be one of the top teams in the Colonial Conference and will hope for a longer postseason run.
Kingsway Dragons
Players to watch: A fabulous freshman class made an impact on varsity last year, and even bigger things could be in store this fall now that they're sophomores. Forward Madison Batra led the team with nine goals and eight assists, while midfielder Megan Silvia (one goal, four assists) and forward Kylie Anicic (one goal, three assists) also contributed on offense. Mauri Jackson saw a lot of time in goal and will compete to be the full-time starter. Among the upperclassmen, junior Oonagh Breen (five goals, two assists), senior captain Gab Bruno (three goals, one assist) and senior Nicole Mower (three goals) are important returners. Other contributors are seniors Emily Malone, Erin Malone, Kiersten Vance and Jenni DeVault; and juniors Gianna Deledda, Cami Federico, Kate Green, Reilly Noel and Haley Rivell.
OUTLOOK: The Dragons went 10-7-2 in 2014—their third straight season with double-digit wins—and lost in the first round of the playoffs. With a lot of young talent, this should be another strong year.
Lenape Indians
Players to watch: Lenape graduated a sensational senior class that included four all-South Jersey first-teamers: midfielders Lizzie Kinkler and Kenie Wright, forward Marissa Topolski and goalie Alicia Hampton. Kinkler and Wright were also all-state players. The program always seems to produce new stars, however, and this year should be more of the same. Senior midfielders Justine Stoner (four goals, 10 assists) and Sarah Gibson (four goals) are good candidates to take over as team leaders, and sophomore forward Bella Hovis (six goals, three assists) is coming off a promising rookie season. Juniors Gabby Fornia and Erin Donoghue are back on defense and senior Sullivan Leiby will get a chance to succeed Hampton as the starter in goal. Other key returners are junior midfielders Meg Quimby, Kara DiMarcangelo and Carlee Faraghan-Braverman; junior forward Steph Figueroa; sophomore forward Savannah Lickel; and sophomore midfielder Alexa Woltjen.
OUTLOOK: The Indians went 19-3-3 in 2014, claiming their eighth straight championships in South Jersey Group IV and the South Jersey Coaches Tournament, an amazing streak. With so many key losses to graduation that run could be in jeopardy, but never count Lenape out.
Moorestown Quakers
Players to watch: Moorestown graduated all-state defender Jessi Button and leading scorer Abbey Brooks, so there are huge shoes to fill. That's not an issue between the pipes, however, as senior Carly Blessing returns as the starting goalie. The Richmond recruit has 41 shutouts over the last three seasons, including 16 in 2014, and will be one of the premier keepers in the area this fall. Junior Quinn Nicolai is a key playmaker and senior Anni Nissen had three goals last fall. Senior midfielder/defender Genie Santarpio is another returning starter. Other players expected to play big roles are seniors Charlotte Elwell and Jenna Martinelli; juniors Ali Simeone, Sara Gally and Nina Nelson; and sophomores Robin Panzarella and Alex Hubler.
OUTLOOK: The Quakers went 16-6-2 in 2014 and claimed their third sectional championship in the last four years. Getting back to that point will be a challenge with the departure of Button and Brooks, but this is a consistent program and a season with double-digit wins is likely.
Moorestown Friends Foxes
Players to watch: Although leading scorer Vanessa Kara graduated after a phenomenal 2014 season, the Foxes have a lot to be excited about. Senior Nia Francis (pictured) has been an all-Friends League first-team defender the last two seasons and has an experienced goalie behind her in senior Gaelyn Gregory, an all-league honorable mention selection. The offense is also in good shape with the return of two sophomore forwards who had dazzling debuts last fall. Kieran Lees was second on the team with 16 goals and seven assists on her way to all-league honorable mention honors, and Alexis Kasper added eight goals and three assists. Seniors Kathryn Gregory and Andrea Kinzler are also key contributors at both forward and midfield. Other returners are seniors Rebecca Grimes and Erin Chen; juniors Anna Goula and Kelcie Satterthwaite; and sophomores Gwen Gignac, Chloe Chen, Chloe Jones, Alyssa Levine, Alyssa Runyan and Alexis Watson.
OUTLOOK: Moorestown Friends is coming off a memorable 14-6-1 season that included the program's first sectional title and a trip to the state final. It will be exciting to see what the Foxes do for an encore.
Paul VI Eagles
Players to watch: The Eagles bring back most of last year's roster after graduating just four seniors. Leading the way is all-South Jersey junior midfielder Megan Reardigan, who has been named all-conference the last two seasons, including a first-team selection in 2014. Senior Gabrielle Giaccobe was also an all-conference first-teamer and is a key piece of the defense, along with fellow senior backs Caitlin Gross and Caitlin McDonough and sophomore goalie Rylee Milligan. Other returners expected to contribute are seniors Danielle Elman, Allison Darley, Michelle Hallman, Ali Rivkind, Alyssa Power and Julianna Walsh; juniors Emma Trassati and Jazzmyn Shorter; and sophomores Jillian Badgley, Lauren Calabria and Ava Albergo.
OUTLOOK: The Eagles had a five-year streak of winning at least a share of their division title broken last fall, when they finished with a 3-15 record. But the young squad should be much improved after gaining valuable varsity experience.
Seneca Golden Eagles
Players to watch: Junior midfielder Emily Meale is a key player for Seneca who earned all-conference first-team honors as a sophomore. Senior back/midfielder Sara Guzman is an important part of the defense and also contributes offensively, while senior Dani LeSaint is back in the midfield and senior forward Skylar Davis is one of the Golden Eagles' best scoring threats. Junior Samantha Andrews and sophomore Brooke Fearon both have experience in goal, and will have veteran defenders in front of them in seniors Kailyn Mulligan, Danielle Packard and Jordyn Olsen and junior Anna Yanessa. Other returners include juniors Mackenzie Hoffman, Erica Lovett and Allison Lyons; and sophomores Alexa Brown, Olivia O'Connor and Olivia Spector. Juniors Erin Kerstetter and Hailey Worrell are also back after missing last season with injuries and will add speed to Seneca's attack.
OUTLOOK: The Golden Eagles have a solid nucleus returning and will look to build on last year's 6-12-1 record.
Shawnee Renegades
Players to watch: All-South Jersey midfielder and leading scorer Taylor Ryan was part of a strong senior class that graduated, but a lot of talent remains for Shawnee. Senior forward Alexis Palladino had 10 goals and five assists and was all-South Jersey second team and all-conference first team. The four-year starter has committed to Rutgers. Senior Silvana Gordon (six goals, six assists), junior Vanessa Alessi (seven goals) and all-conference second-team junior Olivia Schuck (six goals) are also proven scorers. Senior Amanda Hartwell-Miller was all-South Jersey second team and all-conference first team on defense last year and was set to move into Ryan's center midfield position, but recently broke her tibia and tore both her MCL and meniscus. She is expected to miss at least half the season, but Shawnee is hoping to have her back at some point. Her twin sister, senior Brittany Hartwell-Miller, was all-conference second team and is a key part of the defense. Junior Brianna Davis has experience in goal and will look to become the starter after the graduation of Caroline Farley. Other important returners are senior Sarah DiBerardinis and juniors Christina Corbi and Dana Goldstein.
OUTLOOK: The Renegades' 17-3-4 season included trips to the sectional final and South Jersey Coaches Tournament semifinals, where both times they were ousted by rival Lenape. Despite the loss of Ryan, the pieces are in place for another terrific season.
Washington Township Minutemaids
Players to watch: Despite some key losses to graduation, Washington Township has a solid foundation led by senior midfielder Kylie D'Ambra, an all-conference first-teamer who had 10 goals and seven assists in 2014. Sophomore Emily Gray is another returner in the midfield who had an impressive varsity debut with five goals and five assists last year. Other important players are senior backs Marina Smolens (four goals, two assists) and Casey Lubonski, senior midfielder Melanie Iatarola and junior forward Bridget Heist. Senior Kaylee Frapaul and junior Sarah Haggerty both have experience in goal. Other players looking to make an impact are seniors Carly Capano, Montana D'Agostino, Madison Dorney and Patty Stover and junior Ilyssa Liberto. Township also welcomes in a strong freshman class for the second straight year and some rookies could play a role on varsity.
OUTLOOK: The Minutemaids made great strides in 2014, winning eight more games than the year before to finish with a 14-6-2 record. They also advanced to the quarterfinals at sectionals and the Coaches Tournament. A similar season appears likely this fall.
Click here for team schedules.
Published (and copyrighted) in Suburban Family's High School Fall Sports Preview, July, 2015.
For more info on Suburban Family Magazine, click here.
For information about advertising in Suburban Family Magazine, click here.
To find out where to pick up your copy of Suburban Family Magazine, click here.