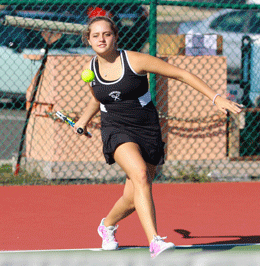 Girls Tennis
Bishop Eustace Crusaders
Players to watch: All three singles players from last year return for Bishop Eustace, including No. 1 Caitlyn Sorelle. The senior fared well in her first season in the top spot, reaching the Camden County singles final and qualifying for the state singles tournament. Also back are second singles Juliana Bidic, a senior, and third singles Sara Weill, a junior. Sophomore Ashley Sorelle and junior Caroline Hromy are returning starters at doubles who could play together at first doubles or challenge for singles positions. Other returners expected to challenge for spots are senior Gabby Lantz, juniors Camille Marsdale and Lacey Todd and sophomore Meaghan Bohny. Freshman Caitlin Deffler could also have an immediate impact.
OUTLOOK: The Crusaders reached the sectional final for the second straight year to cap a 15-4 season. They also claimed a division title for the 17th time in the last 19 years, going undefeated in the division in the process. With five starters returning, 2015 should be another remarkable season and Eustace hopes to challenge for a state championship.
Cherokee Chiefs
Players to watch: Cherokee graduated four starters, including first singles Amelia Ying, the program's all-time wins leader. Leading the list of returners is senior Emily Trudo, who has been second singles the last two years and is the likely candidate to take over the top spot. Senior Rachel Young and junior Veda Lin played first doubles together and could be ready to move into singles spots. Sophomore Katie Delia (pictured) saw singles action as a freshman and will also compete for a spot. Other experienced players are seniors Hannah Weiner, Julie Chun and Elissa Wong and sophomores Lauren Juliano and Kaitlyn McVeigh.
OUTLOOK: The Chiefs will obviously miss Ying, but should remain competitive after reaching the sectional quarterfinals and finishing with a 14-9 record.
Cherry Hill East Cougars
Players to watch: Cherry Hill East brings back most of its starting lineup from last year, including a dynamic duo leading the way. Junior Stephanie Yanosov had to sit out the first 30 days last season after transferring from Bishop Eustace, but once she became eligible, she took over at first singles. She went on to have an outstanding run in the state singles tournament, reaching the semifinals, and was named all-South Jersey. Senior Gabrielle Zimmerman started the season at first singles and moved to second when Yanosov joined the team. Zimmerman claimed the Camden County singles championship and was named to the all-conference first team after reaching the Olympic Conference American Division singles final. Senior Lauren Romisher is another returning starter at singles, while senior Rachel Pham earned all-conference recognition at singles before ending the season at doubles. Juniors Kristina Klinisova and Sarah Jang both earned all-conference honors and also return at doubles. Junior Natalie Yanosov, Stephanie's twin sister, will also be joining the squad and is expected to have an impact.
OUTLOOK: The Cougars dropped a tough 3-2 loss to Lenape in the South Jersey Group IV final and finished with a 20-2 record. This year they'll have a full season of Yanosov—who should contend for the state singles championship—and will be one of the favorites for the sectional title.
Cherry Hill West Lions
Players to watch: The Lions graduated their first singles player for the second straight year, but only one other starter is gone from last year's team. Seniors Cathy Phan (second) and Mirlinda Papraniku (third) both held down singles positions last year and will look to do so again. Seniors Angela Rath and Michelle Le and junior Karen Theirren were all starters at doubles, and senior Elena Vaughan also has varsity experience at doubles. Other returners who will look to crack the starting lineup are juniors Angie Larosa and Jade Stubblefield.
OUTLOOK: Cherry Hill West is still in rebuilding mode after a 2-16 season, but with most of the starting lineup returning the Lions should start to make some gains this fall.
Clearview Pioneers
Players to watch: This is shaping up as a special season at Clearview, with all seven starters back from a year ago. Senior Julia Novick has been first singles the last two years and is expected to fill the role again. Last year she claimed her first Gloucester County singles championship and made it to the semifinals of the Tri-County Conference Showcase. Novick also won a match in the state singles tournament. Seniors Larissa Gill and Olivia White were the starters at second and third singles, respectively, and the first doubles team of senior Erika Slowicki and junior Anna Kmiec reached the county final. Senior Kelsey McAlpin and junior Grace Chell are also back after playing second doubles together.
OUTLOOK: The Pioneers accomplished a lot in 2014, as they captured their fourth straight Tri-County Royal title, won the county championship, made it to the sectional quarterfinals and finished with a 19-2 record. Novick should carry them to similar heights this fall.
Eastern Vikings
Players to watch: Eastern graduated six seniors from last year's team, including the top two singles players. Senior Michaela Fendrick leads the returners after playing third singles as a junior. She will be in position to take over the top spot. Juniors Chrissy Barry and Rea Ghodasra played first doubles together and could be ready for singles positions. Junior Katie Ramdial will also look to contribute.
OUTLOOK: The Vikings have several starting positions to fill, but will attempt to improve on last year's 7-12-1 record.
Gloucester Catholic Rams
Players to watch: Senior Morgan Labree has been a starting singles player since her freshman year, including the top spot the last two years, and highlights the four returning starters for Gloucester Catholic. Senior Celina Vaccaro played second singles in 2014, and seniors Paige Brooks and Madison Reilly are returning starters at doubles. Seniors Hailyi Eller and Maura McGonigle also have varsity doubles experience.
OUTLOOK: The Rams made small steps last season, finishing with a 4-11 record for a three-win improvement from the year before. They hope to continue making progress this fall.
Haddonfield Bulldawgs
Players to watch: Senior Chelsea Brown, a starter since her freshman year, appears ready to become Haddonfield's team leader and highlights a list of four returning starters. Brown played second singles last year and won the Colonial Conference singles championship. She compiled a 33-8 record in 2014 and is 101-18 for her career. Senior Holly Hoover played third singles and went 29-7 to earn all-conference second-team honors. Senior Sarah Smith and junior Katie Pileggi were the first doubles tandem and claimed the conference title, and should be in contention for singles positions this year. Sophomore Olivia Alberto and junior Lizzy Benedict both have varsity experience and will be expected to take on bigger roles. Returners who played primarily on Haddonfield's 24-2-1 JV team and could contend for starting varsity positions are senior Isabel DeMarco; juniors Julia Bersani, Olivia MacCluen and Tesh Patel; and sophomores Megan Burns, Cassidy Cao, Nina Liloia and Rachel Rozenfeld.
OUTLOOK: The Bulldawgs went 26-6 and won their 13th straight sectional championship last year, although their streak of state titles ended at six with a loss in the state semifinals. They lack dominant singles players this year, but should keep on shining behind their depth.
Kingsway Dragons
Players to watch: Kingsway was hit hard by graduation for the second straight year, with four starters graduating, including the entire singles lineup. Junior Shaena Friedman played first doubles and should be ready to move into a singles position. Juniors Brenna Dolan and Catherine Morris teamed up at second doubles last year and can also expected to fill starting positions, whether in singles or doubles. Seniors Maddison McKinney and Brooke Owens also have varsity experience and will be key players.
OUTLOOK: The Dragons posted a respectable 9-11 record last year and will look to remain competitive despite the changes to their starting lineup.
Lenape Indians
Players to watch: Although Lenape graduated Lauren Gershman, its first singles player the last two years and team leader, the rest of the starting lineup returns intact. That includes sophomore Shannon McCarthy, who burst onto the scene as a freshman and played second singles, earning all-conference and all-county second-team honors. Junior Smriti Nair played third singles and went 5-0 during the playoffs. Senior Gabrielle Shvartsman and junior Alexis Cao had a tremendous season at first doubles, as they were all-conference first-teamers, reached the final of the South Jersey Interscholastic Championships and won a match in the state doubles tournament. They were also named all-South Jersey and won the first doubles bracket at the Burlington County Open. Seniors Serena Lam and Cailyn Chow are also back after winning the county second doubles title together, and other returners are juniors Meaghan Corej and Alex Prager.
OUTLOOK: Last season was one to remember for Lenape, which won its first sectional title in 22 years, claimed the Burlington County team crown and finished with a 17-3 record. The Indians have the talent to embark on another magical journey.
Moorestown Quakers
Players to watch: Alex Boone made the jump from third singles as a sophomore to first singles as a junior and responded with a 20-5 season during team play. The all-South Jersey selection also qualified for the state singles tournament and is primed for a huge senior season. Moorestown brings back its other two singles starters as well. Sophomore Emily O'Neil seized the second spot as a rookie, and junior Anna Mary Shetler won the third singles championship at the Burlington County Open. Junior Andrea Giacobbo was part of the first doubles team that won the South Jersey Interscholastic Championships, and sophomore Camilla Hoz de Vila played second doubles. Senior Sarah Mounzer also returns and was elected captain along with Boone.
OUTLOOK: Moorestown cruised to the South Jersey Group III championship for its 26th straight sectional title in a 22-5 season. The Quakers will be clear favorites to extend their streak behind an experienced starting lineup.
Moorestown Friends Foxes
Players to watch: Moorestown Friends boasts two of South Jersey's top players at the top of its singles lineup, and both are just entering their junior seasons. Grace Kim repeated as the Burlington County first singles champ last year and reached the quarterfinals of the state singles tournament for the second year in a row. She also made it to the final of the South Jersey Interscholastic Championships and was a member of the all-Friends League team. Jess Ferber captured her second straight county title at second singles and won a match in the state singles tournament for the second time. She joined Kim on the all-league team. The Foxes' other returning starters are senior Alexandra Katsnelson and sophomore Margaux Fox, who played first doubles together. Seniors Priya Patel and Braeden Sloan also have varsity doubles experience. Senior Paige Hurley took a year off but is back this season after receiving all-county first doubles recognition her sophomore year.
OUTLOOK: The Foxes went 15-4 and lost the sectional final to Gill St. Bernard's for the third straight year. They seem to vie for the title every season, and this one should be no different.
Paul VI Eagles
Players to watch: The Eagles will have a totally different look after graduating all seven starters from a year ago. Seniors Emily Williamson and Gabby Brown have varsity doubles experience and are expected to move into singles positions. Other returners who will look to claim starting roles include senior Mary Blumenstein and juniors Emily Lyles and Madeline Merinuk.
OUTLOOK: Paul VI continues to be in rebuilding mode, especially with so many fresh faces on this year's roster.
Seneca Golden Eagles
Players to watch: Seneca brings back a solid group of experienced players, including junior first singles Jessica Errigo, who earned the top spot last year in her first season as a starter and is working hard in the offseason to stay in that slot. Seniors Alizabeth Dinsmore and Natalie Narkiewiecz played first doubles together and reached the final of the Burlington County Open. Narkiewiecz also saw time at singles and should contend for a starting spot this year. Junior Tori Felt played second doubles and seniors Taryn Atmore and Gabrielle Bingemann also saw regular action at doubles last year and will vie for starting positions.
OUTLOOK: A sectional finalist in 2012 and 2013, Seneca posted a 17-7 record last year and reached the quarterfinals with a young squad. With a year of varsity experience under their belts, it wouldn't be surprising if the Golden Eagles make a longer playoff run this fall.
Shawnee Renegades
Players to watch: Junior Caleigh Masterman is one of three returning starters and should once again lead the way for Shawnee. She has filled the first singles spot in each of her first two seasons and was an all-conference first-teamer in 2014. Sophomore Hadley Miller is another young standout who played third singles as a rookie. Allison Jones is a key senior who played first doubles last year, earning all-South Jersey honors. Sophomore Natalie Fisher saw varsity time as a freshman and could be ready to move into the starting lineup.
OUTLOOK: The Renegades graduated some important players from a 15-6 team that reached the sectional semifinals, but they have the young talent to remain competitive.
Washington Township Minutemaids
Players to watch: Corri Calandra, a senior who spent most of last season at second singles, is one of the key returners for the Minutemaids, who bring back four starters. Senior Ai-Hue Nguyen was a starter at doubles and also broke into the singles lineup late in the season. Seniors Olivia Curcio and Allie Gorman also started at doubles and could compete for starting singles spots. Juniors Ashley Basat and Aurelia DelRossi are varsity returners who will look to take on bigger roles.
OUTLOOK: The Minutemaids won some close matches down the stretch last year to finish with a 10-9-1 record. They have the potential to make it back-to-back winning seasons.
Click here for team schedules.
Published (and copyrighted) in Suburban Family's High School Fall Sports Preview, July, 2015.
For more info on Suburban Family Magazine, click here.
For information about advertising in Suburban Family Magazine, click here.
To find out where to pick up your copy of Suburban Family Magazine, click here.