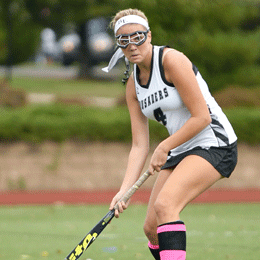 Field Hockey
Bishop Eustace Crusaders
Players to watch: The Crusaders have an outstanding returning core from a successful team, including junior standouts Drew Pecora and Erin Quinn (pictured). Pecora, a midfielder, had 16 goals and 18 assists on her way to all-conference first-team and all-South Jersey second-team honors. Quinn, a forward, had 20 goals and 17 assists and joined Pecora on the all-conference first team while garnering all-South Jersey third-team recognition. Juniors Amanda Manuola (19 goals, 13 assists) and Alexis DiGennero (14 goals, eight assists) were also all-conference, and senior forward Ally Criscuolo (14 goals, nine assists) is yet another offensive threat. Junior Ashley Conklin is an important returner on defense and junior Brenna Miller and sophomore Sierra Nasoff will compete for minutes in the cage. Other returners are seniors Maddie Saldutti, Gabrielle Murabito and Sarah Keane; and sophomores Kerry Monaghan and Julia Radley.
OUTLOOK: The Crusaders' memorable 2014 campaign included a 16-5 record, the Non-Public South championship and a trip to the state final. With their juniors leading the way, they'll look to get back to the final and finish the job.
Camden Catholic Fighting Irish
Players to watch: Senior back/midfielder Kelli Connolly is one of the most talented players in South Jersey and the team leader for Camden Catholic. She is a four-year starter who has made the all-conference first team every season of her career, including last year, when she had a team-high 10 goals and 14 assists. She was also an all-South Jersey first-teamer. Sophomore midfielder Saige-Lyn Gidzinski is also an important returner who scored nine goals in an all-conference rookie year. Junior Erin Campbell had eight goals and is another returning offensive threat. Juniors Brett Michelle Hardy and Caroline Smith and senior Tejpreet Ghuman are key players on defense, and sophomore Camille Pottillo is the starting goalie. Other returning seniors are Lexi Miller, Chloe Pottillo, Dana Surgner and Nicole Surgner. The junior class includes Emily Berry, Alison Brennan, Alessandra Kinney Ferraro, Tasha Nickoloff, Madison North, Olivia Thompson and Cecilia Ann Wiggington. Erin Wilson started last year as a freshman and is joined by fellow sophomores Katie Cornelius, Karlie Alexis Deeck, Suzanne Poloshock and Emily Powell. Rebecca Johns is another returning sophomore who is hoping to play this year despite an injury.
OUTLOOK: The Irish started slow last fall but won five of their last six games to finish with a 9-11 record. Connolly will attempt to lead them back to a winning record in her final season.
Cherokee Chiefs
Players to watch: Cherokee brings back a lot of offensive talent, including senior forward Brooke Yarsinsky, an all-conference second-teamer who led the squad with 18 goals. Victoria Rawden is another senior forward who had six goals, while the Chiefs are excited about a pair of sophomore forwards who had strong rookie seasons: Gab Bodine (nine goals, seven assists) and Christina Orio (six goals, seven assists). Senior Tara Zeuli and junior Lilly Fox are returning starters in the midfield and seniors Bec Moretti and Lucia Donia provide depth at forward. The defense was hit hard by graduation and will have a new look after losing all-South Jersey first-team goalie Sam Rubin, third-team back Lily Feldman and two other starters. Junior Joelle Walsh is the lone returning starter on defense while senior Samantha Waldman is also an experienced back, and senior Brooke Wasco will attempt to take over as the No. 1 goalie. Other players looking to contribute are juniors Sierra Keller and Katie Kopper.
OUTLOOK: The Chiefs' terrific 2014 season included a berth in the Central Jersey Group IV title game—where they dropped a tough 1-0 loss to Freehold Township—and a 12-9-1 record. They graduated a number of key seniors but have the talent to remain competitive.
Cherry Hill East Cougars
Players to watch: The Cougars have a solid group of seniors to build around, including forwards Dani Dunoff and Charlotte Montgomery. Other key seniors are Renee Powers in the midfield and Olivia Mayo on defense. Senior Zoe Peterzell is an experienced goalie who will look to become the full-time starter after the graduation of all-conference second-teamer Kelsea Kenniff. Other returning seniors are forward Olivia Johnson, midfielder Emily Mosgowsky and defenders Karalyn D'Alessandro, Bernadette Davis and Sydney Sheppard. Shannon Reiss is a sophomore who contributes in the midfield and looks to be a solid returning player.
OUTLOOK: The Cougars hope to improve on last year's 2-15 record with a strong veteran presence.
Cherry Hill West Lions
Players to watch: Almost the entire roster returns for the Lions, who graduated just two seniors from last year's team. Senior Ciara Brickner led the team with three goals and two assists and senior Anne Mullarkey had a solid season in the cage. Seniors Hannah Johnston and Gianna Ummarino are other important returners. Other players who should contribute are seniors Madison Bruhn, Colleen Clancy, Angelina Chiazza, Delaney McQuade, Alyssa Riess and Laura Versace; juniors Tori Injaian and Abby Spencer; and sophomores Julia Clancy, Keriann Dignan, Kylie Judge and Shannon Meloche.
OUTLOOK: The Lions suffered through an 0-20 season in 2014 but are certain to show progress this fall.
Clearview Pioneers
Players to watch: Chandler McFeeley is coming off a breakout sophomore season and will be the leader for the Pioneers. The junior midfielder had a team-high 25 goals and eight assists and earned all-South Jersey second-team and all-conference first-team honors. McFeeley also made the Junior Olympic team last summer and has committed to Drexel on a full scholarship. Clearview also brings back high-scoring forwards in senior Rebecca Redington (nine goals, seven assists) and junior Rachel Lanzalotti (eight goals, four assists). Seniors Shelby Schofftstall and Morgan Moore are important pieces of the defense, but the Pioneers must break in a new goalie after the graduation of Michaela Counsellor. Other players looking to make an impact are sophomores Claire Eisenhart, Gabby Glavin, Haley Plitt and Jill Verrelle.
OUTLOOK: Last fall was another successful campaign for the Pioneers, who finished with a 15-5-1 record—with four of the losses coming by one goal. They should be a division championship contender this year.
Eastern Vikings
Players to watch: It's a new era at Eastern after the graduation of a one-of-a-kind talent like Austyn Cuneo. The two-time state player of the year scored 95 goals as a senior, increasing her national career record to 328. She scored in every game of her career and did not suffer a single loss. While there is clearly no replacing Cuneo, Eastern as usual has the makings of a special season thanks to returners like senior midfielder Madison Morano. A Penn State recruit, Morano had 26 goals and 23 assists to garner all-state first-team, all-South Jersey first-team and all-conference first-team accolades. Senior forward Nikki Santore started varsity for the first time last year and responded with 53 goals and a team-high 37 assists. She was all-state second team, all-South Jersey first team and all-conference first team. Yet another high-scoring forward who returns is junior Mackenzie Keegan, an all-state third-teamer who recorded 36 goals and 13 assists. The defense is paced by all-state second-team and all-South Jersey first-team selection Alanna Gollotto, who helped the Vikings post 16 shutouts and also contributed 10 goals and four assists. All-South Jersey second-teamer Alexis Pettisani, a junior, and third-teamer Kristina Castagnola, a senior, are also back on defense, and junior Cassie Kincaid returns as the starting goalie. Junior midfielders Ashley Thomas and Kasey Quicksill and sophomore midfielder Jessica Maute are other important returners.
OUTLOOK: The Vikings posted another undefeated season in 2014, as they finished 27-0 to run their unbeaten streak to 106 games. They also claimed their 16th straight state championship and sixth Tournament of Champions title in eight years. Despite the loss of Cuneo, expect Eastern to remain among the state's elite teams.
Gloucester Catholic Rams
Players to watch: The Rams bring back some offensive firepower in senior forwards Megan Dyson, who led the team with nine goals, and Megan Barth, who added five goals and one assist. Junior forward Kaleigh Frampton and junior midfielder Emma Burns are also dangerous offensive players. Senior Allison Laskowski is coming off a strong season in the cage, and other returning starters include senior back MaryKate Kane and junior midfielders Samantha Heister and Allison Driscoll. Senior forward Jessica Fronckowiak will also look to have an impact.
OUTLOOK: The Rams had a strong 8-8-2 season in 2014, increasing their win total by five games over the year before. This year they'll shoot for a winning record.
Haddonfield Bulldawgs
Players to watch: Haddonfield has a promising core returning led by juniors Meghan Smart, a midfielder, and Caroline Bickel, a forward, who were both all-conference players a year ago. They each scored 19 goals to share the team-high, with Smart (an all-South Jersey second-teamer) adding 13 assists and Bickel seven. But they're not the only scoring threats, as sophomore back Sophie Popp had 15 goals and junior forward Kayla Warner tallied 11. Midfielders Suzie Clark (four goals, four assists), a senior who has committed to Villanova, and Jamie McCormick (five goals), a sophomore, also contribute to the attack along with senior forward Ana Buzzerd. The defense graduated some key pieces but does return starting goalie Sophie Alberts, a senior. Other returners include seniors Gabby Battino and Julia Bennett; juniors Nicolette Barranger, Emma Feldhake, Elizabeth Kolaski and Alex Schwab; and sophomores Julia Battino and Olivia Conquest.
OUTLOOK: The Bulldawgs finished with a 13-7-1 record after a tough loss to Maple Shade in sudden death strokes in the sectional quarterfinals. They seem to hit double-digit wins every season and this fall should be no different.
Kingsway Dragons
Players to watch: Although the Dragons graduated their top two scorers, there are still a number of offensive threats on the roster, including senior midfielder Celeste Azzari, who had eight goals in 2014. Senior forwards Nicole Tuller (six goals, three assists), Sophia Casella (five goals, seven assists) and Taylor Acevedo will also lead the offense. Senior goalie Sydni Young is back as the starter and senior Lindsay Miller is one of the key defenders in front of her. Returning midfielders include seniors Amber Damask and Kyra Traino and juniors Ashley Davis, Taylor Sweeney, Rachel Zeck and Victoria Mbakwe.
OUTLOOK: The Dragons went 13-6 last year and reached the sectional quarterfinals. This is one of the top programs in the Tri-County Conference and you can pencil Kingsway in for another winning season in 2015.
Lenape Indians
Players to watch: Lenape graduated its top three scorers, including top overall player Kaity McKenna, but does have valuable pieces returning on defense. The backs include seniors Jackie Peditto—an all-conference second-teamer—Shannon O'Donnell, Gabby DeFilippo and Katie Mulligan, while senior Kelsey Pautz and junior Darby Randall split time in the cage. Offensively, important players are senior Julia Rosenblatt (three goals) and sophomore Caroline McKenna (four goals), who scored in both of the Indians' playoff games. Juniors Liz Mercado and Kristen Viggiano also return, and Lenape is optimistic about the level of talent moving up from last year's freshman team, as several sophomores are expected to break into the starting lineup. An important matchup to watch is the Fifth Annual Breast Cancer Awareness Game against Cherokee in October, with the rivals teaming up to raise money for the Susan G. Komen Foundation.
OUTLOOK: While the Indians suffered key losses to graduation, there is a solid nucleus returning and they will look to improve on an 8-13 record.
Moorestown Quakers
Players to watch: Moorestown said goodbye to 18 seniors from last year's team, including three all-South Jersey players. While that class will be impossible to replace, this year's team has a strong foundation built around senior defenders Susan Orth and Grace Kuszmaul, who were both all-conference selections in 2014. Orth, who was also an all-South Jersey third-teamer, had six goals and eight assists, while Kuszmaul added five goals and five assists. Sophomore forward Avery Powell earned a starting spot as a freshman and will look to take on an even bigger role after recording 15 goals and 14 assists. Juniors Erin McIlhenny (five goals, three assists) and Nicki Dadino (two goals) and senior forward Ally Darmo are also offensive contributors, and senior Jade Duffield will make her first appearance with the varsity squad. The Quakers also bring back juniors Clare Craven, Lizzy Ehrline, Jessica Goralski, Julia Graham, Clare McGreevy and Kaitlyn Valentino, who will all play important varsity roles.
OUTLOOK: The Quakers went 18-3 and claimed their third sectional championship in the last four years before ending their season with a 1-0 loss to Ocean City in the state semifinals. A lot of key spots must be filled, but count on Moorestown to be a contender once again.
Moorestown Friends Foxes
Players to watch: Moorestown Friends is led by junior Katy Repholz, a starter since her freshman year who scored a team-high 15 goals in 2014. Repholz also had three assists on her way to all-Friends League honors. Senior Rylee Fennell was also a league all-star after recording seven goals and six assists. Sophomore Amanda Cooper added seven goals and four assists as a rookie and senior Georgia Gray had a strong season as the starting goalie. Other returners include seniors Rachel Brown and Emily Herman; juniors Camille Aguilar and Daniella Spector; and sophomores Erin Fennell, Kayleigh Schweiker and Isabella Pillows.
OUTLOOK: Moorestown Friends is coming off a memorable 14-6-1 season that included the program's first sectional title and a trip to the state final. It will be exciting to see what the Foxes do for an encore.
Paul VI Eagles
Players to watch: The Paul VI offense has a dynamic duo in all-conference first-team forwards Breck Urban, a senior, and Natalie Burns, a junior. They shared the team lead with 15 goals last season, and Urban also added 14 assists. That pair will be a handful for opposing defenses this season. Junior Kelly Murphy, a three-year varsity player, is back as the starting goalie. The Eagles also bring back senior midfielders Megan Carty and Abbey Lord. Other players who will make an impact are juniors Marie Green, Kathleen Murphy, Liz Rizzo and Abbey Sheilds.
OUTLOOK: This program has grown by leaps and bounds in a short time, going from 2-17-1 in 2012 to 15-6 last year, when they advanced to the Non-Public South semifinals. It will be exciting to see what the Eagles can accomplish this fall.
Seneca Golden Eagles
Players to watch: There is plenty to be excited about at Seneca, which brings back several key seniors as well as four sophomores who contributed on varsity as freshmen. Sophomore midfielder Abigail Regn was an all-conference first-teamer and speedy sophomore forward Samantha Derkas led the squad with 12 goals. Kasey Mitchell was also a freshman starter and fellow sophomore returner Kaitlyn Birnbohm-Kaminski provided a spark off the bench. The senior leadership comes from forward/midfielder Kate Taylor, who scored 11 goals, and defenders Sydney Malave, an all-conference first-teamer, and Ashley Moore. Junior Erin Donnelly is another returning defender, although the Golden Eagles graduated both of their experienced goalies and will have to find a new stalwart in the cage. Other players who will look to have an impact are seniors Jessica Raffo and Kathleen Iannotta; and juniors Kate Bradshaw, Sarah Hann, Aubrey Hansen, Abigayle Lennox and Kali Speer.
OUTLOOK: Despite fading down the stretch in 2014—they lost their last five games, including an overtime defeat in the playoffs—the Golden Eagles finished with a winning record of 9-8-1. The future looks bright for the program.
Shawnee Renegades
Players to watch: While Shawnee won't be able to replace all-state second-teamer and leading scorer Julie Duncan, who graduated, the offense does have a dangerous scorer in junior forward Sabrina Solomen. A varsity player since her freshman year, Solomen had 14 goals and 11 assists in 2014 and earned all-conference second-team honors. Other key players on offense are senior forwards Bridget Boyle (all-conference second team) and Katarina Watson (four goals) and junior forward Colette Euksuzian (five goals, five assists). Defensively, senior back Krista Hoffman was an all-conference first-teamer who had four goals and nine assists and junior Gianna Mancini added five goals and four assists. Seniors Kathryn Thompson and Darby Baliga are also back on defense. Other key returners are junior defender Rachel Winiarczyk and sophomore midfielders Olivia Drea and Ashley Wetzel.
OUTLOOK: The Renegades seem to win at least a dozen games and make a playoff run every season, including last year when they went 14-5-1 and reached the sectional semifinals. Look for more of the same this fall.
Washington Township Minutemaids
Players to watch: The Minutemaids are paced by an outstanding senior class that includes five returning starters. Leading the way are senior midfielders Colleen McAninley and Jenna Patrone, both four-year varsity players who were named to the all-conference first team in 2014. McAninley had 13 goals and 14 assists and was also all-South Jersey third team, and Patrone scored 15 goals to go with eight assists. Senior forwards Iris Schuck (eight assists) and Carly Kreitzer (four assists) each had 15 goals to share the team lead with Patrone, and senior defender Kate Schuck was an all-conference first-teamer. The Minutemaids graduated both of their varsity goalies, but junior Natalie Ricevuto will have an opportunity to take over as the starter. Other returners looking to take on bigger roles are senior Brooke Smith and junior Alyssa Sciorillo.
OUTLOOK: Washington Township was one of the top teams in South Jersey last fall, when it posted a 15-4-1 record. The Minutemaids were hit hard by graduation, but if they can fill in the spots around the five senior leaders, they have the makings for another successful season.
Click here for team schedules.
Published (and copyrighted) in Suburban Family's High School Fall Sports Preview, July, 2015.
For more info on Suburban Family Magazine, click here.
For information about advertising in Suburban Family Magazine, click here.
To find out where to pick up your copy of Suburban Family Magazine, click here.