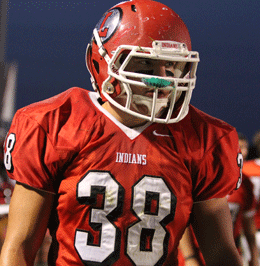 Football
Bishop Eustace Crusaders
Players to watch: The Bishop Eustace offense will have a completely different look after the graduation of its starting quarterback, running back and top four receivers. Junior Kevin Brandt is the likely starter at QB after earning Offensive Player of the Year honors for the Crusaders' JV team and serving as the varsity backup in 2014. He'll have help from experienced senior running backs Kevin Lammers (three touchdowns), Robert Dunn (two TDs) and Wesley Payne, while junior CJ Basso is another returning back who should contribute. The possible receiving threats include seniors Thomas Dewitt, a wideout, and Matt Klitchko, a tight end; juniors Jeff Love and Jesse Flax; and sophomore Blake Hansen, the freshman team's Offensive Player of the Year. Captain Trevor McDade and fellow senior Lucas Franz are key players on the offensive line, and senior Jason Stott, sophomore Andrew Klitchko and juniors Michael Snyder and Spencer Wilkins could also challenge for starting spots. The defense is led by linebackers Dunn (43 tackles, two sacks, three fumble recoveries), Payne (49 tackles, nine tackles for loss, two forced fumbles) and senior Jack Smith (six sacks). Franz and Matt Klitchko are important players on the defensive line and Lammers is a returning defensive back. Senior kicker Trystin Golowski is back after making all five of his field goal attempts and 21 of 23 extra points.
Outlook: The Crusaders jumped out to a 5-0 start last fall but dropped their final five games to finish with a .500 record. They have a lot to replace, especially at the skill positions, but hope to remain competitive.
Camden Catholic Fighting Irish
Players to watch: The Irish return two terrific players from an offense that averaged almost 40 points per game last year. Senior quarterback Tyree Rodgers threw for over 1,800 yards and 20 touchdowns in his first year as the starter and added 297 yards and three TDs on the ground. He was joined on the all-conference first team by wide receiver Jamal Parker, a senior who is receiving Division I college interest. Parker had 31 catches and 12 total touchdowns last fall, including five on kickoff or punt returns. Junior Nazir Streater and senior Jordan Jefferson will be in contention for the starting running back spot, and senior Anthony Richardson is another experienced receiver who caught 22 balls for 374 yards and two TDs last year. On defense, Camden Catholic brings back senior linemen Jake Stillings (six sacks) and Nick Reyes (31 tackles, two sacks, forced fumble). Junior Tyler Romano (30 tackles, two interceptions) and Jefferson are returning linebackers and senior Joe Hahn (44 tackles, sack, forced fumble) joins Parker as a returner in the secondary.
Outlook: The Irish went 8-2 in Nick Strom's first season as head coach, doubling their win total from the year before. With Rodgers and Parker leading a dynamic offense, another big season is in order.
Cherokee Chiefs
Players to watch: Senior Evan Powell returns as the starting quarterback to lead a talented Cherokee offense. In his first year as the starter, Powell threw for 624 yards and eight touchdowns and ran for 598 yards and seven more scores. Junior Jon Lovett should take over as the lead back after receiving all-conference second-team honors. He came on strong at the end of last season and finished with seven touchdowns. Senior Mike Faunt will also get carries, junior Connor Ashton will contribute at either H-back or receiver, and junior tight end Stephen Gervasi is one of the top receiving targets. All-conference second-teamer Mike Kringler, a senior, anchors the offensive line. Powell, a Division I recruit, is also the leader of the defense from his linebacker position. He had 120 tackles, 13.5 tackles for loss, two sacks and two interceptions on his way to all-South Jersey and all-conference first-team recognition. Ashton will play a big role in the secondary.
Outlook: The Chiefs won their final six games in 2014 to finish 9-3 and capture their second straight South Jersey Group V championship. They have spots to fill on both sides of the ball but should remain among the elite in South Jersey.
Cherry Hill East Cougars
Players to watch: Last year's team MVP, senior wide receiver/defensive back Vinny Guckin, headlines a solid group of returners for Cherry Hill East. Guckin led the team in receptions and was named all-conference first team on offense. He'll have a new quarterback throwing to him after the graduation of three-year starter Brandon Stern; senior Justin Garth and sophomore Nick Patrizi are two of the leading candidates to become the new starter. Junior running back Miles McLeod returns after an all-conference second-team season, and junior Jay-Jay Vaughters will also get a lot of carries. They'll be running behind all-conference first-team lineman John Lass, a senior, and second-teamer Ryan Swenson, a junior. Other receiving threats are senior Jordan Clark and juniors Josh Santana and Frankie Petalino. Clark is back in the secondary and leads the defense after earning team defensive MVP and all-conference second-team honors. He is joined in the defensive backfield by junior cornerback Josiah LeBrun. Swenson, Lass and senior Eric Purcell are returners up front and Vaughters is a returning linebacker.
Outlook: The Cougars were more competitive than their 1-9 record from last fall suggests, and with a lot of key players back on both sides of the ball they hope to add a few more victories this season.
Cherry Hill West Lions
Players to watch: The Lions have some big shoes to fill on offense but have a terrific core returning on the other side of the ball, including five all-conference players. Senior linebacker James Potts was among West's leading tacklers and made the all-conference first team along with senior defensive back Quincy Jenkins. Junior Sameer Parks was a disruptive force on the defensive line and was rewarded with all-conference second-team recognition along with senior linebacker Henry Ensley and junior defensive back Harrison Hand. Other key returners on defense include junior linemen Nick Alberto and George Vyzaniaris and senior linebacker Dean Bongiovanni. West also welcomes defensive tackle Lorenzo Hernandez, a 6-foot-1, 220-pound junior transfer who was an all-conference player at The Walker School in Georgia. Offensively, the Lions must replace their starting quarterback, leading rusher, No. 1 receiver and best lineman. The good news is that Hand and Jenkins are excellent receiving options, while Alberto and Ensley are experienced backs. Senior Andrew Valentin will battle for the starting QB spot, and Vyzaniaris is coming off an all-conference second-team season on the O-line.
Outlook: The Lions got off to an 0-4 start in 2014 against a difficult schedule, but rebounded to win four of their last five games. They should contend for a winning record again behind their defense.
Clearview Pioneers
Players to watch: Clearview suffered heavy losses to graduation, as nine all-conference players have moved on. One of the key players back on offense is junior running back Gyair Sharper, who should be ready for a leading role after learning under offensive stars Joseph Coles and Nahir Nelson last year. Seniors Isaac Murphy, Ryan Camp and Ta'hee Shields will also battle for carries out of the backfield. Seniors Austin Lee and Clint Matthew and junior Jarret Baker will compete to take over as starting quarterback, and the Pioneers will be breaking in new starting receivers as well. Seniors Jared Gallagher, Jackson Love, Matt Bartholomew and Vito Nucci are key players on both the offensive and defensive lines, and the defense also features linebackers Carmen Rabottino, a senior, and Jake Welischek, a junior. Senior Larry Eimer returns as the kicker and punter.
Outlook: The Pioneers' 4-6 season in 2014 included a heart-breaking 15-12 loss to rival Kingsway in the first round of the Group IV playoffs. It will be a tall task to return to the postseason this year, but you can always expect hard-nosed football from Clearview.
Eastern Vikings
Players to watch: Zach White, a 6-foot-2 junior with a big arm, saw action in six games last year and appears ready to take over as the full-time starting quarterback. He'll have help from junior running back Tony Dandridge Jr., Eastern's leading rusher a year ago. White's receiving targets include senior wide receiver Alex Clendenon, while senior Jacob Gruber, an all-conference second-teamer, is an important piece of the offensive line at left tackle. Gruber also returns to the defensive line along with all-conference second-teamer Amari Graham, a senior, and John Shaw, a junior. The Vikings have high expectations for junior defensive back Shaun Davis and senior linebacker Darius McKenzie.
Outlook: The Vikings struggled to a 1-9 season a year after playing for a sectional championship. It will be interesting to see them progress this fall with White getting a full season as the starter.
Gloucester Catholic Rams
Players to watch: The Rams had a lot of first-year varsity players gain valuable experience last year, including quarterbacks Brandon Cunningham, a senior, and Chris Garwood, a junior. Juniors Colin Corrado and Neil McGee both return at running back and should be in line for most of the carries. Junior Santino Capone emerged as a key receiving threat last year and will look to become the No. 1 target. Junior Christian Holmes is also a returning starter at receiver and the Rams have high hopes for sophomore receiver Matt Gray. Senior Zach Sheehan, a three-year starter, is back on the offensive line as well as the defensive line. Junior Jake Medica is a returning two-way starter at guard and linebacker, while McGee contributes at linebacker and Corrado, Holmes and Capone are also defensive backs.
Outlook: After struggling through a winless season in 2014, the Rams are slowly trying to build the foundation for a winning program.
Haddonfield Bulldawgs
Players to watch: Haddonfield graduated a special senior class that helped the program win 18 straight games and two sectional titles over the last two seasons. But there are a handful of key returning starters and a group of youngsters hungry to earn positions. Senior Tommy Kadar, a standout on defense, appears to be in line to take over as the starting quarterback after the graduation of Mike Alberto. The Bulldawgs' tremendous running game lost its top three rushers, but players seeking bigger roles include seniors Joe Murray and Frankie Meeteer and juniors Justin Gallo and Joe Ellis. Senior Frank Fortino is a three-year starter on the offensive line and senior lineman Jake Walter is also back. Walter, a defensive lineman who had 52 tackles and eight sacks, and Kadar, a defensive back who picked off four passes, made the all-conference first team and are the key returners for a defense that allowed just 5.5 points per game. Fortino (63 tackles, three sacks) leads the linebacking corps and other impact players include junior defensive end Brandon Gilmartin and senior lineman Jack Melendes. A key player on special teams is senior kicker Drew Tomlinson, who made all six of his field goal attempts last year.
Outlook: Haddonfield won't be at the same level as last season—when it compiled a perfect 12-0 record and rolled to the South Jersey Group II title—but don't expect the program to slip too much.
Kingsway Dragons
Players to watch: Long-time Kingsway coach Tony Barchuk always seems to find a talented running back to plug into his system, and junior Anthony Seas is the latest to fill the role. Seas, who has great burst and vision, emerged as the Dragons' workhorse last year and responded with over 1,100 yards and 11 touchdowns on the ground to earn all-conference second-team honors. But he's not alone in the backfield, as senior Sean Samuels—who entered last year as the starter—returns after missing most of the season with an injury. He is receiving heavy college interest and could also be used at receiver. Senior Jay Scerbo, more of a power runner, will also get carries behind an experienced offensive line that includes senior tackles Faheem Davis and Arlen LaRue, senior center Gabe Lombardi and junior guard John Dormann. Kingsway must find a new starter at quarterback after the graduation of Anthony Dilks, and the candidates include senior PJ Crescenzo and sophomore Pete Orio. Senior Shaune Oates is expected to be one of the leading targets at wide receiver. Defensively, the Dragons graduated star lineman Denzel Polk but bring back senior linebackers Scerbo, an all-conference first-team linebacker, and Chase Matthews, who sealed a playoff win over Clearview with a late interception. Athletic linemen Atin Spells and Wale Mustafa and defensive back Jamal McPherson, all seniors, are also back on defense.
Outlook: The Dragons won six of their final seven games in 2014, with the only loss coming by three points to Timber Creek in the sectional semifinals. It looks like another winning season is on the horizon.
Lenape Indians
Players to watch: Lenape's(pictured) memorable 2014 campaign was fueled by the senior class, so this year's team will have a new look, especially on offense, which graduated four all-conference first-teamers. Senior Bryce Long will look to step into the starting quarterback position after appearing in four games last year and rushing for two touchdowns. The backs battling for carries will be seniors Conor Gaffney and Ryan Shuts, junior Kenya Williams and sophomore Joseph Kellum. Senior Josh Flowers had three TD catches last season and leads a receiving corps that includes senior tight end Cole Keyes and junior wide receiver Mike Doulong. Junior Tyler Steffa returns to the offensive line and others expected to battle for spots are seniors Conor Brady, Mike Boyer and Kevin Darakashan and junior Julian Singh. The defense is paced by returning all-conference first-teamers Boyer, a senior lineman, and Shuts, a defensive back. Other returning starters on defense are Keyes and Gaffney at linebacker; and Flowers, Doulong and senior Jared Erlanger in the secondary. Junior Tim Montgomery also has experience at safety, and senior defensive back Jordan Davis returns to the program after spending last year at a school in Virginia. Shuts is a standout returner on special teams, although the Indians must find a new kicker after the graduation of Jarry Jones, an all-South Jersey selection. Varsity newcomers who could contribute on both the offensive and defensive lines are sophomores Aaron Acosta, Touron Fischer and Uthman Bruce.
Outlook: Lenape arrived as a South Jersey power with the best season in school history last fall, as it went 9-1 and won the West Jersey Football League Colonial Division title. The Indians also defeated district rivals Cherokee and Shawnee, who both won sectional championships. Although it will be difficult to duplicate that success after losing so many seniors, the next step is to become a consistent winning team.
Moorestown Quakers
Players to watch: Unlike many area teams, Moorestown has the advantage of having a veteran quarterback leading its offense. Senior Mike DiMarino enters his third year as the starter after throwing for over 1,200 yards and nine touchdowns last year. His experience will be crucial as the Quakers break in a new lead running back. Junior Brandon Outlaw scored two TDs as a sophomore and could be ready for the job, while seniors Brandon Moreland and Niles Turner will also battle for carries. Senior Skyler Clark is back at wide receiver and experienced offensive linemen include seniors Nick Polich, Jake Rodier and Erik Witkowski. The defense is led by Turner, a four-year starter on the line and all-conference first-teamer in 2014 who had 13 tackles for loss in just five games; and senior linebacker Kyle Blaskovich, who was second on the team with 75 tackles.
Outlook: The Quakers struggled to a 1-9 record in a rare down season, but it wouldn't be surprising to see them bounce back this fall.
Paul VI Eagles
Players to watch: Although wide receiver Irv Charles has moved on to Penn State, the Paul VI offense still returns several sensational skill-position players. Seniors Lonnie Moore and Stefon Moore-Green each rushed for over 500 yards and four touchdowns to earn all-conference first-team honors. Moore, a Division I recruit, also had 35 catches for 739 yards and six TDs; and Moore-Green added 20 receptions, five for TDs. Senior Matt Vitale will again be throwing to them as he returns for his second season as the starting quarterback. Vitale threw for 1,570 yards and 21 TDs last year with just four interceptions. Seniors Gavin Sentak and Chris Randle are returning running backs, and the wide receivers include senior Kevin Fields and junior Erick Robertson. The O-line is anchored by senior Darrin DiLauro, an all-conference first-teamer, and junior Thomas Wardle, an all-conference second-teamer. The defense is similarly stacked with playmakers and is led by all-conference first-team selections James Weathers, a senior defensive end who had seven sacks, and Fields, a linebacker who had 49 tackles. Senior tackle Michael Johnson, senior linebacker John Santini and junior defensive back Elvis Hines, a Division I recruit, all made the all-conference second team. Other returners on defense are DiLauro and Wardle on the line, Ivy League recruit Sentak at linebacker and Moore in the secondary. Sentak is also an all-conference kicker.
Outlook: The Eagles' 6-4 season in 2014 featured a perfect 5-0 mark in the WJFL Constitution Division. They look like serious contenders to make it two straight division titles.
Seneca Golden Eagles
Players to watch: Seneca is excited about the return of several key offensive players, starting with senior running back Sam Pawlikowski. The all-conference first-team selection was the Golden Eagles' leading rusher, ran for six touchdowns and is primed for a terrific finish to his high school career. Also back is starting QB J.J. Scarpello, who threw for eight TDs and ran for two more in his first season as the full-time starter. The junior was rewarded with all-conference second-team recognition. Senior Sam Jordan also returns at running back and the top targets for Scarpello are senior wide receivers Wyatt Thomas and Roosevelt Jordan and senior tight end Taylor Rosales. Senior Jon Kornacki, an all-conference first-teamer, leads the offensive line. On defense, all-conference second-teamer Frank Caterina, a senior, and Pawlikowski rack up the tackles from their linebacker positions. Senior lineman Kasey Szymanek and Sam Jordan, a defensive back, also made the all-conference second team.
Outlook: With Pawlikowski leading the way and Scarpello firmly entrenched as the starter, the Golden Eagles hope to challenge for a winning record after finishing 3-7 in 2014.
Shawnee Renegades
Players to watch: Shawnee graduated a ton of talent, including three all-South Jersey players and 13 all-conference players. But an important piece who does return is senior quarterback Mike Welsh, a three-year starter who made the all-conference first team in 2014. Welsh can hurt defenses with his arm—he threw for almost 1,700 yards and 15 touchdowns last year—as well as his legs, as he added 396 yards and 13 TDs on the ground. His main target will be senior wide receiver Anthony Mague, an all-conference first-teamer and all-South Jersey second-teamer who had 41 catches for 732 yards and five TDs. Senior Mike Githens, who averaged 6.31 yards per carry last year, should take over as the featured back after the graduation of Jake Parola, and junior Dan Wigley should also get carries. The O-line must replace three all-conference players and will welcome in several new starters, but does have experienced seniors Matt Russo at center and 6-foot-3, 225-pounder Kevin Gault, who played guard and tackle last year. Defensively, senior lineman David Gajderowicz—a four-year starter—is an important returner who had 70 tackles and 10 sacks in an all-conference second-team season. Other returning starters are senior end John Tabor, senior defensive back Max Pukenas and Russo at linebacker. Junior linebacker Jax Luzinski, senior linebackers Mague, Brett Koerner and Mike Casey and senior end Will Kane will also contribute.
Outlook: The Renegades claimed their second straight sectional championship in a near-perfect season that ended at 11-1. Despite major roster changes, expect Welsh and the other returners to keep them competitive.
Washington Township Minutemen
Players to watch: Washington Township saw a lot of juniors and underclassmen earn valuable varsity experience last year, and it should pay off this fall. At the top of that list is junior quarterback Michael Piperno, who grabbed the starting spot in the fourth game of 2014. He threw eight touchdown passes and ran for three scores in seven starts. Senior running back Mike McKeever will get plenty of carries in the Minutemen's Wing-T offense, while the top receiving threats are senior slot receiver Nick Grosso (20 catches, three TDs) and senior wide receivers Najee Wilson and Justin Ortiz. Dave Grosmick, an all-conference second-teamer, highlights the offensive line returners along with senior left tackle Jake Piccoli, a 6-foot-2, 300-pounder with good feet. Junior Austin Hacking will also contribute on the line after moving from running back to guard. Senior linebacker James Merrill led Township with 71 tackles, six for a loss, and earned all-conference second-team honors. He leads a talented and deep linebacking corps that also includes McKeever, Grosso and seniors Matteo Murgia, Nick Becht and Kyle Bogacki. Grosmick and senior Danny Giaquinto are experienced returners on the D-line and seniors Charles Reamon, Dyllon Headley and Wilson are back in the secondary. Other players who appear ready for bigger roles are junior linebacker/wide receiver Ryan Brady, junior defensive back/slot receiver Seif Albarqawi and sophomore offensive and defensive lineman James Honey.
Outlook: The Minutemen struggled against a difficult schedule last year but have their most returning experience in a long time and are a good bet to improve on their 2-8 record.
Click here for team schedules.
Published (and copyrighted) in Suburban Family's High School Fall Sports Preview, July, 2015.
For more info on Suburban Family Magazine, click here.
For information about advertising in Suburban Family Magazine, click here.
To find out where to pick up your copy of Suburban Family Magazine, click here.