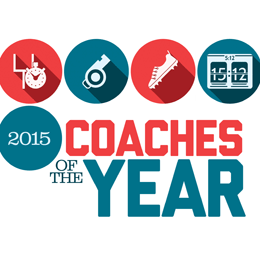 2015 Coaches of the Year
What makes a great coach, a great leader and a great role model for kids? And, most importantly, how do you recognize a coach like this when you have one in your midst?
All you have to do is look to the outstanding coaches of South Jersey sports to see exactly what a true leader looks like. These coaches not only have the skills and knowledge needed to help their respective teams find success, but something unique and special as well; they have the intangibles, that ineffable mixture of heart, determination and something more.
This year's Suburban Family Magazine Coaches of the Year will never be able to tell where their influence stops; the youth they teach today may carry their lessons over to the next generation.
Rob Reynolds
Marlton
Rob Reynolds and the Marlton Reds are starting to make tournament success an annual event. Reynolds has coached the youth baseball stars for the last four summers, and each year they seem to add another title or two to their collection. Last year they captured the ultimate crown, winning the Cal Ripken 10-year-old World Series in Winchester, Va. Marlton rolled past Southeast Lexington, Ky., 9-1, in the championship game to cap a 6-0 record in the World Series. The Reds advanced to nationals by winning the Middle Atlantic Regional, the second straight year they claimed a regional championship under Reynolds' direction.
Keith Harman
Moorestown
The 2014 season was a historic one for Keith Harman and his Moorestown Friends School girls soccer team. Not only did the Foxes finish with a 14-6-1 record—a nine-win improvement from the year before—but they also earned the first sectional championship in the 21-year history of the program when they won the South Jersey Non-Public B title. The Foxes defeated Gill St. Bernard's in the South Jersey final, 5-0, before coming up just short of the state championship in a 1-0 loss to Villa Walsh.
Jason Russo
Haddonfield
Jason Russo, a math teacher at Haddonfield High School and the Bulldawgs' highly successful girls track coach, had another outstanding campaign this past spring. Russo guided Haddonfield to its third Group II state championship in the last four years and seventh overall. His Bulldawgs have also won five sectional titles in the last six years and 17 total, a state record. Russo's accomplishments have not gone unnoticed, as he was named one of two New Jersey Coaches of the Year by the U.S. Track & Field and Cross Country Coaches Association in 2014. That honor also came with a nomination for the organization's first-ever National Coach of the Year Award.
Danyle Heilig
Voorhees
Danyle Heilig is known for demanding the best from her field hockey teams at Eastern Regional High School, and year in and year out, she gets it. Since taking over as head coach in 1999, she has turned the program into a national power, as the Vikings have been named the top team in the country in seven of those years. That includes this past fall, when Heilig led Eastern to its fourth straight undefeated season and 16th consecutive Group IV state championship. Her overall record—which includes one season at Haddon Heights—is an exceptional 403-10-9 and features a national record 153-game unbeaten streak. Heilig is also the president of the Field Hockey Club of South Jersey and a frequent contributor to camps and conventions.
Tim McAneney
Mount Laurel
Tim McAneney may have been a surprise hire as Lenape High School's head football coach back in 2011, considering he is not a teacher at the school. But it's easy to understand the decision now, after seeing the impact he has made with the Indians. The son of legendary former Pennsauken coach Vince McAneney, Tim McAneney is a football lifer who has breathed life into the program with his energy and enthusiasm. This past fall, he led Lenape to perhaps the best season in school history, as the Indians posted a 9-1 record and claimed the West Jersey Football League Colonial Division title, their first division championship since 1997. They also earned the No. 1 seed in the South Jersey Group V playoffs, but dropped a tough 19-10 loss to Toms River North in the first round. The season also included impressive wins over rivals Cherokee and Shawnee, who were both sectional champions.
Steve DePasquale
Deptford
With all the success he's enjoyed as the softball coach at Gloucester County College—now Rowan College at Gloucester County—it was only a matter of time before Steve DePasquale found himself in the school's sports hall of fame. That time came in December, when DePasquale headed the hall's induction class of six in a ceremony at Adelphia Restaurant. DePasquale entered the 2015 season with 622 career victories in 20 years, the most for a coach at the school in any sport. He also led the Roadrunners to back-to-back national championships in 2011 and 2012 and was named national coach of the year both years. DePasquale has coached 17 All-Americans in his tenure, including his daughter Danielle.
Nick Baker
Haddonfield
Nick Baker is one of those coaches who prefers to keep the spotlight on his athletes, but this past fall he just couldn't avoid it. One of the most accomplished cross country coaches in state history, Baker reached a career milestone when he earned his 300th victory at Haddonfield High School in September. Later in the season, he guided the Bulldawgs to the Group II state championship—the 14th of his storied career. Haddonfield also claimed its 11th straight sectional title and still has not lost a dual meet under Baker since 1997.
Kevin Meder
Mount Laurel
The Lenape High School girls soccer team seems to graduate some of the best players in South Jersey every year. Yet the Indians just keep on winning, and coach Kevin Meder is a big reason why. A Lenape graduate himself, Meder has led his alma mater to tremendous success in his 10 years as coach, and last fall he earned his 200th career win. Following the Indians' 19-3-3 season in 2014, his career record now stands at a sterling 210-22-13. He has also guided Lenape to eight straight sectional and South Jersey Coaches Association Tournament championships, and has five state titles on his resumé as well.
Chrissy McGovern
Medford
Chrissy McGovern enjoyed a very successful career as a high school and college basketball player, so it's really no surprise she's kept right on winning as a coach. In just two seasons as the head coach of the Shawnee High School girls basketball team, McGovern has already claimed two sectional championships. This past March, the Renegades repeated as South Jersey Group IV champs by beating rival Lenape in the final, 49-38. McGovern then guided them back to the state championship game, where they suffered a close 54-48 loss to Franklin to end a remarkable season with a 27-4 record. McGovern has compiled a 53-9 record in her two seasons.
Published (and copyrighted) in Suburban Family's High School Fall Sports Preview, July, 2015.
For more info on Suburban Family Magazine, click here.
For information about advertising in Suburban Family Magazine, click here.
To find out where to pick up your copy of Suburban Family Magazine, click here.