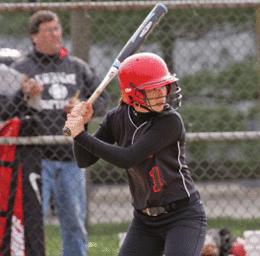 Softball
...From the pages of Suburban Family Magazine's Spring High School Sports Preview...
Bishop Eustace Crusaders
Players to watch: The graduation of all-South Jersey second-team shortstop Brianne Innamorato opens the door for sophomore first baseman/outfielder Kristi DiMeo to take over as the focal point of the Crusaders' lineup. All she did last year as a freshman was hit .527 with 12 doubles and two home runs on her way to team MVP and all-conference second-team honors. Fellow sophomore Alana Talvacchia also started as a freshman; the outfielder batted .367 and was all-conference second team. The Crusaders also welcome back senior second baseman Olivia LaRosa, an all-conference second-teamer, and experienced pitchers Rachael Romer, a senior, and Casey Kozak, a junior.
Outlook: The Crusaders finished with a 12-10 record in 2014—tripling their win total from the year before—and won a playoff game before falling in the South Jersey Non-Public A quarterfinals. They have the young talent in place to continue to make progress.
Camden Catholic Fighting Irish
Players to watch: Seniors Erin Dewechter, a hard-hitting first baseman, and Kyra Perez, an infielder who has played varsity since freshman year, lead the list of returners for the Fighting Irish, along with sophomore Sarah Byrnes, an all-conference player last year. Senior pitcher Jessica Hayes is another key veteran, and junior Jessica Hudec returns after missing most of last season.
Outlook: This strong program endured a 2-17 rebuilding season in 2014 and will look to bounce back this spring under new head coach Jillian Mulderig, a former standout player at Washington Township.
Cherokee Chiefs
Players to watch: The Chiefs have fielded a young squad the last few years, and that experience will pay off this season as they return almost their entire starting lineup. Leading the way is senior outfielder Tricia Griffin, who came up with a number of clutch hits for Cherokee last year. Last year's starting infield is back, including sophomore first baseman Meg Haluska and juniors Kim Collins (second base), Liani Ortiz (shortstop) and Emily Mesey (third base). Sophomore Abbey Scarengelli emerged as the primary pitcher as a freshman and will again throw to junior catcher Brooke Wasco, and senior Danni Dinsfriend also pitches and is a designated hitter. Junior outfielders Keeley Lynch and Samantha Waldman are other key returners.
Outlook: Cherokee finished with a 10-11 record last spring—improving by five wins from 2013—and lost in the first round of the South Jersey Group IV playoffs. Now that the Chiefs are getting older, the next step is to experience some postseason success.
Cherry Hill East Cougars
Players to watch: Cherry Hill East said goodbye to a strong senior class that featured four-year varsity players Casey Clark and Megan Martin as well as pitcher Michelle Sachais, so a new group of leaders must emerge. Junior Kendall Geis has been a varsity player since her freshman year and will have a big impact offensively and defensively, while senior infielder Kendall Boardman and junior outfielder Megan Miller also return. Junior Valerie Velasco, a transfer from Paul VI, is expected to be a major contributor at several positions, including pitcher. Junior infielder Ally Pollack should also be in line for a bigger role.
Outlook: The Cougars are coming off an 8-19 season in which they lost in the first round of the South Jersey Group IV playoffs. While they have a lot of spots to fill, they hope to remain a playoff team.
Cherry Hill West Lions
Players to watch: A senior class that included two members of the 100-hit club in Sierra Machinski and Alicia DeFlavis and No. 1 pitcher Jamie Robertson has moved on, but lots of talent remains for Cherry Hill West. Senior Brittany Robertson made the all-conference second team and is in line to take over as the ace of the pitching staff. Other key seniors include infielders Alana Pappas and Taylor Thompson, catcher Linda Kovacs and outfielder Diana Cordisco. Junior outfielder Becca Gurst made the all-conference second team and also played in the Carpenter Cup last year. Other players to keep an eye on include Elena Vaughan, Arcilia Hernandez, Jade Stubblefield and Angela LaRosa.
Outlook: The Lions went 11-15 in 2014 and made a magical run to the South Jersey Group IV semifinals as the 13 seed, losing to Atlantic City in the semis in extra innings. They also placed second in the Camden County Tournament. Despite some key losses to graduation, they'll look to build on the strong finish to last season under new head coach Melissa Franzosi.
Clearview Pioneers
Players to watch: The Pioneers return all but two starters from a solid team, including senior catcher Dominique Waters, their three-hole hitter who led the squad with a .459 batting average, 22 runs, eight doubles and four home runs. Senior third baseman Harper Patsko, who hit .409 with a team-high 18 RBIs, is also back in the heart of the order, and senior Taylor Clay returns as the ace of the pitching staff. Other returning starters include junior outfielder Kate Woolam (.328), junior first baseman Celia Voltaggio (.307), junior outfielder Miranda Turner and sophomore infielder Rachel Albertson, and sophomore outfielder Taylor Slane also saw varsity time as a freshman.
Outlook: After finishing 14-7 and reaching the South Jersey Group IV quarterfinals, the Pioneers have the remaining talent to make noise in the playoffs.
Eastern Vikings
Players to watch: Where to start? Eastern didn't have a single senior last year, so all of the key players are back, including standout senior pitchers Jessica Heaton and Kaitlyn Gaynor. Gaynor also plays first base and is an important part of the lineup, along with junior outfielder Madison Morano, an all-South Jersey second-team selection; junior leadoff hitter Rachel Wood, the team MVP; and junior three-hole hitter Emily Serata, who led the Vikings in batting average. Senior Ally Schmus returns behind the plate and junior Sarah Waro is back at third base. Other returners include seniors Kelly Fitpatrick and Liz Saunders, junior Jordan Alcoy-Quinn and sophomores Jen Civatte and Mariah Wysocki.
Outlook: With everyone back from a 19-6 team that was upset in the first round of the South Jersey Group IV playoffs, Eastern looks like a contender in the Olympic American and sectional tournament.
Gloucester Catholic Rams
Players to watch: The Rams only graduated three seniors, but one of them was four-year starter and all-state second-teamer Annie Robinson. The good news is that senior catcher Angela Antonini, an all-South Jersey second-team selection and the team's three-hole hitter, leads the returners. Also back are senior No. 1 pitcher Marissa Cappello and junior outfielder Megan Dyson, last year's leadoff hitter. Other key returners include senior third baseman Allison McCarthy, junior third baseman/pitcher Brittany Short, junior outfielder/infielder Alexa Wright, sophomore first baseman/outfielder Kiera Regan, sophomore pitcher Renee DeAngelis and sophomore second baseman Christina Wilgus. A promising freshman class could also land several players on the varsity team.
Outlook: Kiersten Hughes has been promoted from assistant coach to head coach, replacing Tom Sullivan, who stepped down after last season. She inherits a 16-9 team that lost in the first round of the South Jersey Non-Public A playoffs, and despite the graduation of Robinson, the Rams should continue to be a top program in the area.
Haddonfield Bulldawgs
Players to watch: Haddonfield brings back most of last year's roster, including sophomore double-play combination Nicolette Barranger, a shortstop, and Sophie Maccarone, a second baseman, who filled the top two spots in the lineup. Also back are three-hole hitter Mallory Ives, a senior third baseman, and cleanup hitter Emma Hoffman, a senior outfielder. The top two pitchers graduated, but senior Arpie Senopoulos has experience in the circle and also plays center field. Other returners include junior outfielders Sarah Smith, Madison Rosandich and Gillian Palmer, junior second baseman/catcher Jules Reed, junior first baseman Christina Gallo and sophomore first baseman Lauren Warner.
Outlook: With most of the lineup back, look for the Bulldawgs to improve on a 7-13 season in which they lost in the first round of the South Jersey Group II playoffs.
Kingsway Dragons
Players to watch: The Dragons graduated the heart of their order, including all-state second-team catcher Tori Danner, who led the team with a .500 average and 27 RBIs. But there are new stars ready to shine, including senior outfielder Isabella Bradian, the leadoff hitter who batted .416 and scored a team-high 22 runs, and sophomore Emily Hilt, who hit .343 with five home runs and 24 RBIs and should take over for Danner behind the plate. Senior second baseman Kate Bardall (.318) and junior shortstop Gabby Bruno (.350; pictured) are other important parts of the lineup and junior Devon Grippe is back as the No. 1 pitcher. Senior outfielder Savannah Galati and junior first baseman Morgan Meoli are other key veterans.
Outlook: The Dragons, who finished 17-4, earned the No. 1 seed in the South Jersey Group III playoffs but suffered a heart-breaking upset loss to Atlantic City in extra innings in the first round. While they will clearly miss Danner, this is a proven program that should bounce back from the playoff loss and put together another impressive season.
Lenape Indians
Players to watch: The Indians bring back several key pieces of the lineup, including three-hole hitter Taylor Warrick—a senior outfielder/first baseman—senior catcher Olivia Mahon and junior outfielder Serena Lam. Other returners include juniors Caitlyn Chow, Julia Rosenblatt and Kristine Reithmeier and sophomores Devon Horner and Courtney Carroll.
Outlook: Lenape finished 9-11 and lost in the first round of the South Jersey Group IV playoffs. The Indians should be able to score some runs, although they must break in a new No. 1 pitcher.
Moorestown Quakers
Players to watch: Moorestown graduated ace pitcher Audrey Weller, an all-South Jersey first-teamer, but several talented players throughout the lineup return. Sophomore Gabby O'Byrne started behind the plate as a freshman and has the potential to become a star for the Quakers. Junior Callie Forzley had a big season offensively, batting .515 with six doubles and two home runs, and should be in the mix to take over as the No. 1 pitcher. Sophomore outfielder Caroline Muccifiori and junior infielder Calla Carideo are also returning starters. Other important returners are senior infielders Saylor Brisson, Jenna Grant and Rachel Fordham.
Outlook: Moorestown earned the No. 2 seed in the South Jersey Group III playoffs last year, but was upset by Seneca in the first round and finished with a 15-7 record. While Weller will clearly be missed, she helped build the foundation for a winning program and the Quakers should find success again.
Paul VI Eagles
Players to watch: The Eagles only graduated three seniors from last year's terrific team, but each one was an all-South Jersey first-teamer: infielder Brielle Pietrafesa, outfielder Dylan Jarvis and pitcher Rosie LaGrotta. Pietrafesa was also an all-state selection. Luckily, an impressive group is waiting to take over as the team's nucleus, led by sophomore catcher Sam Sack. She started and batted third as a freshman, hitting .554 with 11 doubles, five home runs and 36 RBIs. Junior Breck Urban (.424, 28 RBIs) is also coming off a huge offensive season and will move from second base to shortstop, and her sister Dallas Urban, a freshman, will take over at second. Senior Alexa Toner, a Caldwell College recruit, will be the No. 1 pitcher, while senior third baseman Megan Wall (.378) and junior left fielder Abbey Lord (.281) are returning starters. Senior center fielder Gabby Marino and sophomore right fielder Sarah Price will step into starting roles, and freshman power hitter Callie Kraemer should help improve the lineup along with utility player Daphne Posey, another rookie. Speedster Alyssa Lapone, a junior, should help on the bases.
Outlook: The Eagles went 19-4, won the Olympic National crown and reached the South Jersey Non-Public A semifinals. Despite the key losses to graduation, they have a talented roster and will be division and playoff contenders again.
Seneca Golden Eagles
Players to watch: Pitcher Kaila Gerber was a major loss to graduation, but Seneca does return a number of starters, including the entire starting infield of junior first baseman Kendra Decker, senior second baseman Gianna Decker, senior shortstop Madison Critchfield and junior third baseman Jordan Wahrenberger. Senior catcher Charlee Greco and senior outfielder Emily Randolph also return.
Outlook: The highlight of Seneca's 8-11 season was an upset over second-seeded Moorestown in the opening round of the South Jersey Group III playoffs. This year, they'll shoot for a winning record, although replacing Gerber on the mound will be key.
Shawnee Renegades
Players to watch: Senior catcher Taylor Gilligan made quite an impact with her defense and leadership in 2014, but she was simply phenomenal at the plate. An all-South Jersey first-teamer, she led Burlington County with 11 home runs, hit .538 and drove in 29 runs. Gilligan seems primed for a huge final season at Shawnee. The Renegades also bring back key starters in junior outfielder Madison LaPlante—an all-county second-team selection—senior third baseman Connor Gilligan, senior outfielder Kaitlyn Konopka, senior shortstop Sam Guarino, junior first baseman Megan Ennis and sophomore Annmarie Cooker. Konopka, Connor Gilligan and junior Sabrina Scott will share pitching duties after last year's No. 1, sophomore Kate Swanberg, moved out of the district following a freshman season in which she went 10-5 with a 2.12 ERA and 72 strikeouts.
Outlook: After posting a 15-8 record and losing in the first round of the South Jersey Group IV playoffs, the Renegades bring almost the whole team back and look like a sectional title contender.
Washington Township Minutemaids
Players to watch: The Minutemaids have six starters back from last year's sectional championship team, but it all starts with senior shortstop Jessica Hughes, one of the state's best players. The Fordham recruit and all-state first-teamer led off last year and hit .630 with 44 runs, 24 RBIs and 31 stolen bases. She's almost as good defensively, as she gobbles up just about everything hit her way. Hughes is part of a sensational senior class that also includes third baseman Lauren Sandelier, an all-South Jersey second-teamer who hit .346 with 30 RBIs; outfielders Kelli Gaffney (.348) and Dominique Palagruto (.320); and first baseman Sam DiClementi (.313). Sophomore catcher Dominique Fiorentino is another returning starter, and junior Lauren Shannon will look to replace graduated all-South Jersey first-teamer Jenna Mills as the No. 1 pitcher. Sophomore Erika Coreth will also be in the mix for a starting role.
Outlook: The Minutemaids claimed their second straight South Jersey Group IV title and finished with a 23-5 record last spring. This is one of the area's best programs, and should follow Hughes and the rest of the seniors to another outstanding season.
Click here for team schedules.
Published (and copyrighted) in Suburban Family's High School Spring Sports Preview, January, 2015.
For more info on Suburban Family Magazine, click here.
For information about advertising in Suburban Family Magazine, click here.
To find out where to pick up your copy of Suburban Family Magazine, click here.