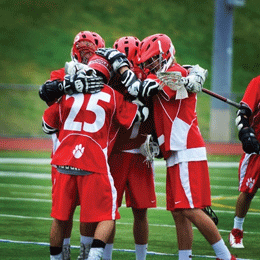 Boys Lacrosse
...From the pages of Suburban Family Magazine's Spring High School Sports Preview...
Bishop Eustace Crusaders
Players to watch: Senior Nick Barbieri is coming off a phenomenal season in which he set a school record with 51 goals and was named all-conference first team. He will again lead the offense along with senior Roy Hansen, another all-conference first-teamer who will continue his career at Division II Rollins College in Florida. Senior Vinny Papale, an all-conference second-teamer who will play football at the University of Delaware, is also back. Juniors Joe Pelosi and Steven Ardire and seniors Ray Farnesi, Chris Ober and Colin Newby are other key returners.
OUTLOOK: The Crusaders posted a 17-2 record in 2014—setting a school record for wins—won the Olympic Conference National Division title and advanced to the Non-Public B state semifinals. While several important players graduated, such as all-South Jersey defender Dave Osuch, they should again be a top team in South Jersey behind Barbieri and Hansen.
Camden Catholic Fighting Irish
Players to watch: Camden Catholic returns a pair of standout seniors in Colin Wharton, a defender who has committed to play Division I lacrosse at Jacksonville University, and attacker Adam Giordano, a proven scorer. Senior midfielder Tyler Levine is another important returner.
OUTLOOK: The Irish finished with a 9-9 record last year, their most wins since 2009. With Wharton and Giordano leading the way, they'll look to continue improving under new head coach Caleb Terry.
Cherokee Chiefs
Players to watch: Senior attacker Jordan Krug has led Cherokee in goals and points the last two years and will again spark the offense. Last year, he had 36 goals and 61 points on his way to all-South Jersey second-team honors. Seniors Timmy Carroll (23 goals), Ryan Vallen (16 goals) and Jesse Streb (14 goals, 14 assists) are also important offensive players, and senior Grey Clarkson is a three-year starter in goal.
OUTLOOK: The Chiefs went 14-5 and reached the South Jersey Group IV quarterfinals last year. With Krug leading the way, they should notch their fourth straight season of double-digit wins.
Cherry Hill East Cougars
Players to watch: Senior midfielder Brandon Stern, a Penn State recruit, will wrap up his superb career at Cherry Hill East this spring before becoming a Nittany Lion. Stern led the Cougars (pictured) with 35 goals and 21 assists last year and has 84 career goals coming into the season. Senior midfielder Chris Hammerquist (23 goals, 15 assists) and junior attacker Ian Sheekey (26 goals, 20 assists) are also dangerous offensive players. Sheekey and junior defender Brian Stamm have already made verbal commitments to Division I High Point University. Other key players are senior attacker Matt Stern (15 goals), junior midfielder Mike Simmons (10 goals) and senior Jesse Viggiano, the returning starter in goal who was named all-conference second team. Sophomore Evan Campbell (11 goals) will move to his natural position of midfielder after playing attack last year, and the Cougars will welcome back senior attacker Josh Cohen, who was third on the team in scoring as a sophomore but missed last season with a broken arm.
OUTLOOK: The Cougars finished 6-11 last year, losing in the first round of the South Jersey Group IV playoffs. They have the returning talent to make a run at the program's second winning season and first-ever playoff victory.
Cherry Hill West Lions
Players to watch: The Lions return most of their roster, including junior midfielder Danny Buckwalter, an all-conference second-team selection who led the team in goals and points. Senior midfielder/defender Joey Argentina, the starting quarterback for West's football team, is another key returner. Other key players include junior attacker Chris Bellon, junior midfielder Devin Crouch and junior goalie Ryan McCandless.
OUTLOOK: With the core of the team returning, the Lions hope to improve on last year's 5-14 record and possibly notch the program's first winning season since 2010.
Clearview Pioneers
Players to watch: Senior midfielder Matt Donnelly, who will continue his career at Penn State, is one of the top playmakers in South Jersey, if not the state. Last year he had 74 goals and 34 assists on his way to all-South Jersey first-team and Group III all-state honors. Donnelly makes for a sensational one-two scoring punch with junior attacker Collin Love, who scored 49 goals last year and already has 79 for his career. Senior Frank Pipich (13 goals, 24 assists) and junior Jackson Specht (17, 15) are also key returners.
OUTLOOK: Clearview finished with a 16-4 record after losing to eventual champion Moorestown in the South Jersey Group III semifinals. Although the Pioneers must replace two all-South Jersey second-teamers—including goalie Joe Dibabbo—they have the offensive talent to remain a sectional contender.
Eastern Vikings
Players to watch: The Vikings graduated leading scorer Collin Mitchell, but several talented offensive players return, including junior midfielder Eric Ellis, who had 23 goals and 11 assists. Junior attacker Zach Jacobs had 10 goals—including the overtime game-winner in a playoff victory over Freehold—to go with 21 assists. Seniors Sam Smith (11 goals, 15 assists) and Eric Sawyer (7, 23) and juniors Joey Tiernan (13, 18) and Jake Brown (9, 14) are also key contributors.
OUTLOOK: The Vikings reached the South Jersey Group IV quarterfinals and finished with a 6-13 record, although they were competitive against some of the top teams in South Jersey. If they can turn some of those close losses into victories, they can make a run at a winning record.
Gloucester Catholic Rams
Players to watch: The Rams graduated 10 seniors, including 40-goal scorers James Higginbothm and Jeff DeAngelis, as well as Patrick Richardson, the team leader in assists. Senior midfielder Dom Adelizzi (7 goals, 6 assists) and senior defenders Shane Kenney and Shawn Ryan lead the returners. Other key returners are senior midfielders Ryan Daley and Eric Glassman, junior midfielder Derek Alcavage, sophomore midfielder Collin Corrado and sophomore attackers Neil McGee and Christian Holmes.
OUTLOOK: After posting a 9-10 record and losing in the first round of the Non-Public B state tournament, the Rams will look to rebuild around a new core and under a new head coach in Bill Keane, the founder of the South Jersey Shamrocks Lacrosse Club.
Haddonfield Bulldawgs
Players to watch: Junior goalie Ian Reilly made a verbal commitment to NJIT in December, becoming the first player in program history to commit to a Division I program. He'll be the anchor of the defense this spring. Junior Steve Falcone and senior Nick Rollo will help Reilly on the defensive end. Junior attackmen Gavin Cutrino and Drew Tomlinson are returning for their third year on varsity. In the midfield, junior Donny Siok will look to replace faceoff specialist Dan Halla, now a freshman at Stevenson University.
OUTLOOK: Haddonfield had its second straight eight-win season, finishing 8-11 after reaching the South Jersey Group I quarterfinals. With a talented young nucleus, the Bulldawgs will aim for their first winning season since 2012.
Kingsway Dragons
Players to watch: The Dragons return four players who reached double figures in goals last year, led by senior attacker Bill Moran, who had 17 goals and eight assists. Senior midfielder Anthony Cacciavillano had 12 goals and 12 assists and led the team in ground balls, while junior attacker Sean Dunn (11 goals, 10 assists) and senior attacker/midfielder Holden Schooley (10 goals) are also important returners. Junior Gabe Lombardi is back as the starting goalie, and juniors Jay Scerbo and Tom Ondo and senior Bruce Barrett return to anchor the defense. Senior Connor Helm and juniors David Floyd and Zach Craft add depth, and junior Ed Sacchetti is an up-and-coming midfielder.
OUTLOOK: The Dragons lost in the first round of the South Jersey Group III playoffs and finished with a 6-11 record, their first losing season since 2008. With most of the core returning, they are capable of getting back to their winning ways.
Lenape Indians
Players to watch: Despite the graduation of leading scorer and all-state third-teamer Andrew Streilein, the Indians have plenty to be excited about. Senior attacker Connor Wolfe was an all-South Jersey second-team selection who had 52 goals and 30 assists. He'll lead the offense along with senior attacker Anthony Brunetti (35 goals, 35 assists). Junior midfielders Scott Fayan (17 goals, 11 assists) and Connor Gaffney (6 goals) also contribute to the attack, and Gaffney is a faceoff specialist who is headed to Lehigh University. Defensively, Lenape has several important veterans, including junior Kyle Treiber, an all-county second-teamer who led the team in ground balls. Junior Manny D'Allesio is back as the starting goalie, and has key pieces in front of him in senior Vinnie Alfinito and juniors Matt Smith, Mike Kronodomskie and Joey Mercado, a Division I prospect who missed most of last season with a foot injury. Other key returners are seniors Trevor Snowden and Mike Hughes, junior Liam Baker and sophomore Tim Montgomery, and Lenape also has a strong group of freshmen that will push for varsity spots.
OUTLOOK: The Indians went 14-8 and lost an overtime heartbreaker to Southern in the South Jersey Group IV final. They have the talent to make another playoff run this year.
Moorestown Quakers
Players to watch: Moorestown graduated several outstanding players, including South Jersey Player of the Year Mike Handlan, its leading scorer. The Quakers also lost starting senior goalie Andrew Helfman for the season with a torn laburnum. But the cupboard is far from bare. Senior midfielder Kevin Tsao (27 goals, 5 assists) and junior attack Christian Snodgrass (17 goals, 11 assists) are key offensive players. Senior defender Austin Haynes, a Delaware recruit, was an all-county second-team selection. Senior midfielder Tristin Sporer, who was an all-conference honorable mention selection and has committed to Mount St. Mary's, is another important returner. Also back are junior midfielder Mike Vaneria and sophomore midfielder Frankie Labetti.
OUTLOOK: The Quakers went 15-8, defeated rival Shawnee for the South Jersey Group III title and fell in the Group III state championship game. They lost more than 200 points to graduation and must find a new starting goalie, but don't count out one of the best programs in South Jersey despite its youth and inexperience.
Moorestown Friends Foxes
Players to watch: The Foxes said goodbye to 11 seniors, including explosive scorer Tyler Mills and fellow all-Friends League player Dan McGinn. Leading the returners is senior midfielder Joe Beideman, who had 43 goals, 17 assists and 122 ground balls. Sophomore midfielder Jackson Blanchard had a strong freshman campaign with 13 goals, while junior attack Dylan Eni is another important offensive player who scored eight goals. Junior Josh Murdy has experience in goal and is another key returner.
OUTLOOK: The Foxes have a new look after losing so many seniors from a 9-9 team that lost in the first round of the Non-Public B playoffs. They'll look to rebuild around a young nucleus.
Paul VI Eagles
Players to watch: Sophomore Anthony Moran is back after leading the Eagles in scoring and junior Danny Boucout is also an important finisher. Junior Collin Savacool is a faceoff specialist and added 20 assists last year. Senior Connor Skilton is a key piece of the defense and sophomores expected to contribrute are Matt Motto, Colin Fogerty, Jake DiGiacomo, Patrick McGovern, Ryan Risse, Trevor Iocono, Nick Burns and Eric Abruzzo. Other veterans include seniors Michael Bizzoco, Nick Misata, Daniel Echevarria, Connor Rhea and Ryan Laughlin; and juniors Nick Antonucci, Liam Murphy, Shane Barr and Austin Olson.
OUTLOOK: With so many players returning to the program, the Eagles seem poised to improve on a 3-14 season.
Seneca Golden Eagles
Players to watch: Senior attacker Kevin Gray highlights the returning cast from a tremendous team, as he scored 49 goals and was an all-conference first-teamer. Gray has committed to the University of Tampa, along with senior Vaughn Butler, a key defender who was all-county second team in 2014. His younger brother Tyver Butler, a junior, scored 21 goals in his first varsity season and is another important returner. Junior Tyler McCormack is back as the starting goalie, and other experienced players include seniors Liam O'Connor and Nick Stott.
OUTLOOK: Rob Davidson has built Seneca into an elite program, and last year the Golden Eagles went 18-4 and claimed their second straight Olympic Patriot title. They also reached the Group II sectional final before losing to Somerville, the team that has ousted them from the playoffs the last four years. Despite the graduation of two all-South Jersey players, look for the program to keep rolling.
Shawnee Renegades
Players to watch: The Renegades return a pair of cornerstones from last year's sectional finalist in seniors David Smith and Curtis Corley, who were both named to the all-South Jersey first team. Smith, a midfielder, had 38 goals, 15 assists and 234 ground balls and is headed to the University of Virginia. Corley, a Maryland recruit who was all-state third team, is the leader of the Shawnee defense and also contributed 12 goals. Another standout defender is senior Nick Pressler, who will continue his career at Delaware. While leading scorer Kyle Borbi graduated, Smith will have help offensively from senior Jack Tyrrell, a Tampa recruit who had 24 goals and 14 assists, and junior Mike Githens (26 goals). Other key returners are senior Hartford recruit Steven Boyle (10 goals, 14 assists) and sophomores Mike Shinske (18 goals, 18 assists) and Dan Wigley (15 goals, 11 assists). Junior Justin Bostwick will look to replace all-South Jersey first-teamer Reese Tursi as the starting goalie.
OUTLOOK: Shawnee's impressive 17-2 season ended with a 10-9 loss to rival Moorestown in the South Jersey Group III final. The Renegades will be hungry to return to the final and leave with a different outcome.
Washington Township Minutemen
Players to watch: Senior goalie Chris Burns is back for his fourth season as the starter and is coming off a strong season in which he made 237 saves. He will continue his career at Gwynedd Mercy University along with fellow Minuteman seniors Joe Pandolfi and Jordan Dzierzgowski. Pandolfi, an attacker, had 19 goals last year, while Dzierzgowski returns to the midfield this spring after missing the entire 2014 season with a broken collarbone. Senior Wyatt Miller and junior Luke Xantopolous are both proven scorers, and sophomore Vince Gagliardi showed promise as a freshman. Other key returners are seniors Lenny Lacovara and Riley Griffith and sophomore Jared Albano, who started every game for the Minutemen as a freshman.
OUTLOOK: The Minutemen won a playoff game in a 7-11 season before falling in the South Jersey Group IV quarterfinals. They hope to make progress and earn their first winning season since 2011.
Click here for team schedules.
Published (and copyrighted) in Suburban Family's High School Spring Sports Preview, January, 2015.
For more info on Suburban Family Magazine, click here.
For information about advertising in Suburban Family Magazine, click here.
To find out where to pick up your copy of Suburban Family Magazine, click here.