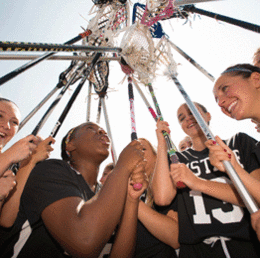 Girls Lacrosse
...From the pages of Suburban Family Magazine's Spring High School Sports Preview...
Bishop Eustace Crusaders
Players to watch: The Crusaders (pictured) return a trio of dynamic offensive players in juniors Kristen Biche, Ally Criscolo and Clare Monaghan. Biche, a midfielder, led the team with 56 goals and added 13 assists and was named to the all-conference first team along with Monaghan, a midfielder who had 34 goals and 20 assists. Criscolo had 53 goals and 11 assists and was named all-conference second team. Senior midfielder Natalia Marrone is another proven scorer who chipped in 26 goals last year, and sophomore attacker Ashley Conklin had a solid debut season with 12 goals and 11 assists. Senior Maureen Walsh is a key defender and junior attacker Jena Braungart is another experienced returner.
OUTLOOK: The Crusaders' outstanding season featured a 17-2 record—a program record for wins—their third straight division title and a trip to the South Jersey Group I semifinals. Despite the graduation of a terrific senior class, the talent is in place for another strong season.
Camden Catholic Fighting Irish
Players to watch: Although Camden Catholic graduated one dominant scorer in Tara Vittese, one does return in senior midfielder Megan Kilpatrick. The Lock Haven recruit poured in 69 goals as a junior and will spark the Irish offense this spring. She'll have help from senior attacker Kathleen Petrucelli, who scored 25 goals last year, and junior attackers Chloe Pottillo (14 goals) and Brooke Albright (seven goals). Junior Khaia Baranowski, who has already committed to Villanova, is back as the starting goalie.
OUTLOOK: The Irish went 14-6 and reached the South Jersey Group I quarterfinals for the second straight year. With Kilpatrick leading the way, look for another winning campaign.
Cherokee Chiefs
Players to watch: Senior attacker Jessica Havers highlights an impressive returning group of scorers for the Chiefs. Last year, the High Point recruit led the team with 66 goals on her way to all-South Jersey second-team honors. Juniors Brooke Yarsinsky (43 goals) and Tara Zeuli (29) and senior TCNJ recruit Savannah Singer (31) are also dangerous finishers, while sophomore Taylor Koester and sophomore Lisa DiLullo (17 goals each) are important to the offense as well. Senior defender Leanne McCloskey—an experienced returner who is headed to Montclair State—will be playing alongside senior Karlee Slavin and sophomore DevonFitzpatrick, who add depth in the midfield and defense. Senior Devon Kearns, who is headed to Rutgers, will see time in goal.
OUTLOOK: The Chiefs posted a 14-7 record—an eight-win improvement from the year before—and reached the South Jersey Group IV semifinals. They look like contenders in the Olympic American and sectional tournament.
Cherry Hill East Cougars
Players to watch: Cherry Hill East graduated its top two leading scorers, but there are several candidates to fill that role this spring. Senior Lauren Kotler had 17 goals a year ago, while junior Jordyn Koppelson was right behind her with 16 and junior Kelsey Gorman added 15. Senior Nikki Zaso, juniors Kyra Gorman and Rachel Becker and sophomore Priya Kavuru are also important returners on offense. The Cougars must find a new starting goalie but have returning defenders in seniors Noel Hartey and Sarah Powers. Other returners are juniors Danielle Rosenthal and Vanessa Earley.
OUTLOOK: The Cougars went 6-14 and lost in the first round of the South Jersey Group IV playoffs. They'll look to bounce back and contend for a winning record.
Cherry Hill West Lions
Players to watch: The Lions return leading scorer and captain Lindsey Coyle, a senior attacker who had 30 goals and will continue her career at Bloomsburg University. Coyle is approaching the 100-goal milestone for her career. Seniors Lauren Elias and Amanda Foley and junior Ciara Brickner are other key veterans. There are also several promising freshmen who are looking to make an impact.
OUTLOOK: The Lions posted a 5-13 record last season, winning four more games than the year before. Although they lost 13 seniors, they are expecting their athletic youngsters to step up and contribute. Look for them to continue making progress this spring.
Clearview Pioneers
Players to watch: Gianna Bowe, one of the best players in South Jersey, should be back to full strength once her senior season rolls around. Bowe tore her ACL about midway through last season and still finished with 28 goals. The University of North Carolina-bound attacker is primed for a terrific finish to her high school career. The Pioneers also bring back talented scorers in Ali Donohue, a senior who led the team with 58 goals a year ago, and junior Hannah Quast, who scored 44. Both Donohue and Quast have committed to Liberty University. Senior Olivia Mittleman, who will continue her career at Division I Sacred Heart, anchors the defense along with University of Tampa-bound senior Liz Kramer, senior Brooke Elsworth, a three-year varsity player, and all-conference senior goalie Carly Shaup. Senior attacker Kaylee Horchak is back from injury, and junior Talia Bouzakis (15 goals) and sophomores Kasey Diodati (16 goals) and Chandler McFeeley (14 goals) are other key returners.
OUTLOOK: Clearview went 15-6 and reached the South Jersey Group III semifinals for the second straight year last spring. The Pioneers have won at least 14 games every season since 2008, and this year should be no different as they will be sectional championship contenders.
Eastern Vikings
Players to watch: Sophomore midfielder/attacker Alexis Pettisani had an outstanding debut season for Eastern, as she led the team with 54 goals to go with eight assists. She'll form a terrific offensive duo with senior midfielder Austyn Cuneo, the all-time scholastic field hockey leader in goals who is also a standout lacrosse player. Cuneo has more than 100 career goals and netted 31 in 2014 despite missing 10 games with an injury. Senior midfielder Sam Mlkvy will also return after missing last season with a torn ACL. Sophomore attacker/midfielder Kaela Sierra (13 goals, seven assists) is another key offensive player, while sophomore Ashley Thomas is an important returning defender. Sophomore Cooper Cowdin will battle with senior Erin Grill—who missed last season with a concussion—to replace all-South Jersey goalie Brittany Read, who graduated.
OUTLOOK: The Vikings finished 9-11 and lost a close game to Shawnee in the South Jersey Group IV quarterfinals. They have a ton of offensive talent, and should be a winning team if a young defense comes around.
Gloucester Catholic Rams
Players to watch: Junior attacker Frankie Paterno has been the Rams' leading scorer since her freshman year, including last season, when she erupted for 58 goals. Senior Alexa Bonomo is another proven scorer who had 25 goals in 2014, and sophomore Julia Sclocchini (eight goals) had a solid freshman campaign. Sophomore Noelle Marshall gained varsity experience in goal and could be in line to be the starter this spring.
OUTLOOK: The Rams went 2-17 last year in a rebuilding season. With young talent like Paterno, they should be able to win a few more games in 2015.
Haddonfield Bulldawgs
Players to watch: Although the Bulldawgs graduated some of their top players, key returners include senior Lizzie Hammon and sophomore Katie Pileggi, who had a strong freshman season. Gracie Grimes and Emily Landrum are other returning seniors and Olivia VanDervort is an experienced junior. Natalie Scott is another senior who is returning from injury.
OUTLOOK: Haddonfield is coming off a 9-9 season in which it lost in the first round of the Group I playoffs. The program has never had a losing season and this year should be no different.
Kingsway Dragons
Players to watch: Kingsway graduated its top two scorers, but brings back several talented offensive players, including senior attacker Aly Keene, who had 29 goals and 12 assists. Junior Sophia Casella and sophomore Ashley Easterday are each coming off 20-goal seasons and could take on even bigger roles. Other experienced returners are seniors Alex DiSciascio and Maria Boerlin.
OUTLOOK: The Dragons went 7-11 and reached the South Jersey Group III quarterfinals. Despite key losses to graduation, they should be very competitive in the Olympic Conference.
Lenape Indians
Players to watch: Lenape had a small senior class last year, but it was a special one that included all-South Jersey first-teamers Rena Carabases, Nicole Donnelly and Courtney Norton. Carabases and Donnelly combined for 171 goals, so clearly the offense will take a hit. But the Indians do have proven scorers returning, including sophomore Gabrielle Fornia—who tallied 70 goals as a rookie and has already committed to Vanderbilt—and senior Natalie Peel, who scored 57. Peel will continue her career at San Diego State along with senior Shannon Gallagher, an all-county first-teamer who anchors the defense. Other key senior starters are goalie Rebecca Wilen, Erin Harvey and Kaity McKenna in the midfield and defenders Abby Nocito and Emily Hunt. In addition to Fornia, returning underclassmen are sophomores Carlee Braverman and Erin Donoghue.
OUTLOOK: The Indians posted a remarkable 21-2 record in 2014, establishing a school record for wins on their way to the Group IV state championship. There is no replacing last year's three seniors, but the rest of the roster is talented and experienced and Lenape should again be a top team in South Jersey.
Moorestown Quakers
Players to watch: One of the top teams in the nation graduated six of its top seven scorers, including two-time state player of the year Marie McCool, who tallied 85 goals last year and 272 for her amazing career. But many key pieces of a defense that allowed just 4.2 goals per game are back, including South Jersey defensive player of the year Maggie Handlan, a senior who will continue her career at the University of Michigan. Other senior defenders who have made college commitments are Kiera Dalmass (Connecticut), Jessi Button (Holy Cross) and Courtney Bodine (La Salle). Leading the offense are senior attacker Abbey Brooks (Rutgers) and senior midfielder Alex O'Donnell (Brown), who each scored 28 goals last year, and senior all-county midfielder Melanie Becker (Vanderbilt). Other important returners who reached double digits in goals are senior attackers Adriana Pentino (Michigan) and Emily Troy (Gettysburg). Seniors Gabby Cooper (Catholic University) and Miranda Chrone and sophomoreJessica Goralski are all experienced goalies, and sophomore Quinn Nicolai is back in the midfield. Other juniors who will have an impact are midfielders Jenna Martinelli and Annika Nissen, attackers Claire D'Antonio, Julia Bolte, Olivia Alvarez, Charlotte Elwell and Genie Santarpio, and defender Jessie Britton. Nicki Dadino, Emily Culbertson and Brittney Wright are key sophomores.
OUTLOOK: Moorestown extended its three-year winning streak to 77 games last year, as it finished 26-0, claimed its 22nd state championship and won the Tournament of Champions for the sixth time in eight seasons. It will be a major challenge for this year's senior class to finish high school without a loss, but as everyone knows by now, don't bet against the Quakers.
Moorestown Friends Foxes
Players to watch: The Foxes said goodbye to their top two scorers, including midfielder Noelle Smith, an all-Friends League first-teamer for three straight years. Leading the returners is senior midfielder Alaina Shivers, who scored 25 goals a year ago. Junior Erin Chen is also back in the midfield and senior Stephanie Walker returns at attack. Senior Laila Van Cleve returns as the starting goalie and will have an experienced defender in front of her in senior Sarah Henig. Other returners include junior Andrea Kinzler and sophomores Cameille Aguilar, Rebecca McGrath and Katherine Repholtz. A strong group of freshmen could also have an impact on the varsity level.
OUTLOOK: The Foxes recorded their first winning season since 2004 last spring, going 8-7 and losing in the first round of the South Jersey Group I playoffs. They'll look to follow it up with another strong season.
Paul VI Eagles
Players to watch: Michelle Hallman, a junior midfielder, is coming off a breakout season in which she recorded 31 goals and 12 assists and will lead the way for the young Eagles. Junior Megan Carty is an important player on defense, senior Jordan Callahan moves from goalie to the field, and sophomore Aliyah Peguese is an experienced goalie. Other returners are senior Catherine Moran and juniors Allie Darley, Alyssa Powers, Julianna Walsh and Kiera Shusted, and several freshmen could earn varsity roles.
OUTLOOK: The Eagles went 2-12 last year and are trying to build the program, but it will be fun to watch Hallman and see how they progress.
Seneca Golden Eagles
Players to watch: Seneca is paced by a pair of Division I recruits in senior Megan Drum (Wagner) and junior Sam Scarpello (Rutgers). Drum led the team with 47 goals in 2014 and Scarpello added 33 goals and 10 assists. Other key returners are senior Elizabethtown recruit Julia Ferrante (15 goals, eight assists), junior Dani LeSaint (18 goals) and sophomore Erin Kersetter (16 goals).
OUTLOOK: Seneca's 7-10 season ended in the South Jersey Group III quarterfinals. Led by Drum and Scarpello, look for the Golden Eagles to push for a winning record this spring.
Shawnee Renegades
Players to watch: Despite graduating all-South Jersey first-teamer Caroline Shinske, Shawnee brings back one of the most talented rosters in the area. That list is highlighted by midfielder Caroline Farley and goalie Lily Argyle, both seniors who were named all-South Jersey. Farley, a four-year starter, led the team with 62 goals and 44 assists and is headed to the University of Delaware, while Argyle is a four-year starter who has committed to Vanderbilt. Other important members of the senior class are Monmouth recruit Dana Spires, an all-county defender; Erin Dugan, a three-year starter on defense who will continue her career at Catholic University; and Maddie Bray, who had 34 goals and 13 assists. Junior Liza Barr was second on the squad with 51 goals and added 22 assists, while junior Samantha Tucci (26 goals), sophomores Molly Baechler (21 goals) and Katie McLoughlin (12 goals) and senior Lindsay Jonas (14 goals) are also proven scorers.
OUTLOOK: The Renegades went 14-7 and reached the South Jersey Group IV semifinals in their first season under head coach Aimee Seward. They have the talent to compete for a sectional championship in Year 2.
Washington Township Minutemaids
Players to watch: The Minutemaids graduated their top two scorers but bring back offensive threats in junior midfielder Allie Gorman (30 goals) and senior attacker Jillian Calandra (28 goals, 29 assists), who will continue her career at Manhattan. Senior Bridget LaMaina and junior Iris Schuck are also important offensive players. Junior Corri Calandra was an all-conference selection and leads the defense in front of junior Emily Cross, the starting goalie. Ilyssa Liberto is an athletic up-and-coming sophomore who coach Sandy Stockl calls a natural in lacrosse.
OUTLOOK: Washington Township finished 6-11 and reached the South Jersey Group IV quarterfinals in 2014. The long-time area power has endured back-to-back losing seasons, but don't expect the Minutemaids to be down for long.
Click here for team schedules.
Published (and copyrighted) in Suburban Family's High School Spring Sports Preview, January, 2015.
For more info on Suburban Family Magazine, click here.
For information about advertising in Suburban Family Magazine, click here.
To find out where to pick up your copy of Suburban Family Magazine, click here.