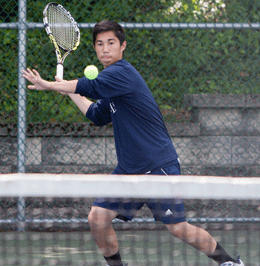 Tennis
...From the pages of Suburban Family Magazine's Spring High School Sports Preview...
Bishop Eustace Crusaders
Players to watch: Senior co-captains Christian Akerley and Nick Cardoso have filled the top two singles positions for the last two years and figure to do so again as they close out their careers. Akerley is coming off an all-conference first-team performance in 2014. Sophomore Jack Celano played third singles as a freshman and was named the team's most improved player at the end of the season. Sophomore Vince Paetow and senior Sam Bohn are experienced doubles players and sophomore Brandon Ruskey will look to move into the starting lineup.
Outlook: The Crusaders only won three matches last season, but one of them was a playoff victory. With their entire singles lineup returning, their record will likely
Cherokee Chiefs
Players to watch: First singles player Bryan Korth graduated, but Cherokee brings back senior second singles Nihar Sheth and junior third singles Grant Sokol, who will battle it out for the top spot. Senior Rohit Panjala played first doubles last year and is another veteran in the starting lineup. Junior Jonathan Staub saw action at doubles and will look to earn a starting job.
Outlook: The Chiefs went 10-6 in 2014, doubling their win total from the year before, and reached the South Jersey Group IV quarterfinals. They have several starters to replace but should remain competitive.improve.
Cherry Hill East Cougars
Players to watch: Rahul Goculdas earned the first singles position as a freshman and responded with a solid year, and should be in store for a strong sophomore season. Dan Jang is a three-year varsity starter who played third singles a year ago. Senior Sam Yoon and sophomore were starting doubles players and junior Drew Melinsky also saw some action in 2014.
Outlook: After a 12-6 season that included a trip to the South Jersey Group IV semifinals, the Cougars will again be one of the better teams in the area.
Cherry Hill West Lions
Players to watch: Senior Mike Genovese has been a starting varsity singles player since his freshman year, including the top spot last season, and will again be a leader for the Lions. Junior Maurice Gordon played third singles last year and is another key returner. Seniors Vincent Pham and Jackie Tran and junior Greg Salzberg are returning starters at doubles.
Outlook: It never hurts to have a four-year varsity singles player leading the way, and the Lions will try to follow Genovese to a winning record after finishing 7-10 last spring.
Clearview Pioneers
Players to watch: Clearview graduated just two seniors from last year's young team and returns a number of players with varsity experience. Leading the way are sophomore Chase Simmons, who played first singles as a freshman, and junior Clint Matthews, who manned the No. 2 singles position. Senior Dan Henry and junior Ron Moore are returning starters at doubles, and other returners with doubles experience include juniors Andrew Norcross and Henry Eisenhart.
Outlook: The Pioneers' youngsters learned some valuable lessons during a 6-10 season and will look to parlay that experience into a winning campaign in 2015.
Eastern Vikings
Players to watch: For the second straight year, Eastern graduated its top two singles players, but again there are solid options to fill the spots. Parth Hardikar played third singles last season and will be in the mix for one of the top spots. Seniors Dyllon Jeng and Chyau Huang-Lee were first doubles partners and could vie for singles positions. Juniors Alec Feldstein and Pranav Chugh played second doubles together, and senior Nick Mattioli also has doubles experience.
Outlook: Last season was a successful one for the Vikings that included 15 wins and a berth in the South Jersey Group IV final. Despite losing their leading players, they have five starters back and should be a strong team.
Gloucester Catholic Rams
Players to watch: No. 1 singles player Zach Kummer graduated, but the rest of the starting lineup returns for the Rams, including several sophomores who played major roles as freshmen. Sophomore Carson Connelly played second singles for most of the season and even filled in at the top spot for a handful of matches. He will be in the mix to succeed Kummer, and sophomore Joe Polidoro could also be an option after playing third singles last year. Other returning starters are seniors Daniel Petito and Louis Marson, who played first doubles together, as well as senior John Sapio, junior Mina Awad and sophomore Tim Reiners, who all saw time at second doubles. Sophomore Kyle Friedman also has varsity experience.
Outlook: Although the Rams endured a 1-17 season in 2014, the good news is that most of the young squad returns and will have a better idea of how to compete at this level.
Haddonfield Bulldawgs
Players to watch: Haddonfield graduated an outstanding pair of seniors from last year's state title team: first singles Max Oberholtzer, who went 42-7 last year and 148-35 for his career; and Isaak Anderson, who teamed with returning junior Sam Oberholtzer to claim the state doubles championship, the first in program history. But a strong group remains, led by senior Tommy Dodson, who has played second singles the last two years and won the Camden County singles title last year in a 43-5 season. Senior Mike Alberto is another important veteran who posted a 37-10 record at No. 3 singles last year. Sam Oberholtzer should also be in the mix for a singles position after his memorable doubles campaign with Anderson. Senior Stephen Quickel started at second doubles and won the Camden County doubles championship with Alex Samaha, another experienced player who will compete for a starting spot with fellow seniors Phil O'Connor, Joey Reisman and Cameron Kohs.
Outlook: The Bulldawgs extended their streak of sectional championships to 12 last year, went on to win their 10th state title and reached the Tournament of Champions final before dropping a tough 3-2 loss to Millburn, ending their season at 34-6. The lineup must break in three new starters, but there is enough veteran talent to keep this program among the elite.
Kingsway Dragons
Players to watch: Junior Jake McBride has been a starting singles player since his freshman year and was the Dragons' No. 1 last year. Junior Dan Rival also returns after holding down the second singles spot as a sophomore. Seniors Dominick Ramsden and Justin Kosinski and junior Marut Raval are all returning doubles players. Seniors Steve Harbison, Victor Phun, Alex Noel and Evan Schneider also have varsity experience.
Outlook: The Dragons posted a respectable 9-8 record last year and should continue to improve with most of the starting lineup back.
Lenape Indians
Players to watch: Lenape was hit hard by graduation, but does return senior Zach Silver, a three-year starting singles player who was No. 2 singles last season and was named to the all-county second team. Senior Dave Cammarata is the only other returning starter after seeing time at the first and second spots. Senior Tommy Sha, who was all-South Jersey as a sophomore but didn't play last year, also returns to the team. Senior Andre Angelia and junior Kavi Munjal also have varsity experience and could be in line for bigger roles.
Outlook: The Indians finished with an 8-12 record but advanced all the way to the South Jersey Group IV semifinals, losing a 3-2 match to Eastern. Silver will provide good senior leadership, but their success this season will depend on how the rest of the lineup shakes out.
Moorestown Quakers
Players to watch: The Quakers saw top singles player and all-county first-teamer Tyler Blessing graduate, but much of the starting lineup returns, including a pair of sophomores who held down singles spots as freshmen. Marc Mounzer earned the No. 2 singles spot and David Blatcher was at No. 3, and both seem primed for strong seasons this spring. Seniors Jon Lewis and Wes Bobadilla are other returning starters who competed in doubles. Seniors Nathan Lee and John Matthews, sophomore Noah Michaud and junior Ryan Zimmer also have varsity experience and could be ready for bigger roles.
Outlook: The Quakers posted an 18-8 record and lost in the South Jersey Group III semifinals, only the second time in the last 38 years they did not win a sectional title. They should be more experienced this spring and hope to get back on top.
Moorestown Friends Foxes
Players to watch: Moorestown Friends returns the entire starting lineup from an excellent squad, including junior Harvey Robin (pictured), who played first singles and was named to the all-Friends League team. Sophomore Dylan Carilli was the Foxes' No. 2 singles and senior Spencer Kelly was all-league honorable mention at third singles. Seniors Tom Heitzman and Adam Mohsen-Breen are proven veterans who played first doubles together in 2014, and senior Brian Pansius and sophomore Jordan White formed the second doubles pairing.
Outlook: The Foxes' 18-5 season last spring included the South Jersey Non-Public B championship, their fourth sectional title in six years. With all of the starters returning, they have a great chance of adding another crown and returning to the state final.
Paul VI Eagles
Players to watch: Senior Seamus Plunkett has played first and second singles the last two years and should be in line for the top spot this spring. Seniors Evan Neilio and Robert Helsel join Plunkett as returning starters after playing second doubles together. Senior Giovanni Sparacio has varsity experience at singles and doubles and is another key returner.
Outlook: The last few seasons have been rough ones for the Eagles record-wise, but they're hoping their senior leadership translates to more victories in 2015.
Seneca Golden Eagles
Players to watch: Seneca's strength is a terrific junior class led by Cody Cassise, who has played first singles in his first two seasons and reached the third round in the state singles tournament last year. Other returning juniors are second singles Ryan Grove, third singles Pedram Haresign and Michael Miller, who played second doubles as a sophomore. Senior Joshua Chung is another returning starter who played first doubles.
Outlook: Despite returning just two starters last year, Seneca still enjoyed an impressive 13-8 season, claimed the Olympic National title and reached the South Jersey Group III quarterfinals. With five starters back this year, including Cassise and the entire singles lineup, expect even more from the Golden Eagles.
Shawnee Renegades
Players to watch: Shawnee graduated just two starters from a special team, but one of them was four-year first singles Justin Kang, who went 30-1 as a senior and advanced to the quarterfinals of the state singles tournament. While he will be impossible to replace, the Renegades have a lot of talent remaining, including junior second singles Eric Tecce and his brother, sophomore third singles Cole Tecce, who were both named all-county first team. Seniors Andrew Corwin and Connor Baechler were the first doubles tandem and also earned all-county first-team honors, and junior Chris Machuzak had the same recognition as part of the second doubles team.
Outlook: Shawnee's dominant 20-2 season featured 19 victories by a 5-0 score and the program's third straight South Jersey Group IV title. The Renegades will be threats to extend their streak of sectional championships this spring.
Washington Township Minutemen
Players to watch: The Minutemen return all three singles players from last year, including senior Chase Eldridge, a four-year varsity starter who has been first singles since his sophomore season. Eldridge went 15-8 last year and placed third at the Gloucester County Open. Junior Spencer Cook has been second singles since his freshman year and posted an 18-6 record last spring, and senior Dylan Cleary manned the third singles spot. Also back are juniors Ryan Logar and Travis Yates, who started at second doubles together, and senior Henry Fok, who has doubles experience.
Outlook: The Minutemen finished with a 9-10 record in 2014, falling to eventual champion Shawnee in the first round of the South Jersey Group IV playoffs. With Eldridge and Cook leading the way, they have the potential for a winning season and longer run in the playoffs this year.
Click here for team schedules.
Published (and copyrighted) in Suburban Family's High School Spring Sports Preview, January, 2015.
For more info on Suburban Family Magazine, click here.
For information about advertising in Suburban Family Magazine, click here.
To find out where to pick up your copy of Suburban Family Magazine, click here.