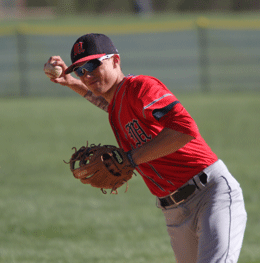 Baseball
...From the pages of Suburban Family Magazine's Spring High School Sports Preview...
Bishop Eustace Crusaders
Players to watch: The Crusaders may have graduated ace pitcher Devin Smeltzer, but one of the big bats in their lineup is back to highlight a strong group of returners. Senior right fielder Nick Browne led South Jersey with 11 home runs in 2014 and also hit .413 with nine doubles and 35 RBIs. The all-state first-team and all-South Jersey first-team selection will continue his career at the University of Maryland. Browne also made the all-conference first team and played in the prestigious Carpenter Cup along with teammates Tyler Phillips and Chris Jones. Phillips, a senior pitcher/center fielder, tied for the team lead with seven wins on the mound. Jones, a senior shortstop, hit six home runs and was all-South Jersey third team. Other key returners are senior third baseman/pitcher and Penn State recruit Justin Hagenman (5-2 on the mound) and senior second baseman Steve DeBellis—who both made the all-conference second team—and senior designated hitter Ryan DiMeo, who hit six home runs.
Outlook: Bishop Eustace was 25-1 and ranked No. 1 in the state near the end of last season, only to drop its final three games, including a 10-0 loss to St. John Vianney in the Non-Public South A playoffs. The Crusaders still finished with a remarkable 25-4 record, claimed the Olympic National title and won three tournaments during the season. With two proven pitchers in Phillips and Hagenman and a gifted lineup led by Browne, expect another impressive season.
Camden Catholic Fighting Irish
Players to watch: The Fighting Irish graduated a terrific senior class that included all-South Jersey selections Dom Messina and Joey Craig. Senior right-hander Danny Hartson is a key returner who notched several big wins on the mound a year ago. Also back are senior infielder Shawn Stone, junior designated hitter Jake Mackara, junior infielder Nolan Gerold, junior outfielder/pitcher Joe Hahn and junior catcher Joe Palumbo.
Outlook: Camden Catholic has a lot to replace from a 14-10 team that lost to Gloucester Catholic in the Non-Public South A quarterfinals, but should continue to be competitive.
Cherokee Chiefs
Players to watch: Pitcher Brian Marconi, a senior who made the all-conference first team and all-Burlington County second team, highlights a solid returning group for Cherokee. The Chiefs also return senior pitcher Quinn Taylor as well as senior shortstop Shane Albertson, senior second baseman Duncan Balera and junior outfielder/first baseman Evan Powell. Senior outfielder/pitcher Nick Schnell, senior catcher/outfielder Chance Whitaker and junior catcher/outfielder Mike Borucki will look to take the next step into full-time starting roles.
Outlook: The Chiefs posted a 14-11 record in 2014, a five-win improvement from the year before, and reached the South Jersey Group IV quarterfinals. They hope to stay competitive in the Olympic American and improve on last year's finish.
Cherry Hill East Cougars
Players to watch: Cherry Hill East made tremendous strides last season and brings back its breakout star from that team. Senior third baseman Jon Hansen made the all-South Jersey first team after hitting .489 with six doubles, two home runs and 22 RBIs. Other key position players include junior first baseman Jake Babroff and senior outfielder Brent Collins. Returning pitchers are seniors Brett Tafaro and Brandon Wons and junior Zachary Volm. The JV team went 13-6—its best record in 15 years—and many players from that team will get a chance to fill varsity positions.
Outlook: The Cougars went 17-10 last season—nine more wins than the year before—and advanced to the South Jersey Group IV quarterfinals. A talented senior class that featured three Division I players has moved on, but Hansen will keep them relevant.
Cherry Hill West Lions
Players to watch: A varsity starter since his freshman year, infielder A.J. Wright enters his senior season as one of the best players in the area and is closing in on his 100th career hit. He was an all-South Jersey first-teamer and Carpenter Cup selection in 2014, when he hit .471 with nine doubles, two homers, 28 runs scored and 27 RBIs. Also back is senior outfielder/pitcher Josh Machtinger, an all-conference second-team selection. Other key returners are senior outfielder/pitcher Alec Fisher, senior infielder/pitcher Joe Santaguida, junior infielder Jake Campbell and junior outfielder Jack Goan.
Outlook: West has been a solid program over the last several years, including a 12-9 campaign last year, when it lost in the first round of the South Jersey Group IV playoffs. Led by Wright, the Lions should be playoff contenders again and will look to qualify for the prestigious Diamond Classic for the third time in four years.
Clearview Pioneers
Players to watch: The Pioneers won with pitching and defense in 2014, and that will continue to be the case despite the graduation of ace hurler T.J. Dezzi. Two of the important pitchers are juniors Andrew Ryback (2-1, 0.53 ERA) and Ryan Lauk (2-1, 2.91), while senior Dalton Reim is a veteran presence behind the plate. Junior Eric Lauk leads the offense after hitting .389 with a team-high 22 RBIs. Senior Jake Drozd and sophomore Tim Dezzi are returning starters in the infield, and other important returners are junior outfielder Jared Datz, senior pitcher Kyle Slane and senior first baseman Mike Deissroth.
Outlook: Clearview is coming off a sensational season in which it finished with a 16-5 record and captured a share of the Tri-County Royal championship. The Pioneers also played in the Diamond Classic and earned the top seed in the South Jersey Group IV playoffs, where they fell in the quarterfinals. The loss of T.J. Dezzi is a big one, but this should remain a program to watch.
Eastern Vikings
Players to watch: Eastern graduated a pair of all-South Jersey first-teamers in shortstop Tom Flacco and pitcher Austin Friedant, but a strong core from last year's sectional championship team returns. Sophomore third baseman Davis Schneider started as a freshman and had some big hits in the playoffs, and senior outfielder Collin Fabio was one of the Vikings' top hitters. Senior outfielders Joey Caruso and Tyler Dixon, senior infielders Corey Kreston and Ryan Keen, junior catcher Tyler Travis and outfielder Matt Woods are also back, while senior right-hander Alex Schwartz is the most experienced pitcher. The Vikings also welcome in freshman Jack Herman, who has already made a verbal commitment to the University of Maryland. Herman has the ability to play center field or the middle infield and also pitches.
Outlook: The Vikings finished 19-10 last year and won their second straight South Jersey Group IV championship despite entering the tournament as the 11th seed. Flacco and Friedant are big losses, but the rest of the team is battle-tested and will make Eastern a sectional threat again.
Gloucester Catholic Rams
Players to watch: One of the elite programs in the state is again loaded with talent. Senior second baseman Sean Breen was an all-South Jersey first-team and all-state second-team selection last spring after hitting .442 with 33 RBIs and 30 runs. Breen, who has committed to Iona, also helped the Brooklawn American Legion team claim its second straight World Series title last summer, winning MVP honors. He'll have lots of help in the lineup, including senior first baseman Anthony Harrold, an all-South Jersey second-teamer and Wagner recruit who belted five homers and drove in 40 runs in 2014. Other key regulars include senior outfielder Fran Kinsey (.333 average), who will join Breen at Iona; senior infielder/outfielder Pete Farlow, who has committed to Wagner; and senior catcher Tre Todd (.343). The rotation is also stacked with Division I talent, led by senior John Murphy. The Maryland recruit was an all-South Jersey first-teamer for the second straight year, posting an 8-2 record and 0.70 ERA. Hard-throwing junior Tyler Mondile, who has already committed to Florida State, went 6-1 with a 1.54 ERA last spring and went undefeated over the summer for Brooklawn. The Rams also welcome back senior lefty Dante Scafidi, who missed all of last season and most of his sophomore season with arm injuries, but has still earned a scholarship to Rutgers.
Outlook: The Rams went 25-6 and dropped a tough 3-2 loss to St. John Vianney in the South Jersey Non-Public A final, ending their bid for a record fifth straight state championship. With most of the team back, including a dominant pitching staff, don't be surprised if they start another streak.
Haddonfield Bulldawgs
Players to watch: The Bulldawgs said goodbye to a talented group of seniors, but this year's senior class also has a number of proven contributors. Matt Jones, a pitcher/second baseman, has committed to Manhattan. Third baseman Jake Thorndike and shortstop Jack Spinelli are also back in the infield, Troy Crompton returns as the starting catcher and one of the offensive leaders, and Mike DeFeo, Charlie Clarke and Mark Walker are experienced outfielders. Other returning seniors are pitcher/infielder Drew Dark, catcher Eric Ranalli, outfielder/pitcher Thomas Gosse and pitcher Sean Noone, while junior outfielder/shortstop Tommy Kadar is also back.
Outlook: Haddonfield went 20-6 and reached the South Jersey Group II quarterfinals in 2014. The Bulldawgs also played in the Diamond Classic and claimed the Camden County Tournament title. This year's veteran team is in line to continue the winning ways.
Kingsway Dragons
Players to watch: Most of the starters from last year's team graduated, but an important one remains in senior outfielder Anthony Esposito, who had a .403 average, 17 RBIs, 14 runs scored and 11 stolen bases. Senior Anthony Dilks, the quarterback of Kingsway's football team, won three games on the mound and leads an experienced pitching staff that also includes senior Mike Rice and juniors Zak Ballantyne and Ryan Lee. Junior Zach Listro, who sat out last season after undergoing Tommy John surgery, figures to be in the pitching rotation and will also compete for the shortstop job. Seniors who could be ready for bigger roles are infielder Tyler Pagano, catcher Alex Baroni, outfielder Joey Massing and first baseman/pitcher Scott Haenggi.
Outlook: The Dragons went 12-13 and lost to rival Clearview in the first round of the South Jersey Group IV playoffs. They have to break in a new everyday lineup but hope to have the pitching to keep them competitive.
Lenape Indians
Players to watch: Lenape brings back several seniors from the top and middle of last year's lineup, including shortstop Connor Milley, center fielder Garrett Mahon, third baseman Matt Anderson, first basemen Sam Belanger and Chris Nishi, second baseman Drew Stein and right fielder Ben Fadool. Seniors Andrew Smolij and Mike Celia are experienced pitchers, and the Indians also expect juniors Andrew Stagliano, John Szwajkowski, Ben Rodier, Eric Tarkett and Justin Perez to log a lot of innings. Some newcomers who will look to battle for spots and may make an impact this year are junior outfielder Jack Barlow, junior catcher Ryan Bensel, sophomore outfielder Ben Harris, junior infielder Eric Zimmerman, junior outfielder Ryan Shuts, sophomore infielder/outfielder Mike Doulong, sophomore catcher/first baseman/pitcher Mike Audet, sophomore pitcher/first baseman Teddy Jozwiak and sophomore infielder Tommy Gardner.
Outlook: The Indians finished 4-16 in a rebuilding year, but with a lot of their returners gaining valuable experience, coach Phil Fiore expects them to be much improved on the mound, in the field and at the plate with a young but talented roster.
Moorestown Quakers
Players to watch: Ace pitcher Scott Zimmer and standout outfielders Tom Gamble and Dallas Clark have graduated, but leading the returners for Moorestown are the Gold brothers. Jared Gold, a senior pitcher/infielder, was an all-county second-team selection and also earned the win in the South Jersey Group III semifinals against Highland. His little brother, Ryan Gold, is a junior catcher who had two big hits in the Highland victory and brings a calming presence behind the plate. Other key contributors include outfielder Zach Rausch, outfielder/pitcher Will Emerson, pitcher/third baseman Colin Francisco and infielder Vin Moncholi, all seniors.
Outlook: The Quakers finished 20-6, dropping a heart-breaking 2-0 decision to eventual state champion Mainland in the South Jersey Group III final. They will remain a contender despite the losses of Zimmer, Gamble and Clark.
Moorestown Friends Foxes
Players to watch: The Foxes return four players who were recognized by the Friends League last season, including all-league players Adam Quaranta (pictured), a senior second baseman/pitcher, and Mitchell Mullock, a junior first baseman/pitcher. Juniors Matt Mullock, a center fielder/pitcher, and A.J. Dunham, a shortstop/pitcher, were honorable mention all-league. Other returners include senior third baseman/pitcher Luke Bianco, senior first baseman Shailen Doshi, senior outfielder/pitcher C.J. Eni, senior infielder/outfielder Thomas Martin, junior second baseman/pitcher Chris Grahn and junior pitcher/outfielder Alex Ounjian.
Outlook: The Foxes went 15-5, were champions of the Friends League, and reached the South Jersey Non-Public B quarterfinals. They have been a consistent double-digit win team recently and will be one of the favorites in their league with most of last year's squad returning.
Paul VI Eagles
Players to watch: The Eagles graduated a lot of talent and also lost standout infielder Matt McKeown, who transferred, so a new crop of leaders will have to emerge this season. A good place to start is junior left-handed pitcher/first baseman Shane Kubrak, who has been a starter since his freshman year. Senior pitcher/outfielder Ryan Stainrook is another important contributor who should be a key player this spring.
Outlook: Head coach Pat Fisher stepped down after last season and was replaced by former Paul VI player Marc DeCastro, who has coached in the Haddon Heights American Legion program. He inherits a team that went 8-12 and reached the South Jersey Non-Public A quarterfinals and will look to get them back to winning baseball.
Seneca Golden Eagles
Players to watch: A solid senior class that featured ace pitcher Eric Shugars has graduated. Seneca will look to fill the void with a core that includes junior shortstop/third baseman Zach Evans and junior Brett Barnes. Senior Xavier Czepiel leads the pitching staff, and senior Mitchell Hay is another impact pitcher who had an impressive summer league.
Outlook: The Golden Eagles finished with a 6-12 record in 2014. They hope to establish some new standout players and improve on that mark.
Seneca Golden Eagles
Players to watch: Junior pitcher Jake Miller has been a varsity player since his freshman year and leads the list of returners. Junior catcher Michael Welsh, the starting quarterback on Shawnee's sectional championship football team, is another key player. Other returners expected to be in the starting lineup include senior infielder Sean Heslin, senior outfielder/pitcher Grant Wetterau and sophomore first baseman/outfielder Jax Luzinski. Also back are sophomore shortstop Max Milano and junior center fielder Dean Austin.
Outlook: The Renegades have some promising young talent and figure to improve on last year's 7-13 record.
Washington Township Minutemen
Players to watch: Despite losing ace Mark Scarpa to graduation, the Minutemen have some impressive arms returning and will be built around their pitching. Senior Chris Haruch steps into the No. 1 spot after going 6-0 with a 1.58 ERA and 36 strikeouts in 40 innings last year. Junior Nick Evangelista and sophomore Rich Racobaldo combined for seven wins in 2014 and will also be counted on in the rotation. Most of the everyday starters graduated, but important returners are junior catcher/outfielder Dylan Baratti, who hit .325, and sophomore outfielder/catcher Alex Gattinelli, who started half of last year as a freshman. Other returners who could play bigger roles are junior first baseman Tim Seagraves, sophomore shortstop Ryan Swift, senior third baseman/pitcher Nick DiFranceisco and senior utility player Nick Cianci.
Outlook: The Minutemen went 23-7 last year—their third straight season with at least 23 wins—and reached the South Jersey Group IV semifinals before falling to rival Eastern. Behind their strong starting pitching, expect them to be contenders for their fifth straight Olympic American championship, as well as a sectional title.
Click here for team schedules.
Published (and copyrighted) in Suburban Family's High School Spring Sports Preview, January, 2015.
For more info on Suburban Family Magazine, click here.
For information about advertising in Suburban Family Magazine, click here.
To find out where to pick up your copy of Suburban Family Magazine, click here.