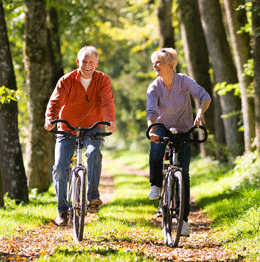 A Second Chance
People are remaining more active than ever late into life, thanks to advances in hip and knee replacements.
Thanks to advances in modern medicine and lifestyle, many Americans can now be expected to live well into their 80s. The average hip and knee, however, hasn't quite caught up.
Joint replacement surgery, in which a damaged joint is removed and replaced with an artificial one, is an increasingly common procedure for aging Americans, and the number of surgeries performed each year is expected to skyrocket in the coming decades.
Knees and hips are by far the most common joint replacements, while elbows, shoulders and wrists may also be replaced in some cases.
It may sound like a daunting concept, but a successful joint replacement procedure can rejuvenate a patient. Dr. Steven Kahn, of Regional Orthopedic Professional Association in Cherry Hill, says patients who choose the surgery generally recover the mobility and comfort they had before joint pain started holding them back. "People want to be able to fully interact with their kids and grandkids. A replacement will allow them to be more active," he says. "It gives them a second lease on life."
Why joints break down
The primary cause of hip and knee degeneration is arthritis, says Dr. Eddie S. Wu, of Premier Orthopaedic Associates of Southern New Jersey. With arthritis, the cartilage has broken down and the bones begin grinding against each other, causing pain and restricted movement. Other factors that can contribute to weakened, painful joints are genetics, history of accidents or sports injuries, and general lifestyle. Kahn says people who work on their feet—construction workers, mail carriers, etc.—are at higher risk than those who have sedentary jobs.
Also, as the baby boomers hold tight to their active lifestyles, many will find that their knees or hips eventually give out. That's particularly true for those who may be slightly out of shape, then pour a burst of energy into a weekend baseball game. "We worry about the 'weekend warriors' who aren't active, then go out and give 110 percent," Kahn says. "When they're not fully accustomed to physical activity, that puts them at risk for injury."
Some patients find that they can live with moderate pain for a long time. Doctors may prescribe over-the-counter pain relievers, cortisone shots, or alternative treatments like yoga or acupuncture. It's when the pain no longer seems manageable that some patients begin to consider joint replacement, says Wu. An orthopedic specialist may monitor a patient for many years before recommending joint replacement surgery, he says.
"Just because you make an appointment to see a joint surgeon doesn't mean you are heading straight for surgery," he says. "We might see some patients every six months for several years before they would decide to have joint replacement surgery."
The replacement procedure
But what goes into a replacement?
In a total hip replacement, the surgeon replaces the ball at the upper end of the thigh bone with a metal, ceramic or plastic part. The procedure also involves replacing damaged cartilage with new, artificial material.
In a knee replacement, according to the American Academy of Orthopaedic Surgeons, the damaged cartilage is removed, along with a small amount of underlying bone. The surgeon then places metal components that recreate the surface of the joint. These metal parts may be cemented or "press-fit" into the bone.
The undersurface of the kneecap is cut and resurfaced, and finally, a plastic spacer is inserted between the metal components to create a smooth gliding surface. Patients are also benefiting from improvements in the materials used to make replacement joints. In the past, the parts were built to last for 10 to 15 years. But the ever-increasing life span of Americans makes it possible that a new joint won't last as long as the patient.
"Our intention is to replace the joint once and be done with it," Kahn says. "For a patient in their 60s or 70s, that works out well, but if the patient is in their 40s, they may eventually see that joint deteriorate."
Doctors are beginning to use less invasive surgical tactics to replace joints. Benefits of minimally invasive procedures include smaller incisions and a smaller scar after surgery. Dr. Manny Porat, of Reconstructive Orthopedics, says a minimally invasive knee replacement takes about 45 minutes, and a hip procedure takes about an hour. He conducts surgery through the Virtua Joint Replacement Institute, where he says patients benefit from a health-care team that specializes in replacements, performing nearly 2,000 per year.
"The entire OR staff develops expertise, which greatly improves patient outcomes and increases their satisfaction," he says. "Having physicians and nursing staff who are dedicated to these procedures means they can respond quickly and know exactly what's going on."
Less extreme measures
Dr. Laura Ross, of the Ross Center for Orthopedics, does not perform full joint replacement. One of her specialties is arthroscopic surgery, in which a surgeon makes small incisions, and then uses a camera-like instrument to examine and repair joint damage. For patients with moderate arthritis combined with other factors, or injuries like muscle tears, arthroscopic surgery can be a good option that may prevent the need for full joint replacement later in life.
"Let's say your meniscus (cartilage) is torn," Ross explains. "As you walk, you're putting abnormal stress on the joint. You begin walking irregularly because it hurts to walk normally, and that irregular gait contributes to the breakdown of the joint." By fixing the torn meniscus arthroscopically, the patient would regain normal function quickly, before developing more severe damage.
Compared with joint replacement, arthroscopic procedures generally have quicker recovery times, although patience and a slow approach are recommended. Ross says a more severe injury, like an ACL (anterior cruciate ligament) tear, may take up to nine months to rehabilitate. A simpler procedure could require just one to three months.
Another procedure that can reduce pain and improve mobility is viscoelastic supplementation, in which doctors inject fluid into the knee to decrease pain and help with stability. "For the middle-aged athlete with mild arthritis, this is another thing we do that can help the patient hold off on arthroplasty," Ross says.
Resources
Premier Orthopaedic Associates of Southern New Jersey
201 Tomlin Station Road
Suite C, Harrison Township
(856) 223-0007
POASJNJ.com
Reconstructive Orthopedics
4A Eves Drive
Suite 100, Marlton
(609) 267-9400
ReconstructiveOrtho.com
Regional Orthopedic Professional Association
2201 Chapel Ave. W.
Cherry Hill
(856) 663-7080 ROPANJ.com
Ross Center for Orthopedics
300 Creek Crossing Blvd.
Suite 307, Hainesport
(609) 267-2333
175 Cross Keys Road, Berlin
(856) 768-7777
RossOrthopedics.com
Published (and copyrighted) in the Art of Living Well pull-out section of Suburban Family Magazine, Volume 5, Issue 8 (October, 2014).
For more info on Suburban Family Magazine, click here.
For information about advertising in Suburban Family Magazine, click here.
To find out where to pick up your copy of Suburban Family Magazine, click here.