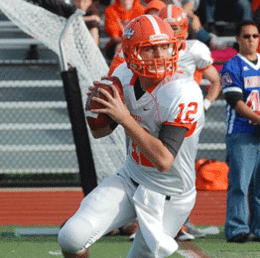 Football
Bishop Eustace Crusaders
Players to watch: The Crusaders graduated 14 seniors from last year's team, including starting quarterback Tim McConnell, an all-conference second-team selection. Also gone are all-conference linemen Matt Fitzpatrick, Bobby Nevin and Dillon DiCurcio. Leading the returners on offense are senior running back Roy Hansen and senior wide receiver Vinny Papale, an all-conference first-teamer who had 28 catches and five touchdowns last year. Papale is a potential game-changer who was clocked at 4.52 seconds in the 40-yard dash over the summer. Junior Isaiah Wingfield (12 catches) and senior Chris Smith (eight catches, one TD) are also receiving threats. Juniors Robert Dunn, Kevin Lammers and Wesley Payne saw time in the backfield last year and could be ready for bigger roles. Defensively, Eustace brings back seven starters, including Hansen, who was an all-conference first-team linebacker after leading the team with 53 tackles and adding two sacks. Senior defensive lineman Nicholas Barnaba led the Crusaders with four sacks and three fumble recoveries in 2013, while seniors Ryan Lange and Christian DiAntonio are returning linebackers. Dunn, a linebacker, was the Crusaders' JV Defensive Player of the Year, and senior Adam Gottsch saw varsity time at defensive back.
OUTLOOK: Eustace went 6-5—a four-win improvement from the year before—and won a playoff game before falling in the Non-Public Group II semifinals. The Crusaders have a lot to replace, especially in the trenches and at QB, but hope to stay competitive with a team that head coach Rob Cormier says might be his fastest in eight years at the school.
Camden Catholic Fighting Irish
Players to watch: Aside from starting quarterback Matthew Goldner, who graduated, Camden Catholic was set to welcome back all of its top skill-position players on offense, but junior running back Benny Walls has decided to transfer. A strong runner as well as a receiving threat out of the backfield, Walls had been a varsity player since his freshman year for the Fighting Irish. They do bring back senior running back Malik Johnson, who has a nose for the end zone and could be in line for more carries. Junior Tyree Rogers was all-conference second team at receiver last year but will be in the mix to replace Goldner at QB, along with junior Joe Hahn. Whoever starts behind center will have receiving threats in seniors Carl Garnes and Jahier Franklin and junior Jamal Parker. Senior Matthew Wright is a key player on the offensive line, while senior Everett Minchew returns after an all-conference first-team season at kicker and will also serve as the Fighting Irish punter. Defensively, the secondary is stacked with all-conference first-teamer Parker along with Garnes, Franklin and junior safety Jordan Jefferson. The Irish graduated several playmakers at linebacker but do return Wright on the defensive line.
OUTLOOK: After a 4-6 record last fall—its first losing campaign since 2009—Camden Catholic enters a season of change. The Irish have their third head coach in three seasons, as former Burlington Township assistant Nick Strom takes over for Dennis Scuderi. They also are switching divisions in the West Jersey Football League, moving from the Constitution to the Royal. Don't be surprised if those changes work out well and Camden Catholic gets back to its winning ways.
Cherokee Chiefs
Players to watch: Cherokee's outstanding 2013 team included a senior class with four all-South Jersey players and 10 all-conference players, so clearly the Chiefs will have a different look. But that doesn't mean they are without talent. Senior running back Marc Woodard rushed for nearly 700 yards and eight touchdowns and was named all-conference second team. The line he'll run behind lost several key starters but does return all-South Jersey first-team tackle Dan Iannone, a senior. Sophomore Conor Ashton, who saw some varsity time as a freshman, will battle with junior Evan Powell for the chance to succeed all-conference second-team quarterback Trevor Osler. One of the top targets will be senior wide receiver Jesse Streb (17 receptions, two TDs). Senior Max Hilton-Lovett is another returning receiver, while seniors Marc Gernhardt and Jared Barlow and junior Mike Faunt are running backs who will compete for carries. Defensively, the top returner is Powell, an all-conference second-teamer at linebacker. Gerhardt and Streb are experienced defensive backs.
OUTLOOK: Thanks to a nine-game winning streak after its only loss in September, Cherokee finished 2013 with an 11-1 record and the South Jersey Group V title. The Chiefs graduated many of the standout players from that squad, but this is a proven program that should remain competitive. They also still have long-time leader P.J. Mehigan, who was recently inducted into the South Jersey Football Coaches Association Hall of Fame.
Cherry Hill East Cougars
Players to watch: The Cougars were extremely young in 2013, so many of their top players return, led by three-year starting quarterback Brandon Stern. One of his key blockers is junior John Lass, an all-conference second-teamer, and junior Justin Garcia is also back on the O-line. Other returners on offense are running backs Zach Volm, a junior, and Mario Paglione, a senior, along with senior tight end Terry Hall, junior wide receiver Vinny Guckin and senior receiver Josh Hall. Defensively, senior lineman Amir Wathstein was an all-conference second-team selection, while Lass was also a starter on the line. Volm, Garcia, Paglione and Hall are experienced linebackers, and Guckin, Hall and junior Jordan Clark are returning defensive backs.
OUTLOOK: The Cougars' youth showed in 2013, as they struggled through an 0-10 season. They're hoping the lessons they learned will pay dividends this fall.
Cherry Hill West Lions
Players to watch: Rodney Williams, a dynamic athlete and four-year varsity starter who played quarterback and safety and returned kicks as a senior, has moved on to Syracuse. The good news for the Lions is that they've already faced the prospect of playing without Williams, as he broke his leg midway through last season and missed the final five games. Senior Joey Argentina filled in at quarterback in Williams' absence and threw five touchdown passes. He is expected to return as the starter, and will lean heavily on senior running back Tyrone Williams, an all-conference first-team pick last fall after rushing for five TDs. Argentina will also have solid targets in senior wide receivers Chris Pascall, who came on strong at the end of last year and caught five TD passes, and Quinton Jenkins (three TDs). Shawn St. John, an all-conference first-teamer, is a key returner on the offensive line, while senior wide receiver Josh Machtinger, sophomore running back Josh Santana and senior kicker Chase Hoffman are also back. Senior lineman Ryan Wimmer, an all-conference second-teamer, leads the returners on defense. West will also be aided by the addition of sophomore cornerback Harrison Hand and sophomore Nick Alberto, a terrific athlete who could be used at several positions.
OUTLOOK: Cherry Hill West has made great strides in recent years, including its first-ever playoff berth last year, when it finished with a 5-5 record. Despite graduating Williams, the Lions are on the right track and could contend for a winning record.
Clearview Pioneers
Players to watch: The Pioneers are paced by Division I recruit Sterling Sheffield, a 6-foot-2, 220-pound senior who college programs envision as an outside linebacker. In his first season at Clearview after transferring from Paul VI, Sheffield played defensive end and had 34 tackles and two sacks despite missing the first four games due to NJSIAA transfer rules. He also made 21 catches for 328 yards and two touchdowns at wide receiver, but could be in line to take over as the starting quarterback with the graduation of all-conference first-teamer Brendan Lee. Sheffield will compete with senior Frank Pipich to be the starting QB, and whoever does not win the job will play wide receiver. The Pioneers also return a pair of all-conference second-team seniors in running back Nahir Nelson (10 TDs) and fullback Joseph Coles (seven TDs). Senior Sal Piccone was an all-conference second-team offensive lineman despite suffering a season-ending injury midway through the year, while seniors Armani King and Julian Perotti also return on the O-line and senior Mike Williamson is back at tight end. Another starting lineman, senior Zach Deal, is battling back from a serious knee injury and is working hard to return sometime during the season. Defensively, Pipich, a safety, joined Sheffield on the all-conference first team and senior linebacker Dalton Reim was a second-teamer. Perotti, King, Piccone and Deal are experienced defensive linemen, Coles returns at linebacker and Nelson and senior Tyler Bowen are key players in the secondary. Other returners are senior fullback/linebacker Nick Bodine, senior tight end/defensive end Ryan Malane and junior kicker Larry Eimer, an all-conference second-team selection.
OUTLOOK: The Pioneers, who finished with a 4-6 record in 2013, saw major changes to their division in the offseason, as Shawnee and Winslow departed the WJFL National Division and perennial powers Timber Creek, Delsea and Hammonton entered. Their talented roster, led by Sheffield, hopes to compete in a loaded conference.
Eastern Vikings
Players to watch: Eastern graduated three all-South Jersey and four all-conference first-team players from an explosive offense that averaged more than 34 points per game. Included in that group is quarterback Tom Flacco, who threw for 25 touchdowns and ran for 10 more as a senior, as well as standout offensive linemen Mike Montemurro and Diante Young. The good news starts with the return of senior running back Eric Sawyer, who rushed for more than 550 yards and scored six TDs last fall. The new starting quarterback is senior Cinque Hill, who scored six TDs as a wide receiver last season. One of Hill's threats in the passing game will be senior tight end Pete Flacco (four TDs), while senior wide receiver Kevin Martinez had a strong offseason and is also expected to be a big contributor. Running back Tony Dandridge and wide receiver Najee Jones, both sophomores, are also being counted on despite their youth, and senior fullback Brandon Tyther is an experienced leader. Junior Jacob Gruber, a 6-foot-3 offensive lineman, played center last year but will move to left tackle to anchor the line. Leading the defense are senior defensive backs Tyler Wilson, an all-conference first-team pick, and Hill, a second-teamer. Davon Andrews, a senior transfer from Tennessee, will look to make an impact at middle linebacker, while Tyther is another linebacker and Martinez will contribute in the secondary. All-conference second-team kicker Todd Spirt is also back.
OUTLOOK: Eastern went 0-2 against rival Cherokee in 2013—including the South Jersey Group V final—and 10-0 against everybody else. New head coach Danny Boguszewski, a former Paul VI assistant who takes over for Dan Spittal, has a lot of new starters to incorporate but hopes to keep the momentum going.
Gloucester Catholic Rams
Players to watch: The Rams had five all-conference selections in 2013, including quarterback Mike Davis and linebacker Glenn Garrison, but all of them graduated. Their only two full-time returning starters are juniors Marc Franklin, a running back/linebacker, and Zach Sheehan, a two-way lineman. Senior linebacker Brian Bohrer and senior offensive lineman Zach Heard are other experienced returners. Several members of last year's talented freshman team will also push for starting spots, including defensive end Jake Medica, defensive back Colin Corrado and offensive lineman Angelo DeAngelis. The Rams have also been bolstered by the return of several athletes who focused on baseball or basketball in recent years, and total numbers are up for the program.
OUTLOOK: Gloucester Catholic is turning to new head coach Casey Murphy, a former player for the team, to turn the program around. The Rams went 3-7 in 2013, their fourth straight losing season. Murphy has coaching in his blood, as he is the son of former Gloucester Catholic boys basketball coach and current athletic director Pat Murphy.
Haddonfield Bulldawgs
Players to watch: Mike McLaughlin, the starting quarterback on Haddonfield's South Jersey Group II championship team last year, is among the stars who graduated, but the Bulldawgs return a terrific running game. Senior Mike DeFeo rushed for 739 yards and scored 11 touchdowns and senior Jake Klaus added nearly 600 yards on the ground and 10 TDs. Both were named to the all-conference first team. Fullback Mark Walker also returns and senior Nick Rollo and junior Frank Fortino are returning starters on the offensive line, while senior Troy Crompton is a veteran lineman who missed last season with an injury. Senior Mike Alberto saw time at QB and will battle for the starting position with junior Tommy Kadar. Whoever wins the job will have top targets in senior tight end Tyler Klaus (five TDs) and senior wide receiver Jake Robinson (four TDs), who are both receiving heavy college interest. Walker, an all-South Jersey first-team linebacker who was also third-team all-state, leads the defense along with Tyler Klaus, a defensive end. Jake Klaus, DeFeo, Alberto and Robinson are all experienced defensive backs, while the returning linebackers include senior Wes Dengler and Fortino. Back on the defensive line are Rollo and junior Jake Walter, who had four sacks as a sophomore, including three in one game. Junior Drew Tomlinson is back as the starting kicker.
Outlook: Last season was a special one for the Bulldawgs, who knocked off three undefeated teams in the playoffs en route to the South Jersey Group II title and a 10-2 final record. Look for them to stay among the tops teams in the area with a solid core back in the fold.
Kingsway Dragons
Players to watch: The Dragons have a lot of holes to fill, especially on an offense that averaged more than 34 points per game in 2013. The biggest loss was running back Ray Lawry, who led South Jersey with 1,860 rushing yards and 28 touchdowns. Also gone are all-South Jersey tackle Tim Brown and starting quarterback Robert Green. Among the key returners are all-conference second-team wide receiver Deron Maxwell, fullback Anthony Incollingo, guard Andrew Beamer and 6-foot-4 tackle Marshall Hoebing, all seniors. Junior running back Sean Samuels has good size and speed and figures to get a lot of touches in Lawry's absence, and sophomores Anthony Sees and Mike Waltzer are also promising running backs. Senior Anthony Dilks is in line to become the starting quarterback, but could be challenged by several youngsters in camp. On defense, the Dragons return a majority of their starters, including a beast at defensive end in senior Denzel Polk, an all-South Jersey first-team selection. Polk racked up 14 sacks and 30 tackles for loss and forced two fumbles in 2013. Senior linebacker Mike Morris is also back, while Beamer returns at defensive tackle and Incollingo at linebacker. Junior Chase Matthews, the younger brother of former Kingsway star Myles Matthews, is also expected to be a key player at linebacker. Senior Connor Bell was an all-South Jersey second-team punter last year and also handles kicking duties.
Outlook: The Dragons shared the West Jersey Football League National Division title with Shawnee and advanced to the South Jersey Group IV semifinals in 2013. Their playoff run ended against Timber Creek for the second straight year and they finished with an 8-3 record. Saying goodbye to one of the all-time great area running backs in Lawry will obviously hurt, but this program always seems to find new talent, and their defense will keep them competitive.
Lenape Indians
Players to watch: Lenape's offense will revolve around a pair of terrific senior running backs in Malcolm Anthony and Ben Hunt, who each rushed for more than 500 yards last year. Anthony was the leading rusher, scored four touchdowns and was an all-conference second-team pick, while Hunt led the team with 10 TDs, including eight on the ground. Senior Jimmy Kennedy saw time at several positions, including one game at quarterback, and figures to take over as the starting QB for the departed Justin Holl. Senior fullback Steven Anderson (three TDs) is a three-year starter, senior offensive lineman Brandon Searles was an all-conference second-teamer and senior Paul Fullerton also returns on the line. Other returners on offense are senior tight end Darren Spitzer and junior backs Conor Gaffney, Jordan Davis and Ryan Shuts, although senior receiver Dom Bounasissi looks to be out for the season with a knee injury. Defensively, Hunt was an all-conference first-team safety and Anthony returns as a starting corner. Kennedy was an all-conference second-team linebacker and senior Anthony Brunetti also returns at linebacker. Back on the defensive line are Anderson, Fullerton and senior defensive end David Roberts. Jarry Jones, an all-conference first-team punter, is also the Indians' kicker.
Outlook: Lenape finished 4-6 for the third straight season but could be ready to post a winning record. The Indians leave the brutal WJFL American Division to join the Colonial Division this year, and it wouldn't be a surprise to see them contend for the title right away.
Moorestown Quakers
Players to watch: Last fall was a breakout season for senior running back Anthony Williamson, who garnered all-conference first-team honors after rushing for almost 900 yards and scoring nine touchdowns. He'll again take handoffs from junior quarterback Mike DiMarino, who finished strong in his first season as the starter and threw for more than 700 yards and eight TDs while also running for two scores. Junior Greg Gamble, who opened last season as the starting running back but broke his collarbone in Week 1, is another offensive weapon. Senior offensive lineman Tyreek Smith was an all-conference second-teamer and senior Jimmy McHugh is another returner up front. Seniors Quinton Law and Will Emerson are key receiving threats and senior Austin Haynes provides depth at running back. Junior fullback Niles Turner also returns after missing most of last season with a broken fibula. Turner's presence will especially be felt on defense, where he's been a starter since his freshman year on the line and is a force for opposing linemen to reckon with. Smith, McHugh and senior Eli Etienne round out an imposing front line for the Quakers, and Williamson is a standout linebacker. Law and Haynes are returning defensive backs and Gamble is back at safety. Senior Westin Bobadilla and junior Ryan Loftus will battle it out to handle the kicking and punting duties.
Outlook: Moorestown went 4-6 and lost to Toms River South in the first round of the playoffs in its first season under head coach Beau Sherry. The Quakers should be able to get back to their winning ways with an experienced DiMarino and a healthy Turner. With Timber Creek moving out of the WJFL Constitution Division, Moorestown could also take over as division champion.
Paul VI Eagles
Players to watch: Paul VI must replace all-conference first-team quarterback Alec Vignola, but whoever wins the job will have one of the top wide receivers in the state as his primary target. Irvin Charles is a highly recruited, 6-foot-4, 210-pound senior with offers from Alabama and Ohio State, among others. Last year he had 49 catches for 848 yards and 11 touchdowns, and he also ran for two TDs on his way to all-state third-team honors. The Eagles also return a pair of dangerous junior running backs in Lonnie Moore (458 rushing yards, nine total TDs) and Stefon Moore-Green (260 rushing yards, eight total TDs). Other returners on offense are senior running back Matt McKeown (three TDs), senior wide receiver Alex Toplyn (three TDs) and junior running backs Gavin Sentak and Chris Randle. In addition to QB, the Eagles have holes to fill on the offensive line after losing several key players. Defensively, the secondary is strong with all-conference first-teamer Toplyn and all-conference second-teamer McKeown. Other potential impact players on defense are juniors James Weathers, Michael Johnson and John Santini and sophomore Elvis Hines. The kicking game is also strong with Sentak, an all-conference second-teamer.
Outlook: Paul VI posted a 7-3 record and lost in the first round of the Non-Public Group IV playoffs last fall. With several offensive weapons returning, led by Charles, they should remain one of the top teams in the WJFL Constitution Division.
Seneca Golden Eagles
Players to watch: Junior Sam Pawlikowski is coming off a terrific sophomore season and will be a force on both sides of the ball for Seneca. Last year the running back rushed for 881 yards and scored nine touchdowns. On defense, the linebacker led the Golden Eagles with 120 tackles and was named to the all-conference first team. Sophomore J.J. Scarpello, who gained varsity experience as a freshman, will compete with senior Kyle Umbehauer for the starting quarterback job. Junior wide receiver Roosevelt Jordan had 10 catches last fall and is another key player on offense, along with senior receiver Mike Mulvihill. Seneca also has solid linemen in seniors Paul Karnavas and Hunter Piper and junior Jon Kornacki.
Outlook: With several players back at key positions, the Golden Eagles are poised to improve on last year's 2-8 record.
Shawnee Renegades
Players to watch: Shawnee saw several star players graduate from last year's South Jersey Group IV championship team, including four-year starter Anthony DiOrio, a standout on both sides of the ball. But there's no reason to feel sorry for the Renegades, who return nine starters on offense and eight on defense. Junior Michael Welsh is back as the starting quarterback after throwing five touchdown passes and running for six more in 2013. Senior running back Jake Parola was the No. 2 option behind DiOrio last year and had 349 rushing yards and six TDs, while senior fullback/tight end Curtis Corley had a pair of TD catches. Seniors Rhett Saltiel and Nick Buono are other returning backs and the receiving corps is deep with seniors Jack Tyrell, Nick Pressler and Austin Grose and junior Anthony Mague. The Renegades must replace all-South Jersey second-team offensive lineman Reece Tursi, but bring back starters in seniors Patrick Fryer, Eric Hawkinson and Braedon Parker. Corley, a linebacker, leads a defense that recorded four shutouts last year and held opponents to 12.3 points per game. He had 82 tackles and four sacks and made the all-South Jersey second team and all-conference first team. The Renegades' outstanding linebacking corps also returns two all-conference second-teamers in seniors David Smith (four sacks, two interceptions) and tackling machine Max Busca (106 tackles, two sacks). David Gajderowicz is a three-year starter on the defensive line who had three sacks and made the all-conference second team, and Parola is a returning defensive back who had three interceptions in one game last year. Other returners on defense include senior linebackers Cole Troyano and Buono and defensive backs Pressler and Saltiel.
Outlook: Shawnee won its last six games in 2013, including the South Jersey Group IV final over Timber Creek, to finish 9-3. The Renegades' defense should keep them among the top teams in South Jersey, although a move from the WJFL Constitution Division to the American Division makes things interesting. They are now grouped with the likes of Cherokee, Eastern, Williamstown and Washington Township.
Washington Township Minutemen
Players to watch: The Minutemen graduated all-South Jersey running back/wide receiver Andrew O'Neill and all-conference second-team quarterback Christian Maiden, so the offense will look different, but defensively a lot of key players return after learning on the job a year ago. Included in that group is the entire starting linebacker corps of juniors Matteo Murgia, Nick Becht and Kyle Bogacki. Seniors Chris Murphy, Mike Petta and Anthony LaRosa and sophomore Dave Grosmick are back on the defensive line. The secondary has some holes to fill but has experienced players in senior safety Tyler Coughlin and senior cornerback Jamir Miller. On offense, junior Rich Stanzione returns after starting at running back. He also served as Maiden's backup quarterback and is in the mix to become QB1. A pair of sophomores, D'Andre Blue-Eli and Michael Piperno, are also vying for the starting quarterback job. Coughlin and Miller will both get carries at running back, and the offensive line returns three starters in senior guards Matt DiJohn and Ed Hicks and right tackle Al Piccoli. Senior Joe Eckert is back as the starting kicker.
Outlook: The Minutemen finished 6-4 in 2013 and lost to Cherokee in the first round of the Group V playoffs. They suffered some lopsided losses against a brutal schedule, but head coach Mark Wechter calls this the best offseason of his tenure and expects his team to be more consistent.
For this year's schedules, click here
Photo: Cherokee (photo courtesy of the Courier Post)
Published (and copyrighted) in Suburban Family's High School Fall Sports Preview, July, 2014.
For more info on Suburban Family Magazine, click here.
For information about advertising in Suburban Family Magazine, click here.
To find out where to pick up your copy of Suburban Family Magazine, click here.