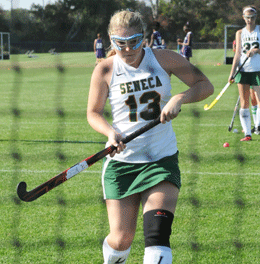 Field Hockey
Bishop Eustace Crusaders
Players to watch: Several standout players have graduated, including all-state second-team midfielder Sarah Furey and all-South Jersey players in forward Lauren Crudele and defender Eileen Dwzill. With their departure, it's time for a new crop of stars to emerge, and a trio of sophomores who played valuable roles last year as freshmen may be up to the challenge. Drew Pecora had eight goals and nine assists as a rookie, Erin Quinn added eight goals and seven assists, and Alexis DeGennero had seven goals and four assists. Another key returner is Tara Young, the starting goalie. Other returning seniors are Rachel Hepp, Dana Pecora, Katie Conroy, Meghan Donnelly and Victoria Neale, while junior Ally Criscuolo contributed last season and Ashley Conklin is a member of the talented sophomore class.
Outlook: The Crusaders' youngsters saw important minutes during a season in which they went 18-2, reached the South Jersey Non-Public final and finished sixth in the state rankings. Now they'll be asked to become the new leaders for a program used to winning.
Camden Catholic Fighting Irish
Players to watch: The program enters a new era without forward Tara Vittese, who graduated after scoring 166 career goals and twice being named to the all-state first team. Junior midfielder/forward Kelli Connolly leads the list of returners after scoring 20 goals to go with 12 assists last season. She has started since her freshman year and made the all-conference first team both years. Senior goalie Caroline Hearn is another all-conference first-teamer who returns. Other key players are senior midfielder Kathleen Petrucelli (five goals) and sophomore forward Erin Campbell (four goals). Seniors include forward Lindsey Pierce, midfielders Gianna Flacco, Mia Martin and Elana Martino, defenders Angela Fisherkeller and Annie Varallo and goalie Danielle Saranchak. Juniors to watch are forward Brooke Albright, midfielder Alexandria Miller and defender Tejpreet Ghuman, and sophomores who saw varsity time include forwards Emily Berry and Cecilia Ann Wigginton, midfielder Caroline Smith and defender Brett Hardy.
Outlook: The Fighting Irish posted a 16-5 record in 2013 and reached the South Jersey Non-Public semifinals. While Vittese's scoring is irreplaceable, the young talent is there to keep this a winning program.
Cherokee Chiefs
Players to watch: Almost the entire roster is back for Cherokee, which graduated just three seniors. Senior goalie Samantha Rubin returns after recording 388 saves, third-best in the state, and classmate Jess Havers (three goals, seven assists) is a key piece of the offense. Several talented junior forwards/midfielders also return, including Bec Moretti (seven goals, three assists), Tara Zeuli (six goals) and Brooke Yarsinsky (five goals). Other returning seniors are midfielders Sarah Nowak, Lily Feldman and Chelsea Escudero, forward Megan French and defenders Alyssa Gervasi and Rachel Grace. The junior class includes forwards Lucia Donia and Victoria Rawden and midfielder Taylor Maccariella, and sophomores returning to varsity are forward Lilly Fox and midfielder Joelle Wash.
Outlook: The Chiefs improved their record by three wins last year, posting a 9-12-1 mark and reaching the South Jersey Group IV quarterfinals. They have most of the team intact and will also welcome back a familiar face to the sidelines. Sharon Tinucci, who was Cherokee's head coach from 1992 to 2008 before retiring, is back in the position this fall.
Cherry Hill East Cougars
Players to watch: The key returners for the Cougars include a trio of senior forwards in Zoey Abrams, Brittany Strouse and Elizabeth Angelucci, and they also have two experienced goalies in senior Kelsea Kenniff and junior Zoe Peterzell. Defender Dayna Wachman is another returning senior, and juniors who saw action are forward Charlotte Montgomery and defender Olivia Mayo.
Outlook: The Cougars finished with a 4-13-1 record last year and their defense kept them competitive in most games. They'll look to add to their win total despite a tough schedule.
Cherry Hill West Lions
Players to watch: The Lions graduated nine seniors from last year's team, including four all-conference players. Only one senior returns this year in Lindsey Coyle, but the junior class is heavy in varsity experience and includes Colleen Clancy, Ciara Brickner, Madison Bruhn, Hannah Johnston, Delaney McQuade, Anne Mullarkey, Alyssa Riess, Gianna Ummarino and Laura Versace. Abby Spencer saw varsity action in the cage as a freshman and Tori Injaian is another returning sophomore.
Outlook: The Lions went 7-12-2 last fall, a five-win improvement from the year before, and won a playoff game before falling in the Central Jersey Group IV quarterfinals. Despite key losses to graduation, they'll look to build on that foundation.
Clearview Pioneers
Players to watch: Clearview said goodbye to all-time leading scorer Jackalyn Pauling, who was all-state second team last year after scoring 56 goals. All-South Jersey third-teamer Holly Tevis also graduated, but the Pioneers have young talent that learned under those standouts in 2013. Chandler McFeeley was second on the team with 10 assists and scored six goals as a freshman, and fellow sophomore Rachel Lanzalotti had five goals and two assists in her rookie campaign. Senior Allison Dickson is an important returning piece of the defense, while other returning seniors are starting goalie Michaela Counsellor, Olivia Mittleman (three goals, three assists) and forward Noel Watt. Defender Shelby Schofftstall is a returning junior and senior Devon Cassidy is expected to contribute after missing last season with a concussion. The Pioneers also have a promising class of incoming freshmen.
Outlook: The Pioneers posted a 16-2 record, won the Tri-County Royal Division title and reached the South Jersey Group IV quarterfinals. Pauling can't be replaced, but the program remains in good shape moving forward.
Eastern Vikings
Players to watch: The Vikings graduated a senior class from last year that included three all-state players and four all-South Jersey picks, but it doesn't hurt to bring back the national scoring champion in senior forward Austyn Cuneo. Cuneo scored a whopping 96 goals last year to set the national record, and she also holds the national record with 233 career goals with another season to go. Expect more of the same this year as she caps her unforgettable career at Eastern. Cuneo is joined by all-state second-team midfielder Madison Morano, a junior who had 19 goals and 20 assists last year to help the Vikings break their own national record for goals in a season with 235. Sophomore Cassie Kincaid was the starting goalie and was one of five freshmen to contribute on varsity, along with midfielders Mackenzie Keegan and Ashley Thomas and defenders Kayla Somers and Alexis Pettisani. Other returners include senior midfielder Ali Hoag, junior forwards Jordan Alcoy-Quinn and Nikki Santore and junior defenders Kristina Castagnola and Alanna Gollotto.
Outlook: This year's senior class at Eastern still has never lost a varsity game, as the Vikings went 26-0-1 and won the Tournament of Champions crown last year. They also moved into sole possession of first place in New Jersey history with their 17th state title and 15th straight. With last year's youngsters another year older and the supreme scoring talent of Cuneo, you can count on the Vikings to keep rolling along.
Gloucester Catholic Rams
Players to watch: The Rams bring back their leading scorer in senior forward Alexa Bonomo, who had five goals and an assist last year. Senior forward Abby Chrzanowski is also an important part of the offense and defender Shannon McQuaid is the only other senior returner. Returning juniors are forward Megan Barth, midfielder Emma Burns and defenders Megan Dyson, MaryKate Kane and Allison Laskowski, who also plays goalie. Sophomores who saw varsity action as freshmen are forwards Erin Barth and Kaleigh Frampton and midfielders Allison Driscoll and Samantha Heister.
Outlook: The Rams finished with a 3-11-1 record in 2013 and lost in the first round of the South Jersey Non-Public playoffs. Scoring was an issue, as they were shut out seven times, but with several experienced forwards returning they're hoping to find their offense and improve their record.
Haddonfield Bulldawgs
Players to watch: Junior forward Suzie Clark and sophomore forward Kayla Warner are two important returners on offense for the Bulldawgs, while senior Amanda Auguliaro is a key defender. Other returning seniors are forward Gia DelDuca, defender Mallory Ilves and goalie Jackie Karlsson. The junior class includes forwards Julia Bennett, Ana Buzzerd and goalie Sophie Alberts, and forward Caroline Bickel and midfielder Meghan Smart are sophomores who contributed as freshmen.
Outlook: Haddonfield went 11-10-1 and reached the Central Jersey Group I quarterfinals last fall. They return several key players from that team and should continue the winning tradition of the program.
Kingsway Dragons
Players to watch: Kingsway said goodbye to a terrific senior class that included all-South Jersey players Tori Danner and Jackie Neary. Their offense still has some punch, though, with senior forwards Marissa Ciocco (11 goals, four assists), Alex Disciascio (six goals) and Marissa Anderson (three goals) and junior midfielder Celeste Azzari (four assists) leading the way. Other seniors are goalie Desiree James, midfielder Alyson Keane and forwards Julia Parent, Xylie Parker, Alexa Roll and Brittany Stinger. Juniors to watch are forwards Taylor Acevedo, Sophia Casella and Nicole Tuller, midfielders Amber Damask, Abigail Gill and Kyra Traino, defenders Lindsay Miller and Brittany Young and goalie Sydni Young.
Outlook: The Dragons finished with a 14-4-2 record, earned the top seed in the South Jersey Group III playoffs and reached the semifinals before falling to eventual champion Ocean City. They will clearly miss last year's seniors but hope to develop their young talent and remain one of the top teams in the area.
Lenape Indians
Players to watch: The Indians bring back their leading scorer in senior Alexa Colfer, a three-year starter who scored eight goals as a junior. Forward Natalie Peel and midfielder Kaity McKenna, a versatile player who contributes all over the field, are also seniors who have started since sophomore year. Other returners include seniors Emily Hunt and Caitlin Darreff and juniors Jaclyn Peditto and Julia Rosenblatt.
Outlook: The Indians posted a 6-13-1 record in 2013 and advanced to the Central Jersey Group IV semifinals before losing to Freehold Borough, which went on to win the title. Despite losing their starting goalie and several starting defenders, they have a solid returning offense and hope to improve against a loaded conference schedule.
Moorestown Quakers
Players to watch: Moorestown graduated leading scorer Jess Dadino, key defender Alexa Massa and starting goalie Monica Hernick, among others, so there are some spots to fill. But the Quakers also bring back important players such as three-year starters Rachel Stefano and Kendall Coughlin, both senior defenders, and senior forward Alex O'Donnell, who had 16 goals and 11 assists a year ago. Senior midfielder Paige Powell (nine goals, three assists) and junior defender/midfielder Grace Kuszmaul (six goals, two assists) broke through on varsity last year with solid seasons, as well. Returning starting defender Susan Orth, a junior, brings experience to the backfield. Other returning seniors include forward Arianna Labetti, midfielders Sabrina Barakat, Abby Bartlett, Saylor Brisson, Camille Groody, Sierra Walker and Maddy Yankell and defenders Jamie Rafter and Samantha Schneider. Juniors returning to varsity are forward Ali Rohrback, midfielder Ally Darmo and defender Jade Duffield. Sophomores Nicki Dadino and Erin McIlhenney are expected to make significant offensive contributions.
Outlook: The Quakers finished with a 16-2 record, went undefeated in the BCL Liberty Division, and came up just short of repeating as Central Jersey Group III champs, losing 1-0 to Allentown in the final. Expect the program to continue shining despite the key losses to graduation it always faces.
Moorestown Friends Foxes
Players to watch: Four members of the all-Friends League all-star team have graduated for the Foxes, but senior forward/midfielder Alaina Shivers headlines the list of returners. She was all-league honorable mention a year ago after recording 10 goals and eight assists. Katy Repholz scored nine goals as a freshman last fall, while junior Rylee Fennell (six goals, seven assists) and senior Nicolette Tamburri (four goals) are other contributors to the attack. Junior Georgia Gray saw time in goal as the backup to all-league goalie Lauren Brill and should be ready to step into a starting role. Other returners include seniors Molly Foster, Emily Tatum and Stephanie Walker and juniors Rachel Brown and Emily Herman.
Outlook: One of the top teams in the Friends League last year, Moorestown Friends finished with an 11-6 record and lost in the first round of the South Jersey Non-Public playoffs. They have the returning talent to remain competitive.
Paul VI Eagles
Players to watch: Paul VI had a young team in 2013 and a lot of key players return, and a talented transfer in senior Jacqui Rosati is also on board. She had 18 goals and seven assists for Haddon Heights last year and helped the Garnets reach the Central Jersey Group I final. Leading the returners is all-conference first-team senior midfielder Caroline Haeffner (four goals, one assist). The Eagles also had two all-conference second-teamers in senior forward Carly Murphy (two goals, two assists) and senior defender Ali DiSandro. The offense has a pair of talented young scorers in junior forward Breck Urban (six goals, seven assists) and sophomore Natalie Burns (nine goals, one assist). Senior Maureen O'Kane is a returning starter on defense and sophomore Kelly Murphy split time in the cage last year and should become the full-time starting goalie. Returning seniors also include forward Catherine Moran, midfielder Katrina Filipkowski, defenders Madison Brown and Haley Buechele and goalie Sam Stokes. The junior class features forward Keira Shusted and midfielders Abbey Lord and Meghan Carty.
Outlook: The Eagles won four more games in 2013 than the year before, finishing with a 6-13-1 record, and came within a 1-0 loss to Holy Cross of advancing to the South Jersey Non-Public semifinals. This is clearly a team on the rise and the progress should continue this fall.
Seneca Golden Eagles
Players to watch: Senior midfielder Colleen Kazokas (pictured) stepped into a starting role last year and responded by leading Seneca in scoring with 10 goals and two assists. Junior Kate Taylor (four goals) and seniors Kate Swope (four goals, four assists) and Kim Barbour (three goals, one assist) are forwards/midfielders who contributed to the attack last year. Senior Cailey Talbot was the starting goalie in 2013 and will once again compete for the starting job with senior Gianna Petagno, who is coming off a broken ankle suffered last year. Junior returners include defenders Sydney Malave and Ashley Moore. Sophomore defender Erin Donnelly also played varsity as a freshman. Several players from last year's undefeated freshman team, which beat Shawnee twice and Eastern once, are also hungry to earn varsity positions.
Outlook: Although the Golden Eagles went just 4-14 and lost in the first round of the South Jersey Group III playoffs, many of their returners played valuable roles and that should pay off this fall.
Shawnee Renegades
Players to watch: Leading scorer and all-state third-teamer Sophia Miller has graduated and moved on to Northwestern, but there is still talent left on the roster for Shawnee, which lost just three starters. Senior forward Julie Duncan (six goals, two assists) is a two-year starter with blazing speed who has committed to the University of Maryland, a national power. Senior Lindsay Engle, another two-year starter, is an aggressive defender who also contributes to the attack. She is a West Chester recruit. Senior forward Cailin Flannery had 13 goals and two assists a year ago, while sophomore forward Sabrina Solomen scored eight goals in her rookie season and junior forward Bridget Boyle (four goals, three assists) is another player who opposing defenses should be aware of. Gianna Glatz earned the starting goaltending job as a freshman and should be even better as a sophomore. The Renegades' senior returners include forwards Maddie Bray and Jacqui Schmidt, midfielders Ashleigh McDade and Beth Hermann, defenders Lily Argyle, Alison Hopkins and Bridget O'Hanlon and goalie Maggie Bennett. Juniors include forward Katarina Watson and defenders Kathryn Thompson, Krista Hoffman and Darby Baliga, while forward Colette Euksuzian and defender Gianna Mancini are sophomores who played varsity as freshmen.
Outlook: The Renegades went 12-8 and were eliminated from the South Jersey Group IV playoffs by state power Eastern for the third straight year, this time in the semifinals. Shawnee is a proven program that is again capable of making a deep playoff run.
Washington Township Minutemaids
Players to watch: The Minutemaids didn't graduate a huge senior class, but it did feature their leading scorer, top defender and starting goalie. Luckily they have a strong returning core to be excited about, including junior midfielder Jenna Patrone, who emerged as a force last year with 18 goals and 11 assists. Junior forward/midfielder Colleen McAninley (13 goals, 13 assists) and senior forward/midfielder Kaitlyn Hatch (nine goals, four assists) are also proven playmakers on offense. Other experienced seniors are forwards Juliana Macrini and Taylor Kelly and midfielder Lauren Sandelier, with defender Katie Cleary holding down the back line. Goalies Emily Horn and Mackensie Parker will look to fill a huge hole in the cage this season. Kate Schuck, Iris Schuck and Carly Kreitzer are juniors to watch.
Outlook: The Minutemaids went 12-9 and made an impressive run to the South Jersey Group IV final before falling to Eastern. They have a solid nucleus returning and their goal is to be a postseason threat once again.
For this year's Field Hockey schedules, click here
Photo: Seneca's Colleen Kazokas
Published (and copyrighted) in Suburban Family's High School Fall Sports Preview, July, 2014.
For more info on Suburban Family Magazine, click here.
For information about advertising in Suburban Family Magazine, click here.
To find out where to pick up your copy of Suburban Family Magazine, click here.