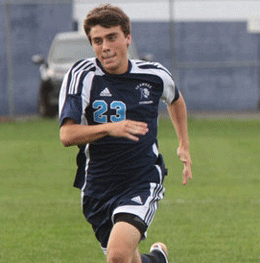 Boys Soccer
Bishop Eustace Crusaders
Players to watch: Senior Brian Keller returns after leading the Crusaders with 12 goals last year. Senior Andreas Papadourakis was also a key playmaker with three goals and two assists, while sophomore Sam Gray is coming off an impressive rookie season in which he recorded three goals and five assists. Other returners are seniors Phil Castellano, Broc Johnson, Sean McDonald and Jack Slawski, juniors Evan Adams, Jonathan Cole, Max Iles and Mike Iles and sophomores Jacob Ayoub and Brian Bernetich.
Outlook: Eustace graduated 12 seniors from the team that went 16-6-2 and reached the South Jersey Non-Public A final in 2012, and last year's young squad slipped to 5-12-1 and lost in the first round of the playoffs. But with the experience they gained, the Crusaders should be much improved this fall.
Camden Catholic Fighting Irish
Players to watch: New head coach Larry Sullivan is spending the summer getting to know his new team. The Fighting Irish are likely to have only five seniors but the numbers are good throughout the program, with 17 freshmen coming out for the team and 14 sophomores.
OUTLOOK: Sullivan, a well-respected coaching veteran who has spent many years on the sidelines—including 17 as the head men's coach at Villanova University—takes over for Camden Catholic this fall. His job is to help the Fighting Irish make strides after a 2-19 season in 2013.
Cherokee Chiefs
Players to watch: The Chiefs graduated a whopping 13 seniors from last year's team, including their three leading goal scorers in Steve Scian, Denis Hickey and Shawn Russell. Junior forward Rei Nozawa (three goals), senior back/midfielder Joe Dikmak and junior goalie Eamon McCarren are among the top returners. Other possible returners include senior midfielders Dotan Argano and Zach Wypych, junior midfielders Justin McCarthy and Christian Ognibene and junior back Mario LaMorte.
OUTLOOK: Cherokee posted an 11-4-3 record and reached the South Jersey Group IV quarterfinals for the second straight season, falling to eventual S.J. champion Clearview. The Chiefs have a lot of talent to replace but should once again be a team capable of making a playoff run.
Cherry Hill East Cougars
Players to watch: East was not a high-scoring team in 2013, and many of its top offensive players have graduated. Junior midfielder Harrison Faulseit (two goals, two assists) had a solid sophomore season and should be a key player again for the Cougars, while senior Sam Snyder brings experience back in goal. Other returners include senior midfielders Ronan McVeigh, Alex Blaker and Kyle Lochbiler, senior backs Fernando Morales and Matt Mozzillo and junior back Zach Fox.
OUTLOOK: The Cougars went 6-11 in Dennis Stein's first season after replacing long-time coach Karl Moehlmann, but they were in almost every game. If they can turn some of those 2-1 and 1-0 losses into victories, they'll be back to their winning ways.
Cherry Hill West Lions
Players to watch: The Lions graduated several key players from last year's South Jersey Group IV semifinal team, including all-South Jersey defender Michael Clauss, starting goalie Hayden Remphrey, defender Pascal Dylewicz and forward Gabe Watkins. But an important piece is back in junior forward Nick Krake, the team's leading returning scorer who netted the game-winning goal in double overtime in a playoff upset over Kingsway. Other returning starters are senior forward Justin Major, senior midfielders Colin McBride and Devin Crouch, junior midfielder Joseph Poole, senior defender Corey Bond and junior defender Danny Buckwalter. Senior Diego Restrepo, who missed last season with an injury, will take over as the starting keeper, while senior forward Austin Mecca and senior midfielders Kevin Davies and Mitch Kosa are also expected to contribute.
OUTLOOK: The Lions finished with a 13-7 record in 2013 and lost in the playoffs to the eventual South Jersey champion for the second year in a row, falling to Clearview in the Group IV semifinals. They'll look to return to the postseason despite significant losses to graduation.
Clearview Pioneers
Players to watch: While the Pioneers graduated the team leader in points in midfielder Brett Milden, as well as top defenders Shane Burke and Ian Hunter, a ton of talent is back for the Group IV state finalist. Senior forwards Matt Hendrickson (10 goals, five assists) and Gavin Bright (nine goals, four assists) are two of the best scorers around, while senior Ricky Nelson is back as the starting keeper and senior defender River Young also returns. Experienced midfielders include seniors Quinn Grossman, Jake Drozd, Tyler Hickman and Connor Karpinski, and fellow senior Dane Gill is back at forward. Returning juniors include backs David Charles, Shawn Moran and Drew Ryback and goalie Jared Simmerman.
OUTLOOK: The Pioneers went 13-6-4 and upset state No. 1 Washington Township in the South Jersey Group IV final for their first-ever sectional title. They went on to reach the state final before suffering a 1-0 loss to West Orange. The talent remains for Clearview to once again be a major player in the Group IV field.
Eastern Vikings
Players to watch: Eastern graduated several talented scorers but brings back one of the top defenders in the Olympic Conference in senior Logan Edwards, who was all-Group IV in the state last year. Junior Gabe Sable also returns as an experienced keeper. Seniors include forward Justin Fendrick, midfielders Zach Jung and John Salicandro, backs Evan Hansen, Zach Lancaster, Jason Ryan and Billy Walenda and goalie Billy Davis. Returning juniors are forward Vivek Trivedy, midfielder Sam Beluch and back Zach Goldberg, while sophomore Irfan Jamil is back in the midfield.
OUTLOOK: The Vikings, who went 8-7-4 and lost in the first round of the South Jersey Group IV playoffs, allowed one or fewer goals in 12 of their 19 games last year. A solid defense spearheaded by Edwards should keep them competitive again in 2014.
Gloucester Catholic Rams
Players to watch: Leading scorer Mike Graber is among the departed, but the Rams have several returning juniors who made an impact as sophomores in forwards Nick Testa (five goals, four assists) and Chris Kain (four goals, two assists) and Brendan Buckland, who emerged as the starting keeper. Other veterans include seniors Mike Quigley, Kevin Breeze, Matt Giordano, Jeff Eppright, Griffin Schapell, Tyler Chamberlain and Rob Horch. The junior class includes James Breen, Gary Eastlack and Ray Anzola, while sophomores who could have an impact are Tim Reiners, DJ Matsinger, Nick Myers, Matt Smith and Greg Williams. Freshman Justin Phy could also contribute on varsity.
OUTLOOK: The Rams started out slow last fall, dropping their first four games, and finished with a 7-11-1 record after falling in the first round of the South Jersey Non-Public A playoffs. But they have a lot of young talent and a better start this season should lead to their first winning season since 2011.
Haddonfield Bulldawgs
Players to watch: The Bulldawgs graduated a trio of standouts in all-South Jersey midfielder Luke Pease, leading goal scorer John Alemi and four-year varsity player Brendan Werner. But their departure opens the door for new stars to emerge, and junior midfielder Wyatt Dugan (six goals, four assists) and junior forward Matt Fell (five goals, two assists) are two of the candidates. Coach Ryan Nixon is expecting big things from that duo in the next two years. Senior Charlie Clarke, a three-year starter, and junior Cole Fabbri, a varsity player since his freshman year, also return to anchor the defense, and junior Jonathan Baxter is back as the starting goalie after earning all-conference second-team honors. Other returning seniors include forward Eric Feldhake and midfielder Ryan Ciemny. The junior class includes backs Sam Bealor and Willie Benedict, midfielder Peter Rhodes and goalie Jack Roberts, a solid option along with Baxter. Sophomores to watch are Albert Pera, Jon Skiba and Jack Webb.
Outlook: Nixon's first year as head coach after replacing the legendary Joe Falana was a successful one. Despite ceding the Colonial Conference Liberty Division title to rival West Deptford, the Bulldawgs went 14-6-2 and reached the South Jersey Group II semifinals. They have a lot to replace from last year's team but this is a traditional powerhouse that always seems to reload.
Kingsway Dragons
Players to watch: Despite graduating a strong senior class, Kingsway has a talented roster returning led by senior forward Alex Noel (five goals, six assists) and junior midfielder Matt Blaszczyk (five goals, one assist). Junior Daniel Rival and senior Evan Schneider both contributed in the midfield and started several games on varsity last year. Returning varsity seniors are forward Justin Kosinski, midfielders Darin Flanagan and Jim Kushnerock and back Dom Ramsden. Seniors Edwin Cordero, Ian Hunter and Aaron Miller will be asked to fill the positions lost to graduation.
Outlook: Kingsway had its third straight season of double-digit wins in 2013, posting a 13-5-1 record, winning the competitive Tri-County Royal Division for the second year in a row and earning the No. 2 seed in the South Jersey Group IV playoffs before being upset by Cherry Hill West in the quarterfinals. The Dragons have a chance to extend their streak of 10-win seasons if their younger players develop quickly.
Lenape Indians
Players to watch: A strong senior class returns for the Indians, led by midfielder Dean Roller, a Burlington County second-team all-star. The group also includes defenders Eric Wright and Justin Blumberg, midfielder Drew Stein, forwards Michael Gerst and Jarrod Skole and goalie Chris Solecki. Jack Barlow and Peter Monti are juniors who could have an impact and sophomore midfielder Sean Donnelly also returns.
Outlook: A five-game winless streak to end last season, including a 1-0 loss to rival Cherokee in the first round of the playoffs, left Lenape with a 6-9-3 record. The Indians have the defense to hang with the tough opponents on their schedule but need to develop some more scorers to turn some of the close losses into wins.
Moorestown Quakers
Players to watch: The Quakers said goodbye to a senior class that included all-county goalie J.T. Bretschneider and excellent finishers in Mike Kassak and Mike Handlan. The cupboard is not bare, however, as all-county defender Alex Musgnug leads a list of returners that includes fellow seniors Thomas Dovell (five goals, six assists) and Enrique Arvelo (five goals, four assists). Other returning seniors are Steven Ai, Ryan Newbury, Jordan Price, Ben Sawin and Brian Sever.
Outlook: Moorestown went 11-7-1 in 2013 and lost in the South Jersey Group III semifinals a year after winning the title. The Quakers have some big cleats to fill but have enough experience returning to contend for a winning record and make a playoff run.
Moorestown Friends Foxes
Players to watch: The Foxes return a ton of talent from last year's team, which improved by six wins from the year before. Senior midfielder David Howarth had 10 goals and nine assists in 2013 and was named to the all-Friends League first team. Junior midfielder Matt Mullock (nine goals, 12 assists) led the team in points, while sophomore Justin Quintero (four goals, seven assists) was all-Friends League honorable mention as a freshman and adds scoring punch. Senior Tommy Martin (five goals, four assists) and sophomore Olivier Bastien (four goals) are also key offensive players. Junior Mitchell Mullock is back as the starting keeper, junior Chris Grahn will anchor the defense and junior Kieran McMenamin will be a contributor in the midfield and on defense.
Outlook: Moorestown Friends went 13-7-1 last year—its first winning season since 2010—and reached the South Jersey Non-Public B final before suffering a tough 2-1 loss to Gill St. Bernard's. The Foxes have the potential to compete for the South Jersey title once again.
Paul VI Eagles
Players to watch: The Eagles have a strong junior class, many of whom were contributors on varsity last year, led by talented offensive players Ji Park and Jack Stewart. Treven Still and Brian Boligitz are other key juniors, while returning seniors include Marc Acchitelli, Nicholas Misata, Daniel Rondeau and Carson Spering.
Outlook: Paul VI went 5-12-3 and lost in the first round of the South Jersey Non-Public A playoffs. Behind the returning juniors, the Eagles should be able to improve on that mark.
Seneca Golden Eagles
Players to watch: Seneca graduated most of its top scorers from 2013 but has experienced midfielders returning in senior Justin Williams and juniors Pierce Adams and Sean Heins. The Golden Eagles also have two solid keepers back in senior Liam O'Connor and junior Gus Valeriano. Senior defenders Riley Lovett and Sam Dion return along with junior defender Tyvor Butler. They will look to senior Fred Hess and juniors Dakota Cassise and Ryan Broderick to add scoring, while junior Brendan Brown and seniors Kevin Barbour and Clement Green will look to add depth to the varsity team. Williams, Lovett and Butler will serve as Seneca's captains.
Outlook: The Golden Eagles posted a 9-11 record and put up a good fight against eventual South Jersey finalist Timber Creek in the first round of the Group III playoffs before losing, 1-0. They were competitive in most of their games, but will have to develop some offensive firepower to compete for a winning record as they were shut out nine times.
Shawnee Renegades
Players to watch: Shawnee graduated a very good senior class that included all-South Jersey second-team midfielder Sean Welch and leading goal scorer Nick Cristea. Senior forward Mike Armbruster (three goals, three assists) is one of the top returning playmakers and senior Dom Silvestro is an experienced defender in front of returning starting goalie Dalton Wu. Silvestro, a captain, will be coming off a knee injury early in the season, and the Renegades will be leaning on returning letterwinners Ryan Buck, David Lesser and Erik Webster to fill the void in the back if he's not ready right away. Senior Alex Kaczynski returns to the team after a stint at the Match Fit Academy and should help in the midfield along with junior Luke Morgan and seniors Austin Charles (pictured) and Brett Michaud, who saw significant minutes last year.
Outlook: The Renegades finished with a 9-6-5 record and made an impressive run to the South Jersey Group IV semifinals as the 13th seed before suffering a close 2-1 loss to Washington Township, the state's top-ranked team. Although they lost a proven group of veterans from that team, the playoff experience should pay off this season.
Washington Township Minutemen
Players to watch: The state's top-ranked team for much of last season returns an outstanding trio that starts with senior midfielder Lou Vilotti. The South Jersey Player of the Year in 2013, Vilotti is one of the best distributors around, as he finished with 17 assists. A terrific all-around player, he also scored 13 goals and contributed on the defensive end. Also back is one of the area's top scorers in senior forward Derek MacKinnon, an all-South Jersey first-teamer who netted 27 goals to go with nine assists. MacKinnon, who was named an All-American by the National Soccer Coaches Association of America, ended last season with a dislocated kneecap but is back to full health. The third member of that talented group is senior Ed McCusker, a 6-foot-3 defender who was named to the all-state first team in 2013. All three senior stars have committed to St. Joseph's University. Senior forward Burak Ozdemir (nine goals, four assists) is another proven scoring threat, while senior Zach Burns returns to the defense. Junior Travis Yates was the starting keeper a year ago but could shift to the field. Other key players are senior forward Dan Marino (three goals, three assists) and junior forward Ryan Logar (two goals, seven assists).
Outlook: The Minutemen (25-1) won their first-ever Coaches Tournament title in 2013 and were working on a perfect season until a heart-breaking 1-0 loss to Clearview in the South Jersey Group IV final, which MacKinnon missed because of his injury. They might not go undefeated in the regular season again, but with Vilotti, MacKinnon and McCusker leading the way, it wouldn't be a surprise if this season ended with a state championship.
For this year's Boys and Girls Soccer schedules, click here
Photo: Shawnee's Austin Charles
Published (and copyrighted) in Suburban Family's High School Fall Sports Preview, July, 2014.
For more info on Suburban Family Magazine, click here.
For information about advertising in Suburban Family Magazine, click here.
To find out where to pick up your copy of Suburban Family Magazine, click here.