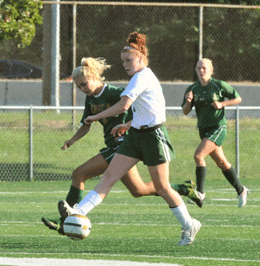 Girls Soccer
Bishop Eustace Crusaders
Players to watch: Among the departed Crusaders are all-South Jersey second-team defender Ally Fiato and leading scorer Taylor Tralie. One of the top returners is junior forward Gianna Morrone, who burst onto the scene last year with eight goals and seven assists. Senior forward/midfielder Caitlin Golden (six goals) is another proven scorer. Junior midfielder Gabby Pietrangelo and junior defender Julia Ferrelli are other returning starters, while key seniors include midfielder Liz Carberry (three goals) and back Lauren Skrajewski. Forwards Dominique Marrone and Hailey McGrath and back Sophia Marrone are sophomores who contributed on varsity as freshmen.
Outlook: The Crusaders posted a 10-8-2 record—with six of the losses coming by one goal—and reached the South Jersey Non-Public A quarterfinals. With a host of young players who gained valuable varsity experience last year, they should make serious progress in 2014.
Camden Catholic Fighting Irish
Players to watch: The Fighting Irish graduated just four seniors from last year's team, so most of the roster will return, led by leading scorer Juliet Esposito (six goals, three assists), a senior midfielder and all-conference second-team selection who has committed to Temple. Junior defender Taiah Thorton was also named to the all-conference second team. Senior midfielder Megan Kilpatrick (two goals, two assists; pictured) is an experienced playmaker, while sophomore midfielder/forward Holly Bednarek showed promise as a freshman with three goals and one assist. Midfielder Monica Lucci is another key senior, Shannon Dwyer is a returning junior and sophomores to watch are back Audrey Esposito and midfielders Jocelynn Dillon, Christina Laudisio and Lauren O'Callaghan.
OUTLOOK: Camden Catholic's young team gained valuable experience in a 3-17 season in 2013 and should show improvement this year, as long as it can shore up its defense.
Cherokee Chiefs
Players to watch: The Chiefs graduated all-South Jersey keeper Courtney Simpson and will be without two players because of ACL injuries: starting junior center midfielder Emma McLaughlin and promising sophomore back Trish Donahue. They do have 12 letterwinners returning, however, led by the Koester sisters. Ashley Koester, a senior midfielder/forward, led the team in points last season (five goals, five assists), while sophomore midfielder/forward Taylor Koester had an impressive rookie year with six goals and two assists. Two other sophomores coming off standout freshman seasons are forward/midfielder Ally Weaver, who had six goals to share the team lead with Taylor Koester, and forward Devon Fitzpatrick (four goals, four assists). Back Savannah Singer is a returning senior, while midfielder Robyn Young (three goals, one assist) is part of a returning junior class that also features midfielder Shaye McGoey and backs Leah Reistle and Kaela Schrier. Other sophomores who saw varsity time in 2013 are backs Abby Corrato and Isabella Therien.
OUTLOOK: The Chiefs posted a 9-8-3 record, played in the South Jersey Coaches Tournament and lost in the first round of the South Jersey Group IV playoffs. They hope to stay competitive against a brutal schedule, but must develop a goalkeeper to replace Simpson.
Cherry Hill East Cougars
Players to watch: East's top two scorers from 2013 have moved on, but the Cougars do return key seniors in goalie Nicki Zaso (125 saves) and midfielder Emily Rimdzius (five goals, two assists), who will continue her career at Seton Hall. A strong junior class is also back, led by forwards/midfielders Alexa Beatty (three goals, four assists) and Bianca Christophe (two goals). Other returning juniors are midfielders Kelsey Gorman and Kyra Gorman, backs Vanessa Earley and Brianna Sparrow and forward Lilly Steele-Dadzie. Sophomore Sara Messenger saw varsity time as a rookie and is expected to start in the midfield.
OUTLOOK: The Cougars compiled a 7-11 record and qualified for the Coaches Tournament and South Jersey Group IV playoffs last year. They have been knocking on the door of a .500 or better record the last two seasons and will look to get over the hump in 2014.
Cherry Hill West Lions
Players to watch: West graduated a solid senior class that featured a three-year starter in goal in Christiana Ogunsami, who was named to the all-South Jersey first team and all-conference first team as a senior. Leading the list of returners is senior midfielder Sarah McGlinn and junior midfielder/defender Erin Sullivan. The Lions are also anticipating strong play from their underclassmen and are excited about the return of defender Kimberly Santos, who was injured last season.
OUTLOOK: Cherry Hill West lost seven one-goal games in 2013 on its way to a 4-12-1 season. Despite the departure of Ogunsami, the Lions have a promising group of youngsters and are targeting a berth in the South Jersey Group III playoffs.
Clearview Pioneers
Players to watch: Clearview was dealt a tough break when one of the top scorers in the Tri-County Conference, senior forward Gianna Bowe (12 goals), was lost for the season with a torn ACL that she suffered during lacrosse season. With Bowe out, senior Carly Ballard, a six-goal scorer a season ago, will lead the attack for the Pioneers. Junior midfielder Dana Wiesmore will also be an important player, while junior Brenna Clowney is a key returner in the back. Senior veterans include Alexis Campbelle, Jillian Juhring, Megan Young, Kori Warren and Brianna Donahue, who has missed the past two seasons with injuries. Victoria Flynn and Kiera Clowney are juniors expected to contribute.
OUTLOOK: The Pioneers jumped out to a strong 6-2 start in 2013 that featured quality wins over Moorestown and Washington Township. But they dropped six of their last eight games, including a first-round playoff loss to Shawnee, to finish at 8-10-1. A more consistent season this fall should lead to their first winning record since 2011.
Eastern Vikings
Players to watch: For the second year in a row, Eastern must adjust to the graduation of a special piece of its team. Last year it was high-scoring forward Madison Tiernan, and now the Vikings must move on without one of the state's top defenders in Miranda Konstantinides, a four-year starter who was the South Jersey Player of the Year in 2013 and is now at Monmouth. While Konstantinides was the unquestioned leader of last year's squad, there are a number of talented players returning and ready to become the new leaders. The top playmakers are sophomore forward Amirah Ali, whose Eastern debut included 24 goals, 17 assists and all-South Jersey first-team honors, and senior forward/midfielder Sydney Jackson, who had 16 goals and 10 assists. The Vikings also have high hopes for sophomore Sydney Davis, who played mostly defense as a freshman but is expected to become the center midfielder. Spearheading the defense are senior keeper Imani Taylor (175 saves) and junior Jaylyn Thompson, who had nine goals and eight assists as a freshman before moving to the back line as a sophomore. Senior midfielder Morgan Palmer (four goals, two assists) and junior forwards Katie Beluch (six goals, two assists) and Janae Banner (three goals, two assists) are also key returners.
OUTLOOK: The Vikings had another memorable season last fall, posting a 21-2-2 record and winning the toughest division in South Jersey, the Olympic American. Both losses came to rival Lenape, in the finals of the Coaches Tournament and South Jersey Group IV. While they will clearly miss Konstantinides, there is enough young talent back to keep them among the area's elite and contend for the No. 1 spot in South Jersey.
Gloucester Catholic Rams
Players to watch: All-South Jersey second-team midfielder Maria Petrongolo and leading scorer Lauren Wilson have graduated, but the Rams do have a terrific defender returning in Division I prospect Elysa Virella. The speedy senior also contributes to the attack and had three goals in 2013. Junior marking back Taylor Hughes is another important piece of the defense. Junior forward Kay Kupiec (five goals) and senior midfielder Arden Sulit (four goals) are back to pace the offense. Other key returners are junior goalie Maria Hildebrand and junior midfielder Lisette Virella.
OUTLOOK: The Rams finished 12-6 after losing to Paul VI in the first round of the South Jersey Non-Public A playoffs. They should again be one of the top teams in the Tri-County Conference and hope to make a longer postseason run.
Haddonfield Bulldawgs
Players to watch: The Bulldawgs said goodbye to all-South Jersey first-team midfielder Kylie Kirk, their leading scorer, but as always they will reload. Leading the list of returners are three proven playmakers in senior midfielder Carly Bonnet (nine goals, eight assists), senior forward Madison Castellano (eight goals, four assists) and sophomore midfielder Kaitlyn Bonnet (nine goals, eight assists). Junior Taylor Sehdev, the starting keeper since her freshman year, is also back. Other senior returners include backs Natasha Duffin and Lizzie Hammon, midfielders Laura Stanton (four goals), Caili Orem, Natalie Scott and Abby Vecchiolli and goalie Julianna Kadar. The junior class includes forward Mary Sabia (four goals), midfielder Kate Walters (three goals) and back Olivia Van Dervort.
Outlook: The Bulldawgs captured their third straight Colonial Conference Liberty Division title in 2013 and finished with an 18-4 record after losing to rival West Deptford in the South Jersey Group II final. There's no reason they can't contend for division and sectional championships again this fall.
Kingsway Dragons
Players to watch: Kingsway graduated a terrific senior class that included a four-year starter in goalie Maria Kirby, its top defender in Corinne Almeida and its top four leading scorers. Leading the list of returners are a pair of senior forwards/midfielders in Alexis Yurgin (three goals, two assists) and Gab Campbell (three goals, one assist). Sophomore forward Oonagh Breen had three goals and an assist as a freshman, while senior Gab Griffis is a key midfielder and senior Stephanie Limanni has a chance to take over as the starting keeper. Other returners are senior midfielders Kristen O'Donnell and Mikaela Pollicino, senior defenders Jamie DelViscio and Savanna Wargo, junior midfielder Gab Bruno and junior defender Nicole Mower.
Outlook: The Dragons made the Coaches Tournament for the second straight year and finished with a 15-6-1 record, with half of the losses coming to rival Williamstown, including one to end the season in the South Jersey Group IV quarterfinals. This year will certainly see some rebuilding after graduating a stellar senior class, but there's no reason Kingsway can't remain competitive.
Lenape Indians
Players to watch: The South Jersey Group IV champions graduated Courtney Norton, an all-state first-team defender, as well as all-state third-team forward Rachelle Ross, but plenty of talent remains, especially on offense. Senior midfielder Kenie Wright, a Rutgers recruit, had 10 goals and shared the team lead with 18 assists on her way to all-state first-team honors. Senior forward Marissa Topolski, who has committed to Rice, was Lenape's leading scorer with 19 goals and 18 assists and earned all-South Jersey first-team recognition along with senior midfielder Lizzie Kinkler (15 goals, 12 assists), who is headed to Wake Forest. Other returning scoring threats are senior midfielders Carly Pettipaw (four goals) and Casey Vaughan (three goals) and senior forward Sydney McNally (two goals, six assists). Other key returners include senior goalie Alicia Hampton (131 saves, 17 shutouts), senior defenders Brielle Stoner, Abby Nocitio, Erin Harvey and Lindsey Kelly and midfielders Jamie Moore, a senior, and Justine Stoner and Sarah Gibson, both juniors.
Outlook: The Indians extended their streak of sectional and Coaches Tournament championships to seven last year and will be favored to make it eight straight in 2014. The area powerhouse should also contend for a Group IV state title after losing in the state semifinals last year and finishing with a 23-2-1 record.
Moorestown Quakers
Players to watch: All-South Jersey first-team forward and leading scorer Marie McCool has graduated, but the real strength of Moorestown's team was a defense that allowed just 12 goals all last year, and that unit returns several key components. Senior defender Jessi Button was named to the all-South Jersey second team for the second year in a row and junior keeper Carly Blessing recorded 14 shutouts. Senior back Kiera Dalmass and junior midfielder/back Genie Santarpio are also returning starters. Senior midfielder Katie Varela (five goals), senior forward Abbey Brooks (four goals) and sophomore Quinn Nicolai are other key returners.
Outlook: The Quakers went a perfect 12-0 in the Burlington County League Liberty Division and finished with a 17-4-1 overall record. They also reached the semifinals in South Jersey Group III and the Coaches Tournament. With a dominating defense leading the way, expect more of the same in 2014.
Moorestown Friends Foxes
Players to watch: The strength of the Foxes lies with a terrific junior class that includes all-Friends League first-team defender Nia Francis, who also contributed to the attack with six goals and one assist last year. That group also features talented finishers in forward/midfielders Andrea Kinzler (seven goals, three assists) and Kathryn Gregory (six goals), as well as goalie Gaelyn Gregory, who was all-Friends League honorable mention. Returning seniors are midfielders Sarah Henig and Rachel Tarter and forward Pilar Martinez. Another senior, forward/midfielder Vanessa Kara, is back after missing last season with a torn ACL. Head coach Keith Harman is also encouraged by the largest freshman class he's had during his tenure.
Outlook: The Foxes finished with a 5-11-1 record last year and reached the South Jersey Non-Public B quarterfinals with an extremely young team. After saying goodbye to just four seniors, they should be much improved in 2014.
Paul VI Eagles
Players to watch: Paul VI's talented group of seniors last year included all-South Jersey third-team midfielder Kristen Morawski and four other all-conference players, so the Eagles have a lot to replace. Sophomore Megan Reardigan was all-conference second team as a rookie after recording four goals and two assists and is a player to watch. Other key returners are senior Jordan Callahan and junior defenders Caitlin Gross, Caitlin McDonough and Gabrielle Giaccobe.
Outlook: The Eagles shared the Olympic Conference National Division title with Bishop Eustace and Timber Creek, their fifth straight division championship. They also advanced to the South Jersey Non-Public A quarterfinals and finished with an 11-9-1 overall record. Whether they can continue their division streak and make a playoff run depends on how quickly a young group can mature and replace an impressive senior class.
Seneca Golden Eagles
Players to watch: The Golden Eagles return their top two goal scorers in senior forward Lauren Bogardus (five goals) and junior back/midfielder Sara Guzman (four goals). Junior forward Hayley Worrell (three goals) also showed an ability to finish last year as a sophomore. The return of senior back Julia Green, who missed half of last season with an injury, makes a big difference for Seneca, as she's a terrific on-field leader. Other returning seniors include forward Maddy Schulte and midfielders Casey Brockett, Carley Donia and Megan Drum, although the Golden Eagles must find a replacement for injured goalie Kayln Bryan. Other returners include junior backs Kailyn Mulligan and Danielle Packard, sophomore back Anna Yanessa and sophomore forward Emily Meale.
Outlook: Facing a tough schedule, Seneca went 6-11-1 in 2013, a two-win improvement from the year before. With several key players back in the fold, the Golden Eagles should continue to make progress.
Shawnee Renegades
Players to watch: The Renegades graduated their top two scorers in forward Kayla Bertolino and all-South Jersey midfielder Caroline Shinske, but the defense returns a major piece in all-South Jersey first-team back Taylor Ryan (five goals, one assist), who also has an offensive impact. Ryan, a senior, will continue her career at St. Joseph's University. Junior midfielder Alexis Palladino (six assists)—a starter since her freshman year who has verbally committed to Rutgers—senior midfielder Ariana Gerber (two goals, five assists) and sophomore forward Julianna Bertolino (three goals, two assists) are also key returners. Senior Caroline Farley and sophomore Brianna Davis are both experienced goalies. Also back are senior forward and Drexel recruit Gianna Pizoli, senior defender Payton Goad, junior backs Brittany and Amanda Hartwell-Miller, junior forward Silvana Gordon, junior midfielder Sarah DeBerardinis and a host of sophomores who contributed as rookies: Vanessa Alessi, Christina Corbi, Olivia Schuck and Dana Goldstein.
Outlook: Shawnee (12-5-4) had just five losses in 2013, and three of them came to local powerhouse Lenape, including one in the South Jersey Group IV quarterfinals. The Renegades return a lot of young talent and should again be one of the better teams in the area.
Washington Township Minutemaids
Players to watch: The Minutemaids were extremely young in 2013—they graduated just three seniors—which means they return almost the entire roster, including key components all over the field. Leading the way is senior back Erica Monte Carlo, a South Jersey Coaches Association all-star who is a strong 1-on-1 defender. Leading scorer Cathryn McCarry (eight goals, four assists), a senior forward, is also back, along with another proven scorer in senior forward/midfielder Megan McKinley (seven goals, one assist). Senior Jessica McKee is an experienced goalie, and other returning seniors are forwards Samantha DiClementi and Shannon Slough and midfielders Marissa Pagano and Anna Panto. The junior class includes midfielders Kylie D'Ambra, Dehlia Fynes and Melanie Iatarola and backs Casey Lubonski and Marina Smolens.
Outlook: The Minutemaids' 6-11-3 season included a playoff win over Egg Harbor Township in Group IV. With most of the squad back, look for them to make great strides in 2014 under new head coach Bill Alvaro, who has enjoyed great success with the Township baseball program.
For this year's Boys and Girls Soccer schedules, click here
Photo: Camden Catholic's Megan Kilpatrick
Published (and copyrighted) in Suburban Family's High School Fall Sports Preview, July, 2014.
For more info on Suburban Family Magazine, click here.
For information about advertising in Suburban Family Magazine, click here.
To find out where to pick up your copy of Suburban Family Magazine, click here.