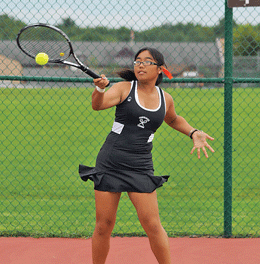 Tennis
Bishop Eustace Crusaders
Players to watch: The Crusaders had just one senior in their starting lineup during an outstanding 2013 season, but they also suffered tremendous losses with the transfers of sophomores Stephanie and Natalie Yanosov, their top two singles players last year. The good news is that all-conference first-teamer Caitlyn Sorelle, a junior who played third singles, returns along with three of last year's four starting doubles players. Senior Julia Rosen and junior Julianna Bidic were all-conference first team at first doubles and also qualified for the state doubles tournament. Senior Amanda DelRossi played second doubles and earned all-conference second-team recognition. Other returners expected to contend for starting spots are seniors Jessica Lantz and Haley Robinson and sophomores Sara Weill and Caroline Hromy, while freshmen Ashley Sorrell and Meaghan Bohny could also have an impact on varsity.
OUTLOOK: Eustace finished with a 20-2 record, won a division championship for the 16th time in the last 18 years and reached the South Jersey Non-Public A final. While the Crusaders would have been extremely dangerous with the Yanosovs back, they'll still remain one of the better teams in the area.
Cherokee Chiefs
Players to watch: The Chiefs bring back all three singles players from last year, including senior first singles Amelia Ying, who reached the round of 32 in the state singles tournament for the second straight year. She was also named all-county for the third year in a row after reaching the semifinals of the Burlington County Open at first singles, and is primed for a strong finish to her career. Junior Emily Trudo competed at second singles a year ago and also reached the semifinals in her flight at the county tournament, while senior Catherine Nguyen played No. 3 singles a year ago. Cherokee graduated three of its four starting doubles players, with only sophomore Veda Lin returning to the team. Juniors Rachel Young and Hannah Weiner are other returners.
OUTLOOK The Chiefs followed their first-ever sectional title in 2012 with another strong season last fall, finishing with a 14-7 record and a trip to the South Jersey Group IV quarterfinals. With Ying leading a terrific group of veterans, expect another impressive year.
Cherry Hill East Cougars
Players to watch: The 2013 season was a memorable one for the Cougars, and the bad news for their opponents is that this fall is shaping up to be just as special. The entire starting lineup returns from last year's South Jersey Group IV championship squad, led by senior Allison Wolf, who has played first singles the last two years. Juniors Rachel Pham and Gabrielle Zimmerman played second and third singles, respectively, last year and each went 5-1 in the playoffs. Junior Lauren Romisher and sophomore Kristina Klinisova played first doubles together and qualified for the state doubles tournament, while senior Adel Boyarsky and sophomore Sarah Jang teamed up at second doubles. Seniors Rong Xiang and Lindsay Gorsen and junior Sasha Patil are also experienced returners, while East will also welcome in two talented sophomore transfers. Stephanie Yanosov played first singles as a freshman at Bishop Eustace last year and reached the fourth round of the state singles tournament before falling to eventual state champion Christina Rosca of Princeton. Natalie Yanosov, Stephanie's twin sister, played second singles for the Crusaders. Both players will have to sit out the first 30 days of the season due to NJSIAA transfer rules, but once they become eligible, they will make the Cougars even more dangerous.
OUTLOOK: Cherry Hill East made it all the way to the Group IV state final and finished with a 20-2 record last fall. With almost the entire roster returning and the addition of the Yanosov twins, the Cougars' challenge matches should be extremely competitive, but no matter how the lineup shakes out, expect them to contend for another sectional championship.
Cherry Hill West Lions
Players to watch: Michelle Nguyen, West's first singles for the last three years, has graduated, leaving the top spot open. One of the contenders should be senior Elisa Truell, who played second singles a year ago. Junior Cathy Phan, who played first doubles, is the only other returner from the starting lineup. Senior Alana Pappas and juniors Elena Vaughan and Michelle Lee are also expected to compete for starting positions. Other possible contributors include seniors Jaymie Quintana and Sheyenne Lising and junior Angela Rath.
OUTLOOK: The Lions hope to show improvement as a team after finishing 3-16 in 2013.
Clearview Pioneers
Players to watch: A varsity starter since her freshman year, Julia Novick headlines a strong junior class for the Pioneers. She played first doubles as a freshman and moved into the first singles slot last year, posting a 17-14 record and reaching the final of the Gloucester County Open and the semifinals of the Tri-County Conference Tournament. The only other returning starter for Clearview is junior Olivia White, who played third singles. Two more juniors, Larissa Gill and Erika Slowicki, figure to take on expanded roles this year.
OUTLOOK: The Pioneers have big holes to fill in the starting lineup, but they were in the same position last year and responded with a 14-7 season that included their third straight Tri-County Royal Division title. They also suffered a first-round loss to Cherokee in the South Jersey Group IV playoffs. This is a strong program that should remain competitive.
Eastern Vikings
Players to watch: The Vikings suffered key losses to graduation, including four-year first singles Lauren Altschuler, who qualified for the state singles tournament last year but missed the second half of the season. Senior Julia Eggie, who saw time at third singles and second doubles last year, is among the returners. Senior Lindsay Goldin is another returning starter after playing second doubles in 2013.
OUTLOOK: Eastern went 13-13 and reached the South Jersey Group IV quarterfinals last year. The Vikings are in a bit of a rebuilding phase but should continue to be a tough match for most opponents.
Gloucester Catholic Rams
Players to watch: Junior Morgan Labree brings experience to the Rams' singles lineup, as she played third singles as a freshman and moved up to the top spot last year. She should once again be in line for that role. Labree is part of a solid group of juniors that also includes Sophia Gartland, a first doubles player last year. Juniors Celina Vaccaro and Bella Minnitti were the second doubles team, while junior Madison Reilly also saw time at doubles.
OUTLOOK: The Rams have taken their lumps in recent years, but with the juniors already experienced on the varsity level, they are capable of improving on last year's 1-15 record.
Haddonfield Bulldawgs
Players to watch: Haddonfield graduated an outstanding singles lineup in captains Victoria Martinez, Amanda Lanciano and Erica Pascocello, who all qualified for the state singles tournament. Leading the list of returners are senior Arpie Senopoulos and junior Chelsea Brown, who teamed up at first doubles and won the doubles title at the South Jersey Interscholastic Championships. They also earned the top seed in the state doubles tournament and reached the quarterfinals. With the singles positions wide open, Senopoulos and Brown will certainly both be in the mix for those spots. Katie Pileggi is another returning starter who played second doubles as a freshman, while the following players also earned varsity letters and could contend for a starting varsity position: seniors Raegan Sehdev, Kelly MacCluen, Audrey Liu and Madisyn Zadjeika, juniors Sarah Smith and Holly Hoover and sophomore Lizzy Benedict. Freshman Olivia Alberto could also compete for a starting spot.
Outlook: The Bulldawgs have a lot to replace from last year's 30-2 team, which won the program's sixth straight state championship and 20th overall before falling in the Tournament of Champions final. But the Bulldawgs always seem to have a new batch of standouts to step in and continue their tradition of excellence.
Kingsway Dragons
Players to watch: The Dragons return a pair of seniors with extensive varsity experience in Alyssa Friedman and Renee Tanner. The duo played second doubles together as sophomores before moving into singles spots last year, with Friedman playing second singles and Tanner playing third. Both should again be in line for starting roles in 2014. Lauren Magin is another senior who saw varsity action last fall.
Outlook: Kingsway graduated its No. 1 singles and entire starting doubles lineup from a team that went 7-10 and lost in the first round of the South Jersey Group IV playoffs. They'll be counting on some new varsity players this year as they look to remain competitive.
Lenape Indians
Players to watch: The Indians return all but one starter from a very good squad, including senior Lauren Gershman, a three-year varsity player who was first singles in 2013. Gershman qualified for the state singles tournament and won her opening match. Also back are juniors Cailyn Chow (second singles), Gabrielle Shvartsman (third singles) and Serena Lam (first doubles). Sophomores Alexis Cao and Smriti Nair also return after playing second doubles together as freshmen, while senior Lyndsay Mikalauskas is also in the mix.
Outlook: Lenape has almost everyone back from a team that finished 19-5 and reached the South Jersey Group IV final last fall. All signs point to a highly successful season.
Moorestown Quakers
Players to watch: The Quakers only graduated two starters, but they were the top two singles players in South Jersey Interscholastic singles champion: Breezy Maravich and fellow standout Kelly Hopkins. Leading the returners is junior Alex Boone, who played third singles as a sophomore and went 4-1 in the playoffs. Senior Siena Cashan and sophomore Anna Mary Shetler played first doubles and won a match in the state doubles tournament. Junior Nori Horvitz and sophomore Andrea Giocobbo were the second doubles team and won their flight at the Burlington County Open. Other experienced players include seniors Maddie Carroll and Sofia Legato and junior Sarah Mounzer.
Outlook: Another year, another sectional championship for Moorestown, which won South Jersey Group III for its 25th straight title on the way to a 21-5 season. There's no question that Maravich and Hopkins are huge losses, but the Quakers will reload around a strong group of juniors and sophomores, as well as a couple of freshmen that will compete for spots in the starting lineup. All of them are working hard over the summer and looking forward to making a run at the state championship this fall.
Moorestown Friends Foxes
Players to watch: The fall season can't get here soon enough for Moorestown Friends, which brings back the entire starting lineup from a terrific team, including a pair of phenomenal sophomores. Grace Kim earned the No. 1 singles spot as a freshman and established herself as one of the top players in the area, as she reached the quarterfinals of the state singles tournament. She also made it to the semifinals at the South Jersey Interscholastic Championships and upset Moorestown star Breezy Maravich to win the Burlington County Open first singles title. Not far behind her was Jess Ferber, who played No. 2 singles and advanced to the second round of the state singles tournament while winning the county crown at second singles. Katie Teitelbaum, who joined Kim and Ferber on the all-Friends League team, played third singles for the second straight year last fall and is the lone senior returning starter. Juniors Erin Chen and Paige Hurley played first doubles and reached the second round of the state tournament, and also brought home the county title. Juniors Lilla Butterworth and Alexandra Katsnelson were the starting duo at second doubles. Senior Molly Fischer, who was injured early last season, will return and is expected to challenge for a starting position.
Outlook: The Foxes went 16-3 last year and reached the South Jersey Non-Public B final, where they suffered a tough 3-2 loss to Gill St. Bernard's. Don't be surprised if there's a rematch this year for the title.
Paul VI Eagles
Players to watch: The Eagles bring back a pair of experienced singles players in seniors Shanna DiCarlo and Megan Sweeney. DiCarlo spent most of last season at second singles but also played matches at the top spot, while Sweeney played third singles. Both players should be in line for singles spots again. Senior Sarah Jablonowski has played doubles the last two seasons, including the top spot in 2013.
Outlook: The Eagles have remained positive, despite not finding the win column much in recent years, and they hope to continue improving under second-year coach James Cuartero.
Seneca Golden Eagles
Players to watch: Seneca said goodbye to an outstanding senior class that featured a quartet of four-year varsity players, including three-year first singles Alexandria Felt. All four made the all-conference team. The returners include three seniors who were also all-conference: Katie O'Brien, who played first doubles and qualified for the state doubles tournament with graduated partner Angela Errigo; and Angela DeKlerk and McKenzie McGlone, who played second doubles together. All three seniors will compete for singles spots this fall. Natalie Narkawicz, who was injured last year, could also contend for a starting spot along with Lauren Sander, Gabrielle Bingemann, Jess Errigo, Alizabeth Dinsmore and Julia Ferrante.
Outlook: The Golden Eagles went 17-7 and lost to Moorestown in the South Jersey Group III final for the second straight year. It will be hard to get back to the final considering their losses to graduation, but this is a strong program that should keep right on winning.
Shawnee Renegades
Players to watch: Four starters return for the Renegades, led by sophomore Caleigh Masterman, who won the first singles spot as a rookie. Senior Vienna Cordier played second singles for the second year in a row and should contend for a singles position once again. Junior Allison Jones has a ton of varsity experience, as she played third singles as a freshman and first doubles last year, and is poised for a big season. Her partner was senior Gabrielle DiBattista, who has played first doubles for two straight years. Senior Caroline Wagner is another experienced veteran, while sophomore Molly Baechler showed promise as a freshman and appears ready for a starting role.
Outlook: In Stefani Kirk's first season as coach, the Renegades won six more matches than the year before, including a South Jersey Group IV playoff match. They finished 11-11 and could be ready to post a winning record this year, but they'll do it with assistant coach Chris Stone leading the way. Kirk is expecting her first child in September and will step aside for the season.
Washington Township Minutemaids
Players to watch: Four seniors who started in 2013 return for the Minutemaids, including third singles Jillian Calandra. Vanessa Fath played first doubles and made the county finals with departed partner Christine Durante. Megan Custer and Tori Vandell were teammates at second doubles. Senior Andrianna DiSalvatore and junior Olivia Curcio are other returners who will compete for starting spots.
Outlook: The Minutemaids are coming off an 8-12 season in the always-challenging Olympic Conference American Division. They'll look to stay competitive and also win back the county championship they surrendered to Pitman in 2013.
For this year's Tennis schedules, click here
Published (and copyrighted) in Suburban Family's High School Fall Sports Preview, July, 2014.
For more info on Suburban Family Magazine, click here.
For information about advertising in Suburban Family Magazine, click here.
To find out where to pick up your copy of Suburban Family Magazine, click here.