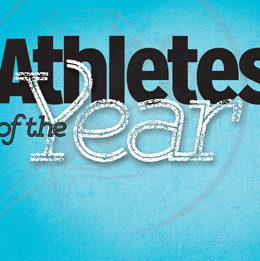 Athletes of the Year
Any accomplished athlete will tell you that success doesn't just magically appear on game day; it's all about the dedication and preparation leading up to that moment. Our Athletes of the Year for 2014, ranging in age from 8 to 18 and coming from a variety of sports, are no strangers to hard work. For them, the journey to their achievements is just as important as the wins and honors they earned. A few overcame devastating injuries or disease, some traveled the country pursuing excellence, and others even saw their sport take them around the world. What they all have in common is a passion for their sport that helped them stand out in another successful year for local athletes.
Morgan Leaf
Hometown: Washington Township
Age: 18
Sport: Cheerleading/Tumbling
Leaf wasn't sure she would be able to continue her athletic career when she suffered two grand mal seizures and was diagnosed with juvenile myoclonic epilepsy going into her sophomore year at Our Lady of Mercy Academy. But the recent graduate has actually thrived as a cheerleader for her school and the Jersey Pride, a local club team. With the help of medication and regular checkups by her neurologist, Leaf has been able to control her condition. Her hard work in the gym has also paid off, first with an All-American nomination last summer at a National Cheerleading Association camp, and now with a scholarship to Alderson Broaddus University in West Virginia for the new NCAA sport of acrobatics and tumbling, a sport that combines aspects of cheerleading and gymnastics. Leaf, who was a competitive gymnast for eight years prior to starting all-star cheerleading at age 14, says she strives to be a role model for younger athletes.
Favorite career moment: My favorite career moment was during my first season on Jersey Pride and my team won a bid opportunity to cheer at the Worlds Cheerleading competition.
Favorite sport to watch: Of course I love to watch cheerleading, but aside from that I enjoy most sports. I would have to say that my favorite sports to watch are hockey and baseball.
Ultimate goal: To obtain a communications degree and work for a nonprofit organization in the area of event planning or helping others with disabilities learn to advocate for themselves.
Briana Gess
Hometown: Haddonfield
Age: 15
Sport: Cross Country, Track
After a record-setting freshman season for the Haddonfield Memorial High School girls cross country team, Gess proved it was no fluke with an outstanding finish to the school year. As a member of the track team this spring, she not only won the Group II state championship in the 1600 meters, but she went on to take the Meet of Champions title in the same event with a time of 4:45.97, just missing the state freshman record of 4:45.57. Gess also won the Meet of Champions during cross country season, becoming just the third freshman in state history to accomplish the feat. She followed that up by taking fifth at the Foot Locker Northeast Regionals in New York and moving on to nationals in California, where she placed first among freshmen and 13th overall.
What got her started: I started running when I was 4 years old, and I would run next to my mom for some of her runs. I ran my first 5K at 4 also but I didn't start running competitively until third or fourth grade.
Favorite sport to watch: My favorite sport to watch is football even though I understand nothing about it.
From the coach: "Perhaps one of the most remarkable things about Bri is her composure through all of the notoriety," says coach Jason Russo. "Of course with such a talented athlete, there's a lot of commotion and pressure. Bri takes it all in stride. She gets nervous (just like any other athlete) and is so thankful for her teammates and coaches around her."
Courtney Simpson
Hometown: Marlton
Age: 18
Sport: Soccer
One ACL injury is enough for any athlete to endure. But facing two such injuries, as well as the grueling rehab they entail, in back-to-back seasons to start your high school career just doesn't seem fair. Yet that's what Simpson had to overcome on her way to becoming the top girls soccer goalie in South Jersey. Despite missing her first two seasons at Cherokee High School, Simpson leaves as one of the program's all-time best keepers. She set a school record with 11 shutouts as a junior, and this past fall as a senior she added eight more shutouts and made 121 saves in 18 games. The Loyola-bound Simpson, who hopes to play professional soccer after graduation, was named all-state by the New Jersey Girls Soccer Coaches Association and Keeper of the Year by the South Jersey Soccer Coaches Association.
Favorite career moment: My favorite career moment on the field was shutting out Lenape last year.
On working PAST the injuries: Personally, it has definitely taught me to be resilient in everything I do. It also has taught me to never take what I love for granted because I never know when I'm going to lose it. Athletically, I have learned to work hard every time I step on the field and to never give up.
From the coach: "Because of her knee injuries, Courtney had to pack a lot of soccer into just two seasons," says coach Andrew Clapperton, "but during those two seasons she set our season record for shutouts and was named South Jersey Goalkeeper of the Year."
Susannah Balderstone
Hometown: Cherry Hill
Age: 12
Sport: Gymnastics
Hours and hours in the gym (about 27 a week) continue to lead to results for Balderstone, a 12-year-old gymnast who has been training at Will-Moor Gymnastics since the age of 7. The Rosa International Middle School student used that dedication to her sport to notch a pair of New Jersey records at the Level 8 state meet this year. She set records in the all-around and floor, earning gold medals for each, and also took home silver medals in the bars and beam. Balderstone, who is on the elite track at Will-Moor and dreams of one day becoming a member of the United States Olympic team, went on to represent Team New Jersey at the Region 7 Championships in Doylestown, Pa., where she took first on bars and sixth in the all-around.
Favorite career moment: When I qualified for Level 8 Regionals, and represented Team New Jersey at Regional 7 Gymnastics, where I won the uneven bars. ... I also was thrilled when Mayor Cahn of Cherry Hill gave me a proclamation and made April 7, 2014, Susannah Balderstone Day. It was cool, especially because I am only 12.
Motivation factor: What keeps me going is when you take your worst event and make it your best event. I have done this both with balance beam and vault. Gymnastics is like no other sport; one skill builds on to another, and as you move up levels, the skills get harder. You need to keep focused and be driven to do your best.
Glenn Garrison
Hometown: Woodbury Heights
Age: 18
Sport: Football
Last summer, Garrison prepared for his final football season at Gloucester Catholic High School by attending the Nike Football SPARQ Combine in New York, where he was one of 24 out of 800 players to be named to the all-combine team. That performance earned him a trip to Ohio State for the Nike Football Training Camp, which was also held last summer. The offensive lineman/linebacker went on to earn first-team honors on defense by the West Jersey League Diamond Division as a senior with the Rams. This fall, he will continue his football career as a preferred walk-on at his dream school, the University of West Virginia, with the opportunity to earn a scholarship.
Favorite career moment: I would have to say that my favorite career moment so far would be making the Team USA U18 team and competing in Austin, Texas, last summer.
Motivation factor: What keeps me going is the opportunity to play for my dream football team at WVU this fall.
Ultimate goal: My ultimate goal is to play at the highest level that the sport will allow.
Allison Cox, Sabrina Larosa, Samantha Maynes and Carly Pettipaw
Mount Laurel
After finishing second in the state in Group IV at the 2013 Indoor Track State Relay Championships, the Lenape High School shuttle hurdles relay team of Cox, LaRosa, Maynes and Pettipaw was hungry to get to the top this year. Not only did they achieve that goal, but they captured the state championship in a record time of 32.06 seconds, beating the previous mark that was also held by Lenape. The Indians went on to take 10th in the event at the New Balance Indoor Nationals in March. With only Cox graduating this year—the rest of the girls are juniors—the team will look to repeat as state champs next winter.
Tahlee Yichye
Voorhees
Yichye had quite a story to share with her classmates at Eastern Regional High School after winter break this year. The sophomore combined her love for lacrosse and her heritage when she was among the group of Jewish-American and Israeli girls chosen for Israel's first-ever U19 national team. In December, she joined her teammates for training at the Wingate Institute for Sport, Israel's Olympic training facility. They then traveled to Warsaw for matches against the national teams from Poland and Latvia. The experience was especially meaningful for Yichye, whose father is from Israel. She still has many family members and friends there and had her bat mitzvah in Israel.
Sophie Fontaine
Haddonfield
Fontaine's sophomore swimming season at Haddonfield High School was a memorable one, as she qualified for the Meet of Champions for the second straight year and set three school records during the Bulldawgs' meet against Ocean City in the South Jersey Public B final. Although Haddonfield came up short for the sectional title, Fontaine left with school marks in the 100 butterfly, 100 freestyle and 200 free. She went on to wrap up the high school season with a seventh-place finish in the 200 free at the Meet of Champions. Also a member of the South Jersey Aquatic Club, Fontaine competed at the YMCA Short Course National Championships in April, placing in the top 25 in the 200 butterfly and 1000 freestyle.
Amanda Cooper
Moorestown
Cooper's knack for finding the back of the cage paid off big time this past fall for the Moorestown Friends Middle School field hockey team. In just a 12-game schedule, Cooper scored a whopping 17 goals, including two hat tricks on the season. But she didn't just score goals herself; she also helped her teammates thrive by handing out six assists. Her all-around campaign earned her team MVP honors at the Middle Schools Sports Awards ceremony.
Devin Smeltzer
Voorhees
After being diagnosed with cancer at the age of 9, Smeltzer's love for baseball helped him endure the ordeal, as he continued to play throughout his treatment. Now the recent graduate of Bishop Eustace Prep is cancer-free and his baseball career is as strong as ever. One of the top pitchers in South Jersey, the left-hander was recently selected by the San Diego Padres in the 33rd round of the Major League Baseball First-Year Player Draft. Smeltzer has already pitched at Petco Park, home of the Padres, last summer during the Perfect Game All-American Classic. Now he must decide whether to join the organization or fulfill his scholarship to Florida Gulf Coast University. Whatever he chooses, he's sure to continue raising funds and talking to cancer victims, as he did during his high school career.
Dillon Hall
Cherry Hill
Many South Jersey residents have their summer traditions, usually involving the Shore. For Hall, his is all about winning. In 2013, the summer before his eighth-grade year at Christ the King Regional School in Haddonfield, Hall claimed first place in the 1-meter competition for his age group for the sixth straight year at the South Jersey Diving Association Championships. In addition to his standout career in the pool, Hall is also an accomplished gymnast.
Andrew Reyes
Mickleton
Every serious golfer dreams of one day showing off their skills at Augusta National, home of the Masters. Reyes got to live that dream this past spring—at the age of 8. Reyes was one of 88 golfers in the country between the ages of 7 and 15 to compete in the inaugural Drive, Putt and Chip National Championships, held at Augusta the week of the Masters in April. Reyes, who started golfing at age 3, advanced to nationals by winning a qualifying tournament in Washington, D.C., and the Middle Atlantic Regional Tournament in Virginia. In addition to competing, he also got to watch the pros during a practice round for the Masters.
Brenda Aaronson
Medford
Aaronson's passion and talent for soccer took him not only across the country in the last year, but also around the world. The 13-year-old midfielder, a member of the Philadelphia Union Academy U-14 team, was invited last fall to join 47 other players from around the country in attending training camp for the U.S. U-14 national team. The camp took place at the U.S. Soccer National Training Center in Carson, Calif. This spring, he traveled with his Union squad to compete in an international tournament at Aspire Academy, the national sports academy in Qatar. Aaronson and his teammates played several games and also got to experience the culture in a unique part of the world.
Austyn Cuneo
Voorhees
The country's most prolific goal scorer ever in high school field hockey resides right here in South Jersey. The really scary thing? Her career isn't even over yet. Last fall, as a junior for the nationally renowned Eastern Regional High School field hockey team, Cuneo broke the national record for goals in a season with 96. She also broke the national record of 191 career goals, set by another South Jersey player, Lexi Smith of Florence, in 2012. Cuneo brings a total of 233 goals into her final season with the Vikings and will certainly have a chance of going over the 300 mark for her career. She has never lost a high school game, as Eastern is 78-0-1 with three state championships in her three seasons.
Published (and copyrighted) in Suburban Family's High School Fall Sports Preview, July, 2014.
For more info on Suburban Family Magazine, click here.
For information about advertising in Suburban Family Magazine, click here.
To find out where to pick up your copy of Suburban Family Magazine, click here.