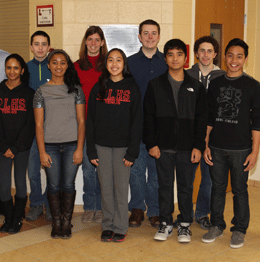 Star Students
Lenape High School Latin 1 Team
Mount Laurel
The students of Lenape High School's Latin 1 team (pictured) placed first in the New Jersey Junior Classical League's Certamen after competing against other participating schools from all parts of South Jersey. The Certamen competition is a fast-paced quiz that covers the students' knowledge about classical civilizations, their language, people and cultures. In addition to a first-place win by the Latin 1 team, Lenape's Advanced Team came in second place.
First Lego League's RoboGirls
Voorhees
Osage Elementary School students, along with one student from Hamilton School, competed in LEGO'S regional Robotics Competition and were awarded second place in the Champions Award category. With their award, the students advanced to the Championship LEGO Competition held at the University of Pennsylvania and won the Rising Star Trophy during the competition.
Moorestown Friends School Model U.N.
Moorestown
Seven Moorestown Friends School Model UN members received honors recently. At the University of Delaware's Model United Nations Conference, Dante Bucci, a senior, was awarded Best Delegate, while juniors Brett Barbin and David Golden won Outstanding Delegate awards. Juniors Adam Mohsen-Breen and Emily Tatum received honorable mentions. At the Ivy League Model UN Conference at the University of Pennsylvania, senior Josh Kirkpatrick received a verbal commendation, while junior Brian Pansius and Bucci received honor mentions.
Luke Bonanni
Cherry Hill
Bonanni was awarded a full scholarship to Camden County College for his scientific achievements in the Coriell Science Fair held at CCC. A student at Cherry Hill High School East, Bonanni's project won in the microbiology category for "The Role of Gut Bacteria Composition in Human Disease: Exploring the Microbiome" after being judged by medical, business and science professionals.
Justin Becker
Marlton
Becker, a sophomore and member of Cherokee High School's Future Business Leaders of America club, won first place in the State Leadership Conference and Competitive Events competition. In the category of Introduction to Information Technology, Becker beat out some 2,000 other students to take first place in the state. Becker will move on to compete in the FBLA National Leadership Conference in Tennessee during the summer.
Connor Gross, Stefani Rosenburg, Max Haggerty and Codi Smith
Medford
Several high school students participated in Burlington County College's Future Start-Up Star competition, but it was Shawnee's team of Gross, Rosenburg, Haggerty and Smith that won the high school division after presenting their business plan to the judges for their company concept Benethreads—a charitable clothing line.
Moorestown High School First Robotics Team
Moorestown
The Combustible Lemons, Moorestown High School's First Robotics Team, recently took home two awards at the Hatsboro-Horsham district event. The Lemons were awarded the Imagery Award and the Rookie All-Star Award, recognizing the visual aesthetics of their robot and their dedication to the First Robotics mission to promote science and technology.
Samuel Wismer, Steve Gravlin and Connor Storms
Marlton
Cherokee High School students Wismer, Gravlin and Storms were all named semi-finalists in the Business Idea Competition hosted by Fairleigh Dickinson University's Silberman College of Business. Out of the 700 students that entered the competition, only 12 are selected to win prizes each year. Wismer submitted an idea for a compact and eco-friendly phone charger; Gravlin for a car speed regulator; and Storms submitted an idea for a lawn mower with interchangeable landscaping attachments.
Rocco Fiorentino
Voorhees
Fiorentino, a student at Eastern Regional High School, was recently named a member of the National Society of High School Scholars (NSHSS) for his academic and community service achievements. The NSHSS honors high school students who maintain academic excellence while also giving back to their community. Fiorentino, who is blind, started Blindness Awareness Month, which has garnered support in 44 states and has raised $1.2 million for Braille education across the nation, while also maintaining an A grade level throughout his career at Eastern.
David Chen
Cherry Hill
Beck Middle School eighth-grader Chen won an Honorable Mention Award in the Letters About Literature contest. Letters About Literature is a contest open to fourth through 12th grade students that asks students to write letters to authors of a chosen book, poem or speech that has affected them personally. Chen's letter was chosen for an award out of the more than 2,000 letters submitted to the competition in his seventh- and eighth-grade category.
Danny Cavanna, Jada Eible-Hargro, Jesse Eible-Hargro, Evie Ellis, Joe Tichansky and Sam Timar
Haddonfield
Central Elementary School's "Seeing is Believing" Odyssey of the Mind problem-solving team, made up of fifth-graders Cavanna, Jada and Jesse Eible-Hargro, Ellis, Tichanski and Timar, will head to Iowa State University from May 28-31 for the OoTM World competition, after a strong showing at the OoTM State regional competition in March at Haddonfield Memorial High School, and the state competition in April, scoring second overall in their division.
Published (and copyrighted) in Suburban Family Magazine, Volume 5, Issue 3 (May, 2014).
For more info on Suburban Family Magazine, click here.
For information about advertising in Suburban Family Magazine, click here.
To find out where to pick up your copy of Suburban Family Magazine, click here.