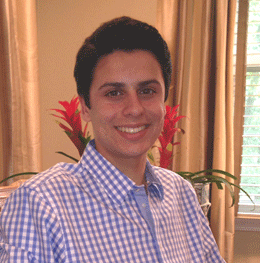 Star Citizens
Max Levin
Voorhees
Financial whiz kid Levin is taking the financial world by storm. The 17-year-old Voorhees resident (pictured) rose through the ranks of much older financial advisors to earn his own column on TheStreet.com, a website connected with Jim Cramer of CNBC, called "StockPick Whiz Kid" when he was just 15. Levin has been interested in the stock market since he was only 11, mentioning that his grandfather was his biggest influence.
During middle school, Levin began investing in the stock market himself and quickly started making money. After his own successes, the young financial guru began using his skills to help others achieve good fortune in the stock market by creating his own website, StockPick101.com. The popular website is aimed at new investors and the younger generation, creating a space for investors to ask questions and give advice about the hottest stocks.
Though Levin has an extraordinary grasp on the financial market, he continues to use his knowledge and skills to help others. After the success of StockPick101.com, schools across the nation started contacting Levin as a speaker in order to teach their students about the importance of finances. When questions regarding basic financial literacy started pouring in, Levin began to wonder how much they were taught about basic finances in their schools. He realized that the curriculum at most schools, especially in inner-cities, did not include financial literacy, and so he started the Financial Literacy Foundation in 2013 to assist in financial education. Financial literacy itself involves everything from investing, managing, donating, buying and selling, and as Levin promotes, is simple if you are taught how to handle this responsibility efficiently. The Financial Literacy Foundation primarily focuses on educating students and new investors about savings, checking, budgeting and investing—which were the topics of focus at a recent event at Eastern Regional High School. For more information about the foundation, visit TheFLFoundation.com.
Eric Eberman
Haddonfield
Eberman, the executive director of Bancroft's Pediatric and Adolescent Residential Services, was recognized by the Philadelphia 76ers last month with a "Heroes Among Us" award during a game against the Boston Celtics. The award recognizes contributions made by people in the greater Philadelphia area to the betterment of the lives of children in their communities. Eberman oversees the Lindens Behavioral Stabilization Program for the nonprofit.
Nicole Haslett
Mount Laurel
Local native Haslett, a soprano opera singer and resident artist with the Portland Opera, was recognized as a Regional Winner with the Metropolitan Opera's National Council Audition, which allowed her to advance to the Grand Finals. The National Council Auditions are considered one of the most prestigious vocal competitions in opera and are geared toward finding new talent in the United States and Canada. More than 1,500 singers competed this year and only nine compete in the Grand Finals, a concert held in New York to cap off the competition.
Matthew Howell
Mount Laurel
Matthew Howell, 8, was inspired by a TV commercial he saw about abused animals to forgo a birthday party and instead ask for donations from his friends for the local AWA in Voorhees. With three of his own pets coming from shelters, he knew how important the mission was. With the help of friends and family-—and a two-week collection drive at his school—he delivered some 200 items to the AWA on his birthday.
Melvin Sheppard
Moorestown
Sheppard, 16, has been giving back to the hospital that ensured his survival after he was born there nine weeks premature. He has returned to the Children's Regional Hospital at Cooper's Neonatal Intensive Care Unit every year for the past nine years to raise money for the institution through a program called Pennies for Preemies. Throughout each year, he conducts a penny collection in which which he donates all proceeds to the hospital. This past year, he helped collect more than $250.
Marissa Hacker
Voorhees
Hacker is the founder of Fantastic Friends, a nonprofit that provides children with special needs opportunities to socialize with their typically developing peers. Started in 2011, the group now includes 35 tweens, teens and adults with special needs and 35 volunteers who help create social events every month, like a special needs prom that's coming up on June 13 at The Mansion in Voorhees. Hacker had inspiration to form Fantastic Friends from her twin brother, who was diagnosed with autism early in his life.
Amanda Ketterer
Cherry Hill
Inspired by primatologist Jane Goodall, Cherry Hill East's Ketterer has been helping raise money for the Jane Goodall Institute since the age of 9. Ketterer, now 15, has gone from a simple lemonade stand, receiving $5.50 from her only customers, her parents, to raising close to $15,000 over the last six years in support of preserving habitats. Because of Ketterer's dedication, she was selected as one of the "National Youth Leaders" by the institute.
Raymond James Burgess IV
Delran
Burgess, a senior at Delran High School, raised approximately $5,000 in supplies for the U.S. military in order to attain his Eagle Scout ranking. He set up drop-off points at his high school and local businesses around town, and in the process transformed his parents home into a warehouse full of non-perishable items for many months.
Taylor Patterson
Medford
After volunteering at the Hope Alive! Clinic Ministries, which is a nonprofit that provides aid relief to Haiti, Patterson decided to organize a Glow Run for Haiti event to further help the local group. Held last month at Shawnee High School, the unique nighttime fun walk/run was guided by glowsticks and glow-in-the-dark shirts, lanterns and balloons. Patterson hopes the run, which raised more than $3,000, will become an annual event.
Susan Rose
Washington Township
Since founding the Lauren Rose Albert Foundation and its Mothers Matter program in 2001 in memory of her daughter, Rose has helped collect more than 20,000 gift bags for mothers in need in South Jersey in honor of Mother's Day. Rose and her staff of volunteers spent the month of May delivering more baskets full of lotion, makeup and more to daycare centers, hospitals, nursing homes and other places—as many as 40 dropoffs in a week.
Richard Glazer
Cherry Hill
Glazer is a local umpire for youth and adult baseball, but his community involvement and accomplishments extend beyond that. After working on Wall Street and then spending more than a decade as an NFL agent, he started a marketing company selling logo golf putters featuring company, NFL and college logos. He's also an athlete himself, as he plays on a nationally ranked senior softball team.
Peggy Morgan
Marlton
Morgan, a volunteer with Samaritan Healthcare & Hospice in Marlton, was recently recognized for reaching 2,000 hours of service with the organization. She has been with them for more than a decade now, spending her time visiting patients locally in South Jersey and abroad with Samaritan's sister hospice in Uganda; now she volunteers for the marketing department, keeping their database up to date. She also helped raise more than $30,000 recently for the Uganda hospice by selling Beads for Education.
Published (and copyrighted) in Suburban Family Magazine, Volume 5, Issue 3 (May, 2014).
For more info on Suburban Family Magazine, click here.
For information about advertising in Suburban Family Magazine, click here.
To find out where to pick up your copy of Suburban Family Magazine, click here.