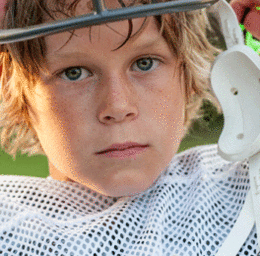 Sports Safety
With youth injuries on the rise, caution is key to staying safe and having fun in the game.
Participation in organized sports—a rite of passage for many—is on the rise, with nearly 30 million children and adolescents now playing in youth sports in the United States, according to the U.S. Centers for Disease Control. For many young athletes, though, the thrill of victory is leading to the agony of defeat much earlier than they ever expected.
Every 25 seconds, a young athlete suffers a sports injury severe enough to go to the emergency room, accounting for 1.3 million kids last year, according to a report released by Safe Kids Worldwide, a nonprofit advocacy group dedicated to preventing accidental childhood injuries. Sprains and strains, contusions, abrasions, fractures and concussions top the list of sports-related ER visits for kids between the ages of 6 and 19, at a cost of more than $935 million each year, according to the report. In 2012, 12 percent of all ER visits (163,670) involved a concussion—the equivalent of one every three minutes. Nearly half of those concussions (47 percent) were reported in kids between the ages 12 to 15.
"We uncovered some surprising and disturbing data about how often our kids are being injured playing sports," says Kate Carr, president and CEO of Safe Kids Worldwide. "But we also found some inspiring stories from people and programs that are making a marked difference. The front line of protection for our kids is parents and coaches. Working together, we can keep our kids active, strong and safe so they can enjoy the sports they love for a lifetime."
What doctors are seeing
At Weisman Children's Rehabilitation Hospital in Marlton, that rise in treatment of youth sports injuries is very apparent.
"There are more kids involved in youth sports today, and organized sports start at a much earlier age," says Dawn Morgan, physical therapist and assistant director of therapy services at Weisman, which currently has four outpatient centers in Marlton, Pennsauken, Washington Township and Atlantic City. "There is also an increase in the level of competition and the intensity levels of the sports kids are playing. We're treating more severe injuries at a younger age, including knee injuries, ACL problems, overuse injuries to tendons, bones and joints, lower back and neck or shoulder pain, as well as concussions."
Morgan believes these higher incidences of injury are largely due to kids not training properly, over-playing, and simply the fact that their bodies are not yet ready to take on the intensity of the athletic events they're participating in.
"Many contact sports, like soccer, football, hockey and basketball, as well as competitive sports like cheerleading and gymnastics, cross country running and swimming, have a high rate of injury, especially if kids are not warming up or training properly," Morgan says. "When injuries do occur, we have to remember that kids are not just little adults, although they're experiencing adult-like injuries. We need to treat the child, not just the injury, based on their level of development, in order to get them back to—or better than—when they first got hurt and avoid future injuries."
Dr. Christopher Carey, an orthopedic surgeon at Virtua Voorhees, adds, "Kids are taking on too many activities while their bodies are still trying to grow. We're seeing more injuries because kids are participating in multiple sports, year-round, not just seasonally. There is no longer an off-season to give kids the rest that their bodies need to properly grow and develop."
Carey recommends encouraging kids to play one competitive sport per season and another as a hobby or a more recreational sport. It's also important to exercise on a regular basis and, if warranted, physical therapy or strength training can help keep their bodies in shape.
"It's also important for parents and coaches to watch for signs of pain or injury," says Carey. "When kids start developing symptoms, they need to rest, take off for a week or so and allow their bodies to heal and reduce their risk of further injury," he stresses.
At Virtua's Center for Athletic Performance, educational and training programs are offered to help young athletes enhance their performance and minimize the risk of injury.
"We educate kids before they go out on the field on how to train properly and reduce their risk of injury," says Paul Kasper, MSPT, a physical therapist and director of Virtua's Sports Medicine Program. "Our main focus is injury prevention. We provide both individual and group/team training programs geared to specific sports. Each sport has its own set of physical demands and we create programs specifically tailored to those needs."
From the trainers and coaches perspective
Brian Kane, co-owner, fitness coach and director of program design at Evolution Fitness in Cherry Hill, says it's important to build strength gradually because when you're young, the body is still learning movement patterns, and kids are often playing in a sport or in a position they don't have the skills for. "Oftentimes, kids are forced into activities they don't want to do or may not be ready for," he says. "They may experience high-impact forces their body is not ready for, which can cause injuries."
Kane encourages young athletes to get involved in a weight training or strength training regimen that can aid in their development patterns, improve elasticity and mobility, and build strength over time. "It's important to focus on an athlete's movement, not so much their skills," says Kane. "In order to avoid injury, we look at developing proper movement patterns, building strength and power, and then focusing on skills and training."
Greg Himes, head of baseball operations and an instructor at The Sandlot Baseball & Softball Academy of South Jersey in Sicklerville, agrees. "Kids are more likely to get injured due to improper training and playing outside their body's limits. It's important to do a lot of stretching before and after games, do appropriate warm-ups and running exercises, practice tossing and catching the ball, stay hydrated, and pay attention to their bodies. If something hurts, it's important to let a coach or parent know, and don't try to play through an injury," he stresses.
Dealing with concussions
Both Virtua and Weisman Children's Rehabilitation Hospital offer programs to address concussions. Virtua Sports Medicine's Concussion Management Program provides comprehensive care for any athlete with a head injury. Physicians and therapists work closely with athletic trainers to ease young athletes back into their normal activity and prevent future complications.
Weisman's Concussion Rehabilitation Program offers a comprehensive, interdisciplinary team that helps the child get back to normal functioning. Services include detailed medical and neurological assessments by a pediatric physiatrist, physical, occupational and speech-language therapies, social workers, and a post-concussion support group to provide support and guidance for the child's return to school, sports and everyday living.
"We focus on getting the child back to walking, talking and communicating, and the ability to function on a day-to-day basis," says Kathy Hall-Olsen, director of therapy services at Weisman. "These kids are often very active and social, and their injury takes them away from what they do best. We work with parents and teens to work through all the issues involved in their recovery and get them back to their normal routines and activities with as much support as necessary."
Resources
Evolution Fitness
1990 Route 70 W.
Cherry Hill
(856) 751-1300
EvolutionFitnessNow.com
The Sandlot Baseball & Softball Academy of New Jersey
368 Berlin-Crosskeys Road, Suite C
Sicklerville
(856) 719-0111
SandlotsJersey.com
Virtua Voorhees Hospital
50 Lake Center
401 Route 73 N.
Marlton
1 (888) VIRTUA-3
Virtua.org
Weisman Children's Rehabilitation Hospital
92 Brick Road
Marlton
(856) 489-4520
WeismanChildrens.com
Published (and copyrighted) in the Art of Living Well pull-out section of Suburban Family Magazine, Volume 5, Issue 3 (May, 2014).
For more info on Suburban Family Magazine, click here.
For information about advertising in Suburban Family Magazine, click here.
To find out where to pick up your copy of Suburban Family Magazine, click here.