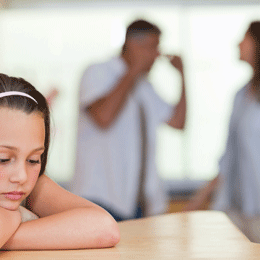 Focus on the Kids
Family matters like divorce and remarriage are difficult to discuss with your children—but the importance of approaching it the right way can't be underestimated.
Divorce and blended families are delicate topics, and discussing them with your children can make you feel overwhelmed and anxious— maybe even a little flustered. What do I say? How do I answer their questions? How do I keep them from worrying? When is the right time to introduce them to my new partner? How do I explain that I plan to remarry this summer?
Children feed off of your emotions, so it's important to remain calm, put on your best game face, and present a united front with your ex or soon-to-be ex-partner, according to area counselors and therapists, who say you must be honest, patient and reassuring during these difficult transitions.
"Overall, patience is essential," says Dr. Susan Batastini, a school psychologist and coordinator of education and psychological services at Moorestown Friends School. "You want to create an atmosphere of open and honest communication. It is going to take a lot of time. That's something everyone in the situation needs to understand."
Dealing with divorce
When you discuss divorce with children, explain that they are not responsible for what's happening and that they will always be taken care of, even if Mommy and Daddy are no longer living together, says Dr. Donna Pellegrino, of The Psychology Group in Cherry Hill.
"They are usually very concerned about their little lives," she says. "They want to know, 'Is my life going to be the same or is my life going to be turned upside down? Am I still going to get my sneakers? Am I going to have to go to a different school? Will we have to leave our house?' Explain that you will always love them and answer their questions honestly. Children are concrete thinkers, and they want to know that they are going to be fine. The child has to know that Mom and Dad are in control and are handling it."
That means it's best to hash out your issues in private, never share adult conversations with children, and avoid casting blame on the other parent, Pellegrino says, adding that parents should talk to their children together.
"It's really important to make decisions in the best interest of the child, and then you share the decision. Don't share the process of making those decisions or what was said behind closed doors. You don't want to bring the child into that. Duke it out elsewhere and take the final decision to the child," she says.
As you begin your divorce process, don't fear that your children are doomed or destined for a dismal future, says Dr. Daniel Hart, a professor of psychology at Rutgers University – Camden.
"Divorce isn't about the kids. It's about the relationship between the parents," he says. "In some respects, some children may do better following a divorce because the bickering and anger that characterizes parents who are getting divorced can diminish. Divorce can have a negative impact, but it can also mean that very unhappy families may not be doing their kids any favors by sticking together."
Adjusting to blended families
When a parent begins dating again or plans to remarry after divorce, blending families will become a reality. Time will tell if the blending process will be simple or difficult, but either way, it will surely be emotional.
"Kids tend to have pretty resilient personalities," Hart says. "They can adapt to new situations. It does take some energy and can be stressful, but most kids are probably able to manage these situations and challenges."
That's especially true for young children, who tend to be more accepting of blended families and of situations at face value, says Batastini. They might be concerned most with the possibility of moving or attending a new school, but it doesn't rattle them as much.
It can be more of a challenge with older children and adolescents, she says, because they're used to an established structure, and now other people are entering (and possibly shifting) that structure, she says. In addition, older children can take change harder and often worry that they are betraying their biological parent if they get along with their step-parent, she says.
"Older children are very aware, probably more so than you are aware of," she says. "They tend to hold back their questions, and they don't want to hurt your feelings. They'll just say, 'I'm fine,' when you know they are not. It's important to spend private time with them so you can have that open conversation. Don't push them. Take their lead, and listen."
Introducing children adds another layer parents must be prepared to handle. Allow children to meet on neutral territory like at the mall or at the park, rather than at one parent's house.
"Kids like each other or they don't," Pellegrino says. "Even biological siblings will have sibling rivalry. They don't have to like each other, but they must be respectful and civil and congenial. Many times if left alone, though, kids will get to know each other on their own."
Even if your children have a positive response, don't expect blended families to click right away. The puzzle pieces might take time to fit together. And that's OK, Pellegrino says.
"It takes patience to develop a relationship," she says. "Take your time; there is no rush. You're building and creating a family. It's not an instant breakfast."
Understanding roles
When blending families, be fair as you establish family roles. The biological parent should remain the disciplinarian, while the non-biological parent should be more of a supportive, "warm and fuzzy kind of person" in the child's life, Pellegrino says. Also, be careful not to show favoritism to one child over another, and establish family rules together so everyone has an opportunity to offer input.
Hart agrees and adds it's also important to tell children that your new partner is not replacing their biological parent.
"It can be slightly difficult because all of a sudden kids have new adults in their lives who occupy some position of authority and are occupying new roles of affection in their parents' lives," he says. "It is something of a challenge. But I think reassuring kids that these new adults aren't intended to displace parents [is important]. 'Yes, I'm marrying someone new, but that doesn't mean he is your father. You're not losing your father. I'm gaining a husband.' Doing your best to reduce the sense of threat is helpful for children."
During this transition, pay attention to your children's behavior, suggests Dr. Nathan Sonnheim, who, along with his wife, Dr. Barbara Sonnheim, owns Sonnheim Counseling Center in Cherry Hill.
While some children have no problem adjusting, others could begin to withdraw, act out physically or speak disrespectfully. However, no matter how frustrated you might become with their attitude or actions, never put them down, scream or yell. Instead, reach out for additional support, family therapy or counseling, suggest the Sonnheims, who have previously appeared on The Maury Povich Show as family counseling experts.
"They are not doing it to be horrible. They don't have another coping method," Nathan Sonnheim says. "Watch your words. When you say awful things to your kids, it scars them. Kids are defenseless in a lot of ways, and they really believe what you say.
"You are a role model for your child," he adds. "Don't have catastrophic thinking [if it is not happening the exact way you want]. It's not an easy transition, but it's not the end of the world. It will likely work out. Just give it time."
Batastini agrees. "Expect the bumps and the challenges, and do not get discouraged by the setbacks," she says. "It is challenging, and it is hard. But focus on the small, positive steps. Remember, it's a journey."
PARENT DO's AND DON'Ts
Discussing divorce and adjusting to blended families can leave parents overwhelmed. Our counselors offer the following parent do's and don'ts that can help your children cope.
DO
• Do present a united front with your ex-partner and talk to your children together.
• Do let the child know that you and your ex-partner are in control and handling the situation. This means they do not have to worry about anything.
• Do let children know that you are open to talk to them whenever they want. It can be a shock to them initially, but they could have a question three days later.
• Do reassure children that both parents will be there for them.
• Do be honest and provide age-appropriate information.
• Do pay attention to your children and take note of any changes in their personalities. Examples include sudden, angry outbursts and declining interest in things they once loved, including school or sports.
• Do watch your words (and tone) when speaking to children. Even if you apologize, harsh words can scar them.
• Do be a role model for your children. Your actions will determine their reactions.
DON'T
• Don't overcompensate—extra rewards, two bedtime snacks, gifts—because you feel guilty.
• Don't befriend your child. Remember, you are still the parent.
• Don't share too much adult information. That could make your child unnecessarily worry.
• Don't blame the other parent, especially in front of the children. For example, don't say, "It was Mom's decision that …" or "Your dad decided to leave."
• Don't let your anger or ego interfere with what's best for your children. Consider what's best for the family, not just yourself, when making decisions.
• Don't argue or fight in front of your children, or talk negatively about your ex-partner in front of your children.
• Don't expect blended families to click right away. The puzzle pieces might take time to fit together.
• Don't give children false hope that you and your partner will reunite.
• Don't think because you've fallen in love with a new person that your child will also fall head over heels, too. Give your new partner and child time to adjust and build a genuine relationship.
Published (and copyrighted) in Suburban Family Magazine, Volume 5, Issue 3 (May, 2014).
For more info on Suburban Family Magazine, click here.
For information about advertising in Suburban Family Magazine, click here.
To find out where to pick up your copy of Suburban Family Magazine, click here.