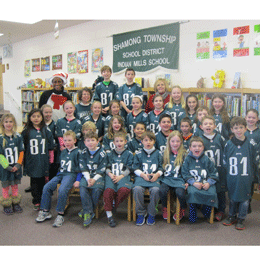 Star Students
Students of Indian Mills Elementary School
Shamong
To encourage students to work hard, former Eagles wide receiver Jason Avant teamed up with the New Jersey Education Association and Eagles Radio to challenge students to make a pledge to be one of his A+ Achievers. Participants were required to fill out a pledge card and keep track of their accomplishments for three weeks. Thirty-one Indian Mills Elementary students (pictured) successfully completed the challenge of studying their playbooks (doing homework, studying and reading), eating right, staying in condition, and listening to their coaches, teachers and parents. Most schools sent in bulk entries; however, Indian Mills families submitted their entries individually. NJEA was so impressed by the families' efforts that all who participated in the program received official Eagles jerseys with Avant's autograph.
Marybeth Fair
Medford
Fair, a junior at Shawnee High School, recently achieved the feat of a perfect 2400 on the SAT exam. The SAT exam is commonly regarded as one of the most difficult and important tests a student will take in his or her academic career. Fair, pictured with Principal Matthew Campbell, joins the ranks of only 494 students who scored perfectly among the 1.7 million other students to take the SAT exam across the country this year.
Hannah Olson and Michael Winter
Mount Laurel
Lenape High school freshman Olson and junior Winter each won an award for their artwork at the Burlington County High School Student Exhibition at the Center for the Arts of Southern New Jersey. Olson and Winter were recognized for their pieces by other teachers that judged the exhibition in a category along with eight other Lenape students. Winter won for his pastel painting of apples and Olson for a dry point piece of a city.
Masha Samokhvalova
Cherry Hill
An essay written by Samokhvalova, a fifth-grader at Richard Stockton Elementary School, was recently chosen by Creative Communication as one of the 10 best in the nation in the grades 3-6 category of their annual contest that promotes literary merit and creativity. Samokhvalova's piece, "The Beautiful Sunrise Over the Atlantic Ocean," will appear in Creative Communication's essay anthology Celebrating What is Important to Me. As a winner, she received a free copy of the book along with $25.
Emma Giordano, Lauren Brill, Amy Gilligan and Madeline Cohen
Moorestown
Giordano, Brill, Gilligan and Cohen, students at Moorestown Friends School, were chosen as members of the National Field Hockey Coaches Association (NFHCA) High School National Academic Squad. The students were awarded this honor based on their academic and athletic excellence, performing well on the field and in school by maintaining cumulative, unweighted GPAs of 3.5 to 4.0 during the first semester of their senior year.
Lara Repholz
Mount Laurel
Repholz was accepted to participate in Rutgers University's Young Scholars Program for Discrete Mathematics. The Rutgers Young Scholars Program in Discrete Mathematics is a summer program for mathematically talented high school students. It provides a rich environment to high school students interested in math and is designed to encourage them to consider careers in the mathematical sciences. Repholz, a junior at Moorestown Friends who plans to major in math, is one of approximately 30 students who have been accepted into this prestigious program.
Nicholas Viggiano
Marlton
Russian III student Viggiano was selected to receive a National Security Language Initiative for Youth Scholarship to study in Russia this summer. The program, sponsored by the United States Department of State, provides merit-based scholarships for high school students to study less commonly taught languages in summer immersion programs. Viggiano will live with a host family and attend Russian language classes daily at a local university.
Rosa International MATHCOUNTS Students
Cherry Hill
The Mathletes of Rosa International came in first place at the South Jersey MATHCOUNTS chapter competition held in February at Rowan University. The students—Kevin Chen, Jennifer Luo, Peter Ma and Anna Qin—competed against 14 other schools for the title, earning the chance to compete at the state competition held earlier this month in New Brunswick. Chen also came in third place individually in the competition. MATHCOUNTS, which is sponsored by the local chapters of the Professional Society of Engineers of Southern New Jersey, Rowan University, and the Institute of Electrical Engineers, is a national math enrichment program that prepares students for future careers.
Brooklyn Quallen, Kaitlyn Vitzthum and Kimberly Stephens
Washington Township
Washington Township middle school students Stephens, Quallen and Vitzthum recently won the district's annual Patriot's Pen youth essay-writing contest. Sixth-grader Quallen placed first with her essay "What Patriotism Means to Me," eighth-grader Vitzthum won second, while eighth-grader Stephens earned third place. The contest was sponsored by the township's local VFW chapter.
Chloe Chen
Moorestown
Chloe Chen, an eighth-grader at Moorestown Friends School, was chosen to join the All-South Jersey Middle School Honor Band. Chen competed with other premier clarinet student-musicians from across southern New Jersey in order to obtain a position in the clarinet division of the Honor Band. The competition for a spot was particularly fierce this year as the clarinet division had the highest number of competing musicians.
Vaishnavi Gopalakrishnan
Voorhees
Through Eastern High School's Gifted and Talented program, senior Gopalakrishnan started the "Save A School" initiative in order to help students of Cooper's Poynt Elementary School, located in Camden. Gopalakrishnan spearheaded a movement to expand the education of the students at Cooper's Poynt Elementary with the help of Eastern's Key Club, her fellow Eastern students and her community. The "Save A School" initiative successfully ran a Christmas Gift Drive that provided 120 presents for the fifth- through eighth-graders at Cooper's Poynt Elementary and continues to help the school through fundraising and community assistance.
Nick Chiacchio
Haddonfield
Chiacchio, a student at Christ the King, came out on top of the competition at the annual Haddonfield Spelling Bee. Competing against 10 other students from Haddonfield elementary schools, Chiacchio came in first and was able to move on to the Southern Region Bee.
Published (and copyrighted) in Suburban Family Magazine, Volume 5, Issue 2 (April, 2014).
For more info on Suburban Family Magazine, click here.
For information about advertising in Suburban Family Magazine, click here.
To find out where to pick up your copy of Suburban Family Magazine, click here.