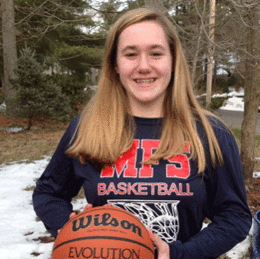 Star Athletes
CHARLOTTE STERN
Moorestown
Stern (pictured), a captain and three-year starter on the Moorestown Friends middle school girls basketball team, led the squad to a 10-0 record, its first unbeaten season in more than 10 years. The eighth-grader, a guard/forward, led Moorestown Friends in scoring with a 17.5 average and set a single-game school record with 35 points in a win over Delanco Middle School. She was rewarded with a selection to the Al Carino South Jersey Basketball Club Middle School All-Star Game.
GABRIELLA EVANS
Marlton
Evans, an eighth-grader at Marlton Middle School and a member of the U-15 Marlton Apache girls lacrosse team, was recently named a 2014 Brine National All-Star. She will represent the New Jersey team at the Brine National All-Star Lacrosse Academy and Brine National Lacrosse Classic, which will be held in Boyds, Md., from June 30-July 3. The event brings the top middle school players in the country to one venue, where regional teams compete to become the national champion and are coached by NCAA coaches.
SUSANNAH BALDERSTONE
Cherry Hill
A 12-year-old gymnast, Balderstone recently broke the New Jersey record in the all-around and floor at the Level 8 state competition. She won gold medals for each event and also took home silver in the bars and beam. Balderstone, who has been training at Will-Moor Gymnastics since she was 7, advanced to represent Team New Jersey at the regional competition.
JAMES ELMENDORF
Medford
Shawnee High School's Elmendorf swam to a new school record this year in the 100-yard backstroke. The junior posted an impressive time of 54.52 seconds, breaking the previous mark that was set in 1998. Elmendorf also was part of the Renegades' 200 medley relay team that took first at the Meet of Champions.
TARA VITTESE
Cherry Hill
Vittese, a senior lacrosse player at Camden Catholic High School, had a game to remember in a 17-9 win over Cherry Hill East in early April. She reached the 100-goal milestone for her career and also tied a school record for goals in a game with 11. She now shares that mark with her coach, Bridget Sipera.
DYLAN O'MARA, JEREMY PETRONGOLO AND MAXIMUS VOIRO
Marlton
O'Mara and Petrongolo, long pole defensive players, and Voiro, a goalie, of the Marlton Lacrosse U-13 team, were chosen to represent the Maverick Select Team during the Southeast Championships in Raleigh, N.C., this June. Maverick Select is an elite team of South Jersey players picked each year to train for the national championships.
SOPHIE FONTAINE
Haddonfield
A sophomore on the Haddonfield Memorial High School girls swimming team, Fontaine broke three school records in the Bulldawgs' final meet of the season, a loss to Ocean City in the South Jersey Public B final. She broke the Haddonfield mark in the 100 butterfly, which had stood for 12 years, and also broke a six-year-old record in the 200 freestyle and a five-year-old mark in the 100 free.
ZANIYA LEWIS
Edgewater Park
Lewis, a sophomore at Doane Academy, recently completed her second straight outstanding season on the varsity girls basketball team. After averaging 12.9 points as a freshman and helping Doane to its first-ever state playoff appearance, Lewis was again among the scoring leaders in Burlington County and was named a Penn-Jersey Athletic Association all-star for the second year in a row. Her highlights this season included a 30-point performance.
MONICA ROEDER
Marlton
A senior guard on the Manhattan College women's basketball team, Roeder capped her career by being named to the All-Metro Atlantic Athletic Conference third team for the second straight year. The Cherokee High School graduate became the Jaspers' all-time leader in career 3-pointers this season and averaged a team-high 12.1 points and 1.7 steals.
KELLY AND KYLIE GIEDEMANN
Washington Township
Twin sisters Kelly and Kylie Giedemann of Washington Township High School were both named to the Al Carino Basketball Club of South Jersey Senior All-Star Game, as well as the state North-South All-Star Game, following their outstanding careers with the Minutemaids. Only Kylie got to play in the games, as Kelly was recovering from an ankle injury but was still able to attend and cheer her sister on. Both Giedemanns scored more than 1,000 points for Township and will continue their careers at Holy Family College.
NICK TIERNO
Voorhees
Tierno, a freshman on the La Salle University baseball team, hit a three-run home run to help the Explorers beat Delaware, 18-6, in the semifinals of the Liberty Bell Classic, a tournament featuring the Division I teams in the area. La Salle advanced to meet St. Joseph's in the championship game at Citizens Bank Park in late April. The home run was the second of the year for Tierno, an infielder/catcher.
JEFF MCGARRY
Mount Laurel
A junior first baseman on the University of Pennsylvania baseball team, McGarry was leading the Quakers with a .345 batting average and .992 fielding percentage through the first 31 games of the season. The Lenape High School product also had four home runs, eight doubles and 23 RBIs in his red-hot start to the season. Also a pitcher, McGarry was battling an elbow injury early in the season but has returned to the mound to become a key contributor to the Quakers' staff.
Published (and copyrighted) in Suburban Family Magazine, Volume 5, Issue 2 (April, 2014).
For more info on Suburban Family Magazine, click here.
For information about advertising in Suburban Family Magazine, click here.
To find out where to pick up your copy of Suburban Family Magazine, click here.