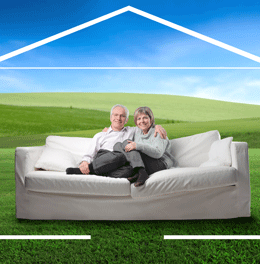 Senior Housing Options
An array of choices are available to fit any lifestyle need for aging baby boomers.
By 2050, the number of Americans over the age of 65 is projected to reach 88.5 million—roughly 20 percent of the population. Seniors over the age of 85 will triple in less than 30 years. Dubbed the "silver tsunami," the senior care industry will soon be engulfed with aging baby boomers living longer lives thanks to improved medical care. As a result, everyone will need to get more creative with senior living options.
The senior care industry has been steadily challenged not just to meet the rising population of tomorrow's seniors but also the needs of today's generation of aging adults. Shifts in society's view of healthy aging, modern technology, advancements in geriatric medicine and the rising cost of assisted living have dramatically altered the senior care landscape.
One of the biggest changes to senior living is the decline of the nursing home model—a direct result of rising health care costs and shrinking Medicaid financing. Skilled nursing has replaced the traditional nursing home, representing a major culture change in the long-term care of medically fragile seniors.
Less-restrictive models of care are the clear trend. They not only cut costs, but tend to be more desirable to seniors. Most seniors prefer to stay in their own home, something referred to as aging in place. The booming in-home care industry makes this a more viable option and positive experience.
If a move into assisted living is necessary, residents will be welcomed into a new era of senior housing that includes customized programs offering choice and control, technology-enhanced care, expanded amenities and engaging activities in a de-institutionalized setting.
By understanding and embracing the trends in the senior care industry, South Jersey is ready to meet the varying and unique medical, socio-emotional, and lifestyle needs of its seniors with a variety of housing options.
The new face of assisted living
Spas, butterfly gardens, indoor golf, sunrooms and gourmet dining—assisted living does not look like it did 25 years ago. Today's seniors expect country club hospitality, attractive décor, and ample opportunities to socialize. Fitness centers, game rooms, transportation, emergency assistance, concierge service, restaurant quality food and stylish apartments are no longer luxuries but standard fare in these communities.
The Fountains at Cedar Parke in Atco is a full-service senior community that has stayed on the cutting edge of its industry by adapting new technologies, expanding amenities and offering engaging activities. Trips to Atlantic City, Wii bowling, billiards, indoor golf and monthly outreach programs keep residents socially active and feeling like part of the larger community. "Anything they want to try, we're up for it," says Guy Wiegand, director of Independent Living at The Fountains. A new spa, lobby renovations, an in-house life alert system, and a move toward electronic health records are all in the works.
"Up until 2000, we were only independent living," adds Wiegand.
Since serious health conditions and unavailable adult children are the biggest factors for entering assisted living, senior communities like the Fountains at Cedar Parke now provide multiple levels of care for residents requiring greater assistance. These include: memory care, skilled nursing and, for seniors wanting to age in place, in-home care.
"People are staying at home longer. That's why we're building in-home care," Wiegand says. "It allows seniors to stay in independent living for as long as possible." Companionship, light housekeeping, errands, meal preparation, medication management, and a wide range of personal assistance are all services offered through in-home care.
Person-directed care
While assisted living has undergone a major facelift, the changes are more than skin deep. Senior living communities like Collingswood Manor embody a modern perspective where individuality, dignity and personal value are emphasized above all.
Located in historic Collingswood, Collingswood Manor has been providing seniors with a warm, family-like community for more than a century. They offer a full continuum of care including assisted living, short-term rehabilitation, skilled nursing, hospice and respite care, allowing seniors to age in place with the least restrictive caregiving model.
"We really try to focus on our philosophy of person-directed care," explains Executive Director Shari Neidich. Dignity, choice, independence, collaboration, stability and privacy are the driving forces of person-directed care.
"You think about when a resident is in their home, what are the things they would do ... the freedoms they would have ... the choices they would make," Neidich says. "We look at [the resident's] life history, their patterns, their needs and desires." This individualized approach is the heartbeat of their mission and guides every decision.
For example, Collingswood Manor is doing away with things like set dining times, because at home, you are in charge of when you are going to eat rather than conforming to an institutional schedule. "We're moving toward open dining," says Neidich. "Somebody can wake up when they want and still get a hot breakfast."
Aging in place
In a recent AARP survey, nearly 90 percent of seniors reported that they wanted to age at home. The popularity of in-home care, coupled with advancements in technology, have made aging in place more practical and safe.
Wireless home monitoring—such as sensors on refrigerators and medication dispensers, wearable glucose and heart rate monitors, GPS trackers, Personal Emergency Response Systems, medication reminder apps and health tracking tools—helps seniors age in place with less burden on family members who often serve as caregivers.
Sometimes, it's the simple home modifications that make the biggest difference. "As you get older, there are more obstacles in the home," explains Alyssa Muratore, director of services at the SOS Group. Since injuries from falls are one of the primary reasons seniors move into assisted living, safety adaptations in the home should not be overlooked, or put off for too long.
The SOS Group is a fully family-owned and operated safety outfitting service located in Williamstown. Their mission is to help South Jersey seniors live independently and comfortably by providing safety inspections, custom home modifications and medical equipment. From stair lifts and zero entry showers to widening doorways and constructing wheelchair ramps, to installing door chimes, grab bars and no-slip grips, the certified aging in place specialists with the SOS team ensure that all home modifications are both functional and stylish.
Muratore says it is typically the adult children of their aging parents who contact the SOS Group. Though there may be resistance at first, these home modifications improve overall quality of life and foster greater independence. "It's not giving up or giving in to old age. It's doing something proactive for your health," Muratore says. "[We're] helping those in need stay independent, safe and comfortable for as long as they can in their home with those they love."
Resources
Collingswood Manor
460 Haddon Ave.
Collingswood
(856) 854-4331
UMH-NJ.org/collingswood-manor
The Fountains at Cedar Parke
114 Hayes Mill Road
Atco
(856) 753-2000
CedarParke.com
SOS Group, Inc.
1809 N. Black Horse Pike,
Suite 12
Williamstown
(856) 740-4000
SOSGroup.info
Published (and copyrighted) in the Art of Living Well pull-out section of Suburban Family Magazine, Volume 5, Issue 2 (April, 2014).
For more info on Suburban Family Magazine, click here.
For information about advertising in Suburban Family Magazine, click here.
To find out where to pick up your copy of Suburban Family Magazine, click here.