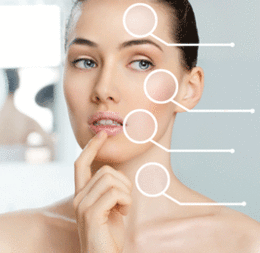 Best Face Forward
…From the pages of Art of Living Well…
Skincare techniques that fight damage and signs of aging
A person always wants to look his or her best when stepping out the door, but sun damage and aging can make us feel less than attractive. There are countless over-the-counter products marketed to those who have skin damage or signs of aging, but it can be difficult to find the right one that works. Instead of spending a fortune on creams and lotions that are ineffective or going under the knife for a facelift, women and men alike are visiting dermatologists and skincare experts to find out what non-invasive treatments are available to fight the signs of aging and help them to look their best.
Dr. Karen Harkaway, of The Harkaway Center for Skin Refinement in Delran, has noticed that the reasons why patients are seeking treatment for their skin has changed dramatically over the last several years. "There's been a major paradigm shift in skincare treatments," she says. "In the past, people waited until their skin was really sagging to have a cosmetic procedure. Now, the thinking has shifted as patients are starting earlier and the mindset is of maintaining what they have and preventing further damage. The result is that we can offer non-invasive procedures rather than having to put patients through surgery."
In years past, most dermatology patients were women between the ages of 40 and 60. Things are different today. Dr. Naomi Lawrence, director of the procedural dermatology fellowship at Cooper University Hospital, sees patients of all ages from under 40 to those in their 70s and older; and more and more of her patients are men. This influx has come about after many men noticed the more youthful appearances of their wives' skin and wanted to do something about their own aging issues. According to Lawrence, "Patients say, 'I want to look my best.' I help to maximize that patient's look and help him or her to put a good face forward."
The latest treatment options
So, what treatments are being used to help the South Jersey population look more youthful? Lawrence finds that clients with photoaged skin, which results from too many years spent baking in the sun, respond well to retinoid topicals and alpha hydroxy products. Neuromodulators, which people recognize under brand names like Botox, have evolved greatly in the past few years. Instead of waiting for forehead wrinkles to become prominent, Lawrence recommends seeing a specialist who can treat the area with a neuromodulator to relax the muscles and provide a more natural look just as the skin begins to show age. She says, "Once the wrinkle is noticeable, it has become both a skin issue and a muscle component. If you start using the product before the wrinkle has reached the muscle, you have a better outcome."
When dermal fillers first came on the market, they were used to fill in wrinkles, but today's neuromodulators and injectable fillers lift and fill in the face rather than just target specific wrinkles. Over time, as people age, they lose fat and bone in their faces. This results in a more pronounced look of aging. Analyzing the proportions of the patient's face enables the dermatologist to determine which type of dermal filler to use to add volume while keeping with the most natural appearance. "A person with a thin, oval face like Gwyneth Paltrow is not going to require filling in the same areas where Kelly Clarkson would need it. They have very different fat distributions in their faces," Lawrence explains.
To combat the common signs of aging, Botox is used to relax muscles in the forehead that cause frown lines, alleviate crow's feet around the eyes, and for brow lifts. Dermal fillers add volume to the cheeks and the lips. Voluma, a cheek filler, is a fairly new product on the market that is becoming quite popular, largely due to the fact that it lasts up to two years before needing to be redone. In addition, laser therapy is widely used to treat wrinkles and brown spots that have been caused by sun exposure. Chemical peels also work to fade those damaged areas.
A new product now available as a prescription topical treatment is Neotensil, which is applied under the eye and within an hour, smooths lines and reduces the appearance of bags and fine wrinkles. Although the effect is temporary—it only lasts approximately 24 hours—Neotensil alleviates unsightly eye problem areas for a wedding, an evening out, or even for just putting in a day at the office.
Prevention and proper care remain key
The most important—and simplest—thing any person can do to prevent wrinkles and dark spots is to never allow them to happen in the first place. Applying sunscreen is the key, say both Harkaway and Lawrence. Not only does sunscreen combat signs of premature aging like those dreadful crow's feet around the eyes, but it also prevents melanoma and other types of skin cancer. Broad spectrum sunscreen, which is intended to be reapplied every two hours, works best when it is layered on the skin. Women assume that using a makeup containing sunscreen is enough of a preventive measure, but blending the makeup into the skin for a sheer look is probably not going to provide the SPF coverage that is needed. Instead, it is best to apply a moisturizer containing sunscreen followed by a makeup foundation or powder that has an SPF of 30 or greater to provide maximum sun coverage.
Some celebrities have gone overboard with skin treatments, both surgical and noninvasive, and the results have been less than appealing. Yet, the evolution of the products that are used to treat signs of aging really has improved greatly to ensure that people can have skin treatments and see positive improvements without going under the knife. "With the advances in skincare, and the new generation of topicals and neuromodulators now available, patients look natural without having to undergo surgery," Lawrence says.
Harkaway agrees: "Every person should have the benefit of looking his or her best at any age. It is about aging gracefully, not so much about looking younger. I have patients who come in and want skincare treatment because they simply want to look good when they go to work each day."
Resources
Cooper University Hospital
One Cooper Plaza
Camden
1 (800) 8-COOPER
CooperHealth.org
The Harkaway Center for Skin Refinement
8001 Route 130 S.
Delran
(856) 461-1400
DrHarkaway.com
Published (and copyrighted) in the Art of Living Well pull-out section of Suburban Family Magazine, Volume 5, Issue 2 (April, 2014).
For more info on Suburban Family Magazine, click here.
For information about advertising in Suburban Family Magazine, click here.
To find out where to pick up your copy of Suburban Family Magazine, click here.