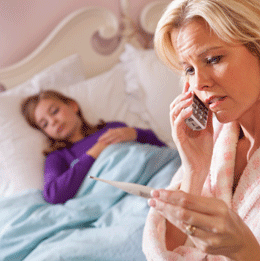 Bridging the Gap
There's a convenient resource in South Jersey for urgent medical needs that don't necessarily require an ER visit.
When an urgent medical problem hits your household, it is time to make a decision. Do you call your primary care physician, perhaps after hours, and hope to get an appointment within the next day or two? Do you go to the emergency room, wait for hours and receive a large medical bill? Traditionally, these are your choices when a child hurts an arm in a fall, there's a cough that just won't go away, or a fever continues to rise.
Fortunately, there is a new choice in health care, and it's a trend that's booming in South Jersey: the urgent care facility.
What is urgent care?
Urgent care facilities are open 12 hours a day, seven days a week on average. They do not require appointments or referrals, and patients can usually be seen, treated and released within the hour. They take most insurance plans and can cost less than the typical visit to an emergency room.
"Emergency departments are important for treating emergent situations, and primary care providers are important for managing chronic, ongoing care," says Dr. Dheeraj Taranath, area medical director for MedExpress Urgent Care, which has locations in Cinnaminson, Runnemede, Vineland, Washington Township, Willingboro and Woodbury, with locations soon to open in Cherry Hill and Mount Ephraim. "Urgent care is an appropriate solution for almost everything in between, from illnesses such as bronchitis and flu, and injuries like sprains or cuts requiring stitches, to preventive services like flu shots and sports physicals."
As Dr. Brad Bendesky, of Cooper University Health Care, says, it's appropriate for anything that is "not life-threatening or limb-threatening." "We get everything from people with ear pain from ear wax to the partial amputation of a finger," he says of Cooper's Cherry Hill urgent care facility. Another location is also available in Audubon.
If more serious care is needed, most centers do have the ability to evaluate and get a patient to a hospital fast. "We have protocols in place," Bendesky says. "We do facilitate patients getting to the right place. In many cases, we can also get started with treatment."
Convenience and affordability
"The greatest benefit of using an urgent care facility is that you won't spend a lot of time waiting to be treated for minor medical problems," says Richard P. Miller, president and CEO of Virtua Health, which has urgent care centers in Moorestown and Washington Township. "Emergency departments in any hospital must treat those with life-threatening illnesses first. Any minor illness is considered much less serious and the wait time could be hours. A young child with a minor illness, for example, will just become more unhappy and uncomfortable in an emergency room setting. A visit to an urgent care facility can provide the same prompt and outstanding treatment from a board-certified physician."
"When children and adults are too sick to wait for an appointment with their primary care physician or pediatrician but too well for a visit to the emergency room, urgent care centers are an excellent alternative," Miller adds. "You can see the physician more quickly and be back at home with your family, the best place to be to recuperate from a minor illness."
There is another reason that these facilities are so appropriate for families. "There is much less anxiety [in this] environment for adults and especially children," Bendesky says. "With urgent care, children don't have to wait in an emergency room with people under the influence of drugs and alcohol, or be exposed to scary illnesses and injury. Our center looks like a regular doctor's office. Parents often comment how much better the children are in this environment. We have really tried to focus on the entire experience."
As an example, Bendesky talks about a contributing experience that is not often thought of but usually appreciated: the ease of parking. "It seems silly, but parking can be a big deal. We are set up like an office. If your ankle hurts, you don't want to have to park on the sixth floor of a parking garage. Our patients only have to walk a few feet," he says. "I think, overall, it is the best choice for simplicity, ease, time and money—all of the things that usually matter."
Having more control over the experience is a major factor that draws people in for care, as people want faster, immediate care on their schedule without having to wait, says Dr. Charles Sprigman, of Inspira Health Network, which has an urgent care location in Harrison Township. "With no appointment needed, you can get treatment when you want it, not when someone tells you you can get it. Take X-rays, for example. With a family practice, you have to drive somewhere to get the X-ray, then wait for the doctor to read it two days later. With urgent care, you get immediate results on your X-rays and can act on them."
There may be cost benefits to choosing urgent care, as well. "[Urgent care] offers medical evaluation and treatment at only a fraction of the cost of an emergency room, which will save significant money," Taranath says.
"Cost, that is a big one," Bendesky agrees. "The co-pays for urgent care are tiered lower than emergency room. Many insurance companies will charge the same as for primary care; some will charge the specialist co-pay."
Do your research
While not all urgent care facilities are created equal, the best ones, Bendesky says, offer onsite doctors, emergency medicine nurses, a board-certified emergency care physician, and appropriate resources for testing and treatment. "Sometimes in other centers, you may have a variety of professionals, sometimes a moonlighting ER doc, sometimes a doctor that is only available by phone, or a nurse practitioner working unsupervised. I think it is important to know your local urgent care center, how they are staffed, their credentials, and how they are going to treat you," Bendesky says. "Find out before you need to go. If you are not sure, call and ask."
"You should look for a provider that puts priority on the care of the patients," Taranath says. "Look for a facility with a full medical staff, a wide array of services and convenient hours. You should expect care that is fast, but never rushed."
Resources
Cooper Urgent Care Centers
Locations in Audubon and Cherry Hill, (856) 874-0134
CooperHealth.org/UrgentCare
MedExpress Urgent Care
Locations in Cinnaminson, Runnemede, Vineland, Washington Township, Willingboro and Woodbury
MedExpress.com
Urgent Care Center at Inspira
Tomlin Station Park
201 Tomlin Station Road
Mullica Hill
(856) 241-2500
InspiraHealthNetwork.org/UrgentCare

Virtua Express Urgent Care Centers
Locations in Moorestown and Washington Township
(856) 291-8600; (856) 341-8200
Virtua.org/Health/Urgent-Care
Know Before You Go
Seek out an urgent care facility if you need care for or suspect:
• Non-acute cough
• Strep throat
• Minor eye problems
• Asthma
• Urinary tract infection
• Need for a school sports or work physical
• Flu shots and immunizations
• Sprain or strain
• Broken bones
• Lacerations (stitches)
• Minor burns
• Headaches
• Back pain
• Weight loss
• Abdominal pain
• Abscess
• Rash
• Flu
If you aren't sure where to go, it is best to err on the side of caution. Rebecca Lynch, RN, Virtua vice president of Corporate Health Services, offers this life-saving guide: "If you or someone in your care experiences a life-threatening or otherwise alarming accident or illness, then call 911 or go to a hospital emergency department."
Published (and copyrighted) in the Art of Living Well pull-out section of Suburban Family Magazine, Volume 5, Issue 1 (March, 2014).
For more info on Suburban Family Magazine, click here.
For information about advertising in Suburban Family Magazine, click here.
To find out where to pick up your copy of Suburban Family Magazine, click here.