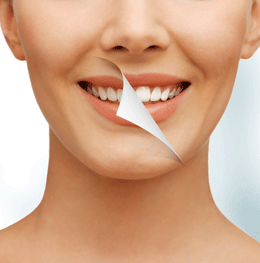 Smile Makeovers
Local dentists detail the popular trends that can give anyone a confidence-building smile.
Turn your frown upside down. These top five popular cosmetic dentistry procedures can fix gaps, straighten crooked teeth and make your pearly whites shine brighter than a Hollywood superstar's in no time.
Teeth Whitening
As people age, their adult teeth often become darker, yellow or stained due to genetics, antibiotics, smoking and certain foods like coffee, tea and carrots, according to the American Association of Cosmetic Dentistry.
"Many patients desire their smile to look as vibrant as the celebrities they see on television," says Dr. Stephen Markus, of The Centre for Dentistry in Haddon Heights, which offers Zoom, a one- to two-hour, light-assisted whitening procedure. "Teeth whitening is a great, inexpensive option to improve your look and make you look more youthful."
With the influx of over-the-counter products, interest in teeth whitening, also known as bleaching, has skyrocketed in the past decade. However, for permanent results, many people prefer to visit a cosmetic dentist.
The process allows patients to "lighten and brighten their teeth both permanently and temporarily," says Dr. Mary Farren, whose practice is in Cherry Hill. Several bleaching options are available, but one-hour whitening, which can often get teeth three to five shades whiter in one visit, is among the most popular at area dental offices.
"It's a very simple procedure, and the results are surprising," says Dr. Nishit Shah, of Center Square Family Dental in Woolwich. "You can see the difference in one hour."
Farren agrees, adding, "The results usually last a few years. For the in-office, it takes about an hour in the dental chair, and the bleach is carefully applied to each tooth.
We also use a variety of protective barriers in the mouth to protect the soft tissue."
Following the whitening, patients receive a customized whitening tray that they can use for touch-ups and overall maintenance. The at-home bleaching procedure involves using pre-filled bleaching trays to whiten your teeth in 30-45 minutes a day at home, she says. The trays are similar to the popular white strips available in stores, she says, but they are five times stronger because they are dispensed by a dentist.
Before getting the procedure, it's important for patients to know that bleaching can cause temporary sensitivity in your teeth and there is no whiteness guarantee with teeth bleaching, especially if your teeth stain easily from frequent coffee drinking or smoking, Farren advises.
"Everyone's teeth are different," she says, "and not everyone can achieve the same level of whitening."
Aligners
Today, orthodontics includes more than the bulky metal braces you remember from middle school.
For adults wanting to correct crooked or overlapping teeth or spacing between teeth, orthodontic aligners can help straighten their smile in a short period of time, often in a matter of weeks, Markus says.
"Everyone's smile zone is different," he says. "Smile as big as you can and whatever shows is the smile zone. With Six Month Smiles, our short-term cosmetic orthodontics procedure, we work on getting all of the teeth in the smile zone straight."
When deciding if aligners are best for patients, dentists will often look at the position of the teeth, what has caused them to arrive at their current position, and what future movement may be needed so that a patient's bite is fully functional, according to the American Academy of Cosmetic Dentistry.
Several types are available, including clear orthodontic aligners, often called invisible braces. These are a popular option at Shah's office because they straighten teeth without the wires and brackets of traditional braces, he says.
Instead, according to the American Academy of Cosmetic Dentistry, these aligners include a sequence of clear, removable trays that fit over the teeth to straighten them. Each tray must be worn by the patient for a specific amount of time, and they can be removed for brushing, flossing and eating. In most cases, aligners can help straighten teeth in anywhere from six to 18 months.
Tooth-colored Fillings
To treat cavities, teeth were previously filled with a mixture of metals, which are often unsightly and embarrassing due to their dull, grey color.
But that's changing, says Shah.
"We don't use metal filling anymore," he says. "We help our patients realize they have options. It's about getting to know what the patient's concerns are and finding solutions for that."
Patients are now receiving metal-free fillings, which use composite resins and porcelain. This creates a safe and natural-looking filling, according to the American Academy of Cosmetic Dentistry. In addition, people with existing metal fillings are having them removed and replaced with the new and improved tooth-colored fillings, Markus says.
Dental Implants
According to the American Association of Oral and Maxillofacial Surgeons, 69 percent of adults ages 35 to 44 have lost at least one permanent tooth to an accident, gum disease, a failed root canal or tooth decay.
That's making dental implants a popular treatment option for people who want to replace missing teeth, especially since implants never decay or slip like dentures. Rather than resting on the gum line like removable dentures or using adjacent teeth as anchors like fixed bridges, dental implants are long-term replacements that are surgically placed in the jawbone, according to the association.
With this procedure, the implant, often made of titanium metal, is fused directly to the jawbone. A fitted crown or denture is then adhered on top of an abutment connector, which protrudes from the gum line, Shah adds. This allows it to function as a normal tooth.
"The implant gives you a foundation at the root of the tooth," he says. "That's what gives you the feeling of having a [natural] tooth again."
According to the American Academy of Cosmetic Dentistry, "replacing a tooth with an implant and a crown is not a one-day procedure. The implant needs time to properly adhere to the bone and create a healthy fusion before the crown can be attached and full bite force can be applied. In most cases, it will take a few months to complete the process."
Veneers
Veneers—an ultra-thin, custom-made porcelain laminate that is bonded directly to a tooth—can help change the shape and size of teeth, Farren says. They can also close gaps and disguise discolored teeth.
"Porcelain veneers can be done either with or without the removal of some natural tooth structure depending on the situation," she explains. "An impression of the teeth is taken in the office and a shade is selected for the veneers. The patient returns two weeks later to have the veneers permanently bonded to their natural teeth. After about an hour, the patient is fine to start chewing [with] their new improved teeth."
While popular in Hollywood, this procedure must be well researched to determine if it's the best option for patients because everyone's teeth are different. Since a portion of the original tooth enamel is reduced, a veneer is not considered a reversible treatment, according to the American Academy of Cosmetic Dentistry.
Markus says patients must communicate their expectations and ask to see pictures of their dentist's work on similar cases. In addition, he says, it is important to ask questions, such as: "Are these going to be thicker than my natural teeth?" "Do you offer a guarantee on crowns and veneers?" "Will I be able to see what my final smile will look like before the procedure?" "Before you put these in, will I have any say in alterations before they become permanent?"
"It's much easier to have it done expertly than to shop price and be disappointed," he says. "Look for an accredited cosmetic dentist."
Resources
Center Square Family Dental
120 Center Square Road
Suite 205
Woolwich
(856) 294-6767
CenterSquareDental.com
The Centre for Dentistry
209 White Horse Pike
Haddon Heights
(856) 546-0665
Cent4Dent.com
Mary F. Farren DMD, LLC
1908 Springdale Road
Cherry Hill
(856) 751-6606
MaryFarrenDMD.com
Published (and copyrighted) in the Art of Living Well pull-out section of Suburban Family Magazine, Volume 5, Issue 1 (March, 2014).
For more info on Suburban Family Magazine, click here.
For information about advertising in Suburban Family Magazine, click here.
To find out where to pick up your copy of Suburban Family Magazine, click here.